There are so many people ship their car every year. To answer on often asked questions of our clients we create this Florida auto transport guide. Here you can read about:
Why people choose Florida for car shipping;
How does car shipping to or from Florida works;
How much does it cost to move a car to Florida;
Car carriers which operate in Florida;
Why you should choose Movewheels.
Why Florida?
I have to say that it is pretty obvious why lots of people are trying to relocate to Florida during winter. "Sunny State" Florida is located on the peninsula of the same name between the Gulf of Mexico and the Atlantic Ocean. This is the warmest region of the country – on most of its territory the climate is humid subtropical, and in the south – tropical.
This is the most popular resort area of the United States, the whole coast of which is occupied by a long strip of beaches, hotels, parks, and recreation areas. At the same time, the central and part of the western regions of the state are heavily waterlogged, and its territory is lower than in any other state of the country (maximum altitude is 105 meters above sea level).
How Does Car Transport Work from Florida Work?
When faced with relocation to another US city, region or state, homeowners and their family members are always extremely busy. First, they must secure a job; then they search for a new home to rent or buy, schools for the children, and possibly a health care center for an elderly parent. Before moving, they are sorting and packing personal items, and perhaps organizing a garage sale. Meanwhile, most Americans continue working 8-12hrs/day in offices, factories, service centers, etc. So whenever any of these busy individuals need to find a reliable car carrier, the process of searching and screening is often complicated and time-consuming. Fortunately, you can charge the professional shipping agents at MoveWheels with this important task and be perfectly served in the process.
What is the cost to ship a car to Florida?
We are shipping half of our client's vehicles from or to Florida (and to be honest so do other car shipping companies) so there are a lot of drivers ready to do the job for you. Not many of them are willing to go down to Miami or Key West (The southernmost point of the United States – is a chain of small islands with a total area of about 26 square meters. Km, stretching far into the ocean from the coast of Florida.), but it's pretty easy to handle – usually, a local wedge trailer is enough to get it done for you.
How to understand the prices: All prices are for a sedan. If you have SUV multiple the price to 1.2 (sedan $1000. SUV = $1200). If you have pickup truck multiple the price to 1.4. Enclosed is 1.5 more, add $100 if your vehicle is inoperable. Remeber, prices in print screen are just a carrier rates, you will need to add $100-$170 brokers fee and you will have the total price, and the real price depends on a lot of different factors and you never know how can it change. If you want to get estimate car shipping price, Get you free quote.
NORTHEAST AREA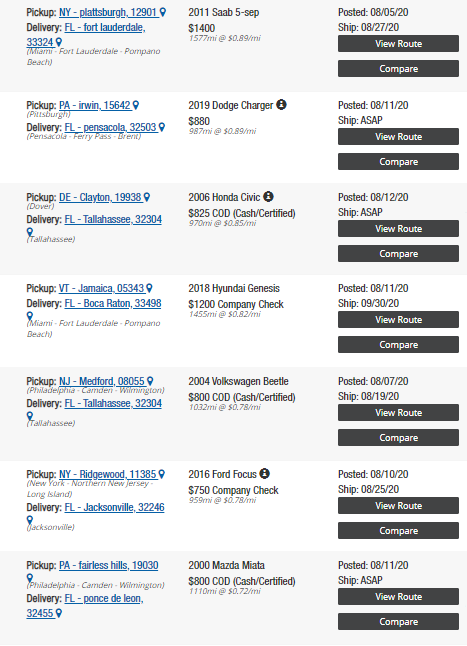 SOUTHEAST AREA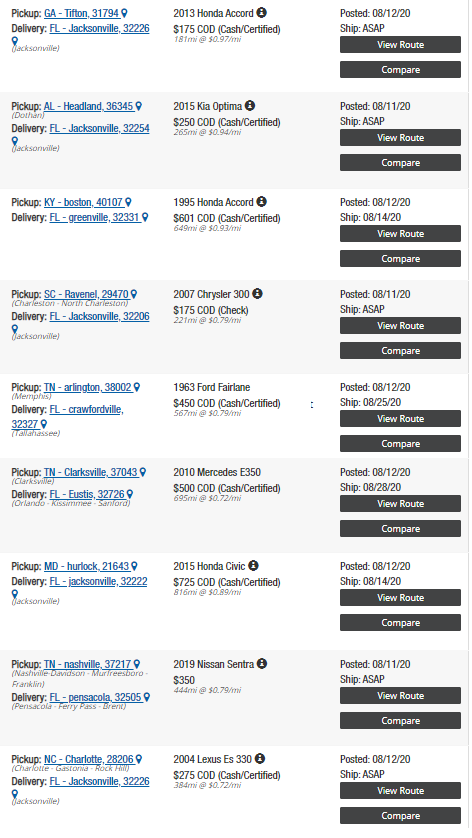 MIDWEST/PLAINS AREA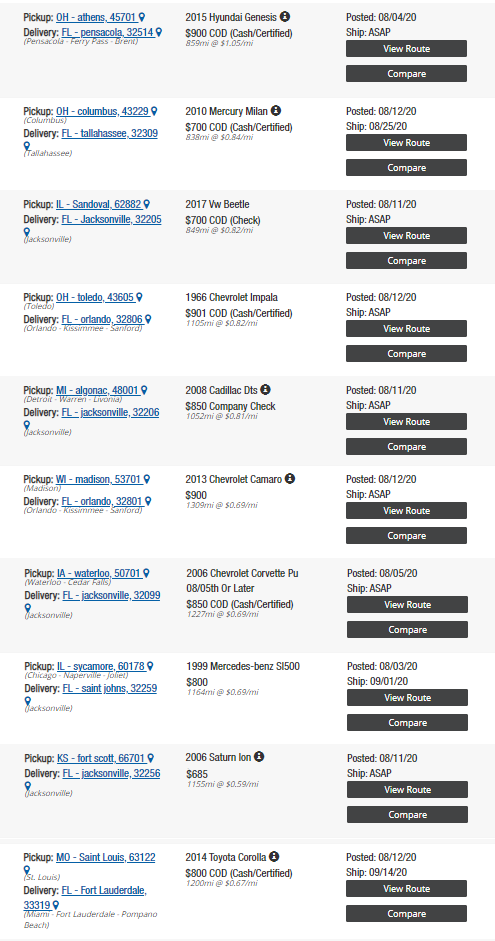 SOUTH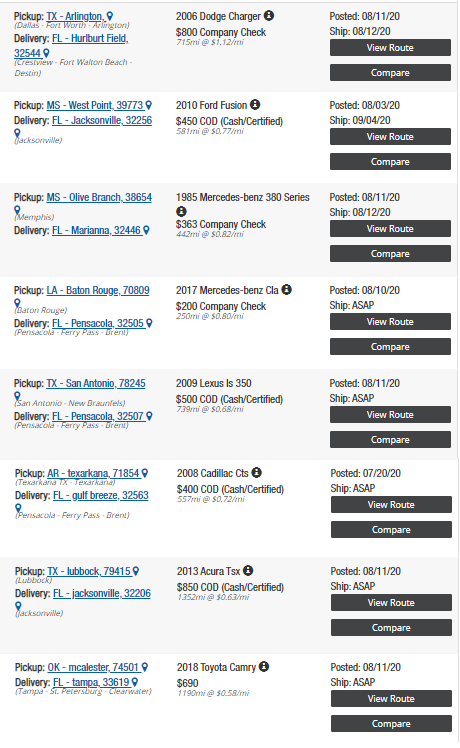 WEST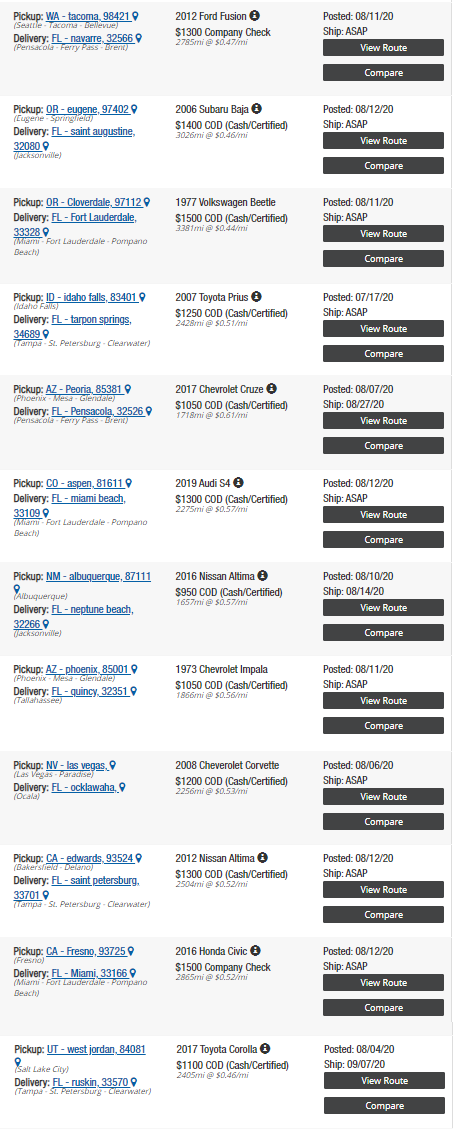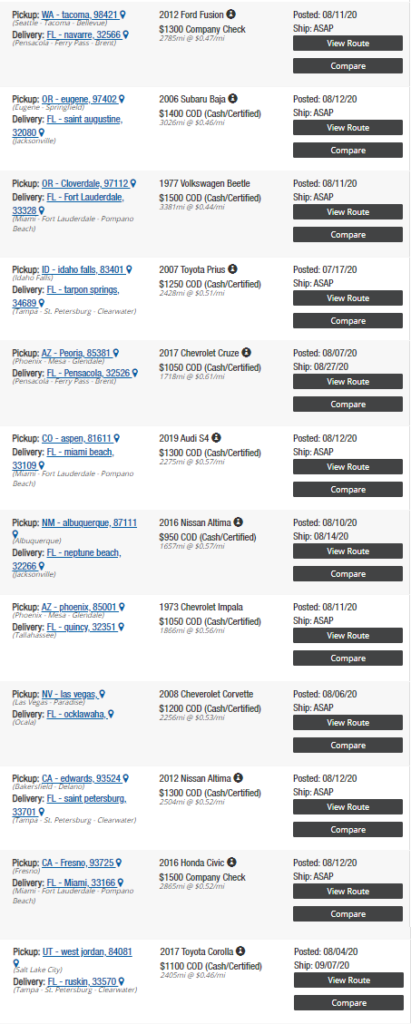 What Are Small Auto Transport Companies?
Most vehicle transport agencies are small and privately owned. When an entrepreneur first establishes a business, he leases a car hauler and often drives it himself. These types of companies control about 60% of the American market, provoking fierce competition. Many of these enterprises are family owned and operated, employing multiple family members who fill diverse roles as needed, and providing extra services for small fees. These small businesses are the most flexible and customer-oriented. They are dedicated and work hard for their own family benefit and reputation. Often, they provide very affordable car shipping quotes. However, they usually have no company website or customer service staff. Instead, they attract long-standing customers within their locality, and partner with trusted brokers to attract business on a wider scale.
Here at MoveWheels, we maintain a large database of dependable carriers that provide both significant and specific benefits for their customers. We partner with these companies based on their reliability and competency to transport your vehicle affordably and safely to its destination.
Medium-to-Large Sized Car Carriers
Larger companies have fleets of car haulers, employ many drivers, and complete several orders per week. Most of the auto truck transporters also:
• follow the same route every 1-2wks (for example, CA-FL or FL-TX);
• find customers through brokers;
• entrust drivers with multiple tasks.
Due to intense market competition, these enterprises offer very affordable car shipping quotes, especially on the most popular routes. Professional drivers oversee the loading and unloading process, work hard to meet the customer's timeline, and collect cash on delivery(COD). These carriers typically have their own websites, but may not invest much in promotion or customer support. Instead, they partner with third-party intermediaries staffed with highly proficient shipping agents that match them with customers.
The majority of auto shipping operations are carried out under the following scheme. The driver:
• arrives at a pick-up location;
• loads the vehicle onto the hauler, using available equipment;
• drives to the destination;
• unloads the vehicle;
• hands necessary documents over to the customer;
• collects the payment according to the agreement.
For a small fee, the driver may also provide extra services – for example, inspect the auto on arrival, take pictures, and send them to the owner. This service is particularly essential if you have purchased a car at auction or on eBay. Also, the owner may request the auto be loaded on the upper deck of the hauler if possible. This extra precaution eliminates any risk of fluid leakage from vehicles above. Insurance is provided by the carrier, but estimators and insurance agents can be hired on request if needed.
At MoveWheels, our dedicated shipping agents always inform customers about all auto shipping nuances, however small. They have the experience to bargain with drivers on your behalf, making sure you get the best service possible.
Dependable Car Carrier Selection Process
People are often frustrated by searching for a reliable auto transport company. First, they must get a list of contacts; then they check carrier reputation and feedback, and finally, they must negotiate all the terms of service and compare quotes. This process can take a very long time with many annoying delays in between waiting for a response. Furthermore, the details of these quotes can vary from company to company and broker to broker, so simply reading and comparing the details can be tricky.
Fortunately, there are several good national and regional online resources that facilitate the selection. These directories are fully automated, and customers can find the most dependable carriers based on several criteria such as location, vehicle type, scope of activity, and price level. However, carriers generally don't call customers themselves. Often they are contacted by a broker who has already worked out a contract based on the requests of the vehicle owner and the information supplied by the carrier.
Looking for some solid car shipping advises from professionals, read other our article🙂
Advantages of Contacting MoveWheels
By entrusting an experienced transport broker, you can avoid the time-consuming selection process and logistical negotiations with the carrier and driver needed to schedule door-to-door delivery of your valuable auto.
At MoveWheels, we partner only with dependable carriers, guaranteeing timely and safe delivery. We get in touch with professional drivers and find the best solutions for every case, thus safeguarding our customer's interests. For example, if several loads are going in the same direction, they can all be loaded onto one car hauler. Since we are managing multiple loads every day, we are in a uniquely advantaged position to help our customers save time and money while avoiding any unnecessary risks. Let our experience and training work for you!