If you are doing to ship your car or other vehicles, in most cases you will work with a broker by getting a quote. In this article, our professional team prepare some advices, how to get the best shipping quote
Many honest consumers across America are being cheated by disreputable vehicle transport services. Modern fraudsters target unsuspecting used car sellers, auction winners, businesses, and everyday households. Most cars, boats, motorcycle owners pride themselves on being thrifty. They busily get a car shipping quote from every carrier and often select the lowest one without considering the other factors. Scammers know that your special auto, whether it be a luxury convertible or a standard coupe, is far more valuable than the selected delivery method. Some may try to withhold your vehicle, extorting extra money in the form of fees and services which were never discussed.
That's why it is highly recommended to hire an experienced broker that can overcome these common scams and pitfalls. At MoveWheels, we maintain a database of honest, reputable carriers. We partner with these companies and their professional drivers to guarantee your valued auto is delivered safe and secure, without any worries along the way.
Common Car Shipping Extortion Schemes
Fraudsters usually use the internet for their scams. They copy popular vehicle transport websites and ask customers to make deposits before any pickup or delivery operations; then they disappear or hold the vehicle while demanding extra payments from the helpless owners. To avoid such extortion scenarios:
check the broker's experience, reputation, license, and feedback;
avoid direct cash deposits or Western Union money transfers;
make sure the auto delivery company has a bank account, is legitimate, complies with labor regulations;
avoid overcomplicated terms and transactions.
Be sure to check credentials, licenses, and customer reviews. Also, visit the FMCSA government website for more information. Afterward, get a car shipping quote from dependable companies and compare every expense item. You can check our top best auto shipping companies.
Don't be misguided by unusually low estimates and attractive website ads. Think about delivery safety and consider various delivery methods, additional services, and lifting and inspection procedures. If a shipping agent calls a few hours before the move, informing you of extra fees to be paid without any clear reason or advanced notice, the company is very likely cheating.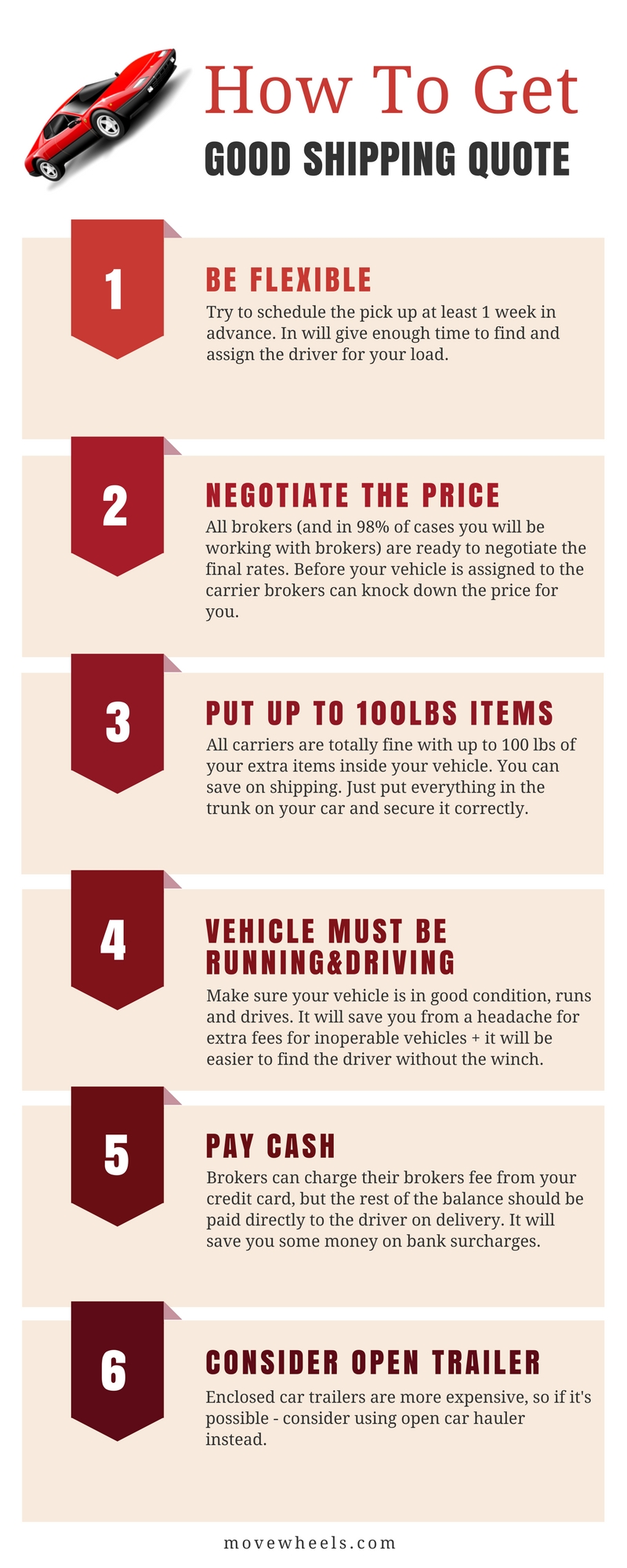 Low-Cost Car Shipping Agencies
Many households across America buy an auto for business or family needs and move to a new location. While living on a tight budget, they strive to save money on vehicle transport services. However, searching for a reliable carrier can be both a daunting and time-consuming task. The cheapest auto shipping quote is not always the best, as the service may be third-rate and the customer might get hassled for hidden fees and additional charges at the last minute. At MoveWheels, we never surprise our customers with hidden fees. Our professional brokers cooperate only with reliable shipping companies and secure safe transport of your valuable auto at an affordable price.
But if you already get a quote and your car will be shipped, check this professional vehicle shipping advises.
How to Compare Auto Delivery Quotes?
Contemporary fraudsters have a large assortment of tricks at hand. They know how to hook and disorient even the most discerning customers. They employ intricate "bait and switch" schemes, first offering cheap auto shipping rates, and then extorting extra fees by withholding the vehicle after taking possession. To fully secure your car shipping operations, be sure to carefully scrutinize each quote and compare expenses and services. It is also wise to verify the reputation of the vehicle transport company by checking on its background, feedback and testimonials, and even FMCSA info.
Thrifty customers can save money on car shipping by:
being flexible with moving dates;
negotiating the price;
proper vehicle preparation before pickup;
using basic insurance coverage;
hiring a diligent driver.
Don't simply go with the lowest price. Compare all quotes, study all lines mindfully, and most importantly, ask questions! Many shipping agencies charge expedite fees and extra for summer or weekend delivery. Customers can save a bit if they are patient and flexible. Before the shipping day, make sure that your vehicle is ready for hauling. Careless owners that neglect basic car preparation rules must often pay an overtime or cancellation fee as compensation for the driver.
Finally, once your car arrives as scheduled, you be thankful for all the time and money saved transporting your treasured vehicle yourself. So, call one of our dependable brokers, discuss the details, get an affordable car shipping quote, and book the best option today!
At MoveWheels, we provide our customers with clear and transparent shipping quotes that never change several hours before pickup or after delivery. Trust our experienced and honest professionals to choose safe and reliable carriers to transport your vehicle at an affordable price. Call us for a free consultation and shipping quote today!