Trying to figure out whether to move to WA state or not? We're here to help you make the best choice. MoveWheels Company has put together an informative shipping guide, broken down into the following parts:
Why do people decide to move to the Evergreen State?
What is the cost of shipping the vehicle to Washington state?
How does vehicle shipping work?
How can I ship my car to the port location in Washington?
Washington Car shipping near me
Why choose Movewheels?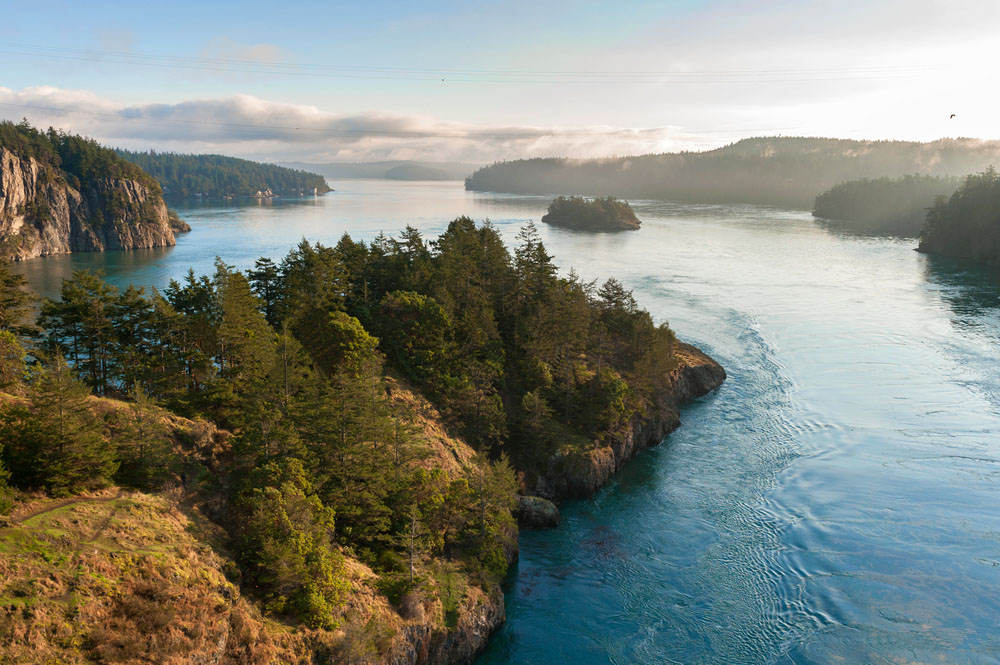 Once you are ready to plan your move, we can provide you with a free shipping quote in a few minutes: simply call us at (904) 863-5350 or follow this secure link.
Why do people decide to move to the Evergreen State?
The 18th largest state and the 13th most populous, Washington State is situated in the northwestern part of the country and offers both an eclectic mix of metropolitan cities like Seattle or Spokane and one of the most beautiful natural scenery funds in the country. But let's take a closer look at some pros and cons of moving here.
–   Strong economy
The economy of the state has recently been ranked one of the best America's economies. Thanks to some of the major industries like aerospace, tech, online retailing, and tourism, Washington currently has the highest gross domestic product (GDP) growth in the nation. Following this article.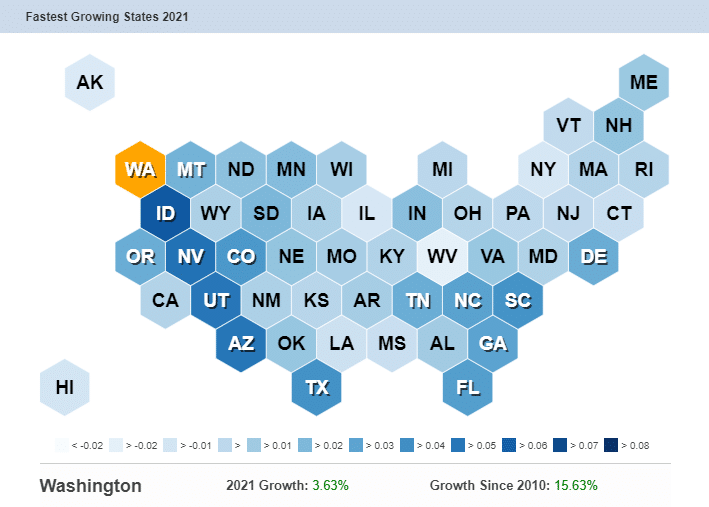 –   Job market
A thriving economy affects the wide range of job opportunities in any field from agriculture to biotechnologies. Washington State is considered to be the best state to start or expand a career since there are more than a hundred significant companies headquartered in Washington. The most famous being Amazon, Boeing, Starbucks, Nintendo of America, Microsoft, Windermere Real Estate, Alaska Airlines, Nordstrom, Costco, and many more. Following seattletimes.com the state's unemployment rate is going back to a normal level rather fast even after covid-19 unemployment.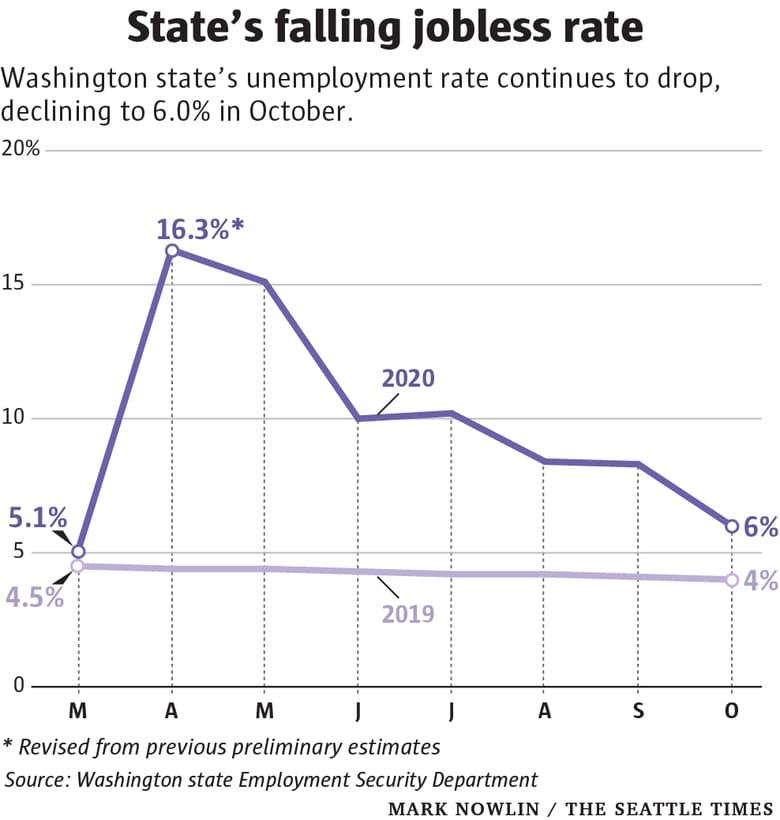 –   Education
Washington's higher education system is composed of 87 colleges and universities. Here you can find first-rate academic options ranging from liberal arts to research-oriented institutions with Seattle University, Gonzaga University, and the University of Washington known as the best in the state. 
–   The great outdoors
Nicknamed for its expansive forests, The Evergreen state has several national and state parks that you can visit all year round. Therefore the state has so many things to offer for those who love outdoor activities. You can try almost anything here: sailing, fishing, swimming, water skiing, hiking, cycling, camping, and many more. 
But despite all the great features Washington state has to offer, it has some things you should consider before moving.
–   High cost of living
Even though the state has no income tax, it's still rather expensive to live here. For example, sales tax in Seattle is as high as 10%, property tax is 1,03% and the median home value is almost $390,000 which is 36% higher than the national average. People with low income find it very difficult to live here and are hardly making ends meet.
–   Weather
If you are not a fan of rainy weather, Seattle and all the west coast of the state are definitely not for you. This part of the state has fewer sunny days than the national average. On the other hand, central and east Washington has a dry climate with rather extreme temperatures. If you prefer a mild climate, the Evergreen state may not be the best option for you.
What is the cost to ship the vehicle to Washington state?
If you finally made up your mind about relocating to Washington and chose the city to move to (or maybe you even found a new job), the next thing you probably wonder about is whether to drive your car or ship it instead. The main factor that will affect your decision is the price.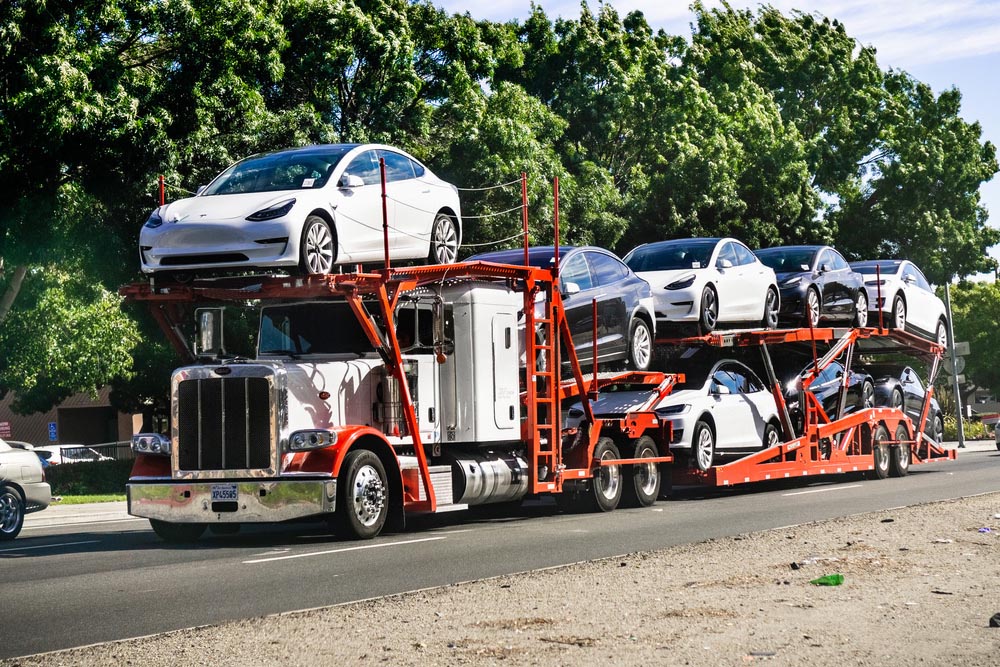 You can follow this link to check how much it will cost you to move the car to Washington or take a look at more detailed information about the price formation.
The price for moving a vehicle always depends on such details as mileage, size of vehicle, season, type of trailer, and availability of drivers on the route.
The first two aspects are easy to understand since the longer route is and the larger vehicle is the more expensive it gets to ship it. For example, instead of moving 2 sedans, the driver can transport only one pickup truck therefore he will ask for either a double price or at least half more than for shipping a sedan.
As for the season, transportation during winter holidays always costs more since it is a high season. Besides that, moving a vehicle to Washington State with its severe weather conditions will also cost more in winter since only a few drivers are willing to go here and those who do ask for an extra payment.
The type of the trailer also plays an important role. If you are moving an exotic, rare, brand new, vintage, or just a vehicle with low clearance we would highly recommend you choose an enclosed trailer to ensure your vehicle will not be exposed to rain, snow, or other weather conditions.
If you are shipping a small car with a non-standard wheelbase or if it's utv, atv, golf cart, or a lawn mower the price may be higher than for moving a sedan. Usual trailers have ramps and if the vehicle has a narrow wheelbase only a flatbed trailer can move it. And since these kinds of trailers can only carry up to 3-4 vehicles at a time their cost is higher.
Availability of drivers on a particular route is another important thing to remember when planning your move to the Evergreen state. Even though the state is large, there are only a few areas that are popular among drivers. They are Seattle, Spokane, Tacoma, Everett, and Vancouver metropolitan areas. The last one is actually more popular among drivers that are going to Oregon since drivers that are transporting vehicles to Washington usually go I82 or I90. Therefore if you need your vehicle moved to some faraway locations (like Port Angeles, Bellingham, Forks, Aberdeen, Brewster) be prepared to spend some extra money. The driver can deliver your car to Seattle or Spokane and then take his small local truck to drop off the vehicle at your exact location.
Below you can see the rates for moving the vehicles from the East, South, and North parts of the US to Washington State. If you doubt whether your drop-off location is popular among drivers or not, you can call us at 904 863 5350 or follow this secure link to check the price and get some help from our shipping agents. We will be happy to assist you and answer all your questions about the move!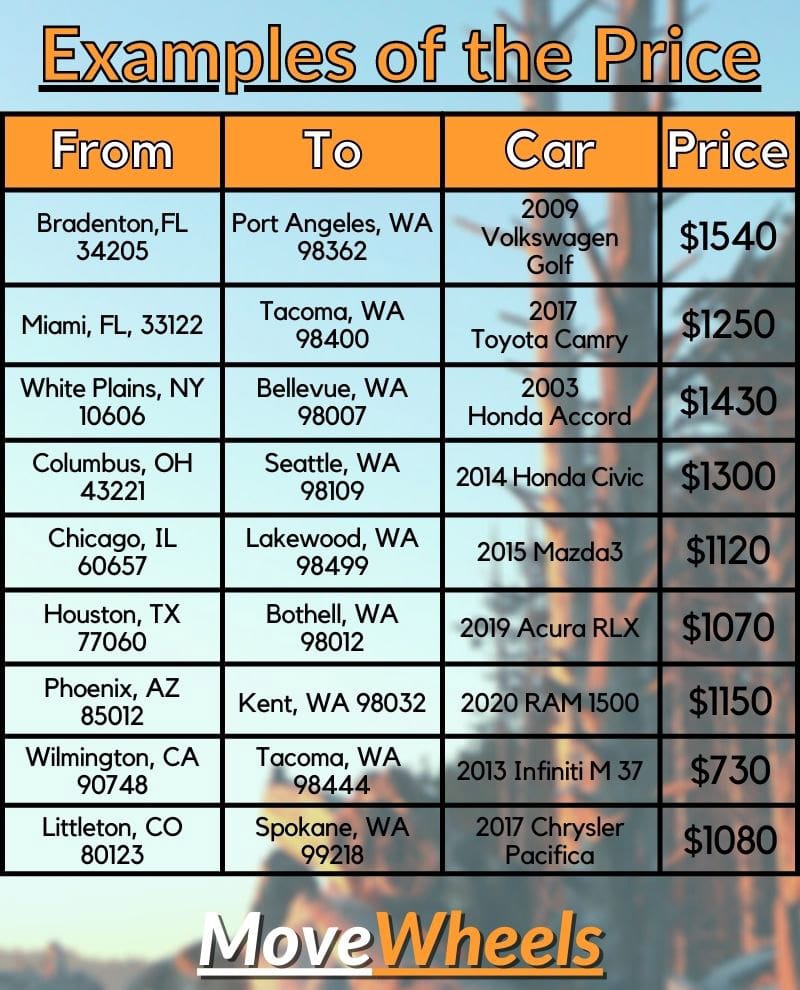 How does vehicle shipping actually work?
To have your car transported the first thing you need to do is to submit a request to car shipping companies. As you may have already noticed the easiest way to do that is to google "vehicle shipping to Washington state" or "cross country car shipping quotes", etc. The only issue with this way of looking for a company is that once you provide your information you will receive thousands of calls, text messages, and emails. That's only because most of these websites are not real companies, they are advertisement websites that collect your information and sell it to auto transport brokers.
MoveWheels has been in the auto shipping business for more than 12 years now and we can help you avoid all this stuff:  our agents are online 24/7 and are ready to help you anytime to assure everything goes smoothly.
To get your car transported the easiest way you only need to follow the next steps:
–   Provide us with the phone numbers and addresses for pick up and drop off locations;
–   Finalize the paperwork that will allow us to work on your order and provide the driver with your information;
–   Provide us with your credit/debit card information so we could charge a partial deposit after the vehicle is picked up;
–   Prepare your vehicle for shipping and negotiate the exact time with the carrier when he calls you;
–   Meet the driver at the pick-up address, pass him the car key and sign the Bill of Lading after the driver inspects the vehicle for any pre-existing damages;
–   Await for the driver's call and negotiate the delivery time with him;
–   Meet the driver at the drop off location, pay him with cash or any certified funds;
–   Make sure to inspect the vehicle for any new damages (if any note them down in the Bill of Lading and take some photos. If it's not significant the driver may cover it from his side. If it's crucial, let us know about that and we will help you to submit a claim to the carrier's insurance company and you will get the check in 1-2 weeks);
–   Leave us and the carrier a Review on TrustPilot, Transport Review, or Google to help other customers make the right choice.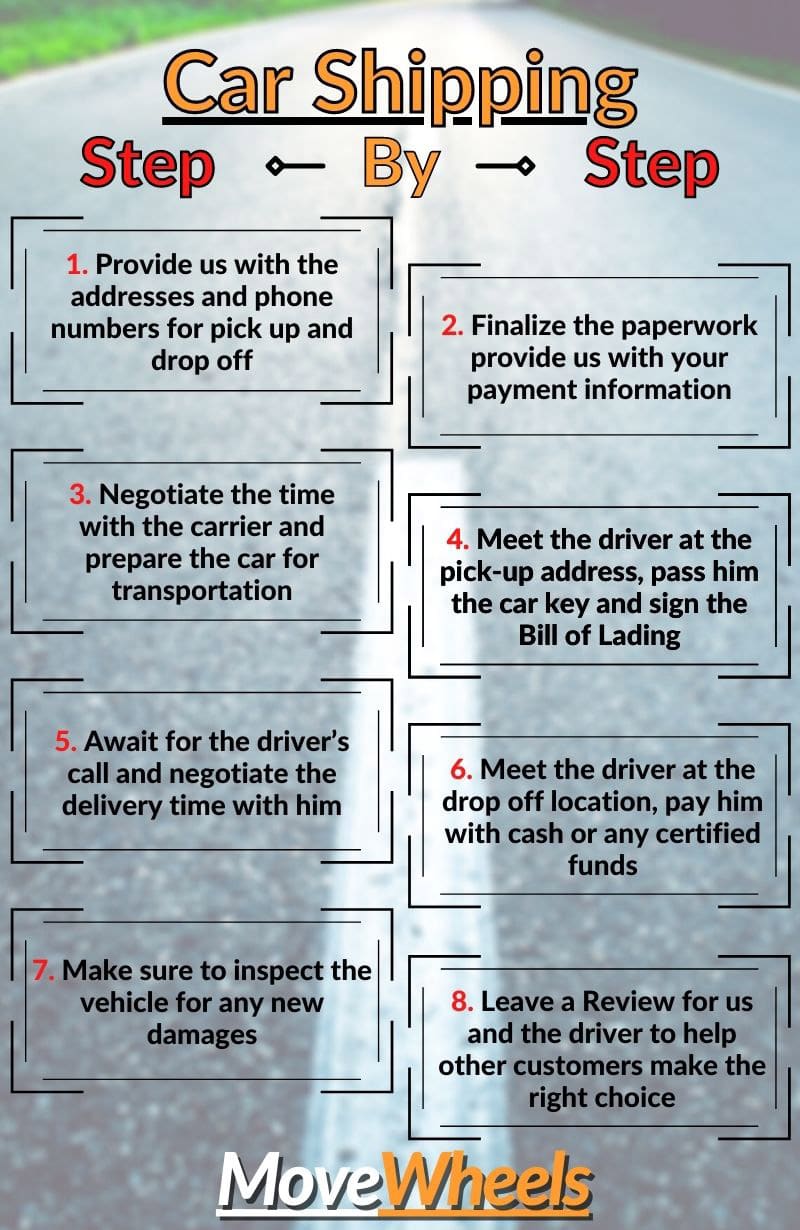 How can I ship my car to the port location in Washington?
Shipping a vehicle to a port is as easy as to a private location. The drivers we work with are very professional and before delivering the vehicle they always call the drop-off location to schedule an appointment.
If you are planning to ship the vehicle to Alaska, we would recommend you to use Alaska Auto Transport. They offer the best service for the most reasonable rate and cover some of the farthest locations. If you need overseas shipping you can check the Overseas Vehicle Shipping guide with some useful tips on the topic.
Washington Car shipping near me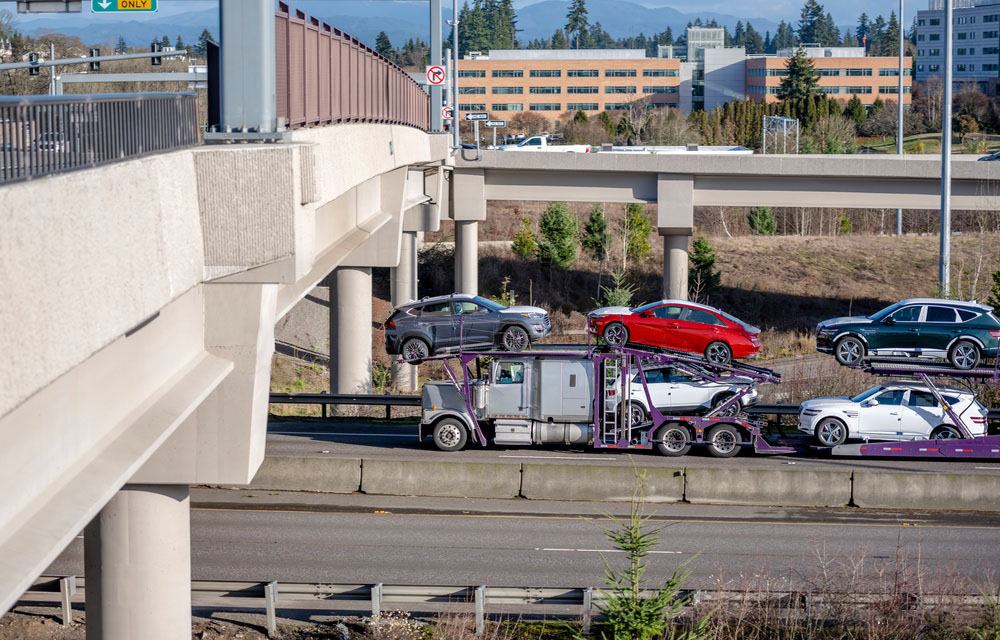 There are a lot of good carrier companies located in Washington state that may help you with the transportation of your vehicle. For example, America Auto Express LLC, Ammann Auto Transport Inc, and American Eagle Auto Transport have several 7-9 car haulers going anywhere within all 48 states. Despite this, their most popular routes are WA-FL, WA-NY, WA-CA, and WA-TX.
There are also some companies specialized in moving vehicles only within Washington state. For example, 206 Flooring LLC – WA Only located in Redmond and 5 Star Towing LLC in Tacoma. Both companies have 3 car haulers and can move almost any kind of vehicle whether it is operable or not.
Another good company that we work with is YG Transport LLC. They own a flatbed trailer and specialize in moving non-standard or large vehicles like full-size vans, pickup trucks with utility beds, modified vehicles, and so on. Besides that, YG Transport LLC also specializes in hauling heavy-duty pickup trucks and oversized cargo like semi-trucks, vans, backhoes, bulldozers, and occasionally regular size cars.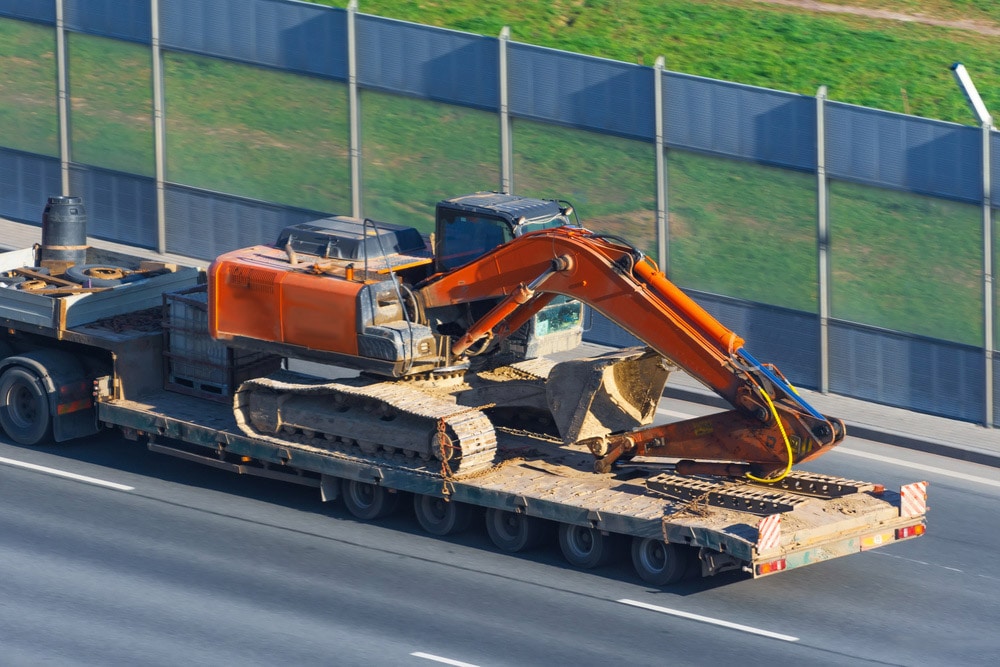 There is also a company called Auto Boat Cargo Transport LLC which owns a 53′ lowboy and specializes in moving boats not only within Washington state but anywhere in the US. The only restriction is that a boat on the trailer should be less than 13 ft high otherwise it will need a special escort and the route should be planned according to the cargo's height to avoid bridges and tunnels.
Furthermore, there are also a few carriers that offer enclosed transportation. Recently we have been working with AG Auto Transport Inc, AC EXPRESS LLC, and Advanced Auto Carrier LLC since their drivers are the most professional and we have never had any issues with any of them. All companies own hard-side enclosed trailers with a lift gate so there is no need to worry that the car will be damaged while loading on the trailer.
Why choose MoveWheels?
After receiving dozens of quotes from different broker companies, you probably want to try and find a carrier all by yourself. But the thing is those carrier companies do not work with customers directly since they do not have enough staff for that. Usually, a carrier company is a family-owned business with a dispatcher and 1-2 drivers or it may be a large company with some dispatchers who schedule routes for 1-2 drivers each.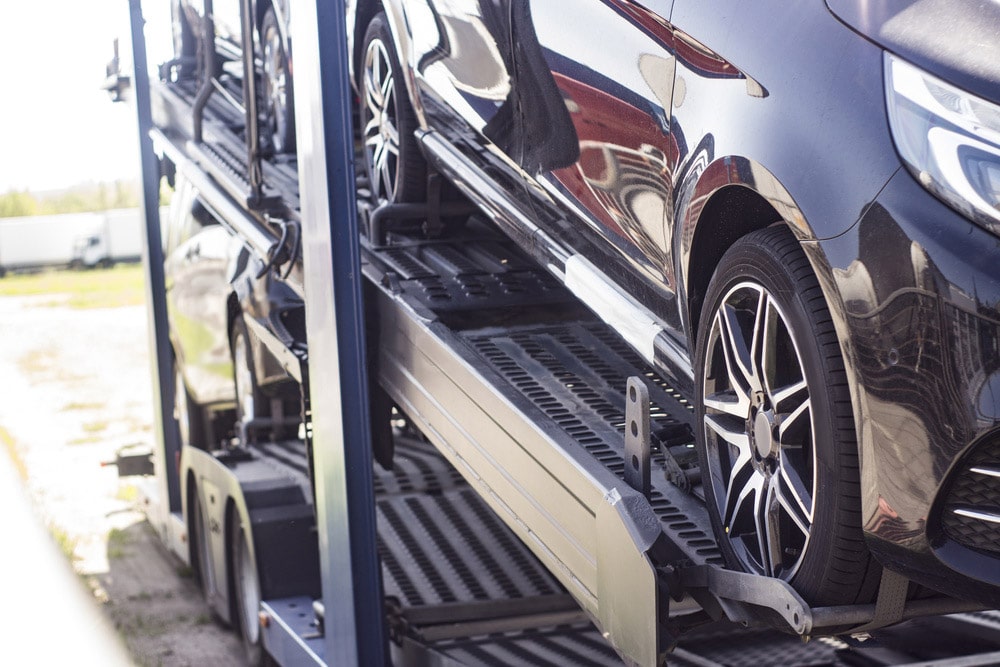 When looking for a carrier by yourself you will have to check the long list of drivers going your route, call each one to check if they are going your route within your time frame, and then check if they are bonded and insured. And in case they are not, you will have to start from the very beginning.
If you go with our company, we will do all these for you and your shipping process will go as smoothly as possible and with no headache. The only thing you will need to do is to meet the driver at the pick up and drop-off addresses. Our shipping agents and customer support service are always online and are ready to answer all your questions 24/7.
Our top priority is happy customers that will get back to us when they need to ship the car again. That's why we offer some discounts that will help you transport your car within your budget:
– multi-load discount (shipping two or more vehicles at the same time and on the same route);
– regular customers (if you are shipping your vehicle with our company for the second (or more) time);
– military discount (10%, applied to active military members);
– business discount: (for dealers, body shops, and any other businesses).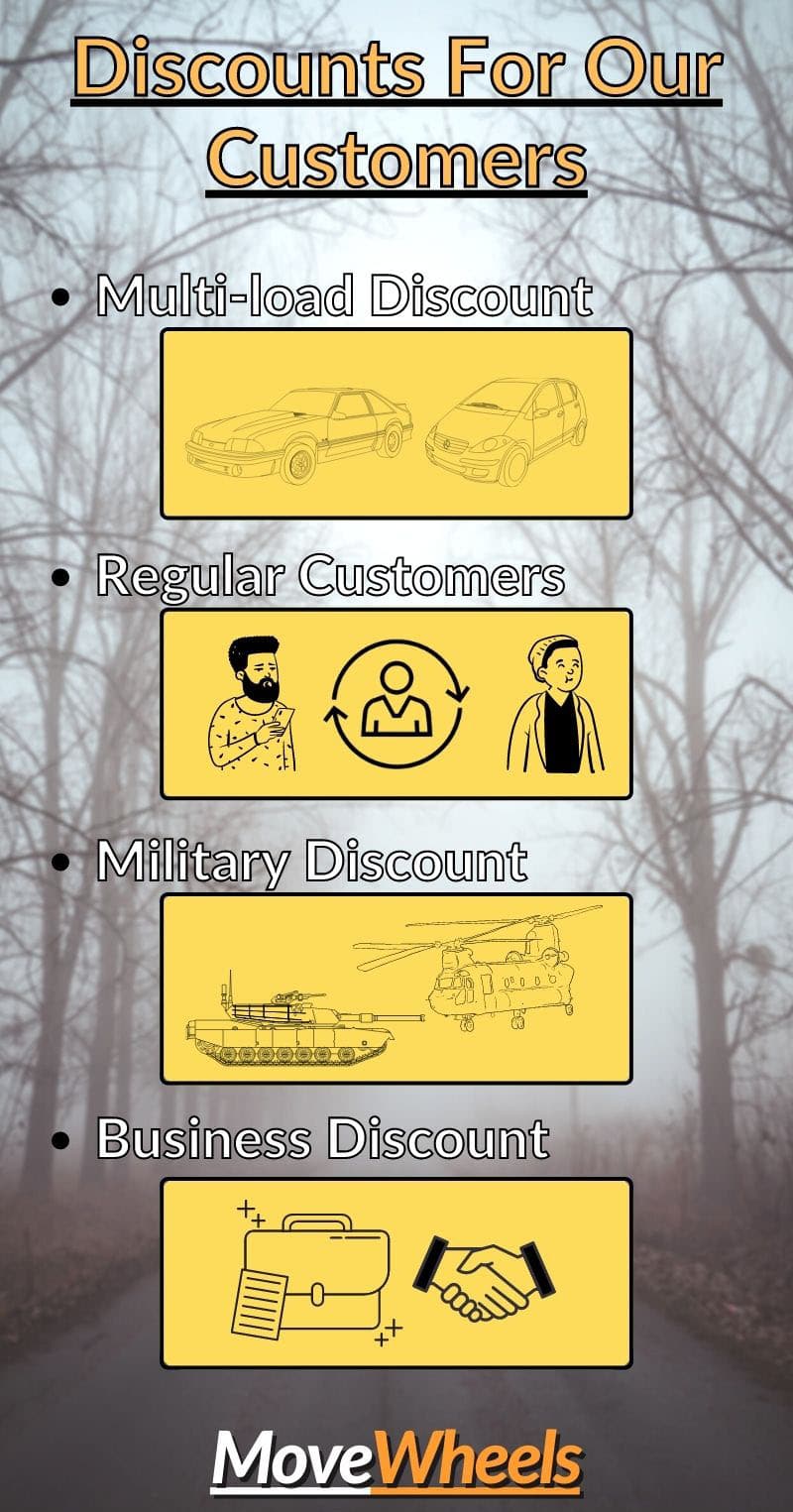 As you can see, we are doing our best to help our customers get the best service for the most reasonable price. Besides that, our company does NOT charge anything upfront fee so you can book your shipment for free. The payment itself is divided into 2 parts: the partial deposit is charged to the credit card AFTER the vehicle is picked up and the remaining balance is paid at the delivery location to the driver with cash or any certified funds.
If you haven't submitted a request yet, just follow this link or call us and get your total price within 20 minutes. We will be happy to help you ship your vehicle.