Mississippi isn't the most popular for car shipping. Even though the number of people who move to or from Mississippi rising every year. And most of them need to transport their cars to MS that prompted us to make this Mississippi car shipping guide, to help our customers to get the best car shipping experience. 
Here we describe such topics: 
Why do people move to MS?

How much does it cost? 

Car shipping services near me?

How to prepare a car for shipping during COVID?
MS
The Magnolia State is often underrated because of its's low economy, but now it's improving and rapidly growing. Mississippi is widely known as a very religious and hospitable state. But besides religion, the major cornerstones of the state are tourism, food, and music. Mississippians are very proud that their state is the birthplace of the King of Rock himself as Elvis was born in Tupelo, MS. Overall, the state offers a pretty relaxed and down-to-earth lifestyle.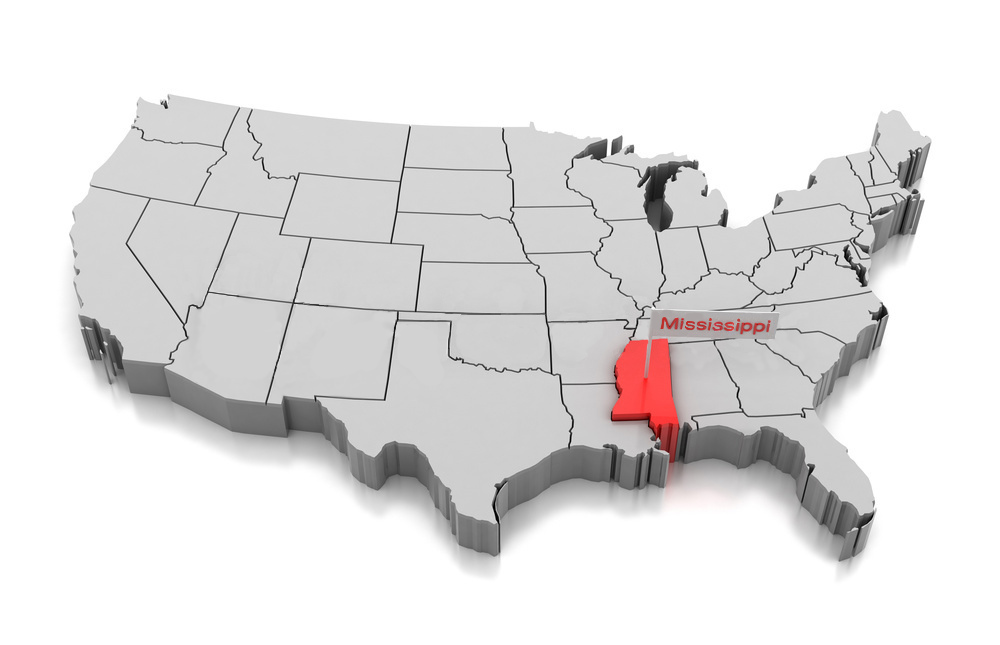 Why do people decide to move to Mississippi?
Of course, everyone has their own reasons to move their car to another state, but when thinking about Mississippi and choosing it among other states there are the following pros of moving there:
– low cost of living and affordable housing market. simply because of the state's low economy living expenses here are almost 20% less expensive than the US average. The median house in MS costs $128 000 in comparison to the $380 000 US average. Info was taken from this site.

– wide range of colleges: the state offers quite an affordable education with the average cost of college tuition for residents being only $4,600. The Magnolia State is home to more than 50 universities, colleges, technical and art schools (following the info from this site)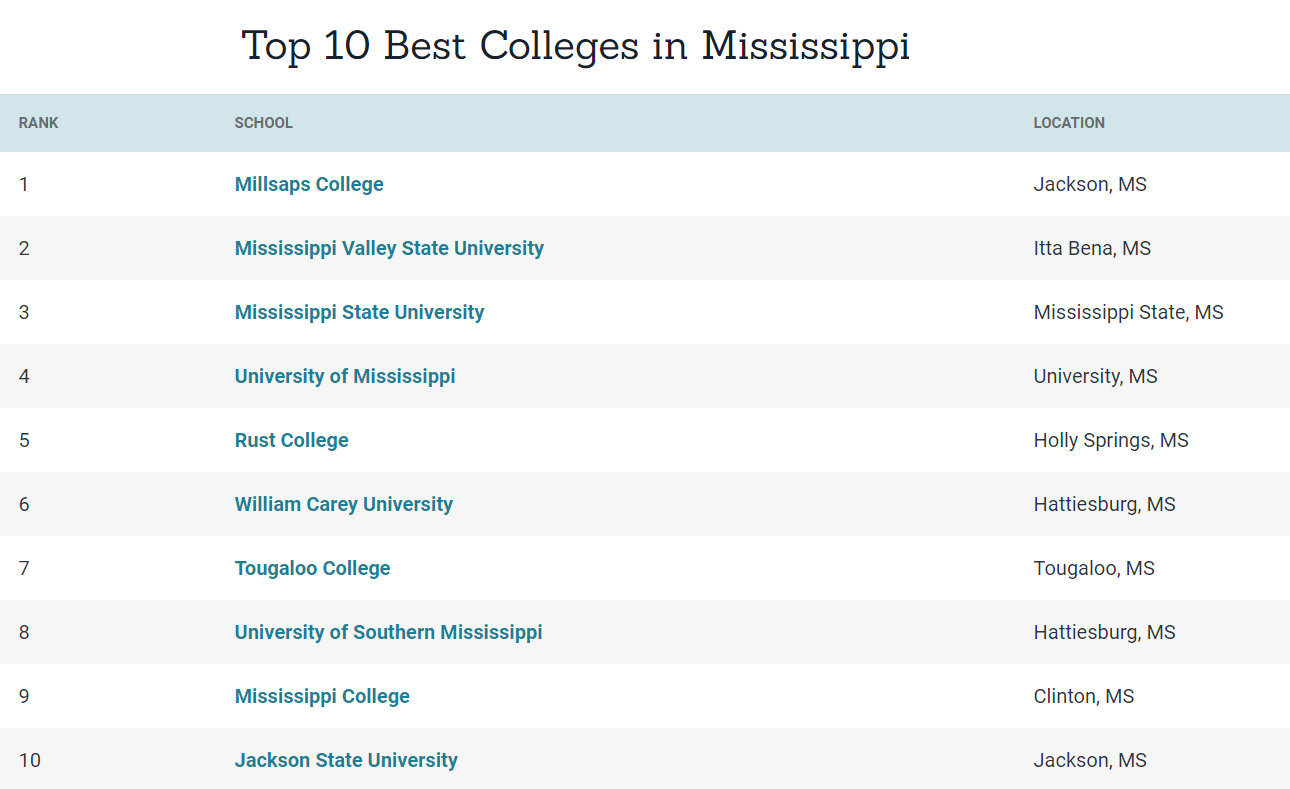 – outdoor life: Mississippi has a lot of picturesque places and offers a wide range of outdoor activities in state parks and national forests.
Even though the job market is not that good in MS, you can always find a job here since it has different fields where you can find yourself in. Agriculture and forestry are top industries in the state. Besides them, the biggest employees are education and health care services, also trade and manufacturing. Toyota Motor Corporation and Nissan Automotive have their plants in the state.
What is the cost to ship a car to Mississippi and why should I choose Movewheels?
Mississippi has a good geographical location and it makes it easy to schedule a driver within the exact time frame you request. Though it doesn't depend only on the pick up location, but the drop off as well, scheduling the driver to move the car to a small town in MS takes some time). The price for moving the vehicle depends on different factors as its size (i.e. sedan, SUV, pickup truck, or RV) and mileage. You can get your free quote with Movewheels here.

Unlike all other companies, we do NOT require any kind of prepayment. So when you place an order with our company we do NOT charge anything because we haven't done our part of the deal yet.  Payment is divided into 2 parts and the only time we charge your card for a partial deposit is AFTER your vehicle is picked up and on the way to its destination. Then you will pay the remaining balance to the driver at the drop off with cash or any certified funds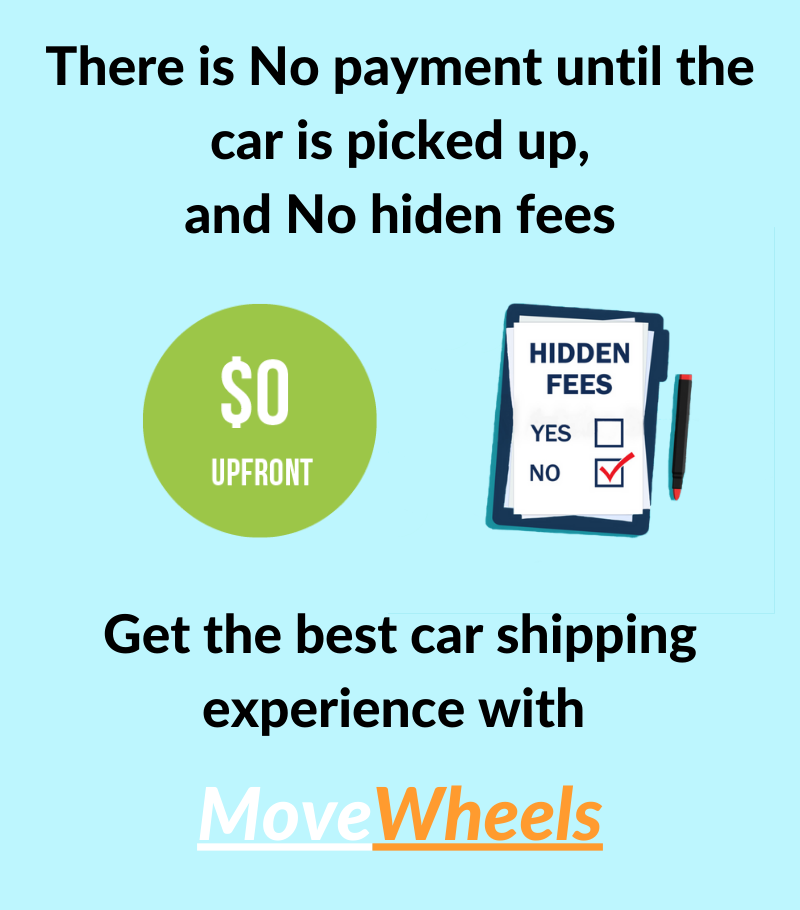 All broker companies you received quotes from are looking for drivers on the website called Central Dispatch. The company posts the information about the vehicle with a specific price mentioning its year, make, model, zip-codes of both pick-up and delivery, and how soon it needs to be picked up. The driver then checks the route and if it matches his plans and the rate works for him, he calls the company and sets up the pick-up date. If it not, the driver can make an offer to move the vehicle for a higher price. In fact, it's like an auction for a spot on the trailer.
Moreover, our company also has its own database of reliable and professional drivers that we are working with on a daily basis.
Here are some pictures of the Central Dispatch national load board for July-August 2020. All prices are for a sedan and are only carrier rates (you will need to add a $100-170 brokers fee and you will have the total price).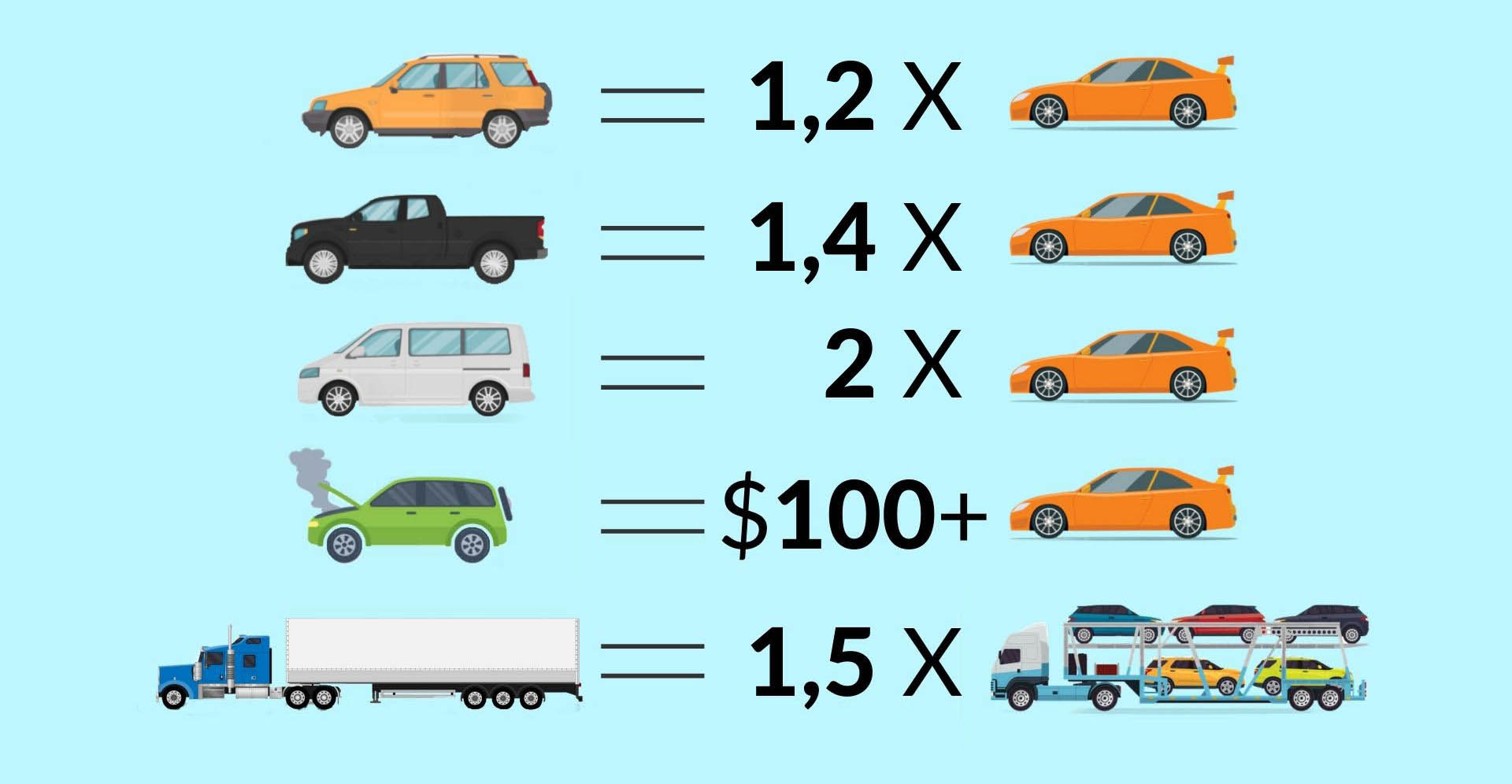 Shipping from the East coast to Mississippi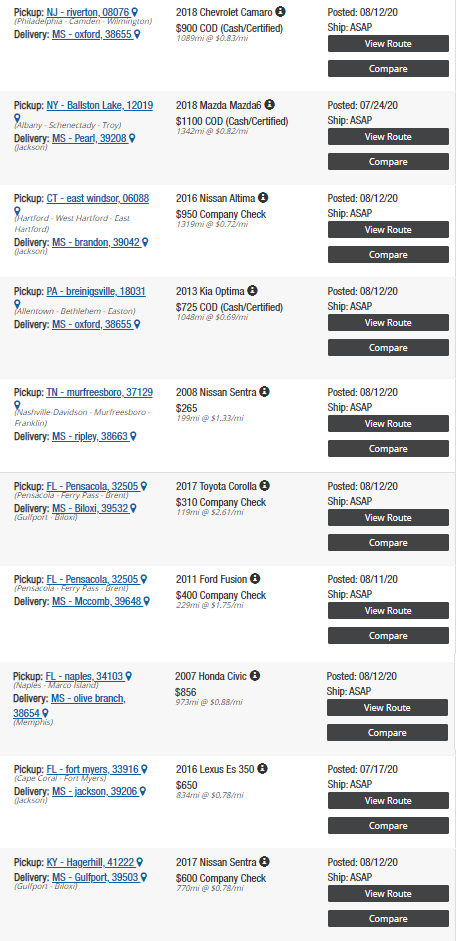 If you are shipping the car from Key West (or nearby locations like Marathon or Layton) to Mississippi, you need to add $250. Islands of this area are hard for a big trailer to get to so there is a carrier company that moves the vehicles from Key West to Homestead where the car is loaded on a smaller trailer then heads to your delivery address. You can also drive the car to Homestead and meet the driver there.
Shipping from the North and north-east area to Mississippi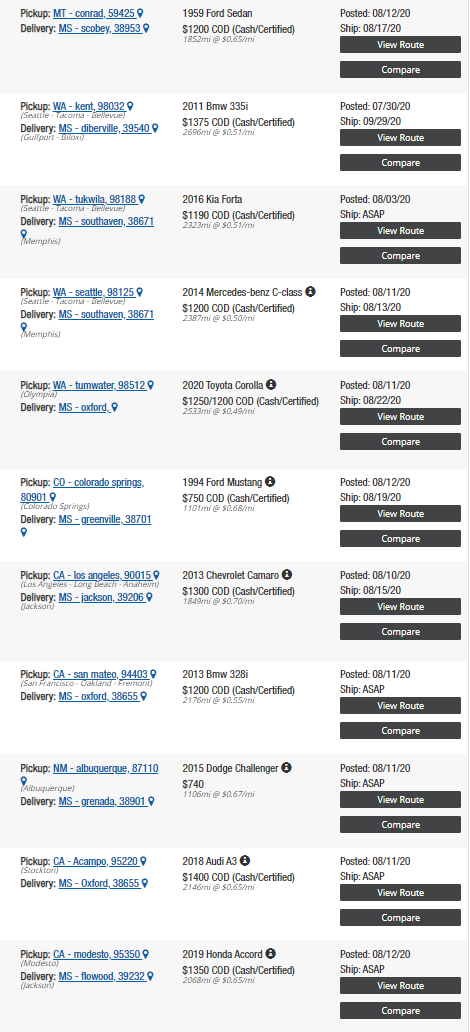 Shipping from the Southwest area to Mississippi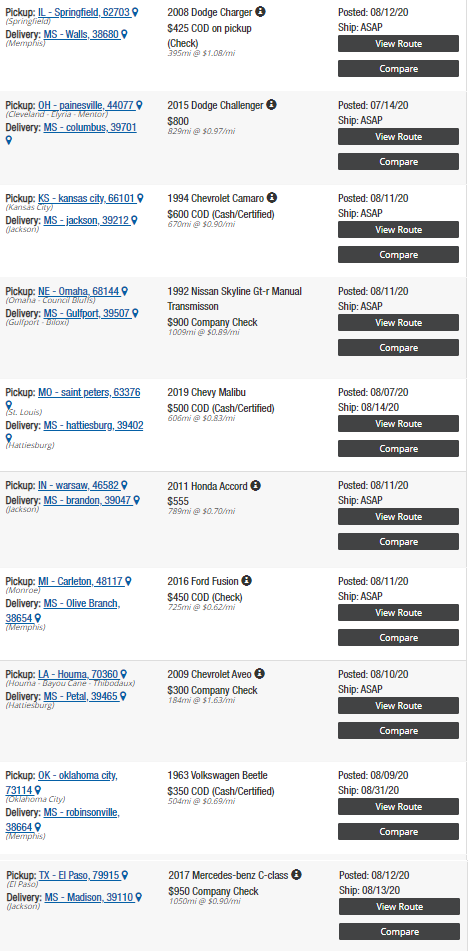 Mississippi Car Shipping near me
All in all, Mississippi is not very popular among carrier companies and there are only a few of them based there. For example, B3 Transport LLC is an auto hauling company operating in the southern region within Texas, Tennessee, Alabama, Louisiana, Georgia, and Mississippi. The owner of the company is also the driver and the dispatcher. He schedules his route, contacts the customers, and transports the cars by himself.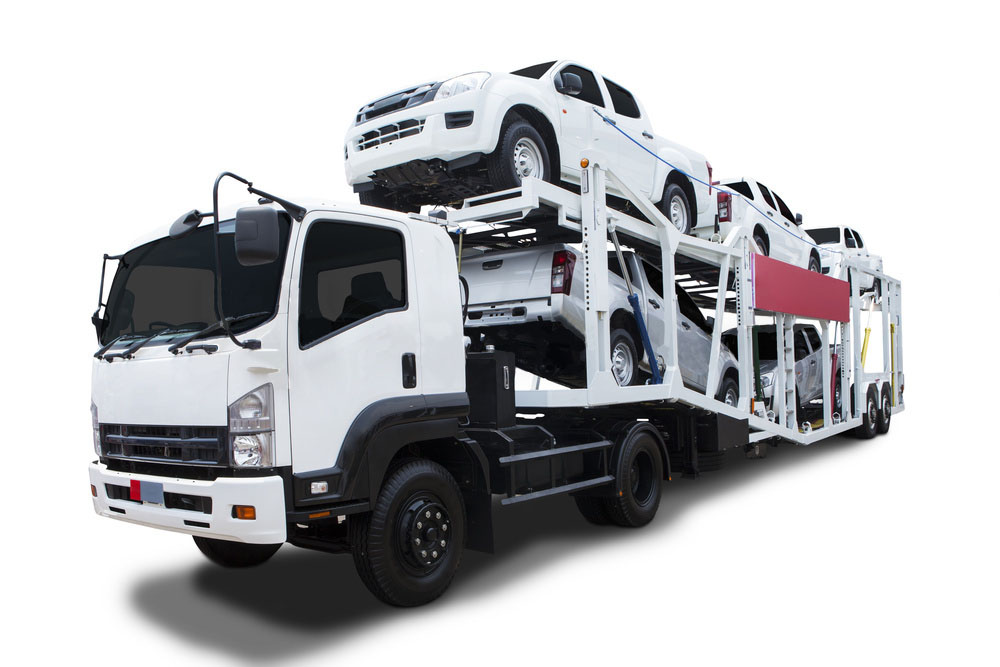 Another company based in Mississippi is B&A Logistics LLC, which is also a family-owned business operating a 7 car hauler within the East coast and some southern states.
1 Day Auto Transport and Underwood Contracting are each owned by one person who is the driver and the dispatcher at the same time. These companies operate from CA to GA and they own flatbed trailers that are used to move heavy equipment or very large vehicles.
Car shipping during COVID?
Most of the drivers are making 7 days ahead reservation during COVID, so it's better to place an order at least a week ahead in advance before the pick-up. This will help you avoid expedited shipping costs.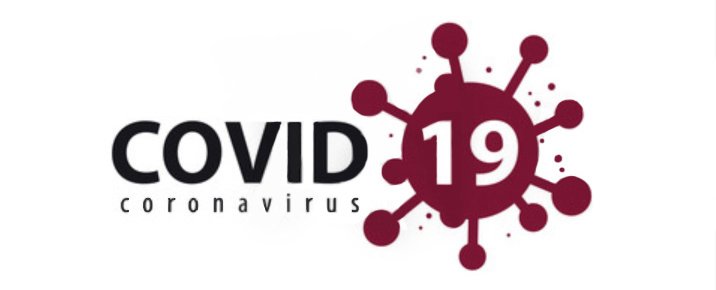 Also after everything is negotiated and the driver is assigned to your order, you should prepare your vehicle for transportation by removing all tags and plates because road cameras may take a picture of your car by mistake and send you a ticket. You can easily dispute it by showing the Bill of Landing but it usually takes some time.

As for COVID-19, we do advise you to follow the next rules to keep yourself and the people around you safe:
– Wear a mask: the first and most important thing you should do when shipping a car during COVID is to wearing a cloth face covering. This is especially important when it's hard to stay at least 6 feet away from people.
– Wash your hands after each contact with the driver: another very important thing to do is to wash your hands with soap and water for at least 20 seconds or use a hand sanitizer with at least 60% alcohol. Don't forget to do that both after the pickup and the delivery of the vehicle.
– Disinfect the car after the delivery: when you receive your car make sure you properly clean and disinfect it especially the parts the driver probably touched (the door handle, gear shift, and the steering wheel). You can also go to a car wash and they will disinfect the car for you. 
The whole list of car shipping advice you can read here.