Every year millions of people across the US buy used vehicles from auctions. That's why we made this guide, here you can check the main points you should be aware of when shipping vehicles from auctions. Quick links:
Millions of residents across the nation buy used cars from auctions. This popular sales method allows buyers to directly purchase vehicles, often for greatly reduced prices. MoveWheels has all the necessary experience transporting vehicles both to and from the major auction sites. And we can easily provide you with an auction car shipping service.

When looking for a car online, it's important to remember 3 things:
– Car auction (or any other website you are using to look for a car) should have pictures of the vehicle. If they don't post any pictures or have only 1-2 of them it's better not to trust them since the vehicle may have issues that the seller is trying to hide.
– There should be a vehicle's VIN number to prove that it's the same vehicle that is shown on the photos.
– Choose only auction websites with reviews to avoid being scammed. Lately, there have been some websites claiming they are selling vehicles but are actually fake.
After you win the auction and pay for the vehicle you will need somebody to deliver the car to you (unless you decide to pick it up by yourself). MoveWheels has all the necessary experience transporting vehicles both to and from the major auction sites and we can easily provide you with an auction car shipping service.
---
Popular Car Auctions
All the biggest and most famous US car auctions are open to anyone: any person can get registered, freely participate, and bid on any vehicle. However, each trading platform has its own rules, fees, and storage terms which may be different for private parties and for dealerships. For example, if the vehicle was not picked up on time, a private party has to pay storage fees on the 4th day and for the dealer (if he has a special agreement with an auction) storage fees will be applied later.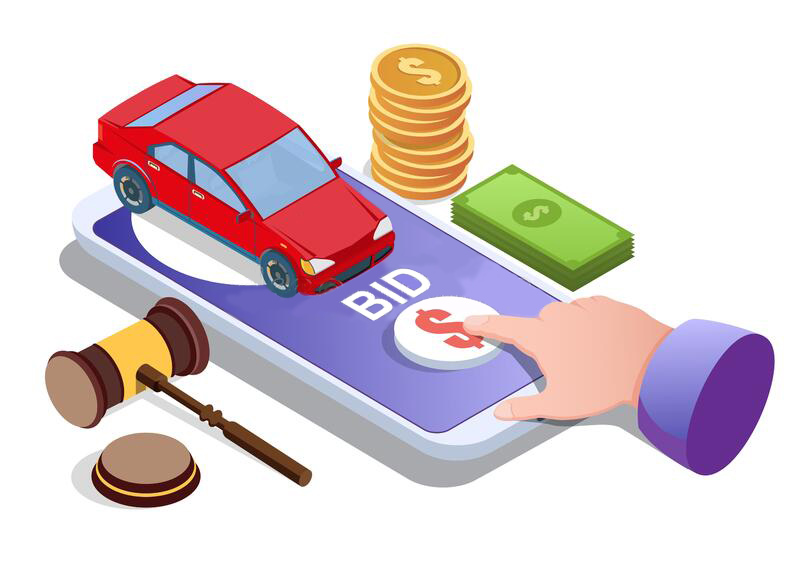 For many auctions, you only need to have a driver's license to register and get a bidder's number. Once registered, many auctions permit online access using a personal ID and password. The largest US trading platforms are: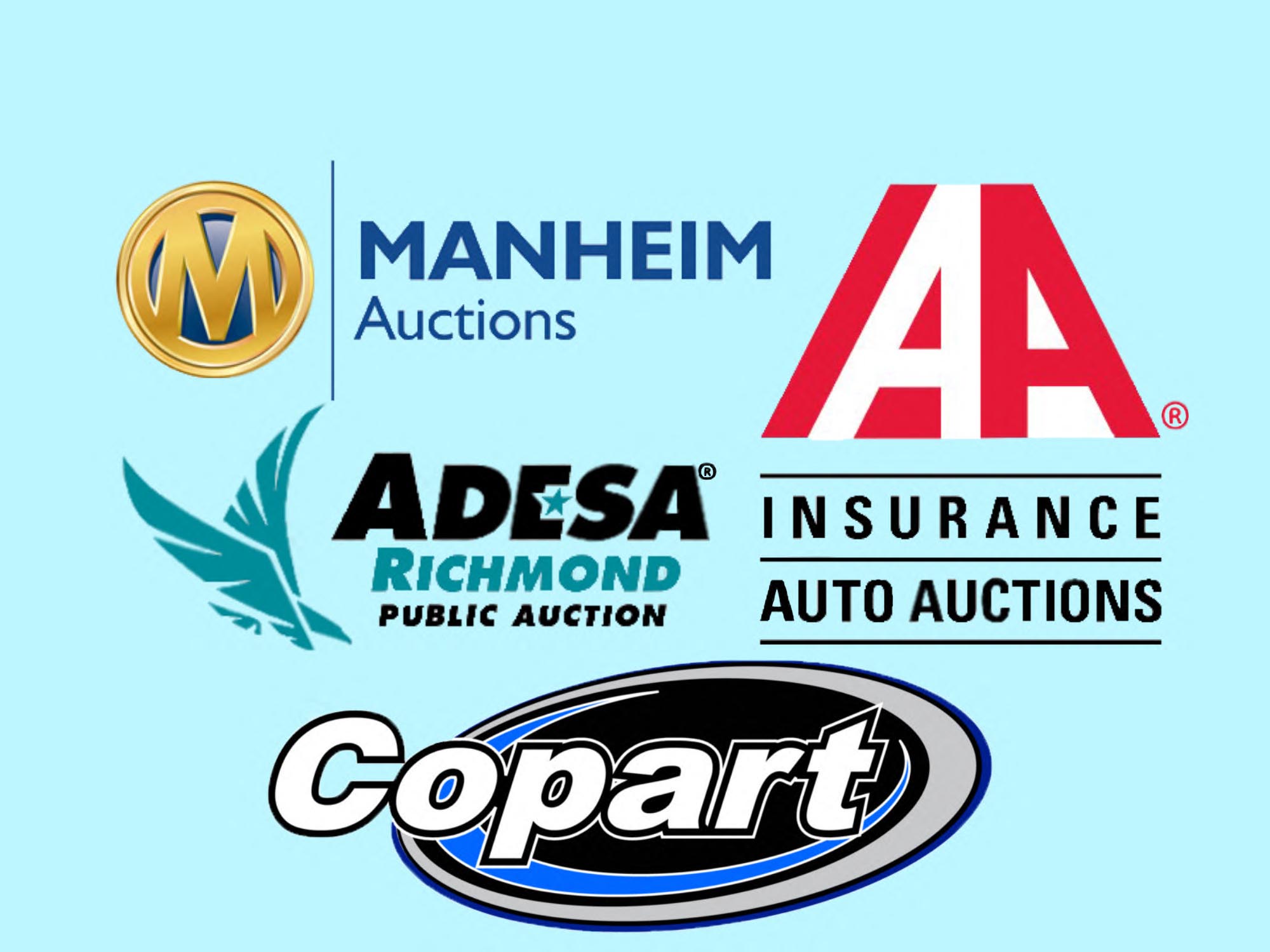 Manheim is the world's largest wholesale marketplace of vehicles. All types of used BUT undamaged vehicles are sold at this auction: motorcycles, cars, crossovers and pickup trucks, RVs and travel trailers, boats, and heavy equipment.
Copart is also a leader among the online vehicle auctions and remarketing services in the US as well as Canada and the UK. It specializes in the resale and remarketing of used, wholesale, and salvage title vehicles and sells over 2 million vehicles per year.
IAA is also a famous online auction but unlike Copart, it sells slightly damaged, salvage and clear-title vehicles, parts of cars, SUVs, motorcycles, and lots of other vehicles across the US. And the same with Adesa auto auctions.
---
Price for an Auction Car Shipping
The cost for moving the vehicle from an auction depends on different factors: mileage, size of the vehicle, whether it is operable or not, carrier availability, time of the year (price for moving to or from northern states is higher in winter because of severe weather conditions).
Usually, the vehicles going from auctions should be picked up within 1-2 days and it makes the search for the best deal unreasonable since while waiting for a lower car shipping cost one would have to pay storage fees. Despite this, it's still possible to negotiate the price with the driver. If the shipping agent knows beforehand when the car may be available for the transportation, the company can schedule the driver for the lowest price available.
Below are the estimated prices for moving the vehicles: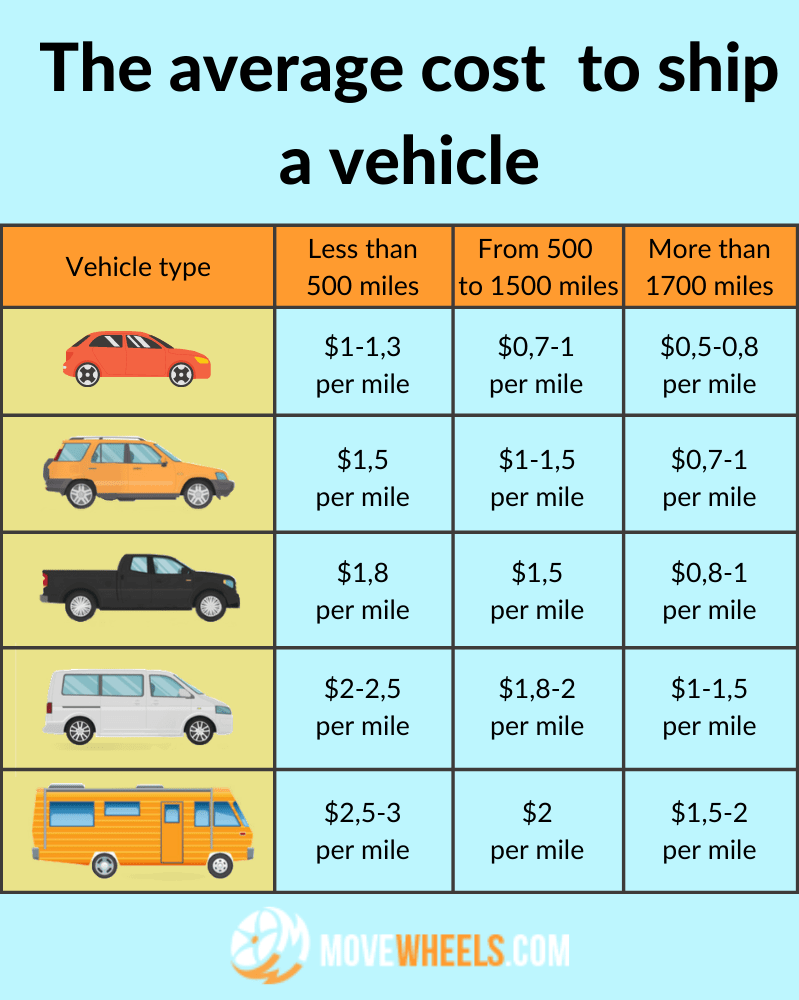 ---
The benefits of hiring MoveWheels for dealerships
If you are a dealer and planning to move multiple vehicles, you will be given a great discount for transportation. Drivers always prefer to deal with dealerships since it's more profitable for them to pick up all cars in the same area than to go extra miles for different vehicles. The more vehicles you want to transport, the lower price you will get for each vehicle.
Unlike other companies we do NOT require any prepayment: brokerage fee is charged only after the vehicles are picked up and the remaining balance you will pay it to the driver at the delivery with cash or any certified funds (company check, money order or cashier's check). Some drivers also accept payments via Zelle App.
By contacting us to move your vehicles from auctions, to or from the dealership you will have:
– a constant shipping agent that will find you a driver on any route within the required time frame;
– 24/7 customer support ready to answer all your questions and help you keep track of your vehicles
– No delay, since the driver is moving only your vehicles.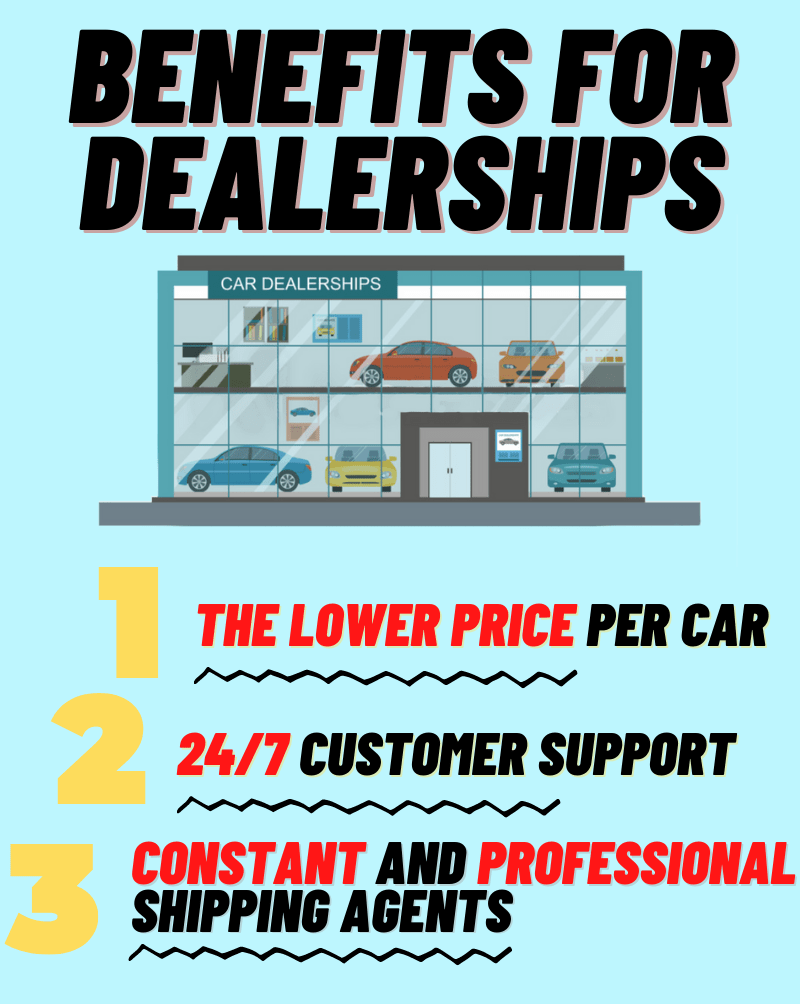 ---
Tips to buy and transport a vehicle from an auction
The first thing one should be aware of when bidding on a car at an auction is that there may be financial risks and potential problems.
Transportation services are often ordered after the purchase is completed, but it's much better to get an estimated cost beforehand. There is one main reason for that: sometimes when the vehicle needs to be shipped for around 3000 mi, the price for the transportation may be almost half of the cost of the vehicle itself. In such cases, it may be cheaper to find another vehicle closer to your area. Savvy customers often contact our experienced shipping agents to check the estimated price by providing the pick-up and destination zip codes, vehicle type, and the date of the transportation. After that, we check the price and can promptly respond with an accurate quote.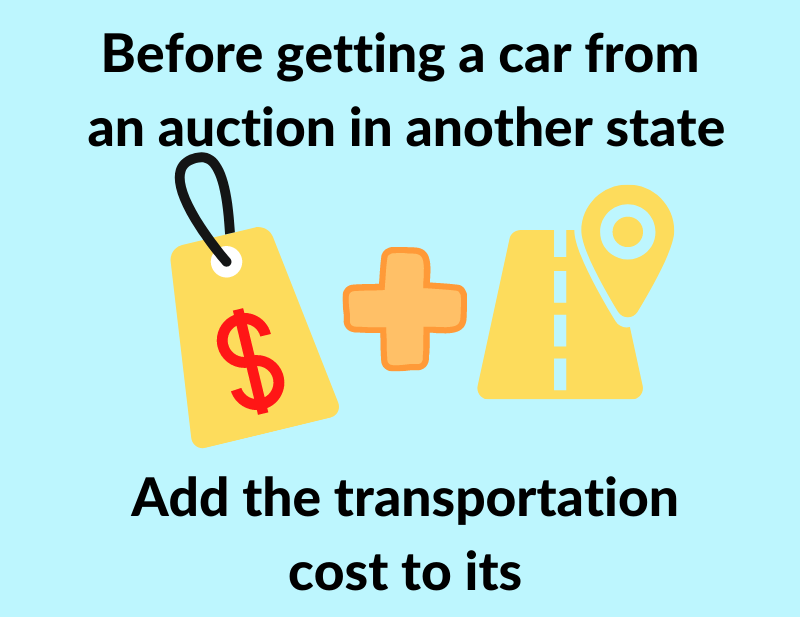 Beware! If you are shipping a vehicle from an auction and requested a price on a lead provider website, you will receive more than 10 different quotes from different companies. Some of these companies can offer you a very low price. We totally understand that sometimes customers have a tight budget, but if you are shipping a car from an auction it is better not to choose companies offering lowball prices. In this case, you will most likely get stuck until the company offers you another driver for a higher rate, and besides ending up with a higher price, you will have to pay storage fees as well.

Secondly, even though used cars can sometimes be bought at an auction 10-30% cheaper than from a dealership, there are inherent risks involved. But despite this, some find a special thrill in placing a winning bid at the auction. Wise and experienced buyers remain cool-headed and think several moves ahead. Experts advise potential buyers to:
· Check the vehicle's service history;
· Request a roadworthy certificate;
· Avoid buying cars that are in little demand;
· Do some market research to find out more information on the lots you are interested in;
· Check current prices for the cars you want to buy.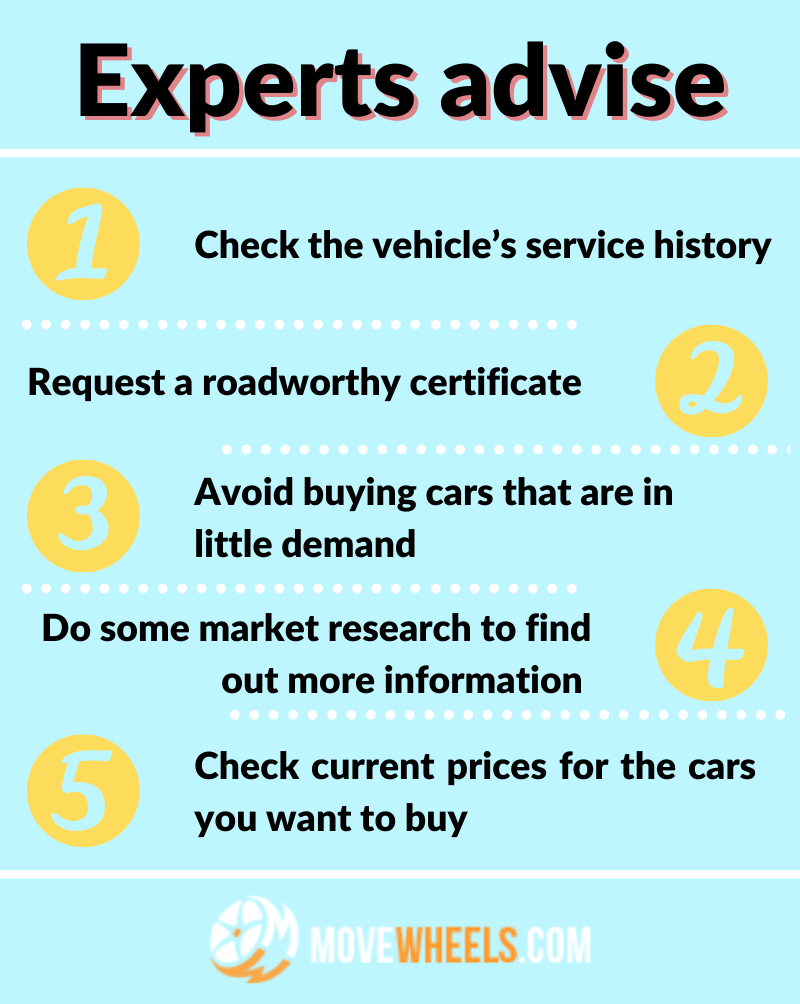 Thirdly, when you're looking for an auction car transport service, it's important to understand exactly what vehicle you're shipping and what kind of trailer you need.
Some auctions sell luxury or antique cars and you may want to ship the vehicle in an enclosed trailer. Before making a final decision there are two details one should know about enclosed transportation: it is more expensive (on some routes it may cost 2-3 times more than an open one) and sometimes it is also harder to schedule since enclosed carriers are not very popular and the drivers usually schedule their routes a few weeks in advance. The main advantages of the enclosed trailer are the extended insurance coverage and the fact that your vehicle will not get rained on while shipping.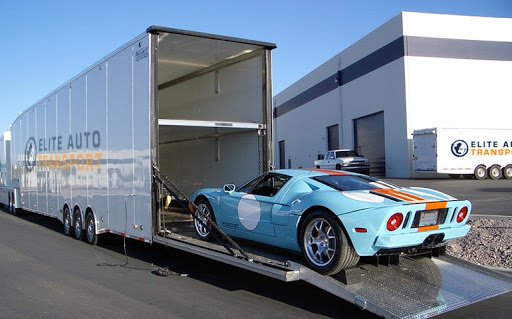 If you buy an inoperable vehicle, you will need a trailer with a winch to get it moved. Even though auctions provide forklifts for loading, you will need to have the vehicle loaded off the trailer at the delivery location as well. If the vehicle is transported less than 1000 mi, it will be more cost-effective to transport it on a trailer with a winch. If it's going for a long-distance it will probably be less expensive to hire a local forklift or tow truck to load the car off the car hauler.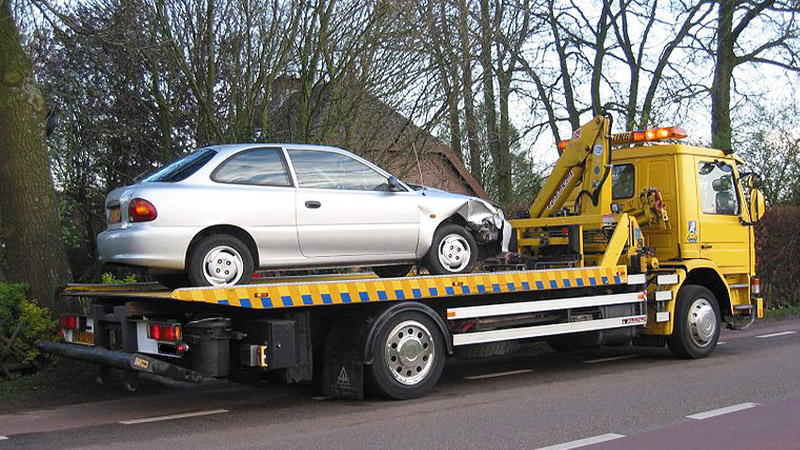 ---
So you won a bid, found a company to move the vehicle, and decided on the trailer type. What's next?
Once an auction has been won and the payment is secured, it is time to schedule an exact driver to pick up your vehicle. Whether it's a car, pickup truck, heavy equipment, or a boat, vehicle transportation with MoveWheels is a piece of cake! To confirm the driver and transport the vehicle we only need the name of the auction, your delivery address, and a few other pieces of information:
– Buyer id (number);
– Lot or stock number;
– VIN code;
– Gate pass (for Manheim only).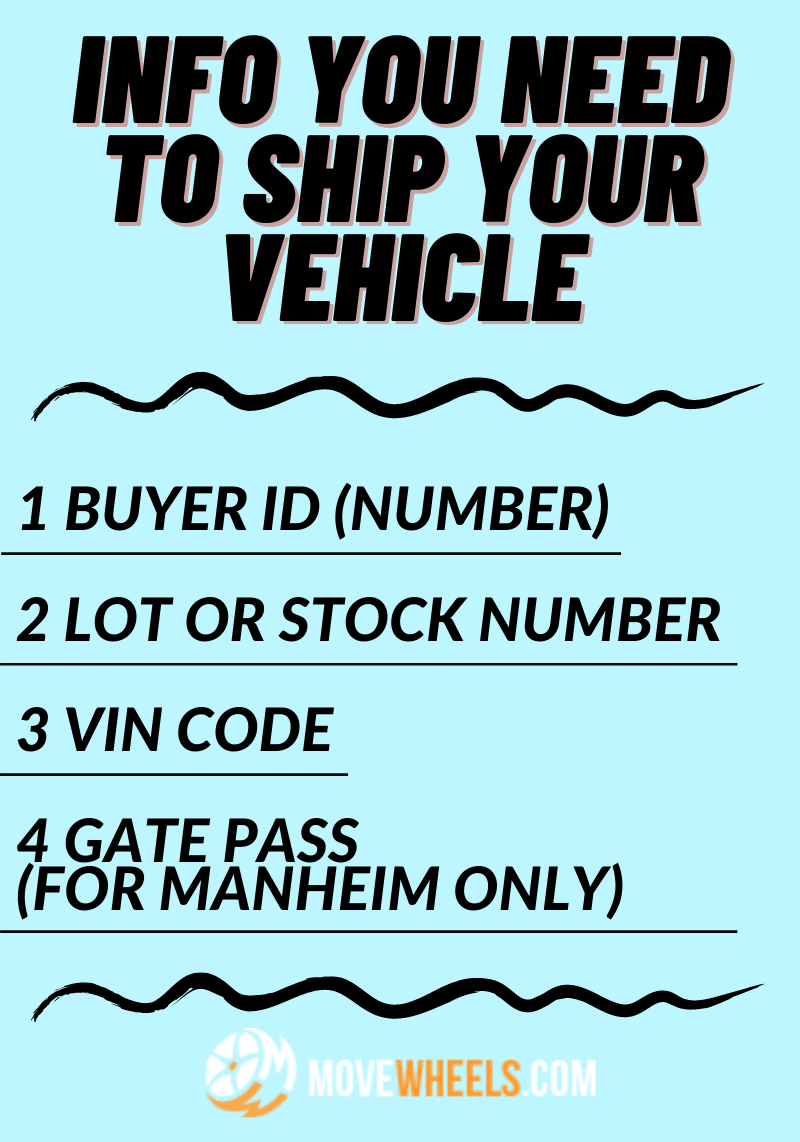 ---
Insurance coverage for the vehicles coming from auctions
Insurance coverage does not depend on whether the vehicle is going from a private residence, dealership, or an auction. It only depends on the type of trailer: for open trailers, the average insurance coverage is $150 000 per each vehicle and for an enclosed one it's up to $250 000 per vehicle.
In the case of shipping expensive vehicles such as sports cars or classic cars, we are always looking for a trustful driver with the insurance coverage that matches the car price.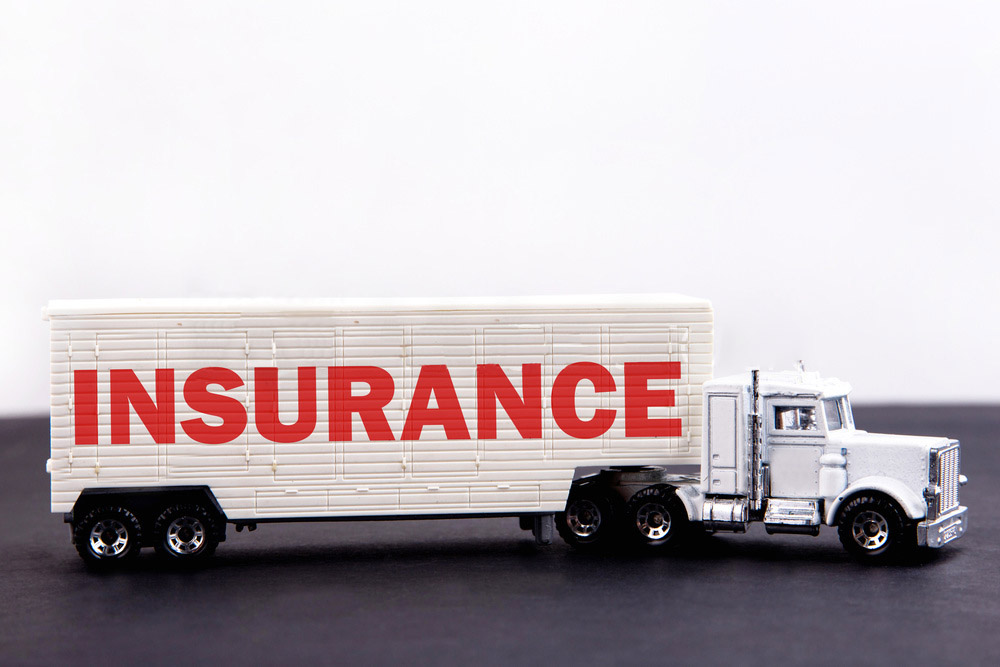 When picking up the vehicle, drivers always inspect the vehicle for any preexisting damages and if there are any, they note it down in the Bill of Lading and take some photos. By customer request, the driver can send you the pictures of the vehicle and check if the vehicle condition is the same as indicated in the seller's listing.
Don't simply trust the auction handlers alone. It may cost a little extra, but please discuss with your shipping agent what exactly should be inspected by the driver upon arrival. Not that long ago we had a situation when an auction claimed the vehicle was fully operable, but when the driver came and inspected the vehicle it turned out that the car didn't run.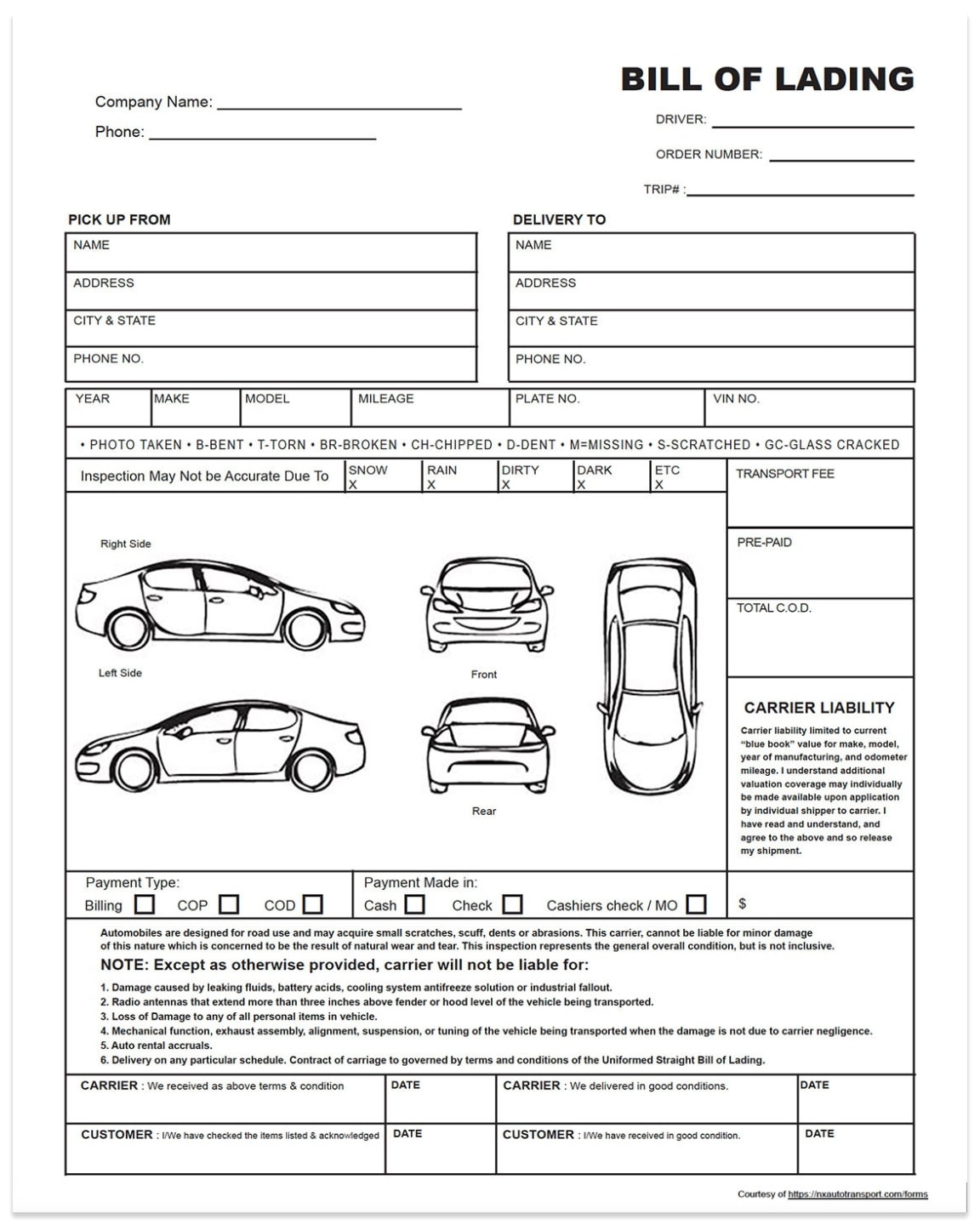 Once you receive the vehicle, please pay attention to the Bill of lading because it's the only document that can guarantee you getting the insurance coverage if the vehicle was damaged during transportation. Don't sign it without checking the vehicle properly.
If you want to be sure in all points of the shipping process you can read this article: the best car shipping advice.
---
Other Car Shipping (Trading) Platforms
Online marketplaces such as eBay, craigslist, Fair, Vroom, and Carvana are also really good for buying a used car, motorcycle, trailer, etc. There you will find detailed information about the vehicles, their owners, methods of payment, and insurance policy. Customized searches by location and other options are provided. Transactions are secured and closed immediately.
Whether online or live, every auction has its own special rules and policies, and bidders should be aware of these differences. Once the bidding starts it's time to get an estimated rate and when the deal is complete, it is time to order our reliable car transport service.
As an experienced broker, MoveWheels guarantees that your vehicle will be delivered to you in the same condition as at the time of loading. Our professional drivers can thoroughly examine the car at the pick-up to make sure the vehicle is in the same condition as it is stated on the paperwork.
If you not sure that you are ready to ship your car, you can read our other shipping articles, about cars, bikes, boats, and even farm and heavy equipment shipping. Or just feel free to contact us by getting your free quote, clicking the button below.