Have you ever thought about moving to KY? If yes, you probably will need to transport your car to this state. That's why we made this Kentucky car shipping guide. Here we answer for all the most often asked questions by our customers, such as:
Why do people ship their cars to Kentucky?

How much does it cost to move a car to this state?

Kentucky car shipping companies near me;

Car shipping preparation during COVID-19.
KY
Kentucky, also known as the Bluegrass State, is a part of the Southeastern region of the U.S. Though Kentucky is not that large, it's the 26th most populated state and has so many things to offer. The birthplace of Abraham Lincoln, this state is just a hidden gem.  It is known for horse racing, the world's longest cave system, coal, national and state parks, automobile manufacturing, tobacco, bluegrass music, Kentucky Fried Chicken and so many more.
The state capital is Frankfort, even though it's only the 15th list inhabited city in the state with 28 000 people living there.  Meanwhile, the largest cities are Louisville and Lexington.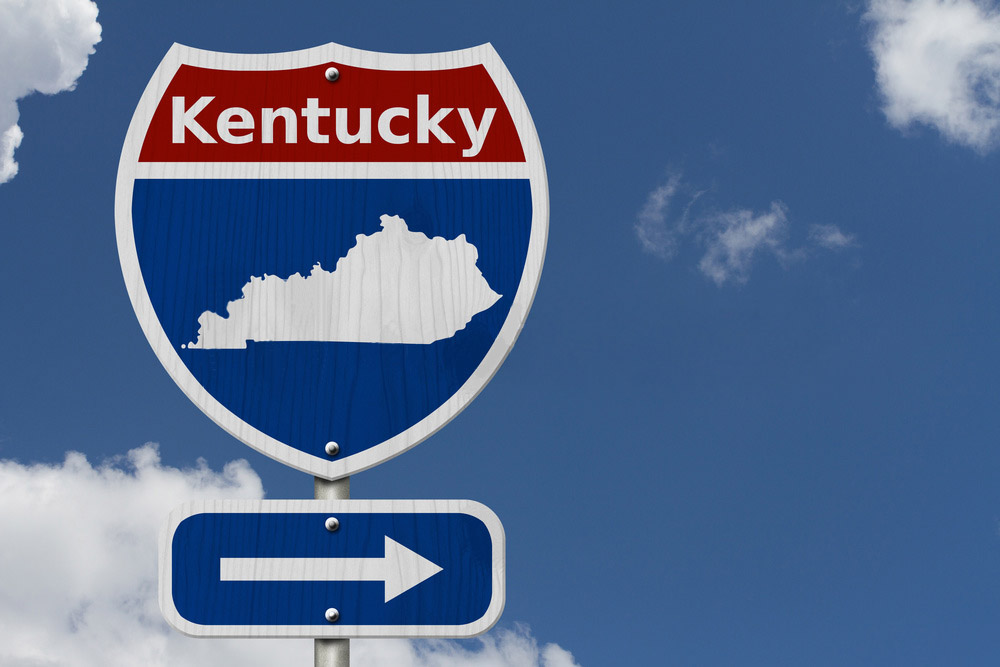 Why do people decide to ship their cars to Kentucky?
When relocating to Kentucky, at first you will probably not know what to expect. But let us help you discover what makes the state so great and why Kentuckians love living here.
Kentucky has a great geographical location and has a wide variety of attractions. The great example is the Appalachian Mountains in the east with lots of paths for tremendous hiking, the Mammoth Cave in the west which is the largest cave system in the world. And the Cumberland Falls is the only waterfall in the western hemisphere where a moonbow regularly occurs.
In order to visit all these places after moving to Kentucky, you will need your vehicle. And if you want to ship it we are here to help you with that; you can get your free shipping quote here.
Another reason why Kentucky is a great place to live in is that it has great neighborhoods, lovely people, and a low crime rate. Kentuckians are extremely hospitable; they help and welcome you right away. Also compared to nationwide levels, Kentucky has a rather low level of crime (it's 2.1 per 1,000, versus the national rate of 3.7). Information was taken from this site.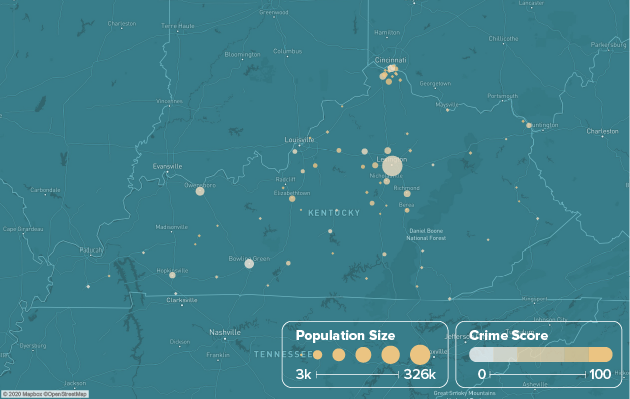 And of course one of the most important reasons for moving to Kentucky is the job market and the cost of living. Among the largest companies headquartered in Kentucky is Yum! which operates the brands' Taco Bell, KFC, and Pizza Hut. Also, Kindred Healthcare and Toyota Motor Engineering & Manufacturing North America are based there. So if you are a healthcare professional, professor, teacher, or factory worker you may build a pretty good career while living in Kentucky.

The cost of living is one of the lowest in America and it was ranked the 8th in the country for affordability. The median home listing price in Kentucky is $170,000 in comparison to the country's median listing price of $285,000. Information was taken from https://livingcost.org/.
What is the cost to ship a car to Kentucky and how does the payment work with Movewheels?
As we already mentioned, Kentucky has a very good geographical location and that makes it very easy to schedule a driver within the exact time frame you provide us. The price for moving the vehicle depends on different factors as its size (i.e. sedan, SUV, pickup truck or RV), mileage, time of the year (i.e. prices for moving in December are higher than usual). You can get your free quote with Movewheels here.

Payment is divided into 2 parts and unlike all other companies, we do NOT require any kind of prepayment. So when you place an order with our company we do NOT charge anything as long as we haven't made your part of the bargain.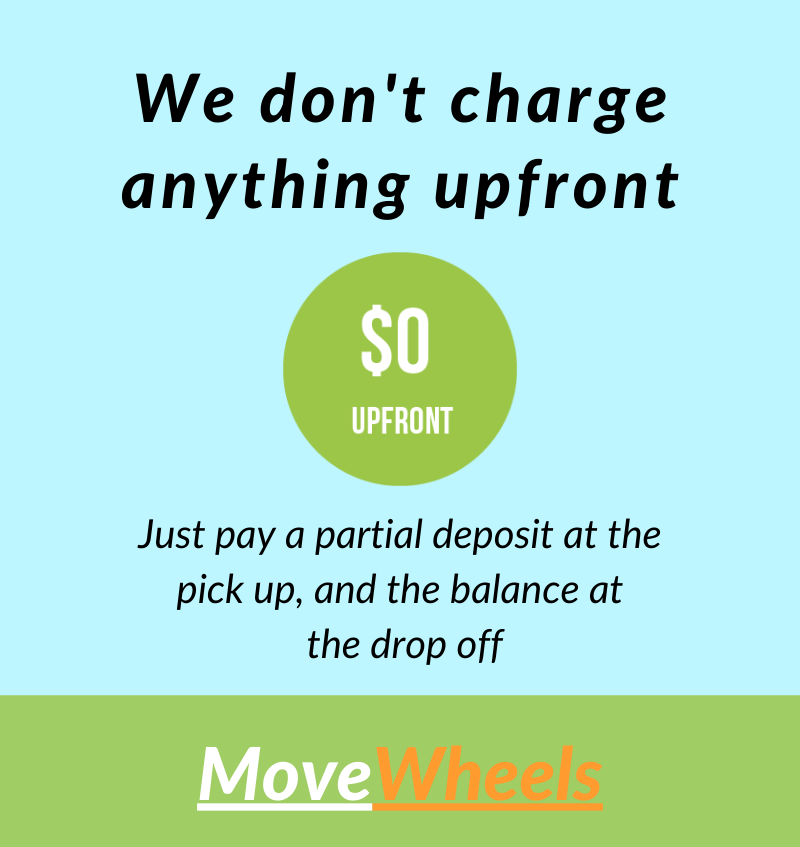 The only time we charge your card is AFTER your vehicle is picked up and on it's way to the delivery location. So once we confirm that your car loaded on the trailer and everything went well, we will charge a partial deposit of $100-$180 (depending on the taxes on the route) and the remaining balance you pay to the driver at the drop off with cash or any certified funds. It can be a money order, cashier's check, or company check.
All transport companies you may receive a quote from are looking for drivers on a website called Central Dispatch. The company posts the information about the vehicle with a specific price mentioning its year, make, model, pick-up, and delivery zip-codes and how soon it needs to be picked up. If the price works for the driver, he calls the company and sets up the pick-up date. If the price is too low the driver can make an offer to move the vehicle for a higher price or wait till the company reposts the vehicle for a higher rate. To be honest, it's like an auction for a spot on a trailer.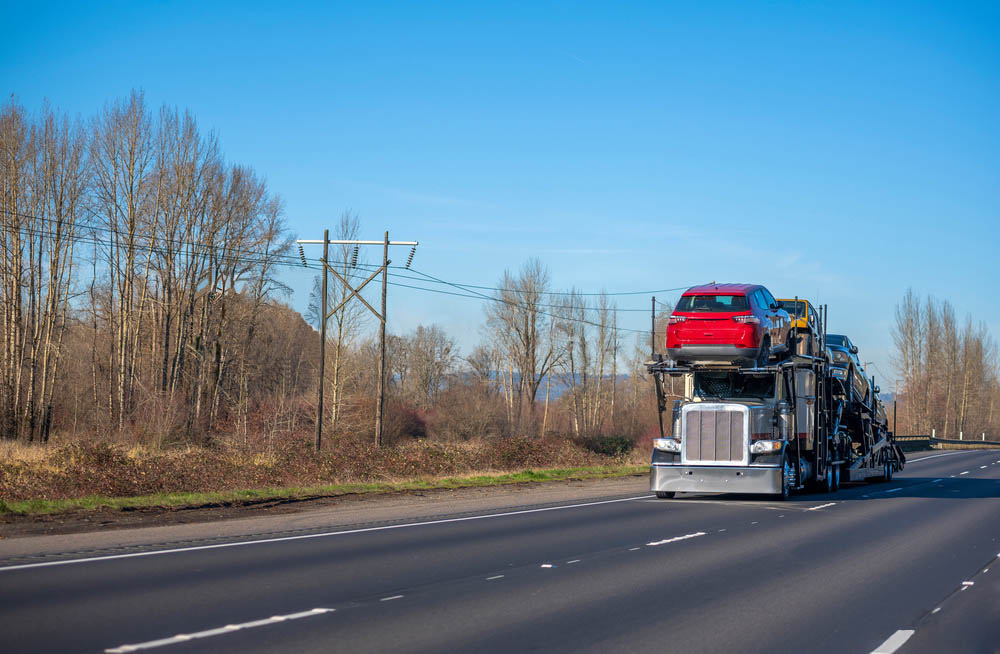 Our company also has our own database of reliable drivers that we are working with on a daily basis and we always try to find the best price for our customers.
Here are some pictures of the Central Dispatch for July-August 2020. All prices are for a sedan and are only carrier rates (you will need to add $100-170 brokers fee and you will have total price)


Shipping from the East coast to Kentucky
If you are shipping the car from Key West (or nearby locations like Marathon or Layton) to Kentucky, you need to add $250. Islands of the Key West are hard for the big trailer to get to so there is a carrier company that moves the vehicles from Key West to Homestead where the car is loaded on the trailer going to your delivery address. You can also drive the car to Homestead and meet the driver there.
Shipping from the South area to Kentucky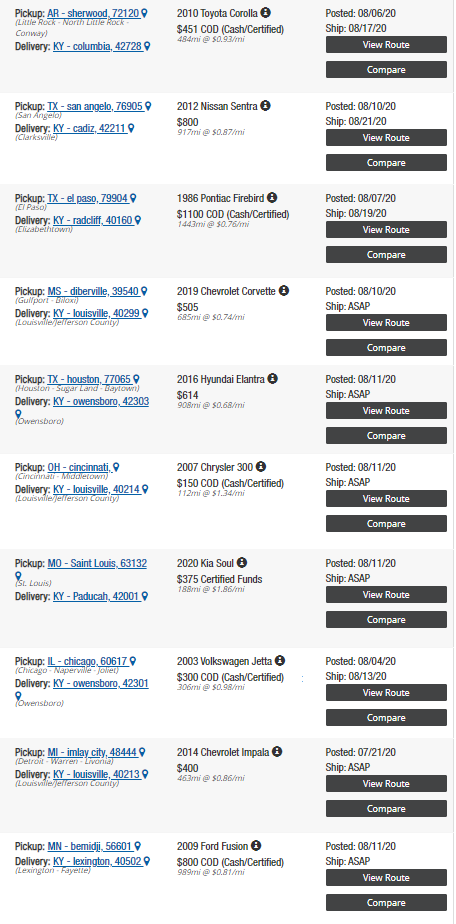 Shipping from the West Coast to Kentucky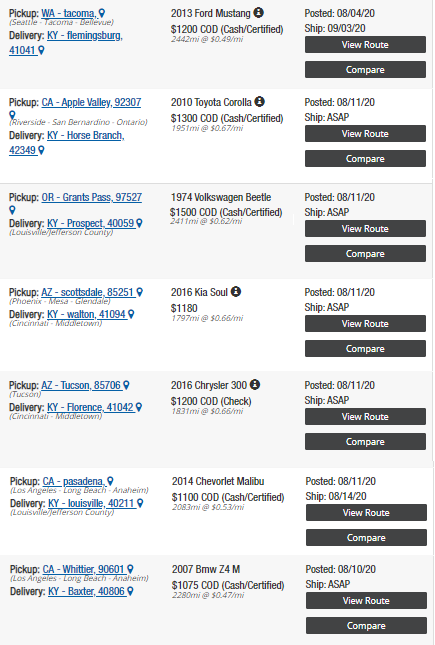 Kentucky Car Shipping companies near me
There are a lot of carrier companies located in Kentucky. Most of the companies offer open transportation and go to neighboring states among which the most popular are Illinois, Indiana, and Ohio. For example, Ashley Transport is a family-owned business that covers all the neighboring states, i.e. IL, IN, OH, WV, VA, TN, NC, SC, AR, MO.
Another company we usually work with is Accelerated Transport which is also owned by a family and the driver usually goes to GA and AL moving 2-3 cars at a time.
Some other companies move only inoperable vehicles because they have a trailer with a winch.  For example, Albert Transportation is owned by one person who is the dispatcher and the driver at the same time. He schedules the route, contacts the customers, and transports the vehicles all by himself.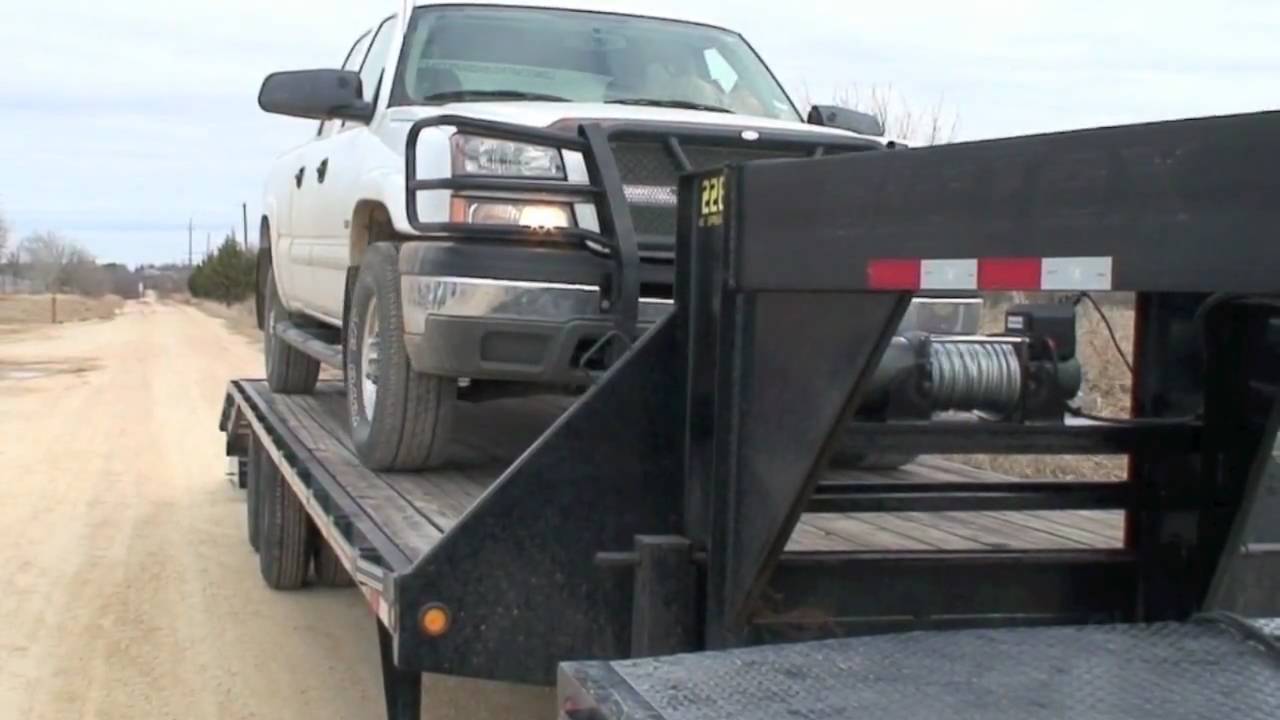 The route KY to GA and (or) FL is covered by Alnajjar Transport and A&M Trucking Express who own 6 car haulers and are also family-owned businesses with 1 dispatcher and 1 driver. Usually, they go down to Florida once in 7-8 days.
If you need to have the vehicle transported ASAP or you don't have time to look for the best car carrier companies on google, check their insurance coverage and call them to see whether they are going your route, you can hire an experienced broker company that will do all that for you. You will only provide the addresses and the broker will start working on your order.  Some companies ask for prepayment before they even do something. But our company does not work this way. We have NO upfront payment. We work on your order and find a carrier to transport your vehicle and only after our job is done, and the car is picked up we charge a partial deposit of $120-$180, and the remaining balance, you will pay it directly to the driver at the delivery address.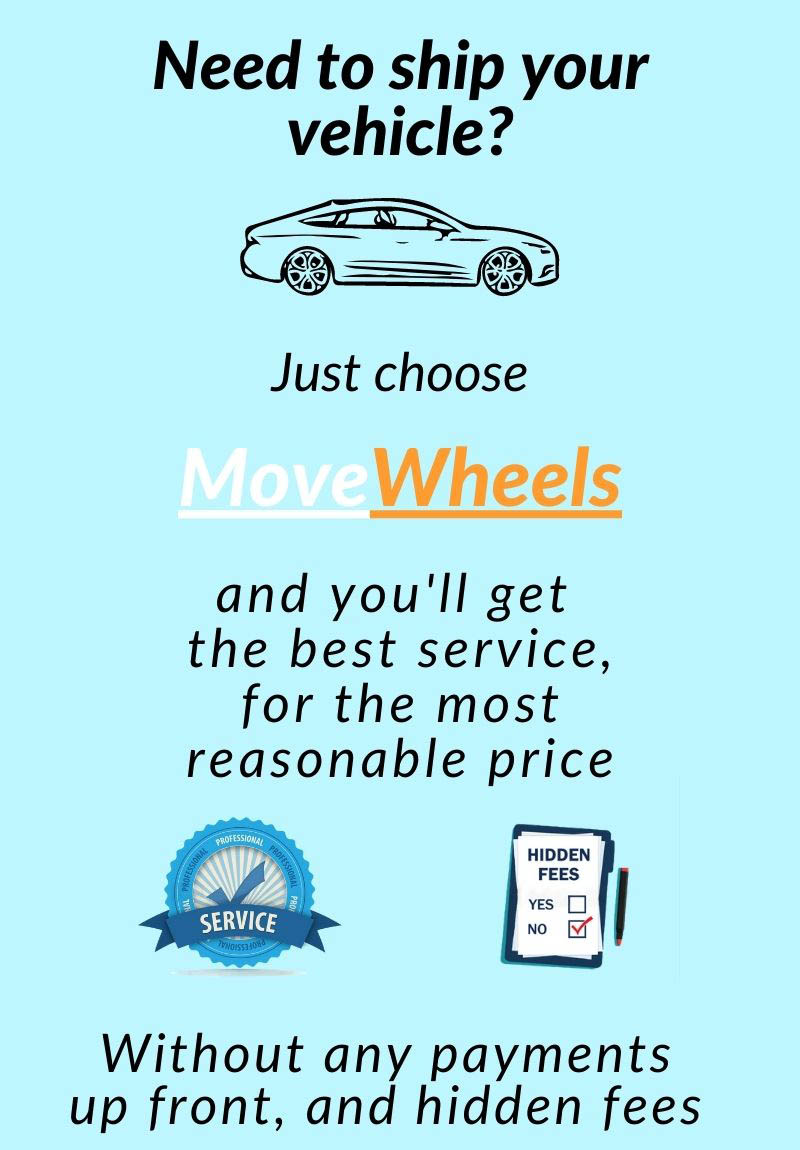 Is there anything I have to do when shipping the car during COVID?
If you are wondering if it's more difficult to ship the car during COVID, we have some good news for you. During this pandemic, our drivers are running their routes as planned and most of them are making 5-8 days in advance reservation, so it's better to place an order at least a week ahead of the 1st available pick-up date. This will help us to get the carrier for a reasonable price and you will have plenty of time to get the car ready for the move.
The transportation time also remains the same: 7-10 days from coast to coast, 5 days from north to east regions (or vice versa).
After everything is set up and the date is negotiated with the carrier, make sure you clean the interior of the car with detergent. Also, don't forget to remove all tags and plates before the pick-up so you won't receive any tickets by mistake. If by any chance you get it, you can easily dispute it by showing the Bill of Lading but it will still take some time.

If you are planning to meet the driver at the pick-up location and give him the car key take the same safety measures you usually would when going out in public: wear disposable gloves and a mask.
At the delivery location, you will want to follow the same safety measures. Also after you receive the vehicle, make sure to sanitize the parts of the vehicle the driver likely touched: the door handle, gear shift, and steering wheel. You may also go to the car wash and they will disinfect the car for you.