If you consider moving to Midwest, Minnesota is probably one of the best options. There are so many reasons for moving here except for the weather of course. If you are not a fan of snow or winter activities, you have to think twice before relocating here. To help you out and make your move much easier we gathered some helpful information and put it in an article that includes the following topics (just click and you will get the information needed):
– What is so special about Minnesota that makes people move to the state?
– How does the car shipping work?
– What is the cost to ship the vehicle to Minnesota?
– What if my vehicle gets damaged?
– Minnesota Car Shipping near me
– How can I get ready for moving?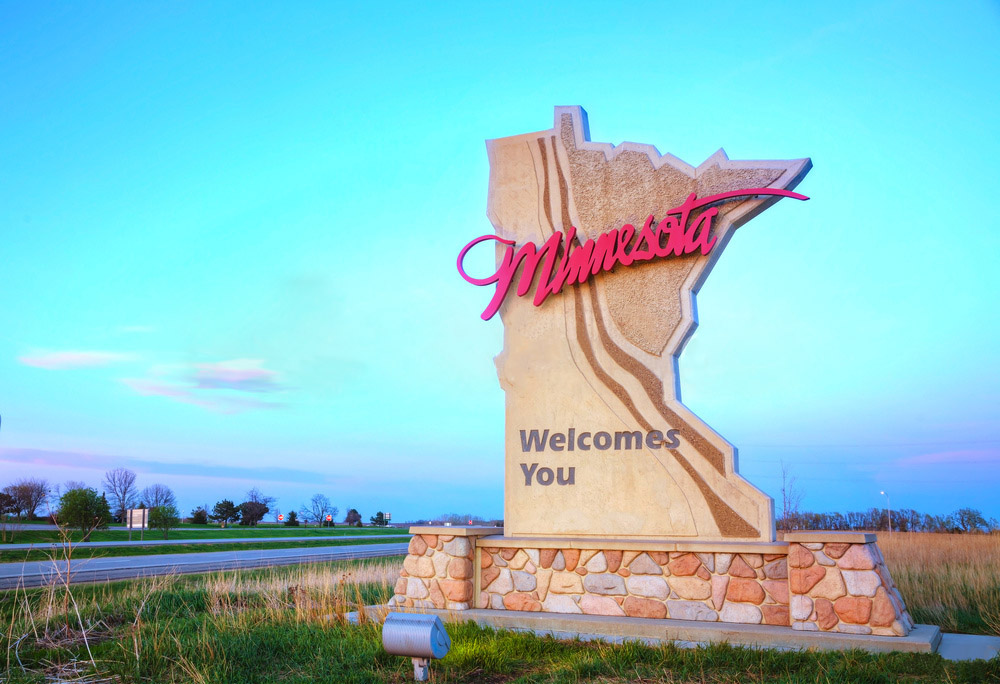 What is so special about Minnesota that makes people move to this state?
Are you heading to the North Star State? Minnesota has friendly residents and a rather high standard of living. We are sure you will be charmed by the state's beauty and its easy-going lifestyle.  If you haven't decided on moving yet, let's take a closer look at some good points of moving to the North Star State.  
–   Minnesota has the thirteenth-highest personal income per capita in the nation and the median salary here is also higher than in the neighboring states (almost $75,000). That leads to quite a high living standard following this site.  
–   The State has great job opportunities in almost any field and it is home to 33 of the US' top 100 publicly traded companies by revenue. Among them are Target, UnitedHealth Group, General Mills, U.S. Bancorp, Ameriprise, Hormel, Land O'Lakes, and Best Buy. Some of the largest privately-owned companies are also based in Minnesota (for example Cargill, the largest privately-owned company in the United States, and Carlson Companies).
–   Though the state has rather high sales and income tax, the cost of living here is still lower than the US average and the median home value here is almost the same as the country's average: around $238,000.
–   Minnesota is a good place to start a family since the state has very good public education: it supports a network of public universities and colleges, including five major campuses of the University of Minnesota and 37 institutions in the Minnesota State Colleges and Universities System. It is also home to more than 20 private colleges and universities.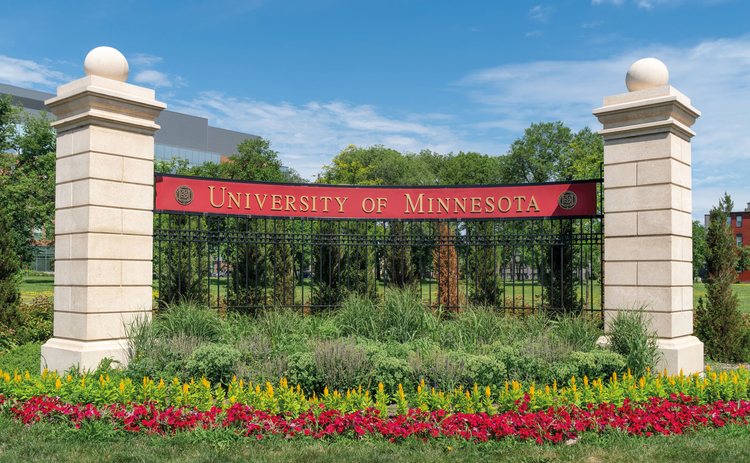 –   The Land of 10,000 Lakes has lots of things to offer whether you are single or have a family: canoeing, swimming, sailing, water skiing, fishing, camping, hiking, snow tubing, and ice skating. It's just a perfect place for lovers of outdoor activities!

How does car shipping to MN work?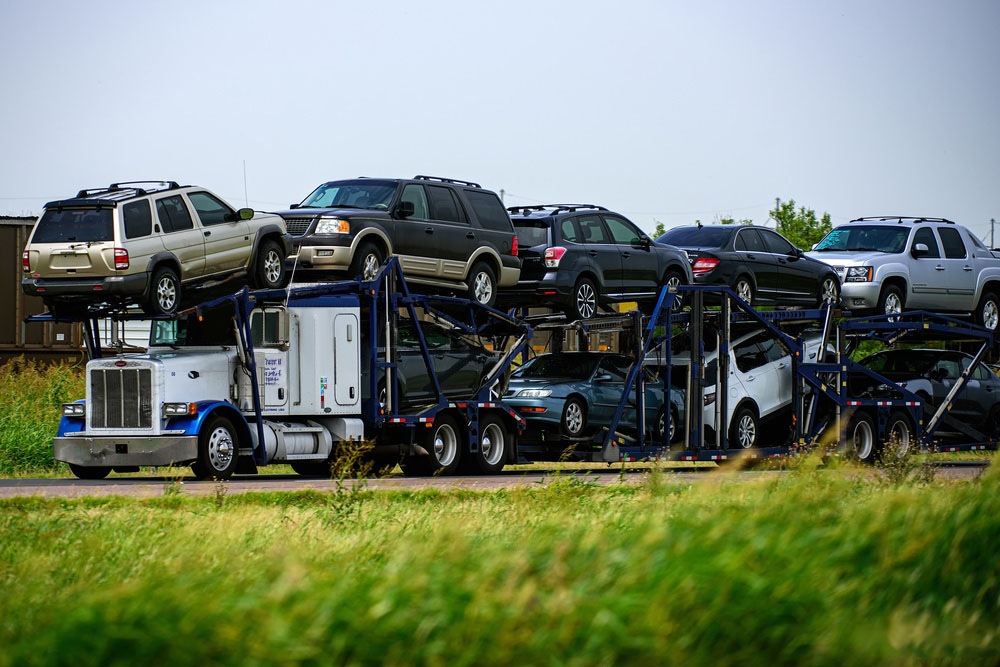 Car shipping service is provided by 3 parties that depend on each other: lead generator, broker, and carrier. Let's take a closer look at all three.
A lead generator is a website where you submit an inquiry about shipping your vehicle. Usually, lead generators are advertising websites that sell the information you provide them with to a number of broker companies. So when you google "car shipping near me" or "ship a car to Minnesota" the first results you get are advertising websites, which are not real shipping companies. 
You can easily find a great broker which will offer you to compare prices even without lead generators. It will prevent you from a zillion of phone calls from broker companies. Save your time and avoid car shipping comparison websites.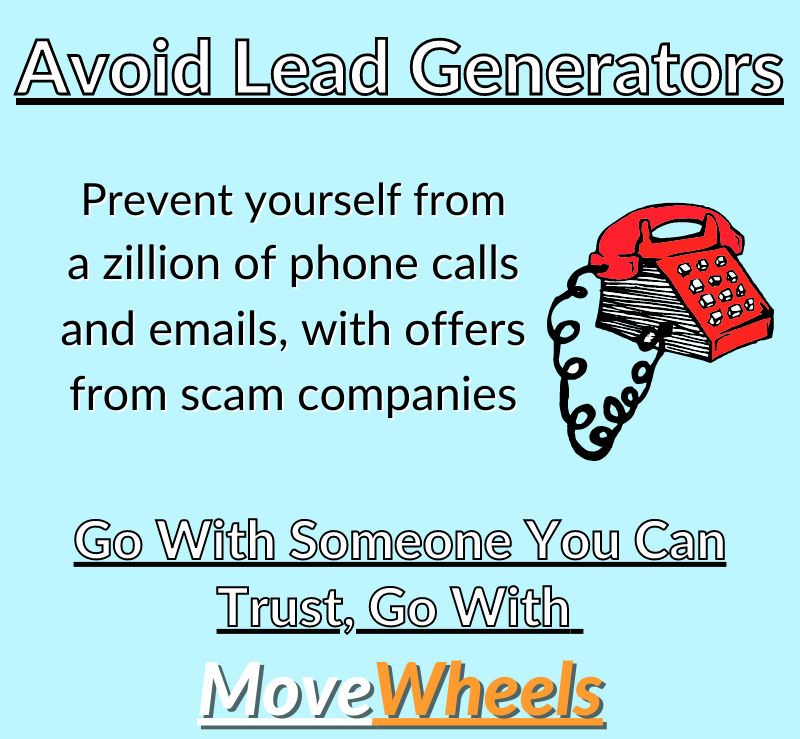 A broker company is a kind of bridge between the customer and a carrier company. Once brokers receive the information, they check the price for moving the vehicle and send a quote via text, email or try to call. If the customers are ready to proceed with the broker company, they need to provide the exact addresses and phone numbers for pick up and drop off locations and the date when the vehicle is ready to be shipped. Right after that customers will receive the paperwork that needs to be signed to finalize the booking.
After the details are cleared and negotiated, brokers start looking for a carrier who can move a vehicle within the specific time frame. Now you are probably wondering why you cannot work with the carrier directly? That is quite easy: the thing is that carriers are usually small family-owned businesses that do not have enough staff to work with customers directly. Of course, there are some large carrier companies (like Taurus Auto Group or Gold Auto Logistics), but it is much easier for them to work with brokers than to handle each order and negotiate all the details with the customer.
When looking for a driver brokers use the platform called Central Dispatch. It's a national load board where brokers and dealers post loads mentioning pick up and drop off locations, dates when the vehicle is available, its make and model, and the price the customer is ready to pay. Carriers check this website and choose the loads that need to be shipped on the route they're going. If the price is too low,  carriers may ask for a higher rate or simply pick up a load that is posted for a higher rate.
Frankly speaking, brokers look for a carrier, check their insurance coverage, schedule the dates and negotiate the best price for the customer.
Carrier company is the one who performs the transportation. Sometimes carriers may have only 2 workers: a driver and a dispatcher and sometimes an owner of the company buys some trailers and hires drivers to do the job.                                                                                                                             

What is the cost to ship the vehicle to Minnesota?
The first and probably the most important thing you should understand when shipping a vehicle is that all the prices you receive from the transportation companies are only estimated rates since a broker depends on a carrier and the transportation business is constantly changing. The carrier that was shipping vehicles for a lower rate may be already full or change his route and go another direction. If this happens a broker will try to negotiate with another carrier and offer you all the options available.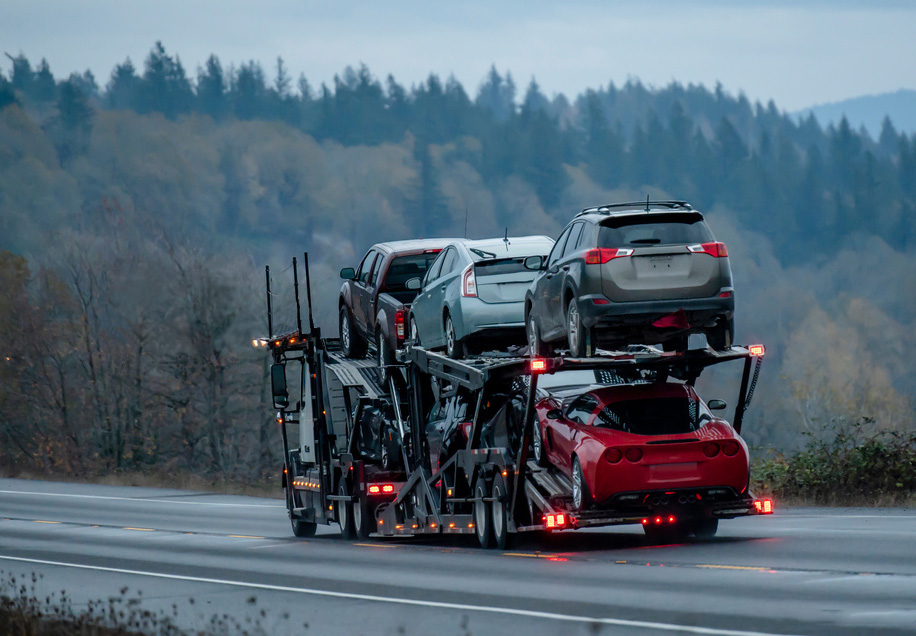 The price for moving any kind of vehicle always depends on the following factors:
– mileage (the longer the route is the more expensive it gets to transport the car);
– type of the trailer required (enclosed is half more expensive than an open one);
–  a vehicle's size (sedan is cheaper to move since it is smaller than a crossover or a pickup truck, therefore it takes less space on the trailer);
– season (usually moving during winter holidays is much more expensive as well as moving to Minnesota during wintertime because of chattering cold and snow);
–  popular routes (some pick up or drop-off locations are more popular than others. For example, Saint Paul, MN vs Littlefork, MN).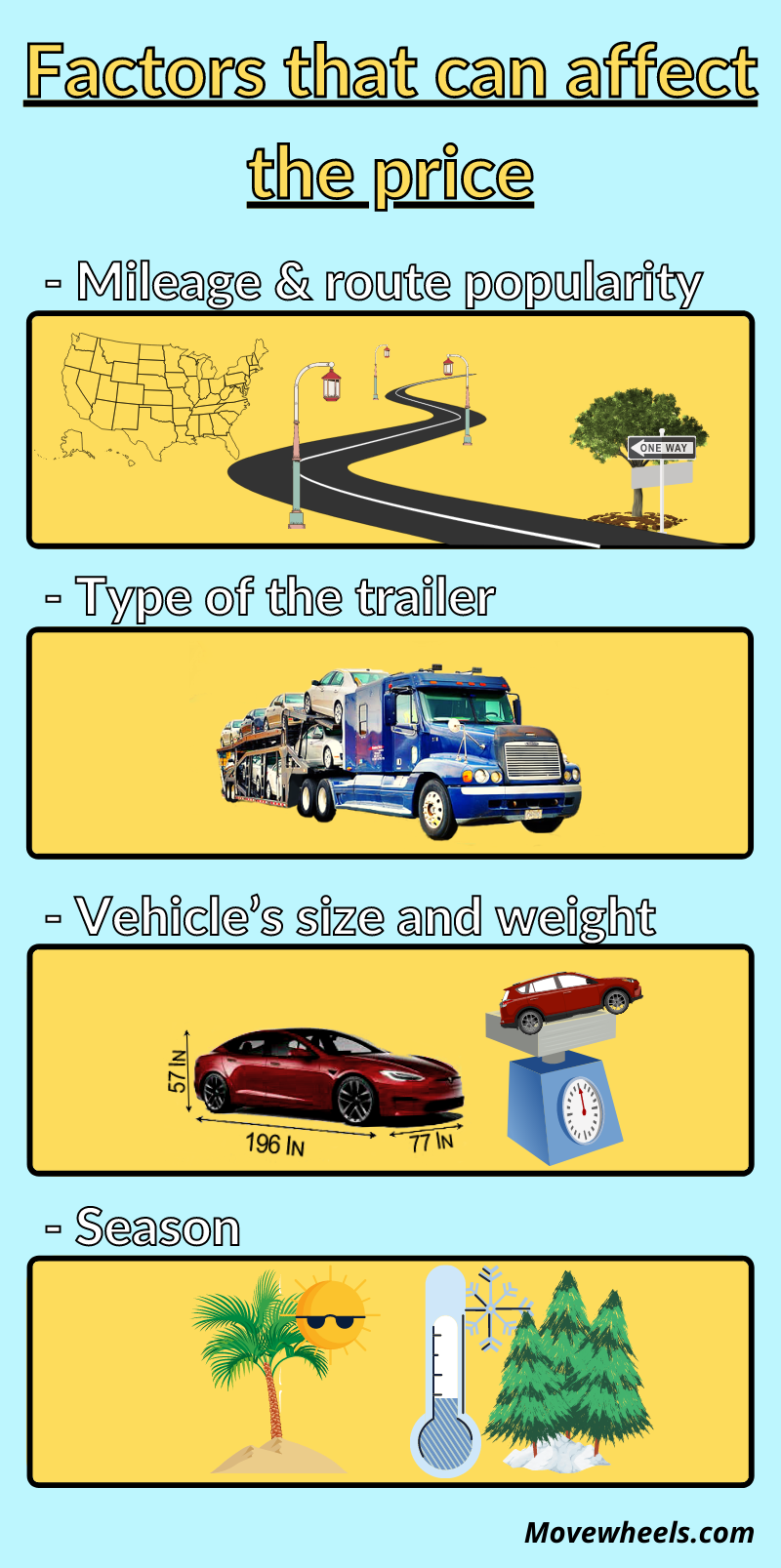 Below you can see the prices for moving different kinds of vehicles to Minnesota. You can also check the price for shipping your vehicle to Minnesota by simply following this cost calculator.
Shipping from the East coast to Minnesota

Shipping from the South & the Midwest area to Minnesota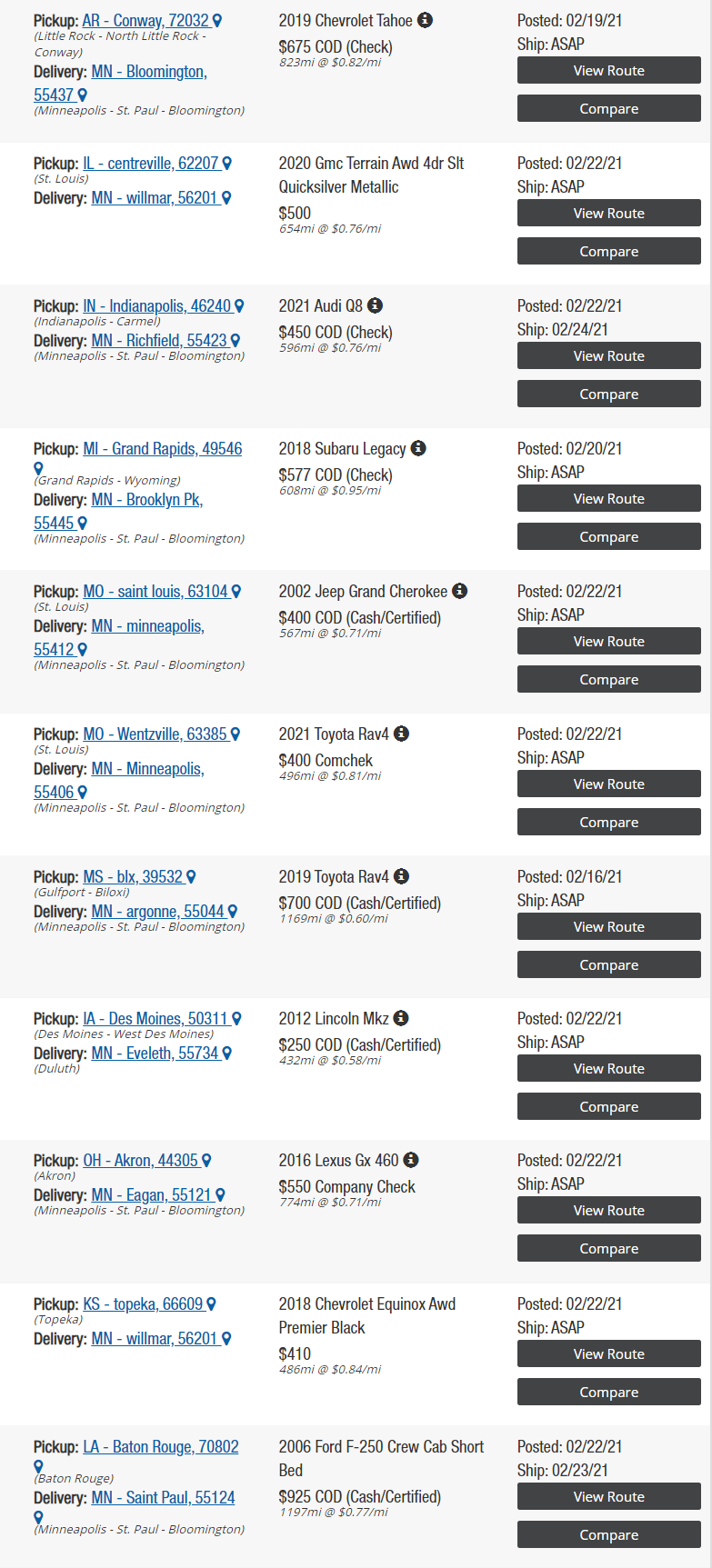 Shipping from the West Coast to Minnesota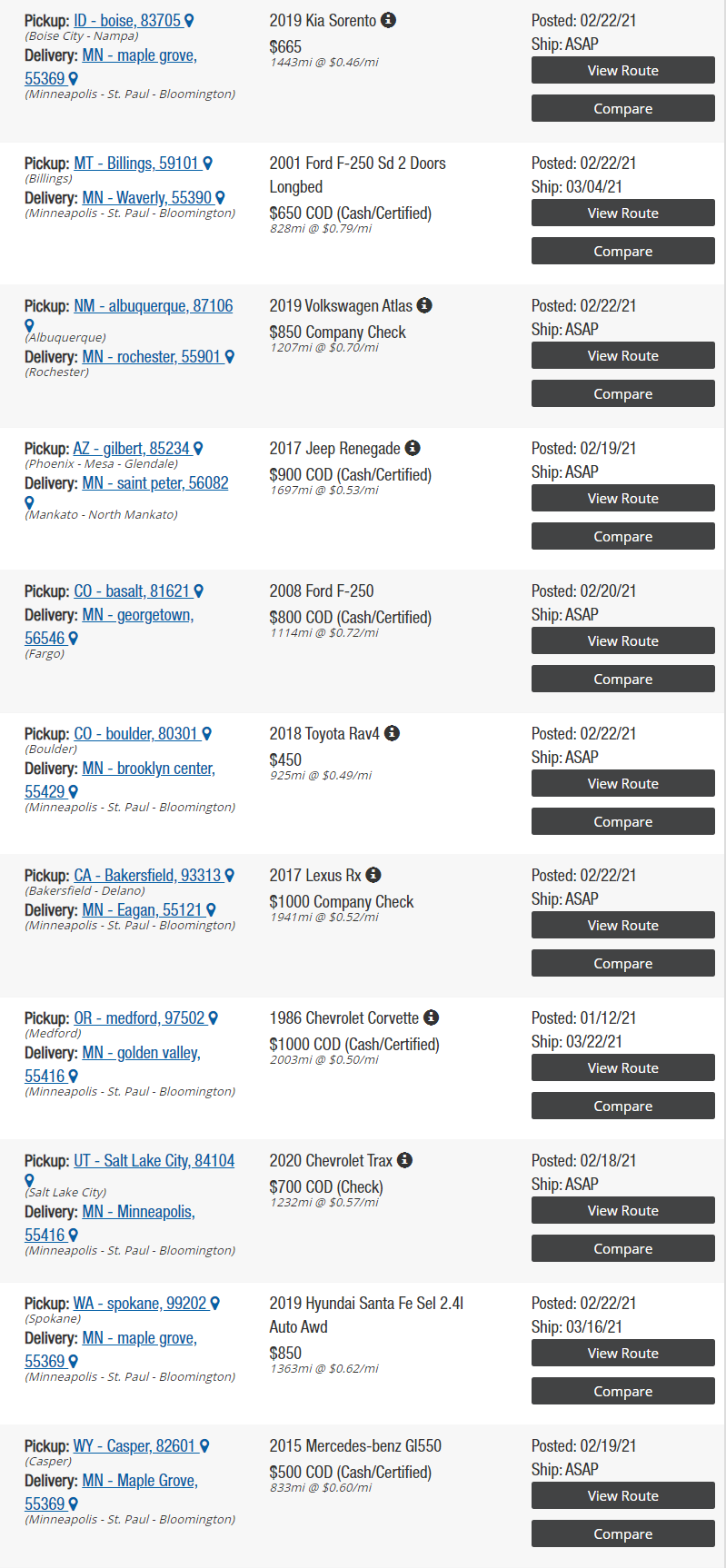 How does the payment work?
The payment with MoveWheels Transportation Company is divided into 2 parts: a partial deposit which is usually $100-$180 and depends on the total price of shipment, taxes, and fees on the route, and the driver's fee.
Unlike some other broker companies we charge Nothing upfront, so you do not pay anything at the time of booking. The partial deposit is authorized after the driver is assigned to your order and charged to your credit or debit card only AFTER the car is picked up. The remaining balance you pay with cash or any certified funds at the delivery location. Please pay attention that a money order or cashier's check should be written out to the name of the carrier company that will be transporting your vehicle (your shipping agent will send you this information once the driver is confirmed).

What if my vehicle gets damaged?
All the drivers we work with are very professional and some of them have more than 20 years of experience. But sometimes things may happen and the car may get damaged. In case that happens please call us and we will help you to submit a claim to the insurance company and will provide you with the required paperwork.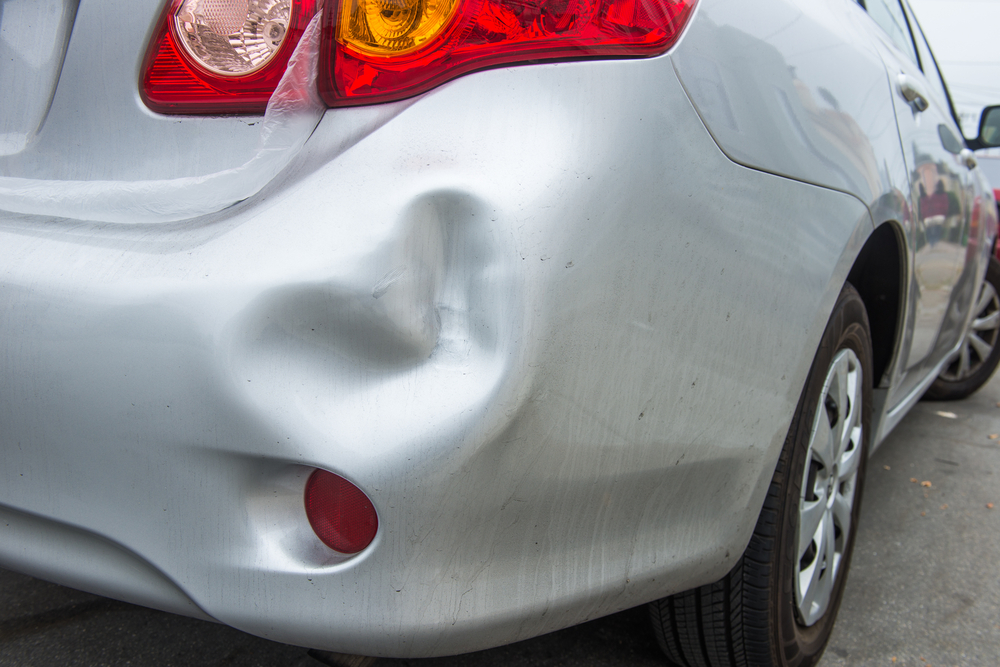 To make sure the insurance company will not reject your claim please follow the next steps at the time of the pickup and drop off:
–        Make sure the driver inspects the vehicle for any pre-existing damages at the time of the pickup and if any notes them down in the Bill of Lading. At this point, you may also take some photos of the vehicle to make sure everything is correct.
–        Once the vehicle is delivered do the round-up inspection and in case you find any new damages put that down in the BOL and take some photos.
–        If the damage is not significant the driver may try to cover it from his side. If not, just make 1-2 estimates in a local workshop and let us know about that. The insurance company will send you a check in 1-2 weeks after submitting a claim.
Please pay attention that the insurance company may reject your claim if the BOL is not filled out at the time of pick up or drop off.

Minnesota Car Shipping near me
There are quite a lot of carrier companies in Minnesota, but we have been only working with some of them for the past few years. Most of them are going anywhere in all 48 states. Among such companies are Allstates Towing Inc, Bald Tire Garage LLC, and Boss Auto Garage.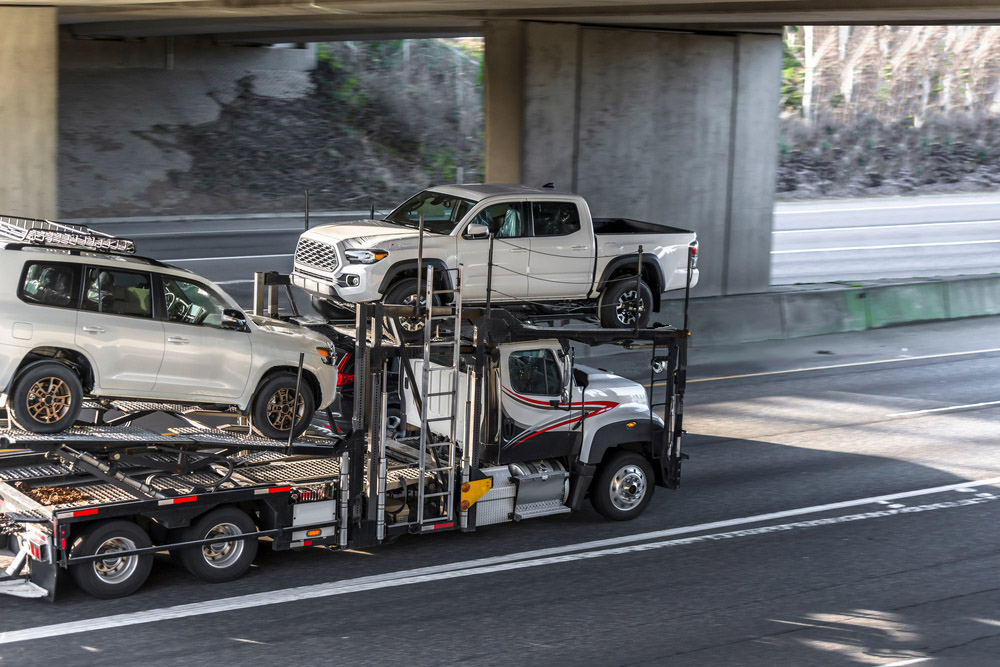 Allstates Towing Inc has been in the transportation business for more than 7 years already and it's the only company on the list above that is not a family business. The owner of the company hires drivers and dispatchers to do the job. The company has two 10 car haulers that go anywhere in the US and one 2 car rollback that serves nearby states (the Dakotas, Nebraska, Iowa, Wisconsin, and Illinois).
With Bald Tire Garage LLC and Boss Auto Garage, we have been working since 2016. Both companies own Dodge Ram 3500 with a 3 car hauler. The only difference is that the owner of Bald Tire Garage LLC is at the same the driver and the dispatcher of the company, so he is an owner-operator. The Boss Auto Garage is operated by father and son who own this business together.
There are also a bunch of companies that have 3 car haulers and transport cars within  Minnesota and the midwest region only. All these companies (D&J Schwartz Enterprises, D&N Transport Services LLC,  A&J Haulers LLC) are also family-owned businesses with one dispatch and one driver. 
For the past three years, we have also been working with an enclosed carrier who is based out of Elk River, MN. Anoka Auto Transport has 2 car haulers and operates anywhere in the Midwest area. Usually, the company transports vehicles from dealerships to private residences but if you have a vehicle that needs to be shipped in an enclosed trailer from private to private this company is a perfect option.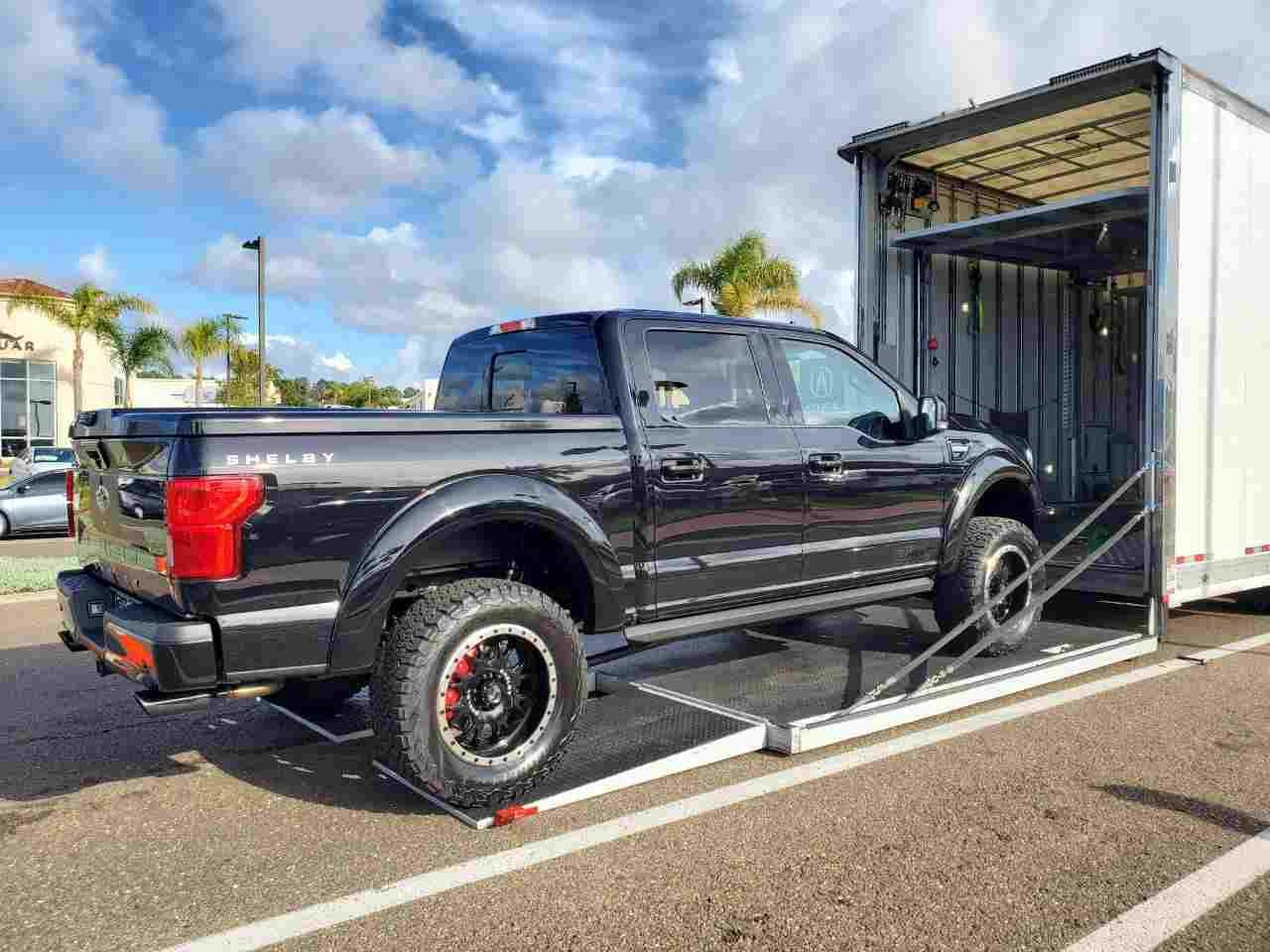 Another great company we work with is Cross Country Boat Transport LLC. They helped us move some motorboats from Minnesota to Michigan, Florida, and New York. Whether your boat is already on a trailer or if it needs to be loaded on a trailer they can help you move it anywhere within 48 states.

Why choose MoveWheels?
Our company has been in the transportation business for more than 12 years already and all this time we have been working on our company's policies to make them more customer-friendly.
All the drivers we contract to move a vehicle are rather professional and fully insured.  Every time our company sets up the transportation our dispatchers check the carrier's insurance papers to make sure everything is fine and we had no issues with them in the past.
Another important thing about MoveWheels Transportation Company is that we do NOT require any kind of prepayment at the time of booking, so you do not pay anything until our job is almost done and the driver is assigned to your order.
Besides having discounts for dealers and body shops, our company also offers discounts for private customers if they are:
– shipping 2 or more vehicles on the same route at the same time;
– active in the military;
– shipping a vehicle with us for the second time or more.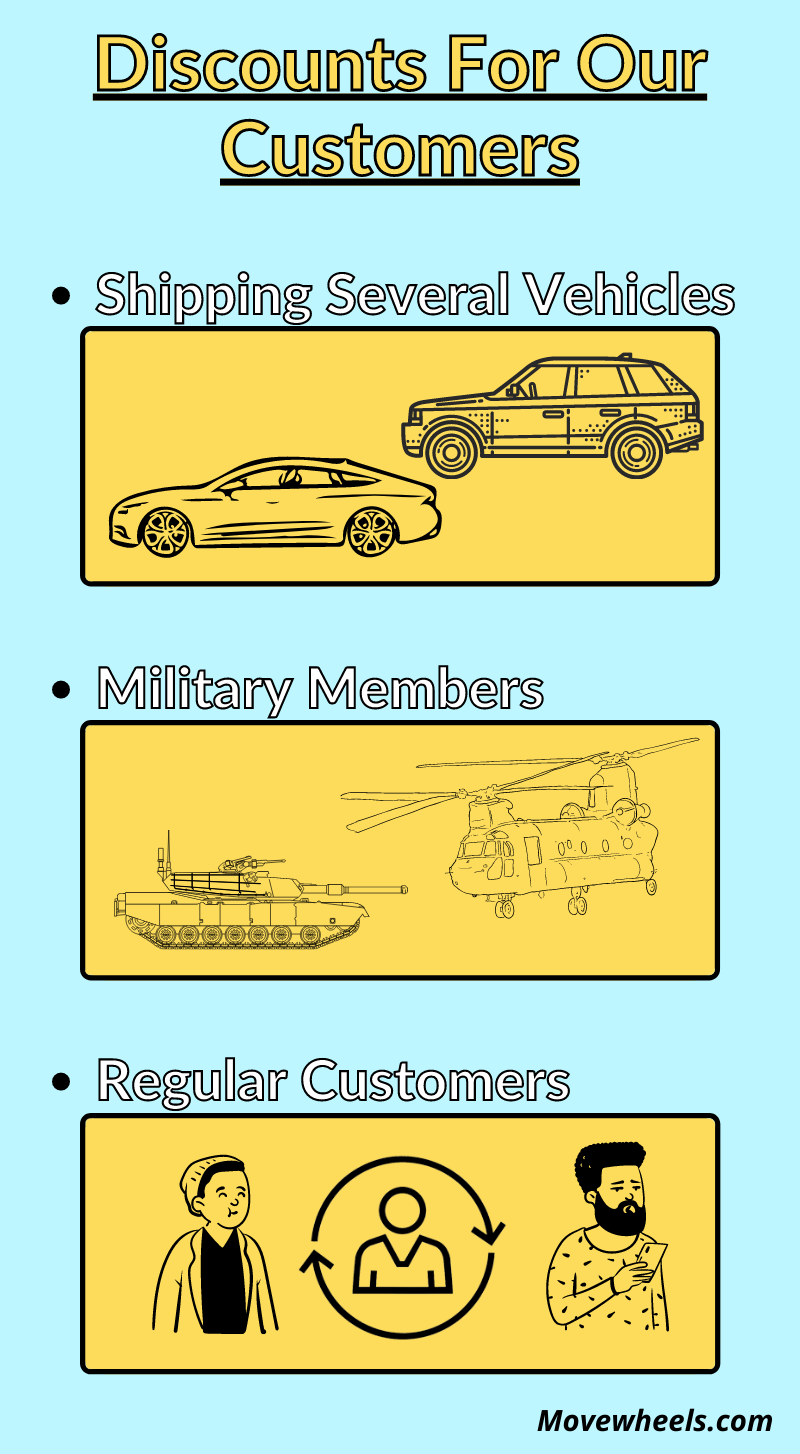 How can I get ready for moving?
When you have all the details of shipping on file and the driver called you to negotiate the tie of the pick up, it's time for you to prepare the vehicle for transportation.
You can follow the next checklist, or read our cross country car shipping guide to make sure you don't miss anything:
– make sure the vehicle is clean, so the driver could see any pre-existing damages and note them in the Bill of Lading. Btw, don't forget to inspect your car for any damages at the drop-off location and request the BOL.
– remove vehicle's loose parts, tags, and plates since road cameras happen to take a picture of a vehicle by mistake and you may get a ticket for toll roads. To avoid the headache of disputing it (you can do that by showing your Bill of Lading), simply remove or cover tags and plates.
– don't forget to follow precautionary measures during COVID-19: disinfect your vehicle before and after shipping, wear a mask and gloves or wash your hands properly after meeting the driver.