A lot of our customers ship their vehicles to California every day. To be honest it's one of the most popular destinations for car transportation. That's why we created this CA car shipping guide. Quick links:
CA
California is one of the most beautiful states in the United States. It's located on the west coast of the country, on the shore of the Pacific Ocean. California borders Oregon (in the north), Nevada (in the east), and Arizona (in the southeast). This is the most radiant state of America – the sun in CA shines a record number of days a year, and the number of celebrities' mansions per square foot is just off the scale.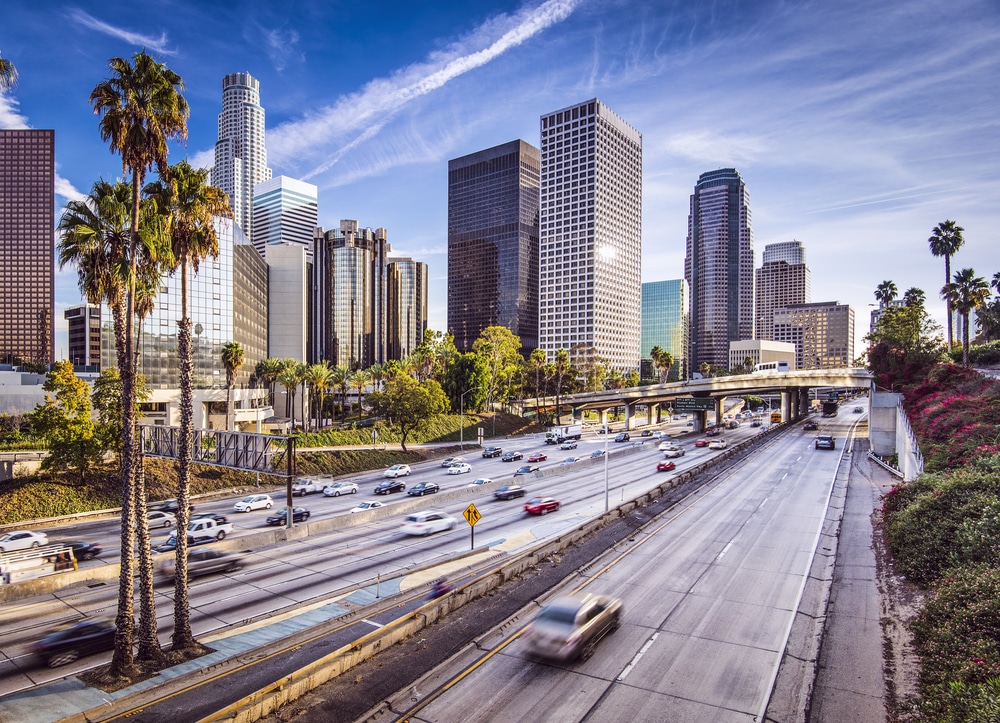 The capital is Sacramento, the largest city is Los Angeles, and other major cities are San Francisco, San Diego, and San Jose. Plus there is a  small resort town worth visiting called Oceanside.
Why do people relocate to CA and why do they need to ship their vehicles?
To be honest, there are lots of places in CA worth visiting and lots of reasons to relocate there. We will name just a few of them:
Los Angeles: Clearly – Hollywood with the "Walk of Fame", the Chinese theater of Grauman, the famous Beverly Hills, Rodeo Drive, and many more.
San Francisco: the Golden Gate Bridge, Alcatraz, a colorful Chinatown, a cable car.
San Diego: a world-famous zoo, a wildlife park, a marine theme park.
Lake and Mt. Shasta is a region surrounded by picturesque mountains, where numerous caves are hidden. This is a popular place for camping, and a place for more serious hikes, including climbing the same mountain.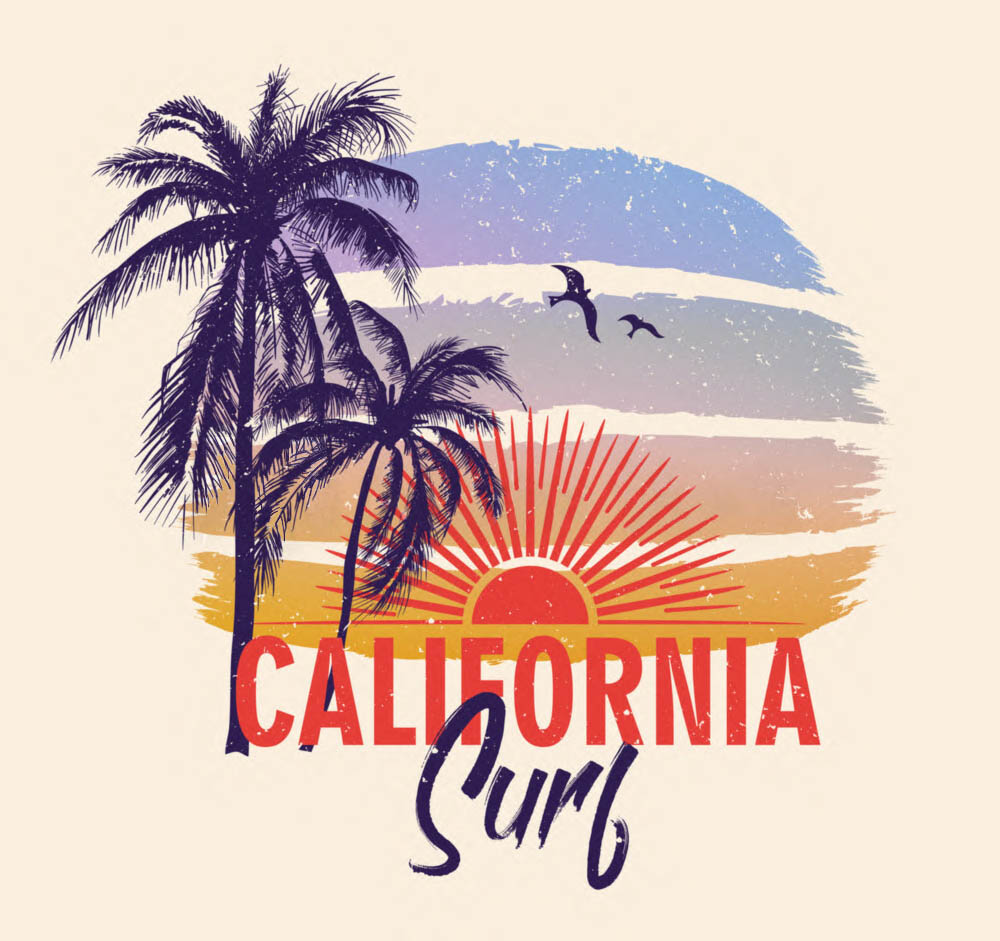 In addition to national parks, historical attractions, and entertainment centers, Californians are proud of its residents: Nobel Prize winner John Steinbeck, "beat writers" Jack Kerouac and Alain Ginzburg, Beach Boys and Red Hot Chili Peppers.
What is the cost to ship a car to California?
One of the most important questions during shipping a car to California: "How much it will cost?". All auto transportation companies are searching for drivers on a site called CentralDispatch, but you will not be able to access it without being a registered dealer, broker, or carrier. The idea is very simple – the broker posts information about the client's vehicle at a specific price. If the price is ok with the driver – they will get in touch with the broker and schedule the pick up. If the price is too low – drivers can call with a counteroffer, or will wait for the broker to raise the price. It's like an auction to book a spot on the car hauler.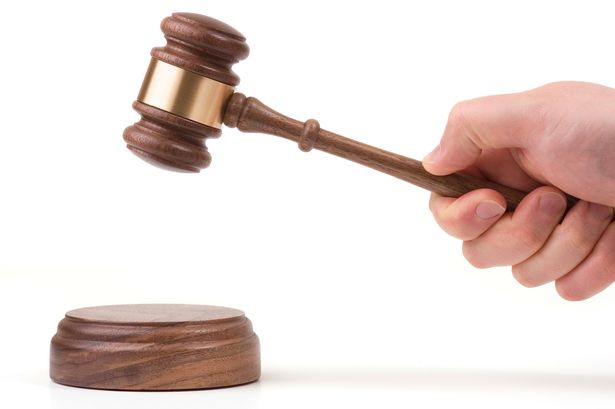 How to understand the prices: All prices are for a sedan. If you have an SUV, multiply the price by 1.2 (sedan $1000. SUV = $1200). If you have a pickup truck, multiply the price by 1.4. Enclosed is 1.5 more, add $100 if your vehicle is inoperable. Remember, prices in the print screen are just carrier rates, you will need to add a $100-$170 brokers fee and you will have the total price.
NORTHEAST AREA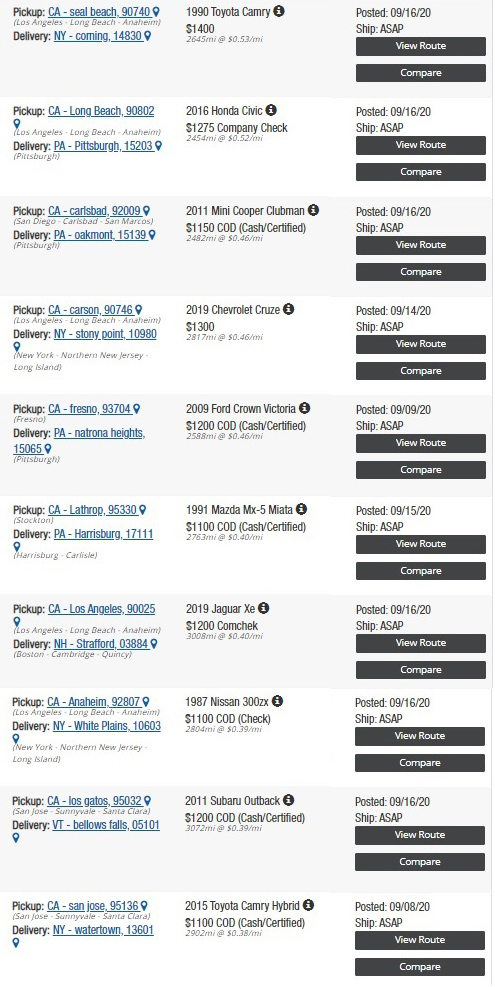 The average price for a sedan is $850-$1000. Add a $100-$150 broker fee and you will have your quote. Please note, that prices can change due to weather or season.
SOUTHEAST AREA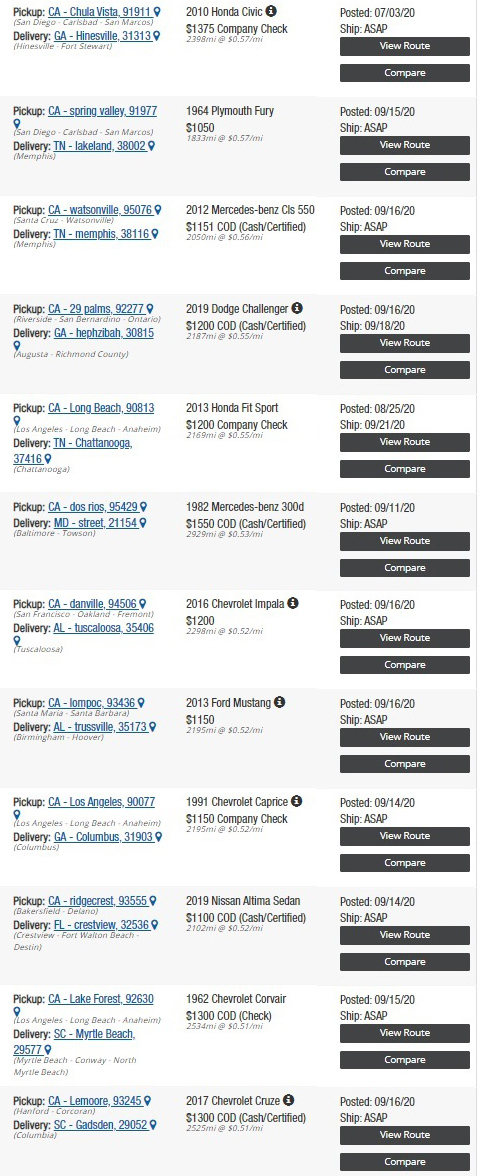 The average price from FL to CA is $750-$800 for a sedan, from NC to CA is around $800, from VA is around $800 too. You will need to add $250 if your vehicle is going to be shipped from Key West, FL.
MIDWEST/PLAINS AREA

The average price to ship your car from IL to CA would be $600-$650, from MO to CA around $650-$700, from OH around $600-$650. Of course, it would be much easier to find a carrier in the metro area.
SOUTH

The average price to ship a car from TX to CA is $500-$550, from MS to CA around $750. Please note that not all drivers are willing to go down TX to the Mexico border, you will need to add up to $250 to get their interest ?
NORTHWEST AREA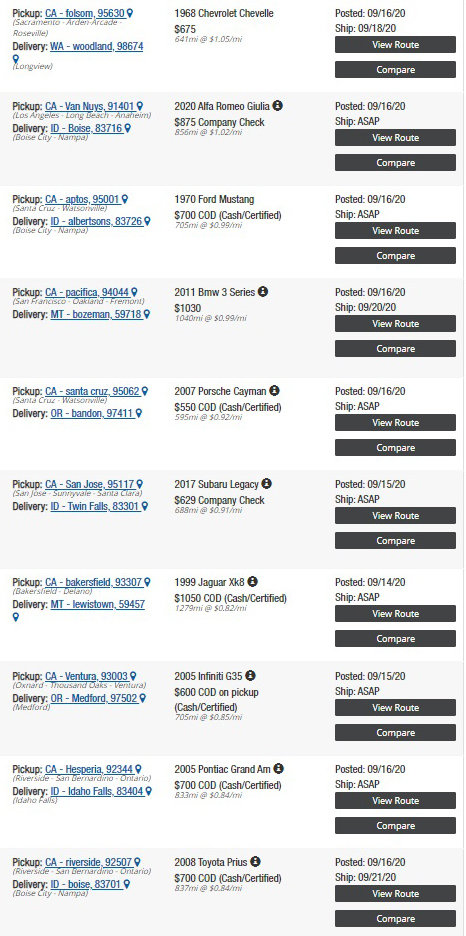 CA Car Shipping ASAP
There are situations when you need to transport your car in 3 days or even less. Such cases require great knowledge and skills to find a driver on short notice. Because most of the drivers schedule their routes a week in advance and to motivate carriers to choose your car we have to raise the price.
But there are some popular states such as NY, FL, TX, and WA, with a big amount of available drivers, and it's possible to find one even in a day after creating a quote. For example: if you planning to ship you from Florida to California or vice versa, we can find a driver to pick up your vehicle in a day, since they're a lot of carriers moving this route every day.
California Car Shipping companies near me
There are a lot of carrier companies located in California. Most of them are open carriers located in the metropolitan areas of Los Angeles, San Jose, and Sacramento but there are also a few located in Bakersfield as well.
If you are planning to transport the vehicle within CA you may be able to find a car carrier by yourself, but most of the carrier companies are small family-owned businesses who own one car hauler (very rare there are 2-3 trailers). And even though such companies are more customer-oriented and value their good reputation,  they do not have enough staff to work with customers directly. They prefer to work with large broker companies who offer them the vehicles to transport.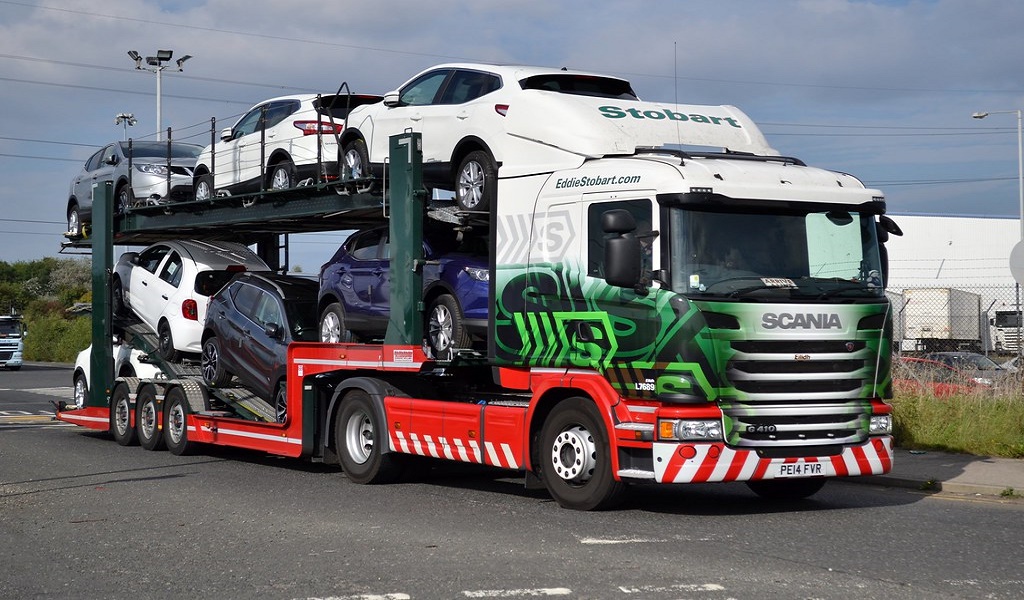 We've been working with many carriers for a couple of years already and can advise you some of the best companies in CA:
– 5 Star Auto Trans Inc is a small privately-owned small company with one dispatcher and a driver. They have been in business since 2012 and are located in El Cajon. The company owns a 5 car hauler and transports the vehicles anywhere within California. 5 Star Auto Trans prefers to move the cars for dealerships and auctions but if they have a free spot available the driver can pick up the vehicle from a private residence as well.
– Fast Transportation has been established in 2018 and is managed by one person only, who is the dispatcher and the driver at the same time. He owns a 3 car hauler with a winch and also the fifth-wheel hitch which means the company specializes in transporting mostly inoperable vehicles and in hauling travel trailers or boat trailers.
– ABC Towing And Transportation are also owned by one person only who is the owner, the driver, and the dispatcher at the same time. The company owns a flatbed and transports vans, heavy equipment like bulldozers, road rollers, and also pickup trucks with different kinds of utility beds which are too high or usual car haulers (height restriction for a usual trailer is 8'6'').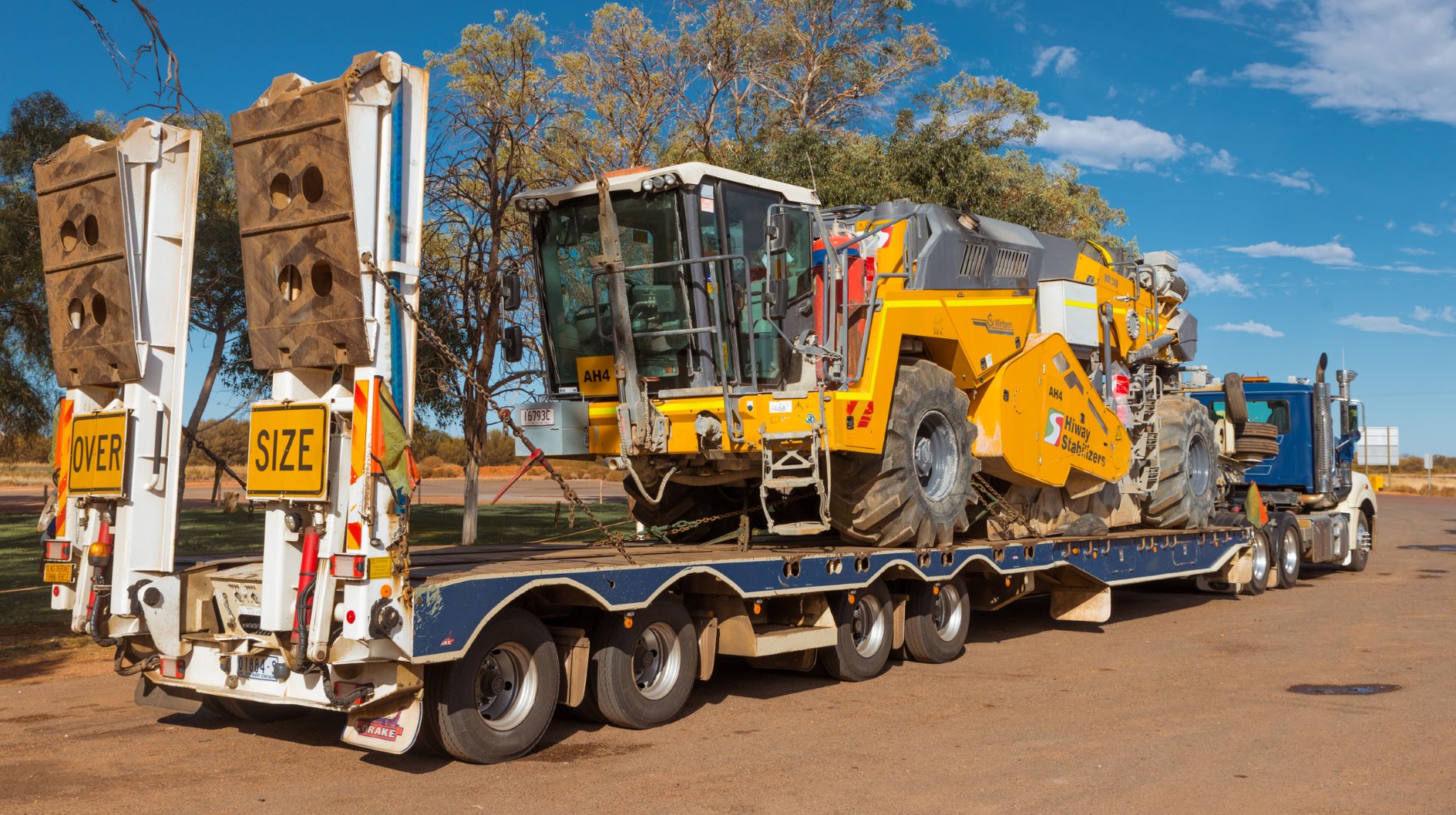 – A1 Express is another Californian carrier owned by one person. The driver operates on the less popular route between Los Angeles and Bakersfield and owns a 3 car hauler. He is one of a few carriers operating on this route and is one of the most professional.
– CA Enclosed Inc is a family-owned company located in Riverside. They own an enclosed trailer with a lift gate and specialize in transporting exotic, brand new or old vehicles for car shows, dealerships, and private owners.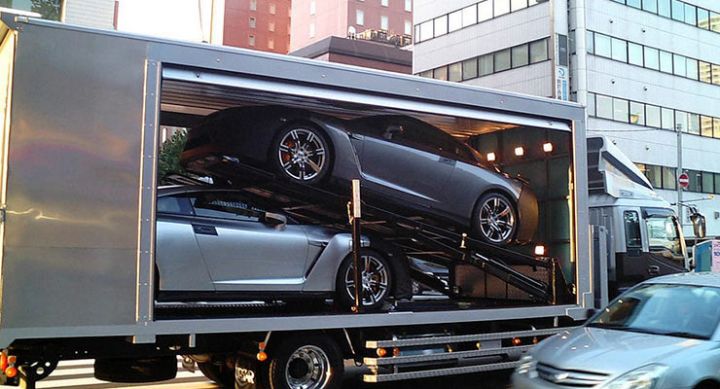 If you decide to find a carrier company by yourself, you will have to call a lot of companies, check if they are going your route within your time frame, check the reviews and whether the company has a professional driver and their insurance is effective. And in case something happens and the driver you negotiated with will not be able to transport the car, you will have to start the whole process all over again.
When placing an order with MoveWheels, you will have to do only 2 things: meet the driver at the pick-up and delivery locations.  You can simply submit a request for a quote and our shipping manager will contact you with all the details of the transportation.  Our company will do all the job for you so you won't have to waste your time.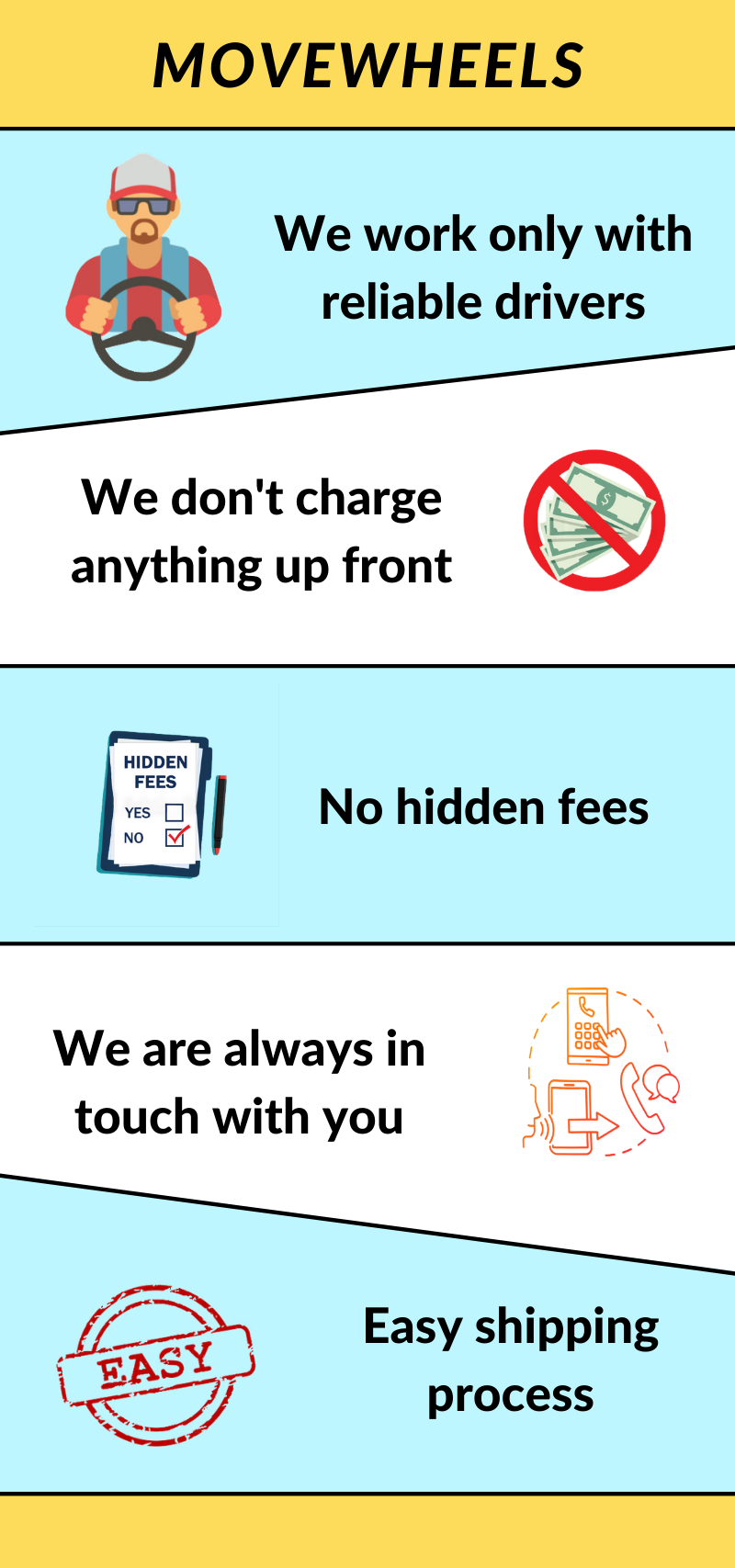 How many days in advance should you book the spot?
Most of the drivers on these routes are making 1 week ahead of reservations. So make sure that you place your order at least 1 week in advance to your 1st available shipping date. This will help you to avoid expedited car shipping cost. You can book everything 1 month in advance, but I would say that it won't make sense since drivers will not accept your load that much in advance. Though if you need to ship your car to CA ASAP, you can do it because there are a lot of drivers going to this state every day. That's why it's possible to find a driver in a short day frame. 
How can I prepare my vehicle for moving?
When placing an order please make sure you update your shipping agent of any modifications the vehicle has that make the size or weight of your vehicle different from stock parameters. Please let us know if the vehicle has low clearance since a special trailer is needed to transport such a car safely.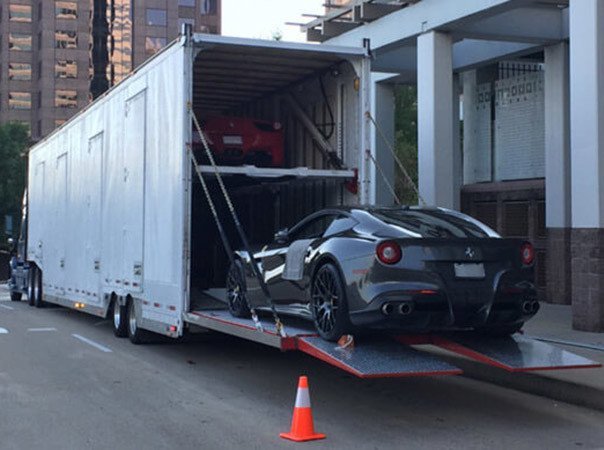 When moving the vehicle to or from northern states during winter, make sure you check there is enough fluid and you have snow chains on the tires of the vehicle because winter weather is often very harsh in states like Washington or Michigan.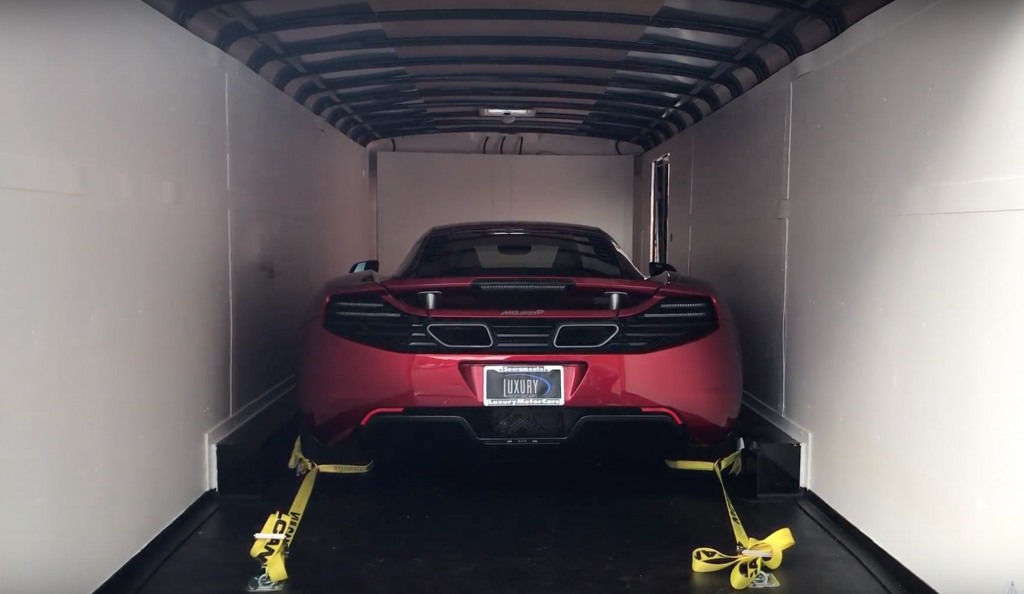 Once everything is negotiated with the driver and you received the confirmation email, you should prepare your vehicle for transportation by removing all tags and plates (road cameras may take a picture of your car by mistake and you may receive a ticket for speeding or something else). You can easily dispute it by showing the Bill of Lading and the agreement with our company but it will still take some time and nerves as well. Then check the level of the fuel, it should be a ¼ tank because it is needed for loading on and off the hauler. And before the driver arrives check if the car is operable. And if you need more info about car shipping preparations check this article.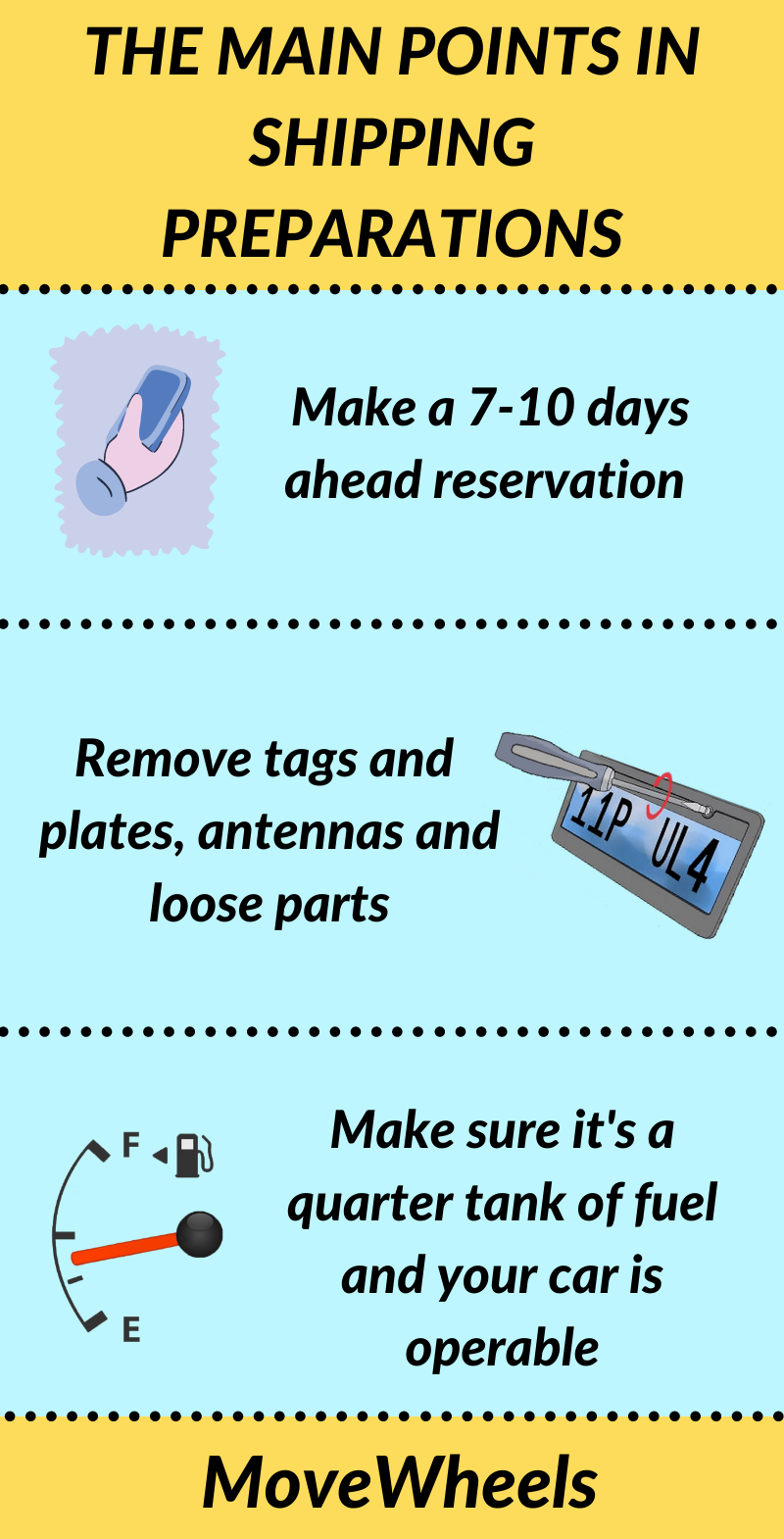 Before you release the car to the driver you can take detailed photos to document what your car looked like before shipment. When the driver comes to the pick-up location, he will check your vehicle for any pre-existing damages and if there are any he will note it down in the Bill of Lading.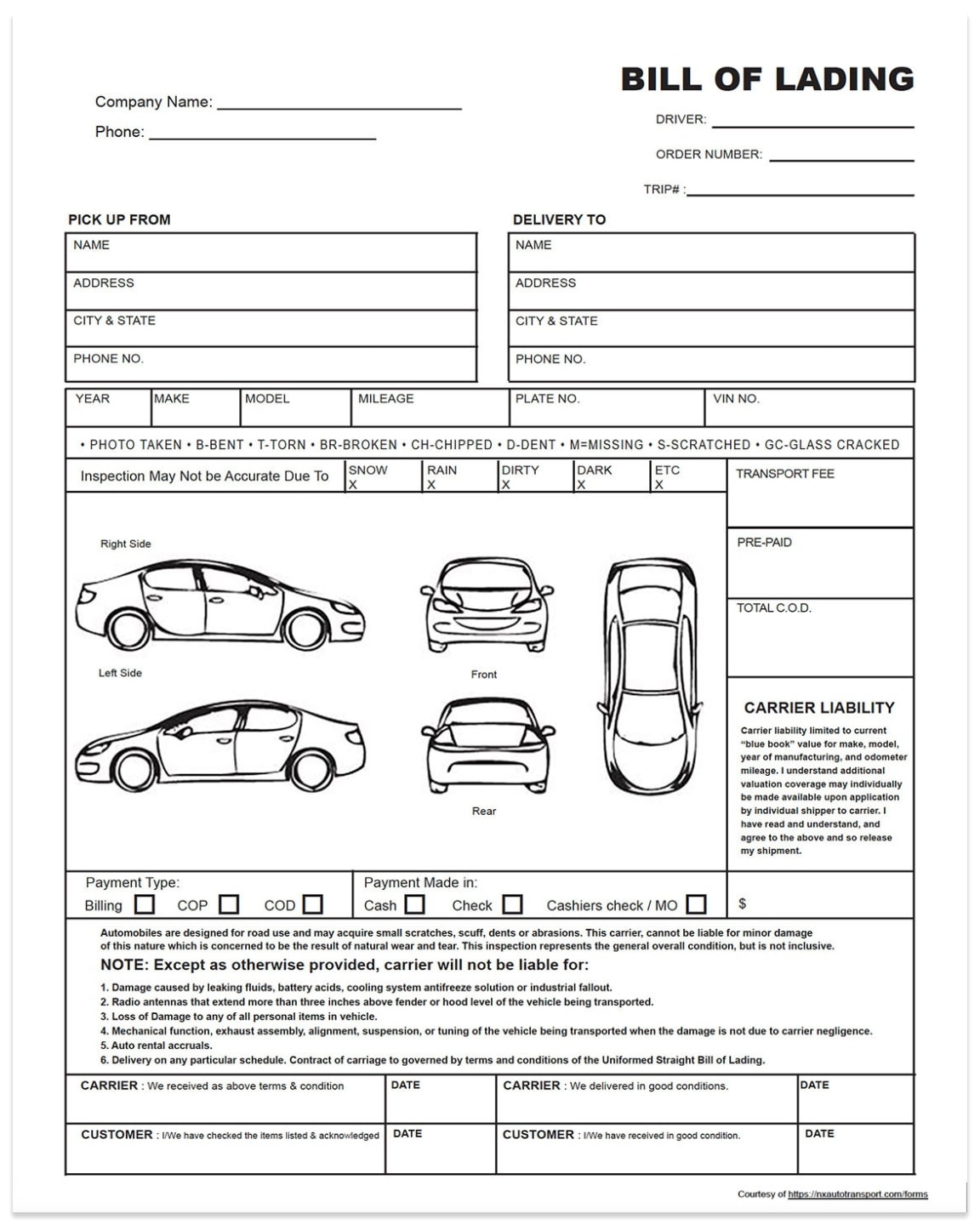 Once the driver arrives at the delivery address and loads your car off the car hauler make sure you inspect the vehicle and if there are any new damages write it down in the Bill of lading. Then make 1-2 estimates in a local body shop, submit a claim to the insurance company and in a few days they will send you a check.
Attention! Make sure you sign the Bill of Lading at the pick- up and delivery. Otherwise, the insurance company will not cover any damages since it's BOL is the only document confirming the car was damaged during transportation.
­How to stay safe while shipping the vehicles during COVID?
The first and most important thing when shipping the car during the coronavirus pandemic is wearing a mask every time you go outside. Whether you are going to a local supermarket, go out with friends, visit your neighbor, or release the car to the driver. 
Before releasing the car please disinfect those parts of the vehicle that the driver will have to touch (like door handles, steering wheel, transmission, and so on). When you receive the vehicle make sure you do the same thing.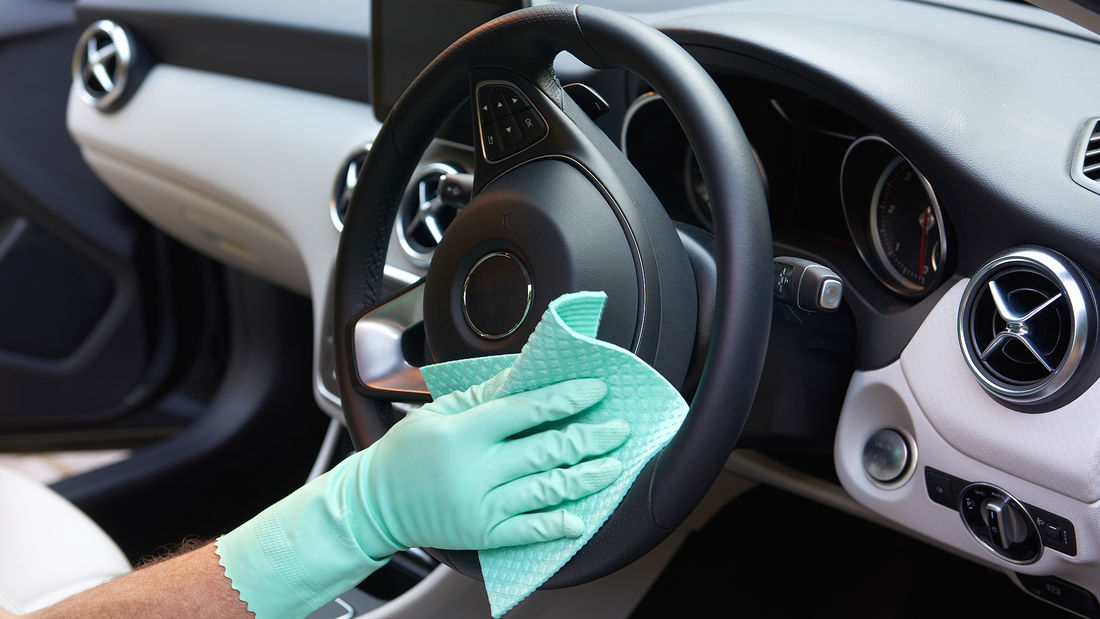 If you are planning to pay the driver with cash or certified funds, it's better to wear gloves that you can throw away or disinfect afterward. In case you don't have them with you, wash your hands properly after the contact with the driver, and disinfect the car keys.