California is one of the most beautiful states in the United States, located on the west coast of the country, on the shore of the Pacific Ocean. California borders with Oregon (in the north), Nevada (in the east), and Arizona (in the southeast). This is the most radiant 🙂 state of America – the sun in CA shines a record number of days a year, and the number of celebrities' mansions per square foot is just off the scale.
The capital is Sacramento, the largest city is Los Angeles. Other major cities are San Francisco, San Diego, San Jose. A small resort town worth visiting is Oceanside.
Why people relocate to CA and why do they need to ship their vehicles?
We need to be honest with you here – there are lots of places to visit in CA and lots of reasons to relocate there. We will name just a few of them:
Los Angeles: Clearly – Hollywood with the "Walk of Fame", the Chinese theater of Grauman, the famous Beverly Hills, Rodeo Drive and many more.
San Francisco: the Golden Gate Bridge, Alcatraz, a colorful Chinatown, a cable car.
San Diego: a world-famous zoo, a wildlife park, a marine theme park.
Lake and Mt. Shasta is a region surrounded by picturesque mountains, where numerous caves are hidden. This is a popular place for camping, and a place for more serious hikes, including climbing the same mountain.
In addition to national parks, historical attractions, and entertainment centers, Californians are proud of its residents: Nobel Prize winner John Steinbeck, "beat writers" Jack Kerouac and Alain Ginzburg, Beach Boys and Red Hot Chilly Peppers.
What is the cost to ship a car to California?
It really depends on where do you want to ship your vehicle. All transport companies are searching for drivers on the site called CentralDispatch, but you will not be able to access it without being a registered dealer, broker, or carrier. The idea is very simple – the broker post information about the client's vehicle at a specific price. If the price is ok with the driver – they will get in touch with the broker and schedule the pick up. If the price is too low – drivers can call with a counteroffer, or will wait for the broker to raise the price. It's like an auction to book a spot on the car hauler.
How to understand the prices: All prices are for a sedan. If you have SUV multiple the price to 1.2 (sedan $1000. SUV = $1200). If you have pickup truck multiple the price to 1.4. Enclosed is 1.5 more, add $100 if your vehicle is inoperable. Remeber, prices in print screen are just a carrier rates, you will need to add $100-$170 brokers fee and you will have the total price.
NORTHEAST AREA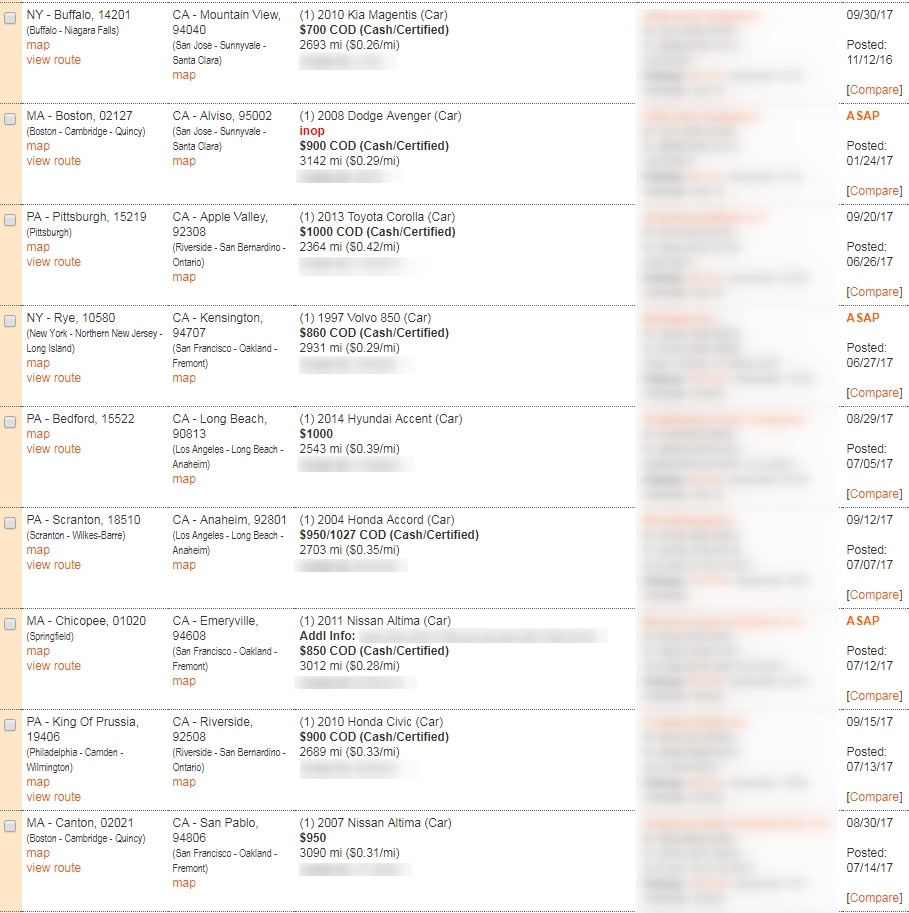 The average price for the sedan is $850-$1000. Add $100-$150 broker fee and you will have your quote. Please note, that prices can change due to weather or season.
SOUTHEAST AREA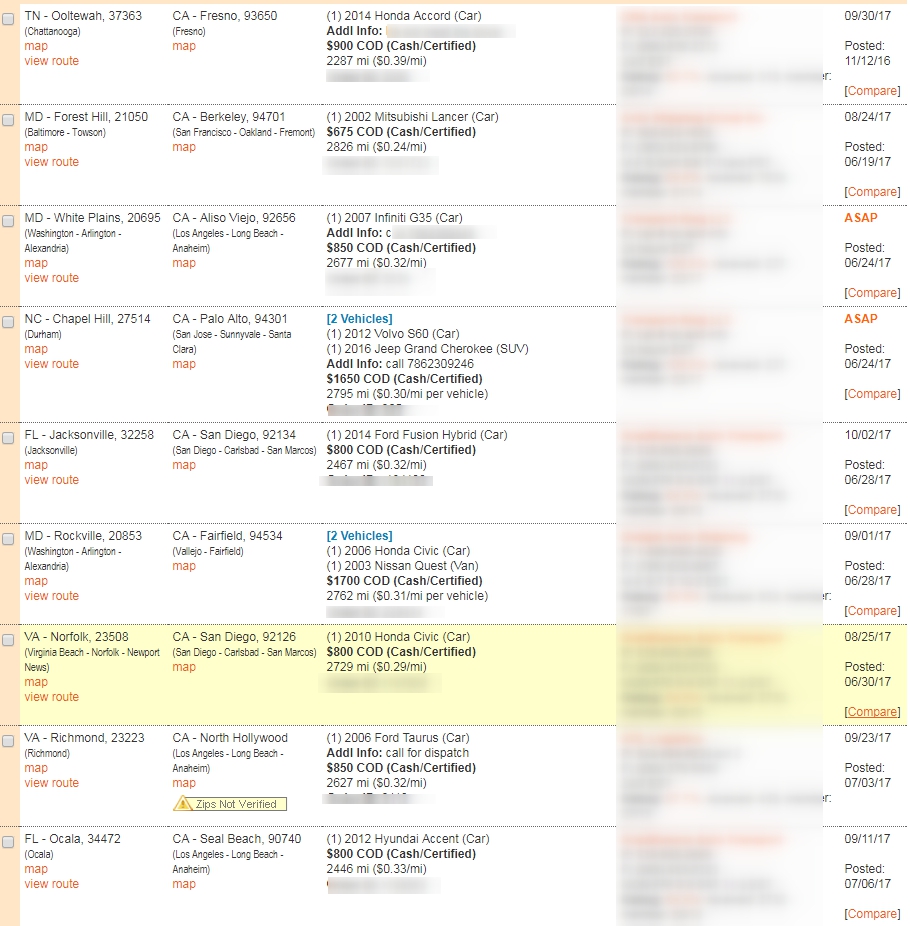 The average price is from FL to CA is $750-$800 for a sedan, from NC to CA is around $800, from VA is around $800 too. You will need to add $250 if your vehicle is going to be shipped from Key West, FL.
MIDWEST/PLAINS AREA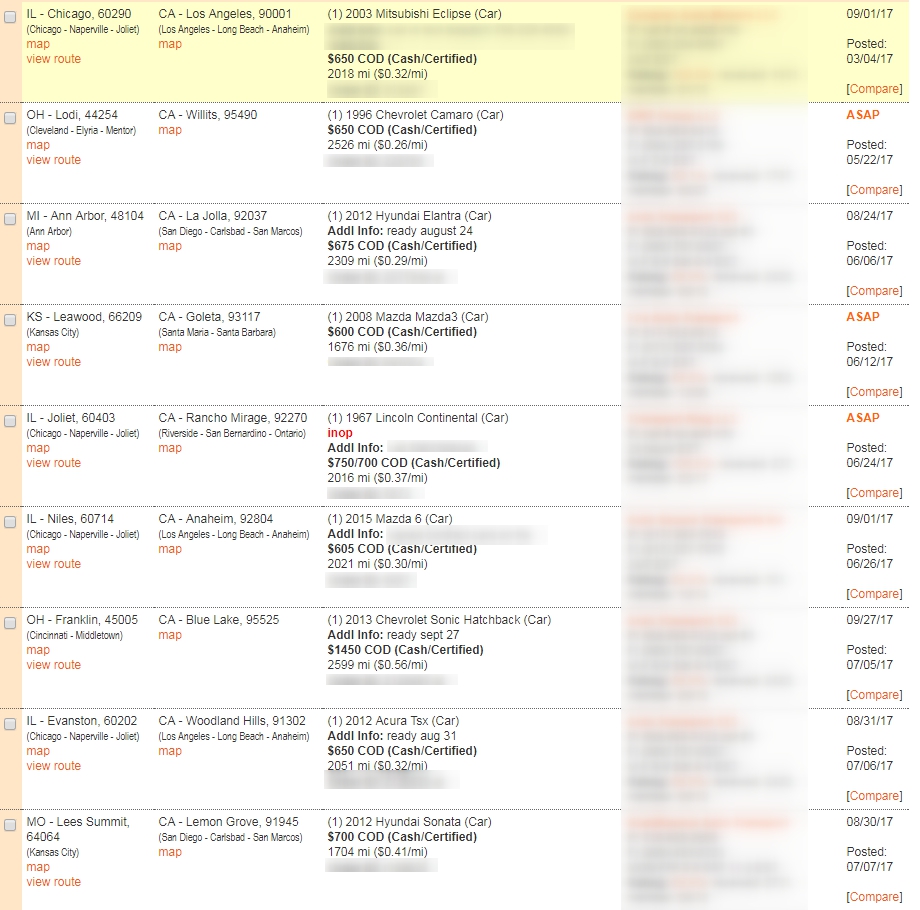 The average price to ship your car from IL to CA would be $600-$650, from MO to CA around $650-$700, from OH around $600-$650. Of course, it would be much easier to find a career in the metro area.
SOUTH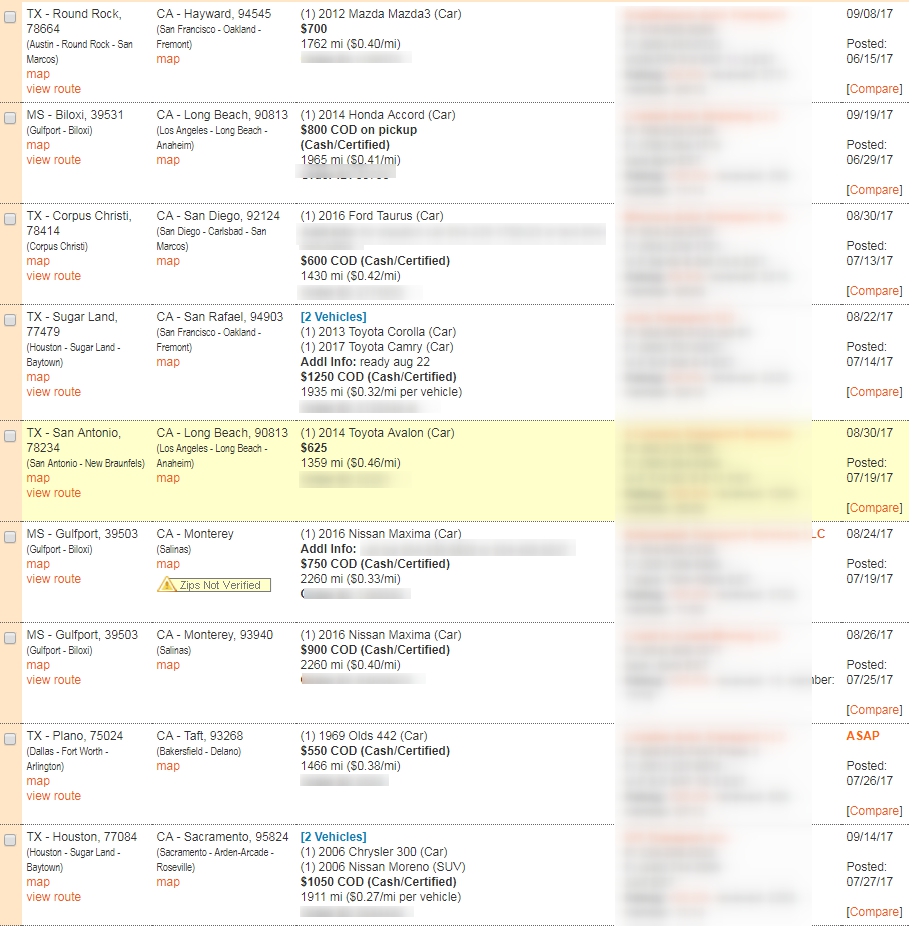 The average price to ship a car from TX to CA is $500-$550, from MS to CA around $750. Please note that not all drivers are willing to go down TX to the Mexico border, you will need to add up to $250 to get their interest 😉
How many days in advance should you book the spot?
Most of the drivers on these routes are making 1 week ahead reservations. So make sure that you place your order at least 1 week in advance to your 1st available shipping date. This will help you to avoid expedited car shipping cost. You can book everything 1 month in advance, but I would say that it won't make sense since drivers will not accept your load that much in advance.