Considering moving to the Sunflower State?  Our company is here to help you with that. We put together this helpful Kansas car shipping guide on the next topics:
– Why people move to Kansas: pros and cons of living in the Sunflower State
– How does the car shipping work?
– What is the cost to ship a car to Kansas?
– How does the payment work?
– What is the insurance coverage policy?
– Kansas Car shipping near me
– Why choose MoveWheels?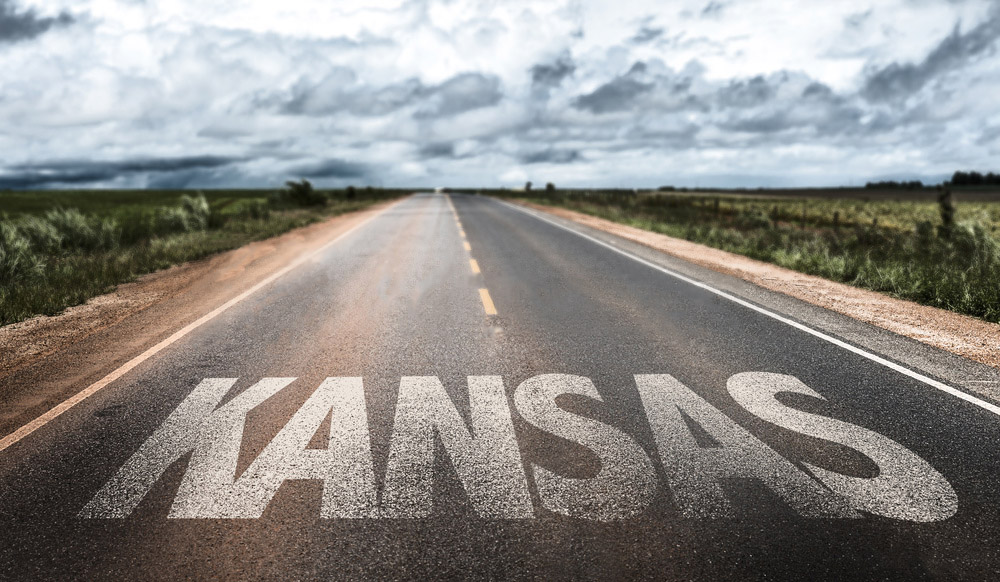 Why do people move to Kansas: pros and cons of living in the Sunflower State?
Kansas is a classic Midwestern state situated right in the middle of our country. Even though it may seem boring for those living in the cities of NY or LA, Kansas has lots of things to offer. The state has beautiful prairie lands and don't forget about the gorgeous sunsets on golden plains of the Wheat state.
Just as some other states we spoke about in the previous articles, Kansas also has very low cost of living. It's approximately 21% lower than the national average and the median home value here is just $151,200 with property tax being 10th lowest in the US. Following https://livingcost.org/.

Items also tend to be cheaper in Kansas since food processing is ranked the state's third largest industry while two other leading industries are manufacturing of transportation equipment and industrial machinery.
If you are planning to start a family or you already have kid(s), we are happy to tell you that Kansas has very good public education. It's actually in the top 15 among all states according to the World Population Review and only 8% of Kansans get less than a high school education.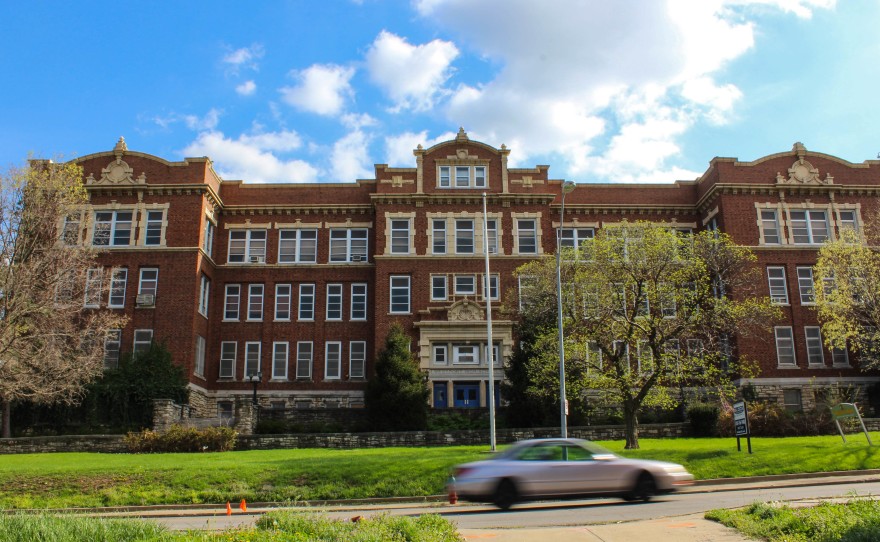 Speaking about family and kids, Kansas has lots of options for spending some quality time with your family. The state has some national and state parks that offer a wide range of activities like camping, water sports, fishing, hiking, golf, archery, horse riding, biking and many more.
The Sunflower State is also very well known for its hospitality. People here are extremely friendly and helpful. Once you get to know them closer, you will always be invited for backyard barbecue, parties or game nights.
Before moving somewhere you always check all pros and cons for moving and challenging climate and tornadoes are probably the most important disadvantage of Kansas that you should remember about. The state lies right in the middle of Tornado Alley, and sees more than 80 tornadoes annually. So it's best to be prepared if you decide to move here.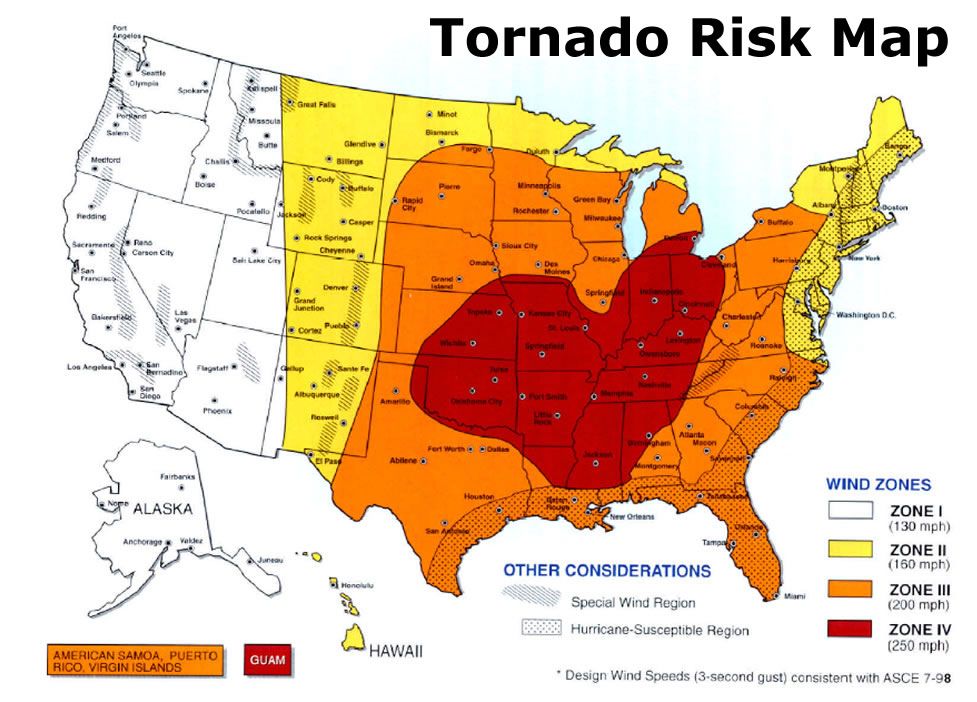 The other thing you should be aware of is lack of public transportation. Except for Kansas City, there is not much in the way of alternative transportation options other than your own vehicle. Frankly speaking, if you decide to move to Kansas, you need your vehicle to get around and we are here to help you and ship your vehicle to any place in the state.
How does the car shipping work?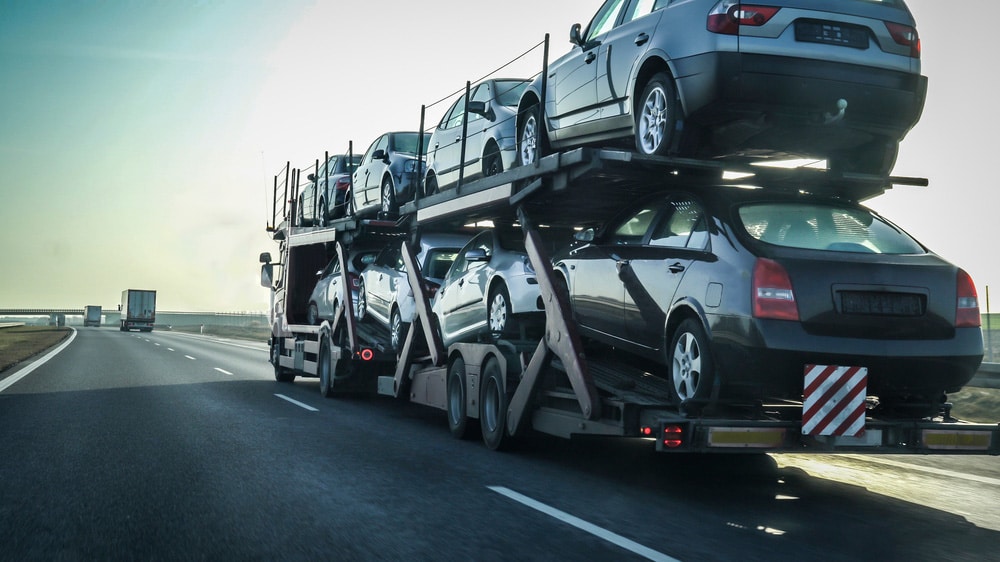 Once you decide to have your vehicle transported you start searching more information on the Internet. Usually the first results you see are advertisement websites. If you submit a request on one of these websites you will probably receive dozens of phone calls, texts and emails with a wide range of prices, because these websites are lead providers and just sell your info to other brokers companies instead of looking for a career for you.
But the thing is that all vehicle transport companies you receive quotes from are looking for drivers on a website called Central Dispatch. It is a national load board where carrier companies look for vehicles to transport.
The broker company or the dealer posts the information about the vehicle on this website mentioning its name, pick-up and delivery zip-codes, the dates of moving and price the customer is ready to pay. If the price works for the driver, he calls and sets up the transportation with the broker company. If the price is too low, the driver can make an offer to move the vehicle for more money or wait till the company reposts the vehicle for a higher rate. Frankly speaking, it's like an auction for a spot on the trailer.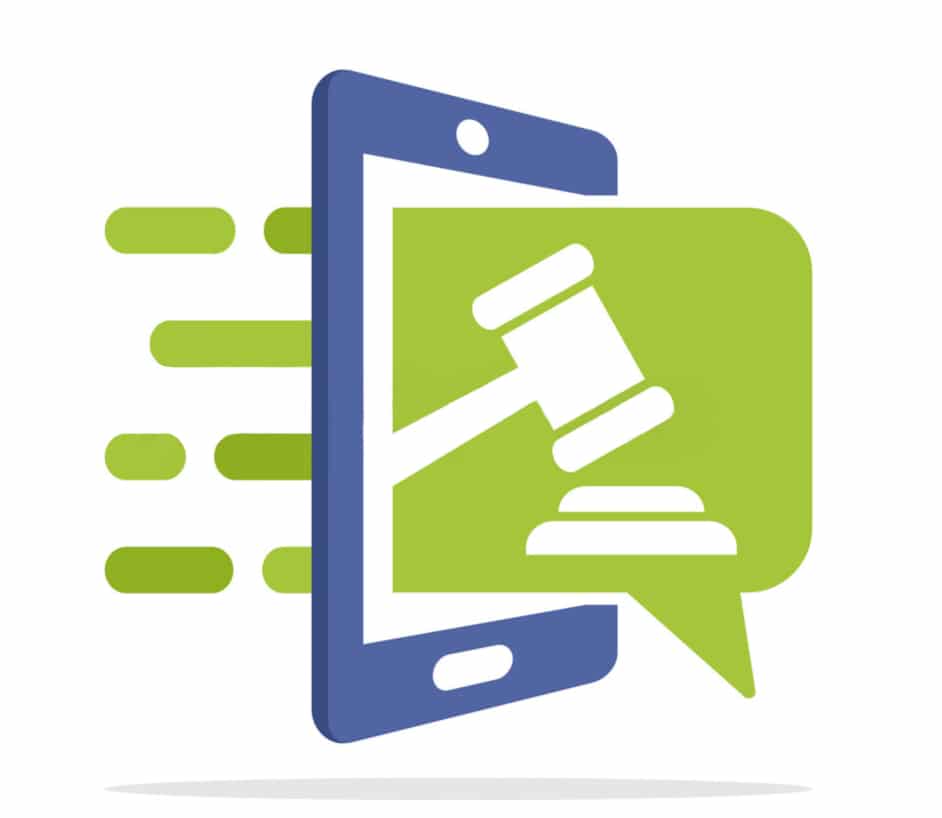 Some companies tend to offer lowball prices to catch the attention and once they find a driver for a real price, they get back to a customer with a higher rate.
Once the final rate is confirmed and you have driver's name and number on file, you have to prepare the vehicle for shipping. Make sure it's clean and you have keys at the pick-up location (the driver will not be able to load the car without a key even if it is inoperable). If you not sure that you prepared your car to pick up as proper you can check our cross country car shipping guide with full info on preparation and useful auto-shipping tips.
Before the pick-up and delivery the driver will call you in advance to negotiate the exact time.
What is the cost to ship a car to Kansas?
Kansas has a great geographical location. It's situated right in the middle of the country and almost every time carriers go from the west to east coast or back, they go through Kansas. It makes it much easier to find a driver to transport the car to the Sunflower State. But in most cases, Kansas is not drivers' final destination, since there are not that many vehicles going here. For example, if the vehicle needs to be transported from Florida to Kansas, the driver going from Florida to Colorado, Utah or Washington state will be able to move the vehicle since he will be driving through Kansas.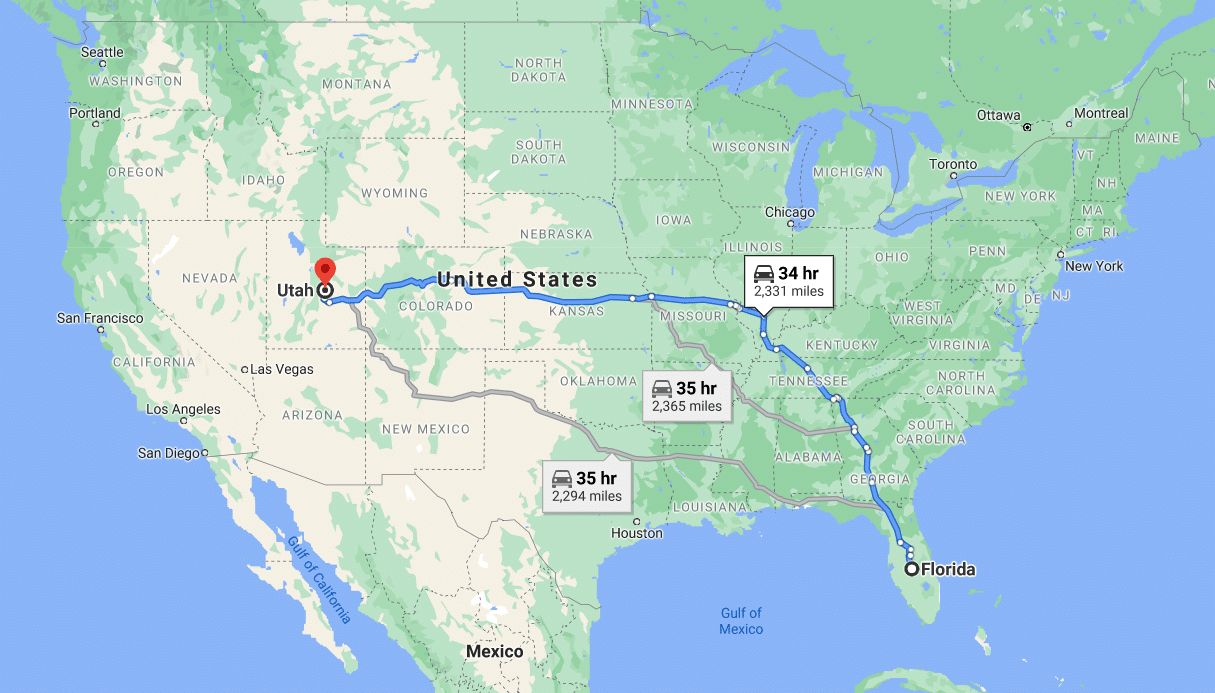 The price for transporting any kind of vehicle whether it's a sedan or a travel trailer depends on different factors as its size (i.e. sedan, SUV, pickup truck, or RV), mileage, time of the year (i.e. prices for moving during winter holidays are higher than usual).
Below you can see a price for moving sedans from different states to Kansas.
Please pay attention that all prices are only for sedans and are carrier rates. Just add a $100-170 brokerage fee and you will have the total price. If you are planning to ship SUV multiple the price by 1.2 (i.e. sedan is $1000, SUV = $1200). If you have a pickup multiple the price by 1.4.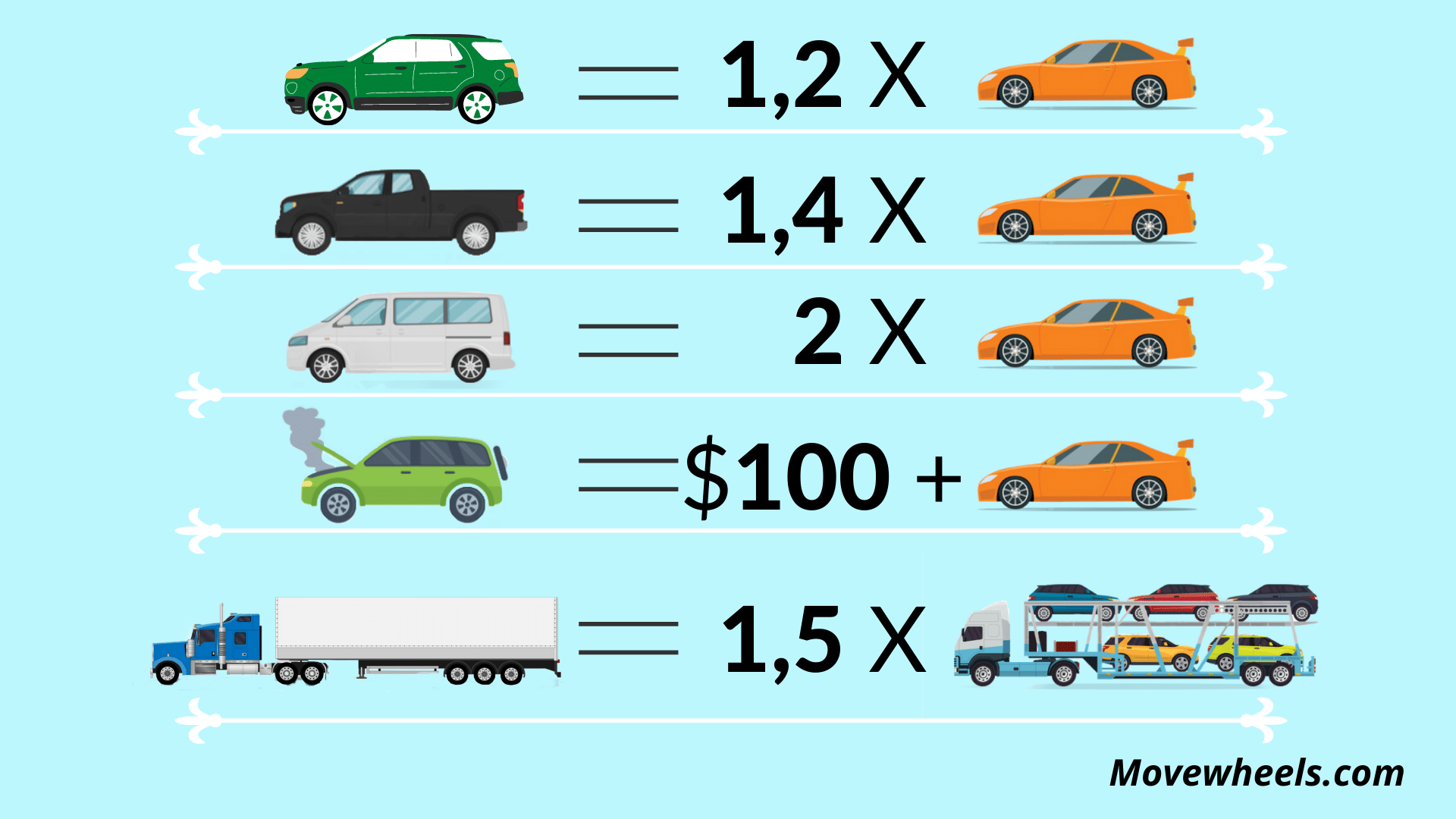 If you are planning to move an exotic or vintage car, you will probably decide to proceed with an enclosed carrier. Enclosed is 1.5 more and in case your car is inoperable add $150 since a special trailer with a winch is needed to transport such vehicles and they usually have only 3-4 spots, unlike regular 8 car haulers.
To check the total rate for shipping your vehicle just follow this secure link and get your free quote with MoveWheels within a few minutes. 
Shipping cost from the East coast to Kansas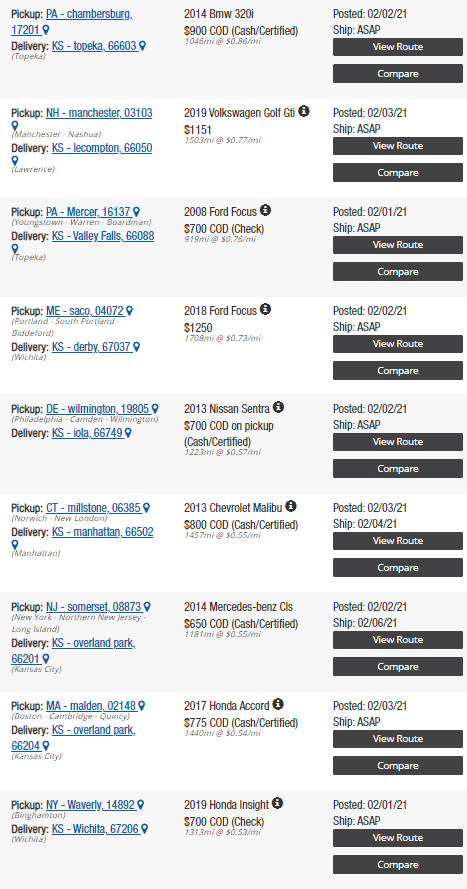 Shipping cost from South area to Kansas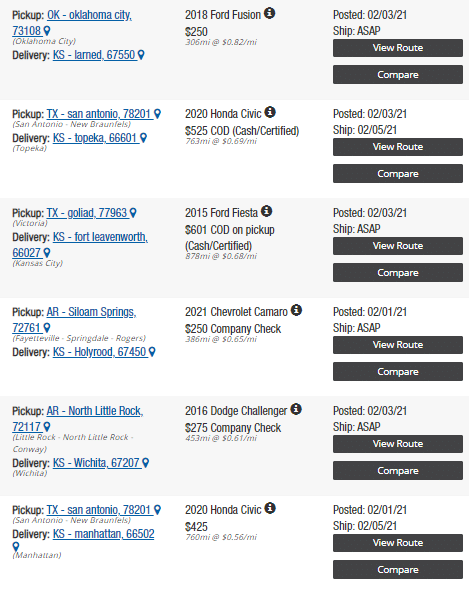 Shipping price from North area to Kansas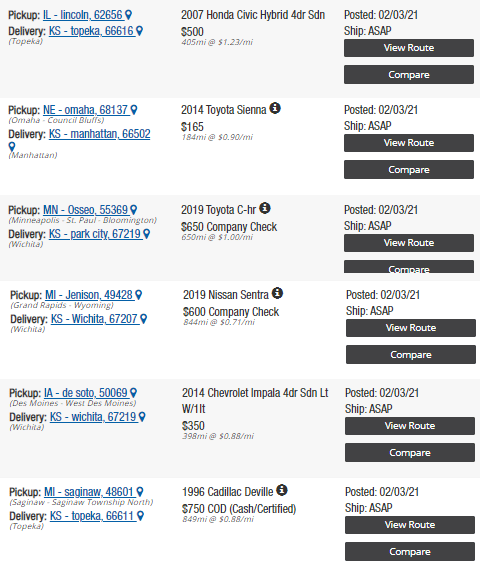 Shipping cost from the West Coast to Kansas
How does the payment work?
First of all, our company does not require any payment upfront. That means when you place an order with our company we do NOT charge anything.
Payment is divided into two parts: a partial deposit and a driver's fee. The deposit is usually charged to your card AFTER the vehicle is picked up. So once your car gets loaded on the trailer and is on the way to the delivery location we charge a partial deposit of $100-$180 (depending on the route, gas, and taxes), and the remaining balance you pay to the driver at the delivery with cash or any certified funds. It can be a money order, cashier's check, or company check (if you own a business).
What is the insurance coverage policy?
Car haulers, especially hardside enclosed are equipped in a special way since safety is one of the main concerns during transportation. Each trailer has wheel straps making any movement during transport impossible. Open car haulers also have beams and bars keeping trees or flying objects away, while enclosed trucks completely cover the cargo.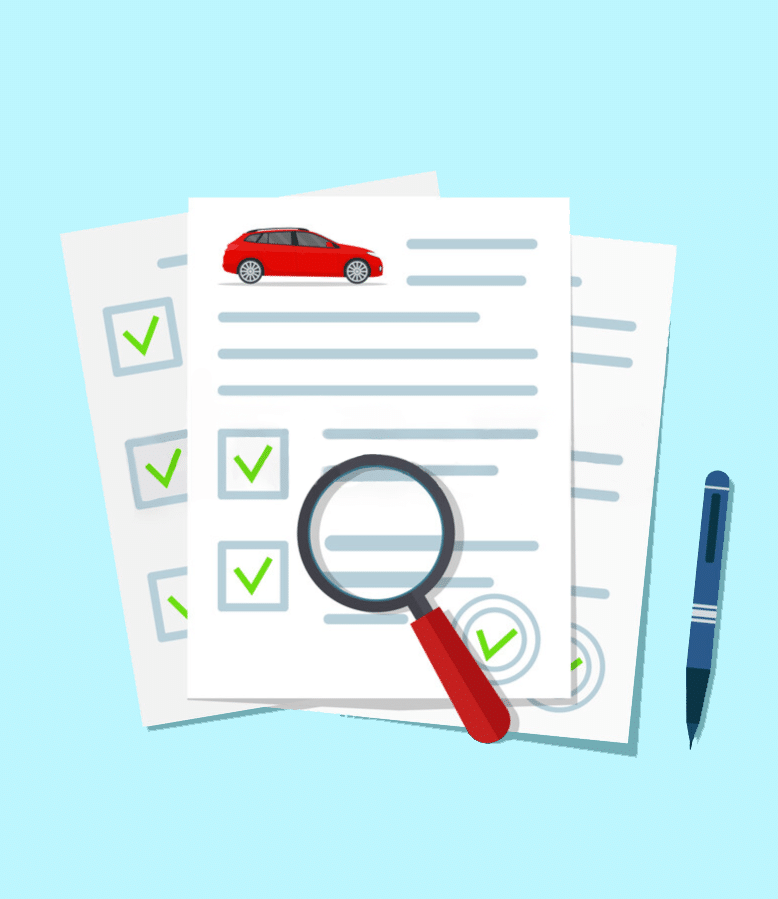 But despite all these, things still happen sometimes, and to make sure the damage will be covered please follow the next steps:
–         Make sure the vehicle is clean enough so the driver could see the preexisting damages since when he comes to pick up the car, he will do the round-up inspection and note down all the preexisting damages if there are any. Once he's finished, please check and sign the paper. You can also take some photos of the vehicle before it gets loaded on the trailer.
–        When you receive the vehicle at the drop-off address, don't forget to inspect it, and if you find any new damages write them down in the Bill of Lading and take some photos as well.
–        If the damage is not significant, the driver may try to cover it from his own side. If not, make 1-2 estimates in a local workshop and let us know about the damage. Your shipping agent will send you all the information required and will help you to submit a claim to the carrier's insurance company. So in a few days, they will send you a check.
Kansas Car shipping near me
Just as in almost any other state, there are lots of carrier companies located in Kansas. Some of them are based out of the small towns located near I35 and I70 while others are from large cities like Wichita, Topeka, and Kansas City.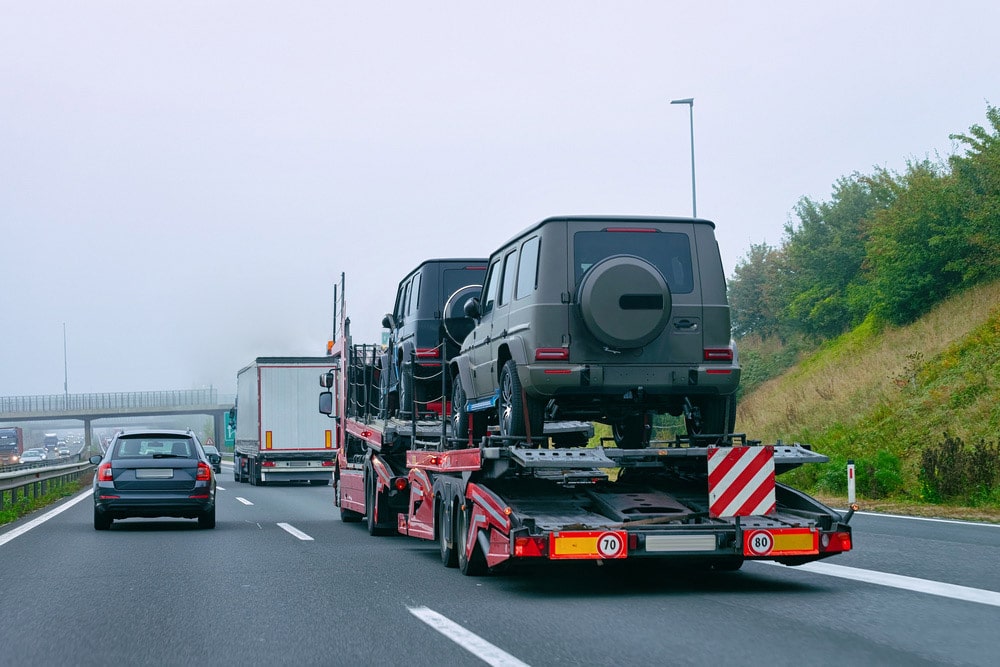 Most of the carrier companies own large car haulers and travel to the East or West coast changing their route all the time depending on the availability of vehicles. Perfect examples of such companies are ARC Transport Inc that owns a 5-car hauler and BVN Enterprises LLC with a 6-car hauler. They go anywhere within the US and can move almost any kind of vehicle from a usual sedan to a van.
There are also a bunch of local carrier companies that move vehicles only within Kansas or to nearby states. For example, AK Logistics LLC, Cedar Hill Transport LLC and Farmers Repair Inc. are going to Texas, Oklahoma, and Missouri. They have 2-3 car haulers and can also move some big vehicles like a pickup truck with a utility bed.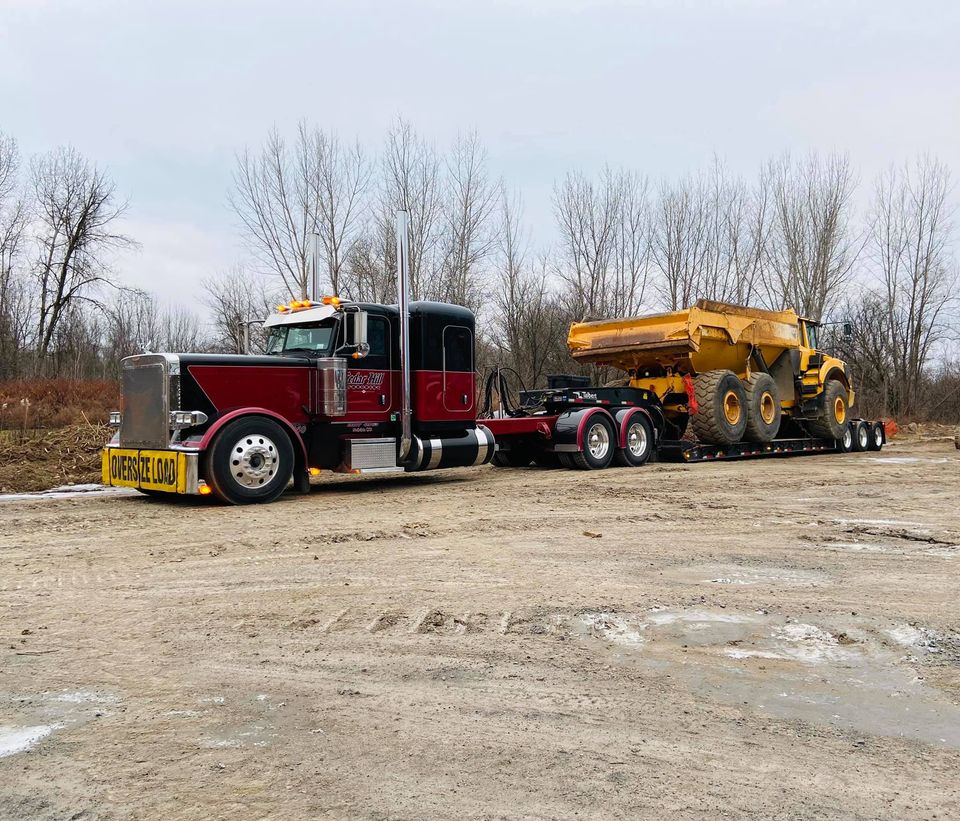 There is also another carrier company that is not family-owned like the companies we told you about before. Amador Hotshots has 2 dispatchers and 4 drivers that go to the midwest, south, and southeast. The company has 2 gooseneck trailers, a 35ft hydraulic lowboy and a regular 20ft lowboy. This company is well known for moving heavy equipment like bulldozers, excavators, backhoes, tractors, and many more.
The Wheat State has also carrier companies that offer enclosed transportation. For example, CARS Enclosed Inc has a Peterbilt and a 53ft enclosed car trailer with a lift gate and a winch, so they are able to transport up to 7 vehicles at a time no matter if they are operable or not.
Dedicated Vehicle Transport LLC owns 5 enclosed trailers: 3 hardside trailers with lift gates and 2 featherlite trailers. All trailers have wheel straps for cars and special soft straps for motorcycles.
We have been working with these enclosed carriers for more than 3 years already since their drivers are very professional and they are ready to go anywhere within all 48 states.
Why Choose MoveWheels for Kansas Car Shipping?
– As we have already mentioned, our company does not charge anything upfront.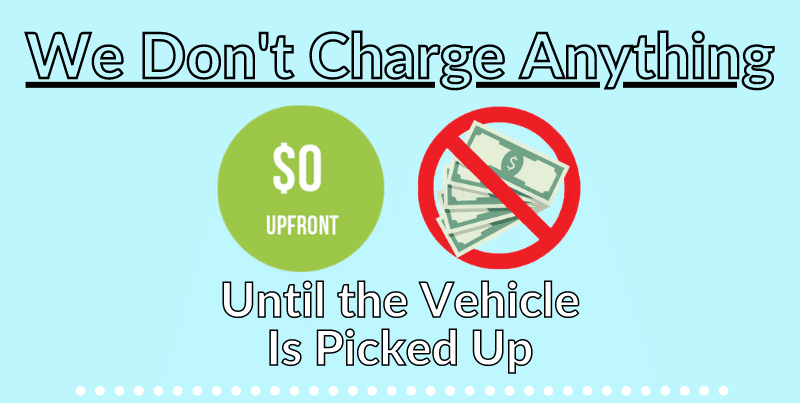 – We can offer you both open and enclosed transportation since we know lots of drivers going anywhere within the US.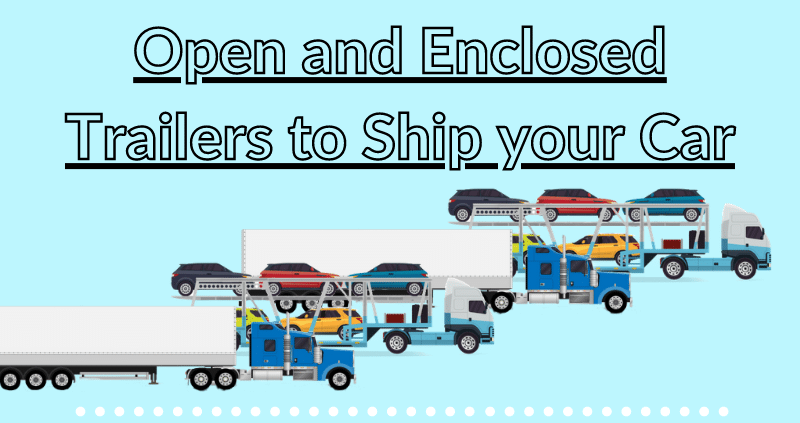 – Our company's top priority is happy customers so we have customer support service working almost 24/7 and our shipping agents are ready to help you and answer all your questions at any time.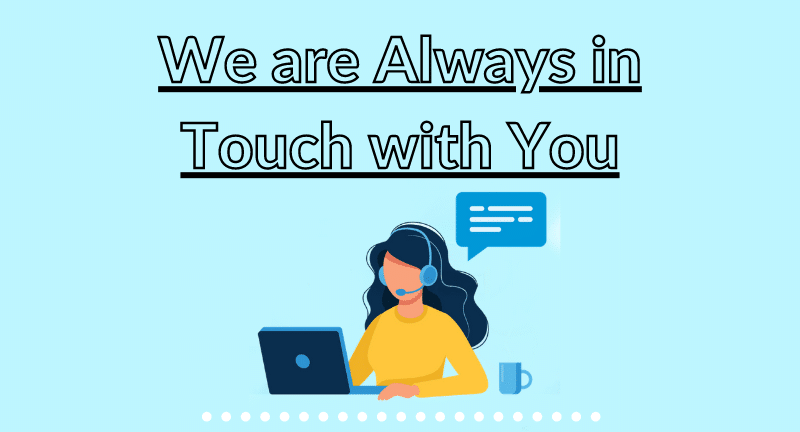 – We have different discounts that may help you to have the car transported within your budget:
    military discount (10%, applies to active military members);

    business discount (for dealers, body shops, and any other businesses);

    regular customers (if you are shipping your vehicle with our company for the second (or more) time, we will also schedule the driver for you for the most reasonable price).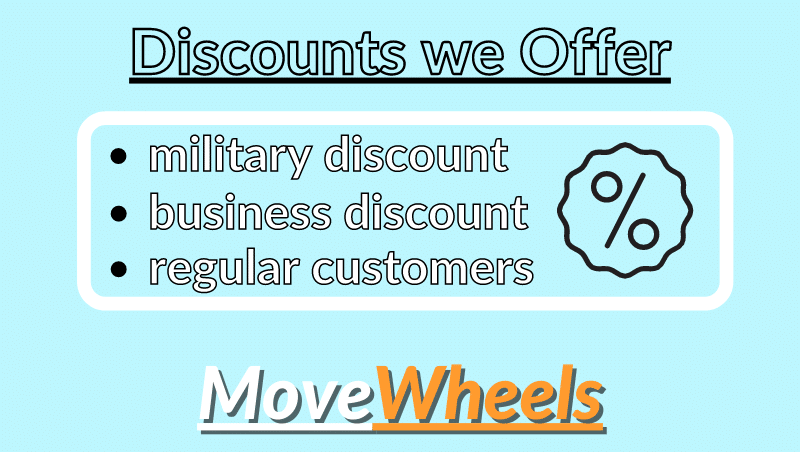 As you can see, MoveWheels Company is here to help you make your car shipping a lot easier. Just contact us once you are ready and we will provide you with a free moving quote from top-rated carriers in a matter of minutes!