To help our customers get the best car shipping experience, we made this Illinois car shipping guide. Here you can find answers to such questions:
Why people need to ship their cars to Illinois;

How much does it cost to ship my vehicle to Illinois;

Illinois car transport companies near me;

Why you should use MoveWheels;

How to prepare my vehicle for moving to Illinois;

How to register a car in Illinois.
IL
The Windy City, Illinois is not just about Chicago as most of us think. It has much more to offer than just a large metropolitan area near Lake Michigan. There are three distinct land regions – the Central Plains (northern and central part of the state), the Shawnee Hills (south-eastern part), and the Gulf Coastal Plain (southern part of the state).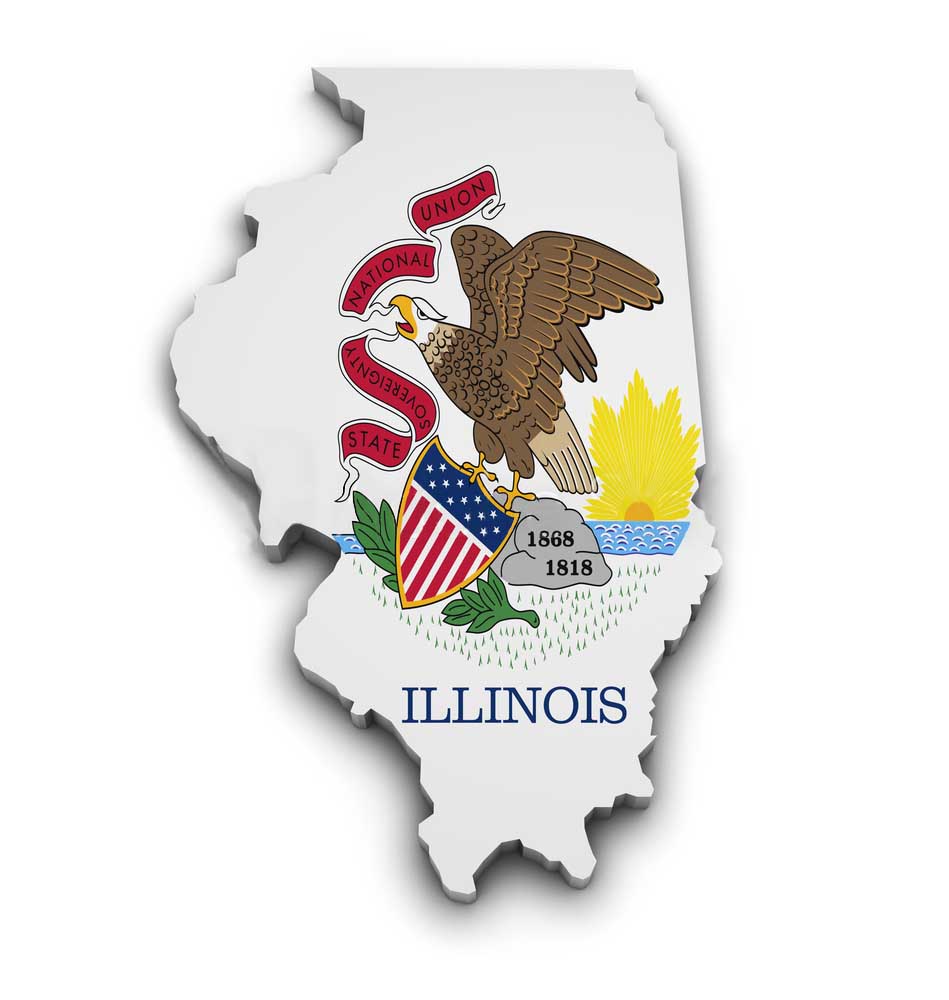 Illinois has a great variety of opportunities, attractions, and national parks to visit. Though the largest metropolitan area of this state is Chicago, small towns and other big cities like Springfield, Rockford and Peoria also have a lot to offer and are recognized for their affordability and friendliness.
Some reasons for you to ship your car to Illinois
– Low unemployment rate and cost of living:
The state offers a very reasonable cost of living. The median home price in Illinois is around $185 000 and the average rent is below $1000, but in the Chicago area, it rises to $1800. Even though it's kind of a lot it's still lower than in Los Angeles or San Francisco. The data was taken from https://livingcost.org/:

Illinois has a lot of job opportunities for everyone with growing fields including engineering, project and mobile development, clinical research, and only the quarantine incident changed it.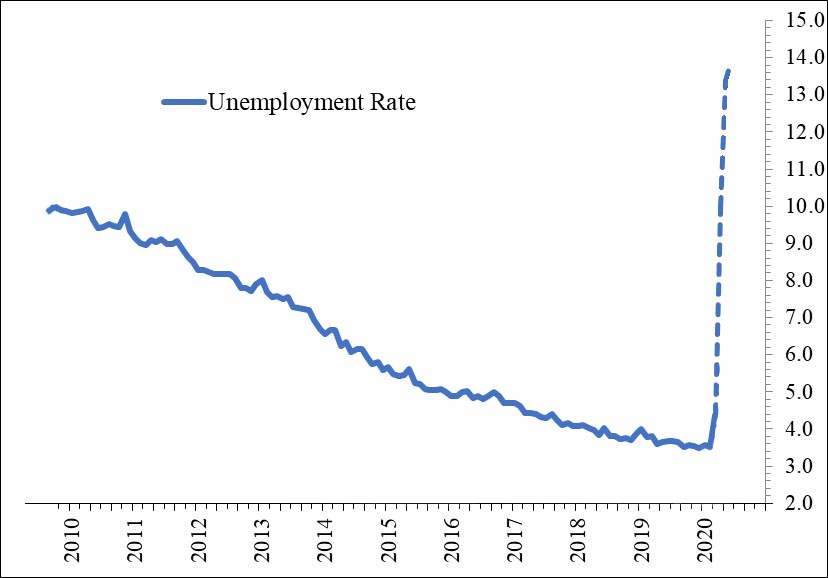 – Great educational system:
If you decided to move to Illinois that is probably one of the main pros on your list. There are more than 120 colleges in the state that offer modern academic standards. Northwestern University also known as the Harvard of the Midwest has a wide range of educational programs to offer. Kellogg School of Management at Northwestern is rather popular among students who want to study business. Almost 90% of students there receive a job offer within a couple of months after graduation. So if you are a student and want to ship your car to Texas, we will be glad to help you!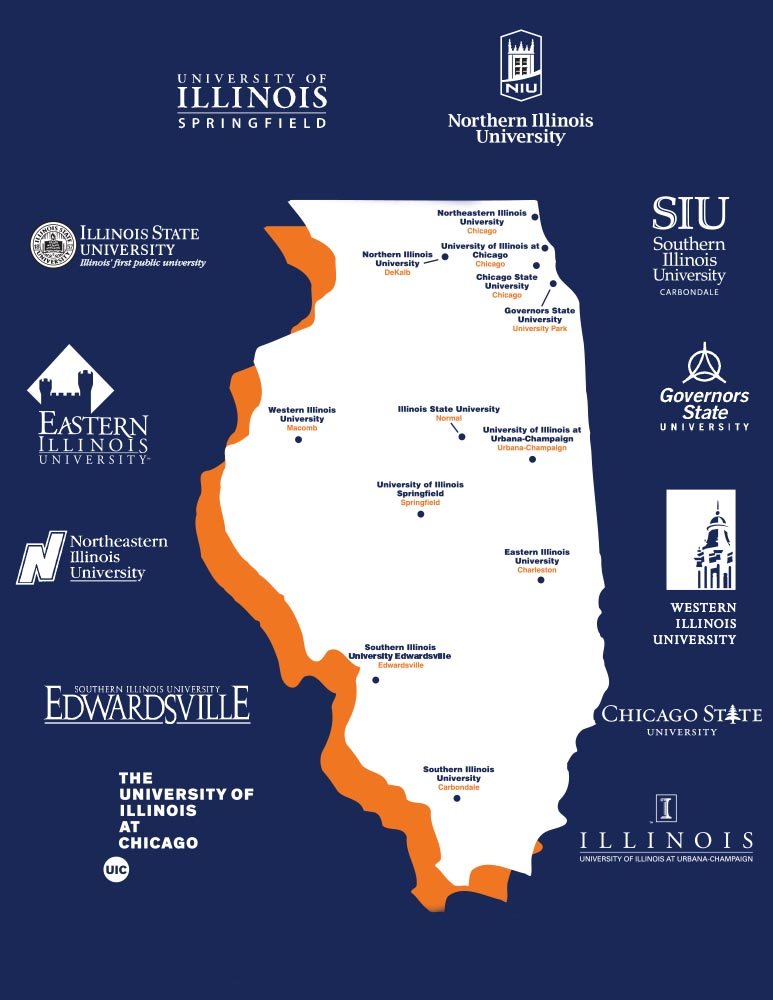 – Reliable infrastructure:
30 years ago O'Hare International Airport was the busiest airport in the world. Now it's still in the top 6 and remains an important checkpoint for American and United Airlines. The Railway system is also rather developed in Illinois since almost all North American railway lines meet at Chicago and that makes it one of the largest active railway hubs in the US.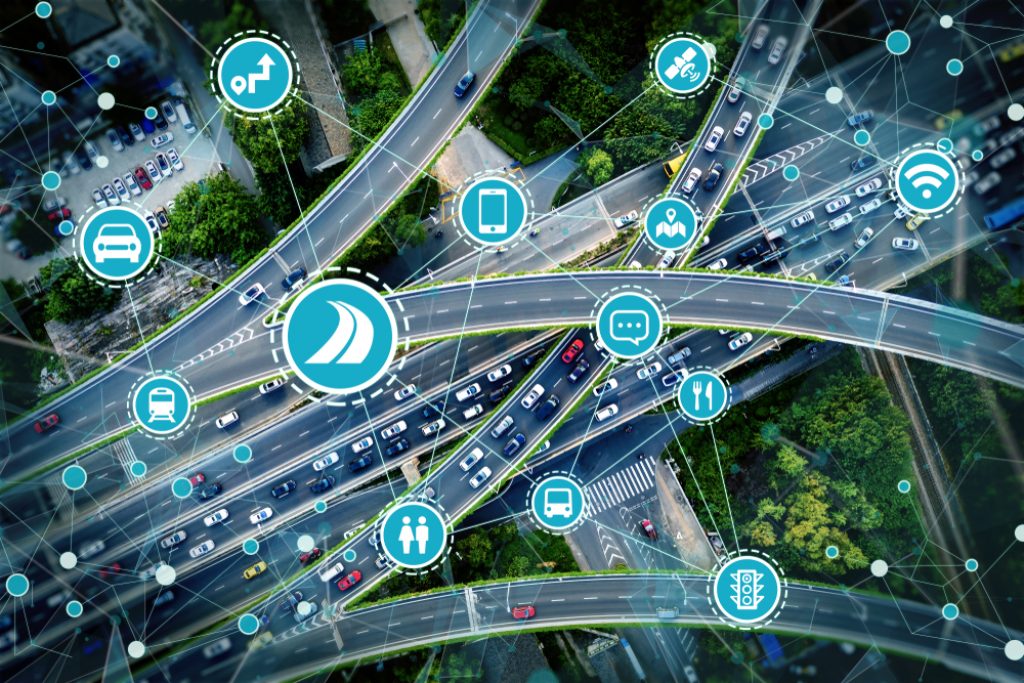 – Music, food, and sport:
Music is a very important part of Illinoisans' lives as well as sport. From rock and country to blues and jazz, there are always a lot of music venues to visit. Chicago is famous for its deep-dish pizza and variety of restaurants with cuisines of different countries. There are also a lot of food festivals throughout the year. And if you like sport and are a sports fan, you'll love living in Illinois, home to the Chicago White Sox, Chicago Bulls and so many more. You will always find a like-minded person to cheer with on your favorite team.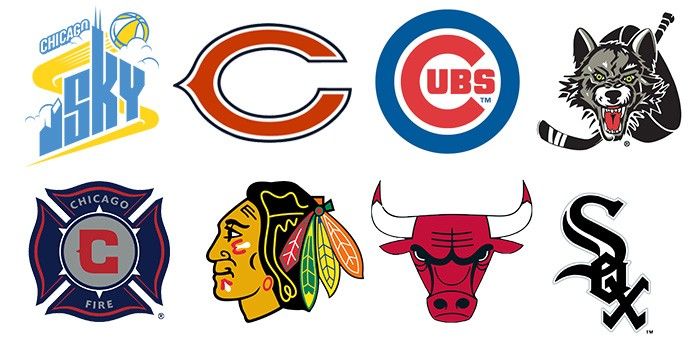 How much does it cost to ship a car to Illinois?
The price for moving the vehicle depends on so many factors as: its size (i.e. sedan, SUV, pickup truck, or RV), mileage, time of the year (i.e. prices for moving in winter are higher than usual since the weather in Illinois and nearby states are very cold and snowy), and carrier availability on the route (some pick up or drop off locations are not so popular because there are only a few vehicles going there). You can get to know your shipping price by getting your free quote with Movewheels.

All transport companies are looking for drivers on a website called Central Dispatch (only a registered broker, carrier or dealer has access to the website). The company posts the information about the vehicle with a specific price mentioning its year, make, model, pick up and delivery zip-codes, and how soon it needs to be picked up. If the price works for the driver, he contacts the company and tells when he will pick up the car. If the price is too low the driver can make an offer to move the vehicle for a higher price or wait till the company reposts the vehicle for a higher rate. Frankly speaking, it's like an auction for a spot on the trailer.
Here are some pictures of the Central Dispatch for July-August 2020*:
*All prices are for a sedan and are only carrier rates (you will need to add $100-170 brokers fee and you will have the total price). If you have a SUV multiply the price by 1.2 (i.e. sedan is $1000, SUV = $1200). If you have a pickup truck multiply the price by 1.4. An enclosed trailer is 1.5 more and if your car is inoperable add $100 since a special trailer with a winch is needed to transport such vehicles and they usually have only 3-4 spots, unlike usual 8 car haulers.
Shipping from the Northeast area to Illinois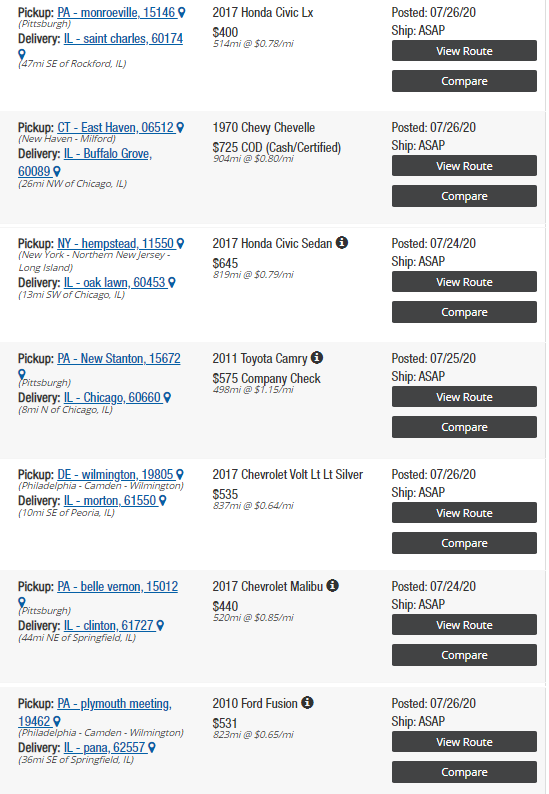 Shipping from the Southeast area to Illinois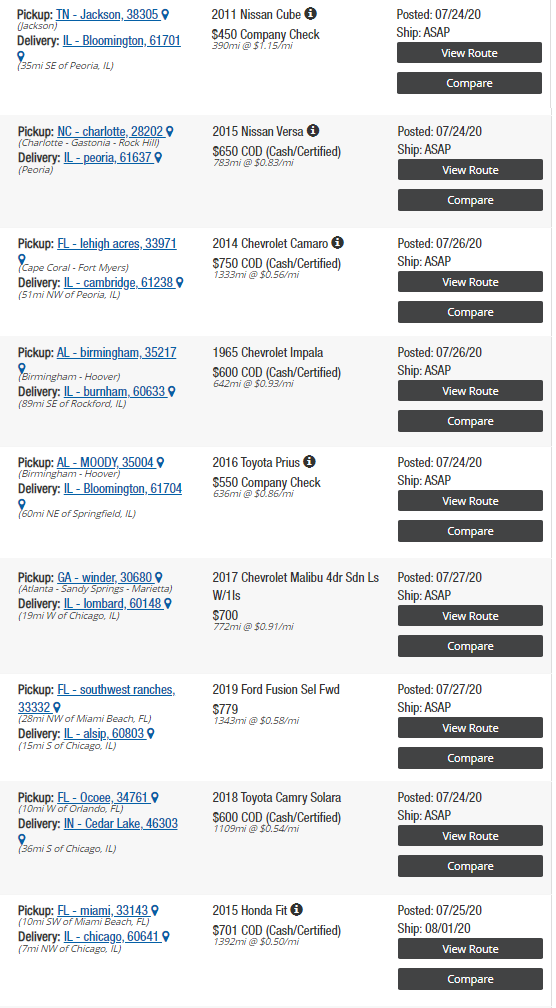 If you need to ship the car from Key West to Illinois, you need to add $250. This area is a hard location for the big car hauler to get to. There is a special trailer picking up the vehicles in Key West and delivering it to Homestead where the car is loaded on the trailer going to Illinois.
Shipping from the South area to Illinois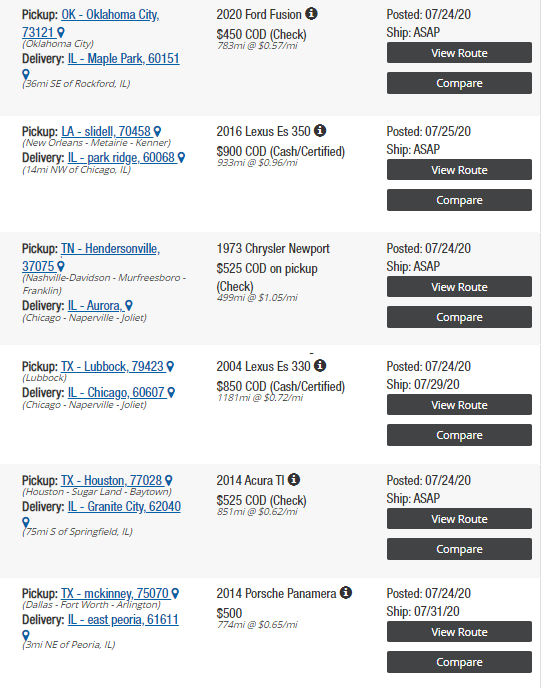 Shipping from the Northwest area to Illinois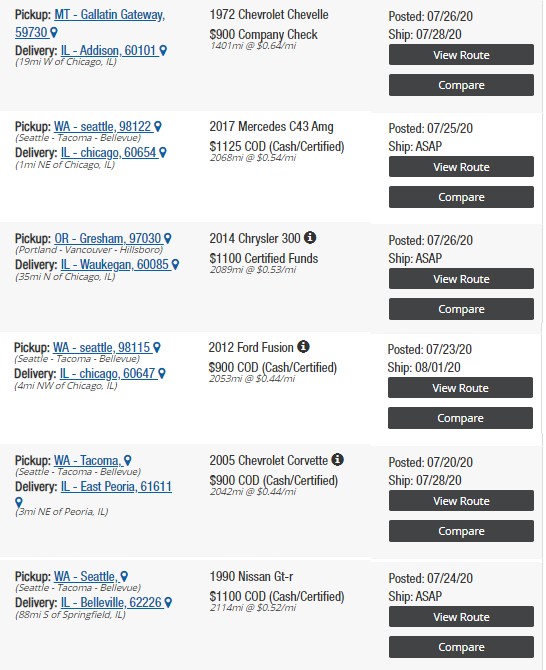 Shipping from the Southwest to Illinois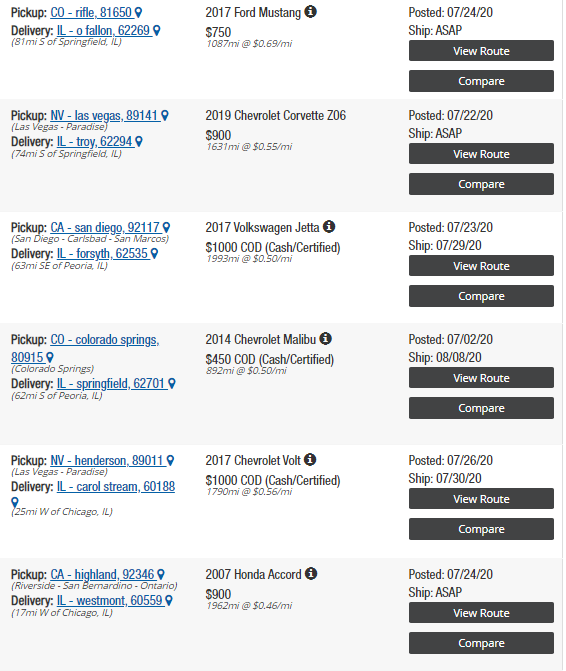 Illinois car shipping companies near me
There are a lot of car shipping companies in Illinois that may help you with the transportation of your vehicle. For example, Final Mile Car Carriers Inc located in Parlos Hills has a 9 car hauler serving the Midwest region. Another good company located in Illinois is Seville Trucking Inc that operates on the route between Chicago, Phoenix, and Las Vegas. There are also some companies specialized in moving only inoperable cars. For example, Phillips Hauling Incorporated has a 3 car hauler with a winch and its usual destination is Midwest.
Why chose Movewheels?
– Besides using Central Dispatch, our company also has our database of reliable drivers that we are working with daily for years and we always negotiate the best price for our customers. You can receive a quote with Movewheels and get one of the most reliable drivers here.
– Unlike other companies, we do NOT require any payment upfront. Payment is divided into 2 parts: partial deposit (already included in the quote) is paid AFTER the vehicle is picked up and the remaining balance should be paid at the drop off when you receive the vehicle.
–No hidden fees, the price includes all fees taxes and insurance.  
– Our shipping agents and customer support service are always in touch with our customers and are ready to answer any questions anytime.
– Easy shipping process: Get your free quote, determine all shipping details together with your personal shipping agent, and meet the driver.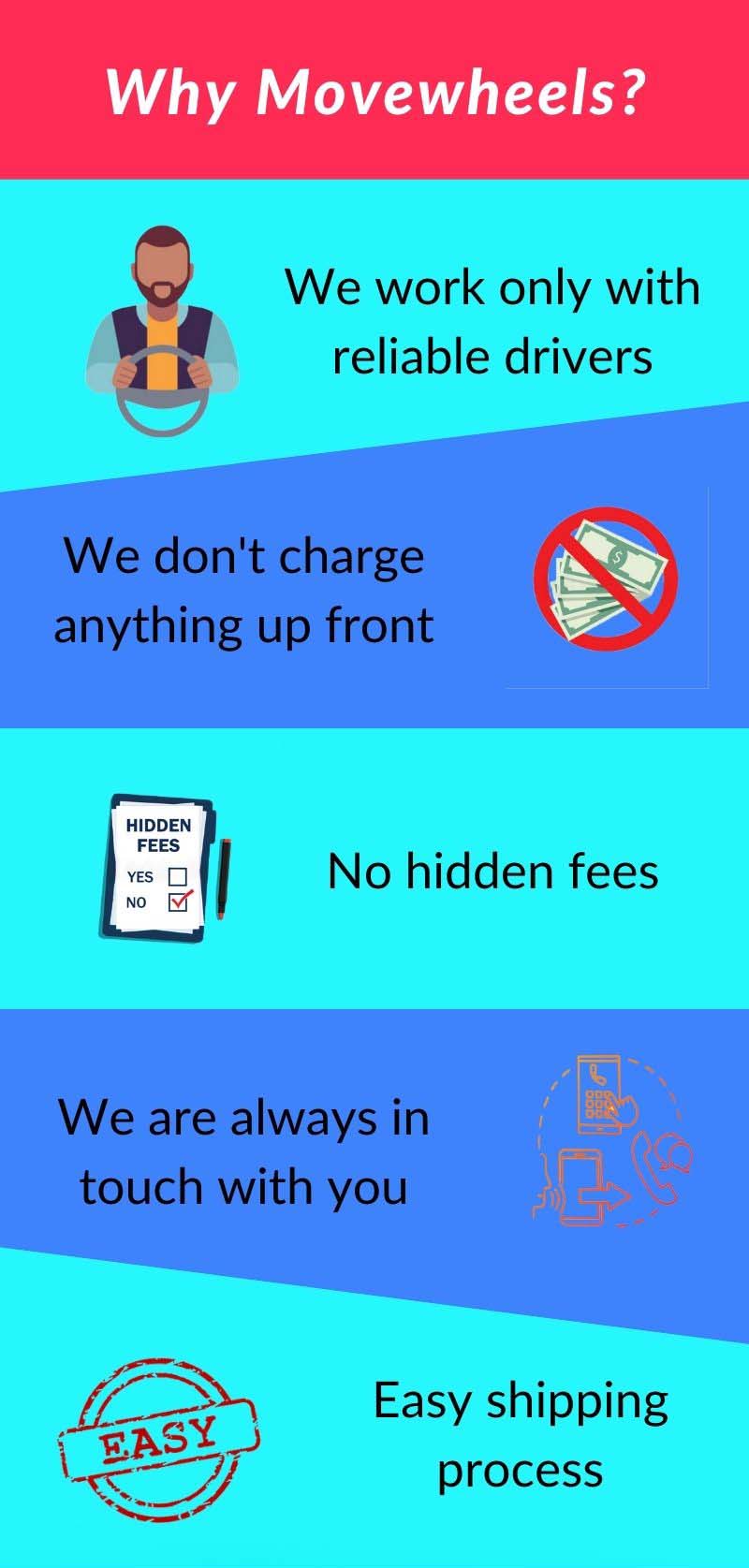 How can I get ready for moving?
Most of the drivers are making 7-10 days ahead reservations, so it's better to place an order at least a week ahead of the 1st available pick update. This will help you to get the carrier for a reasonable price and avoid expedited shipping costs.
Also once everything is set up and the driver is assigned to your order, you can prepare your vehicle for transportation by removing all tags and plates so you won't receive any tickets by mistake (road cameras may take a picture of your car by mistake). You can easily dispute it by showing the Bill of Landing but it will still take some time.
If you need more pro tips to prepare for shipping check another our car shipping guide.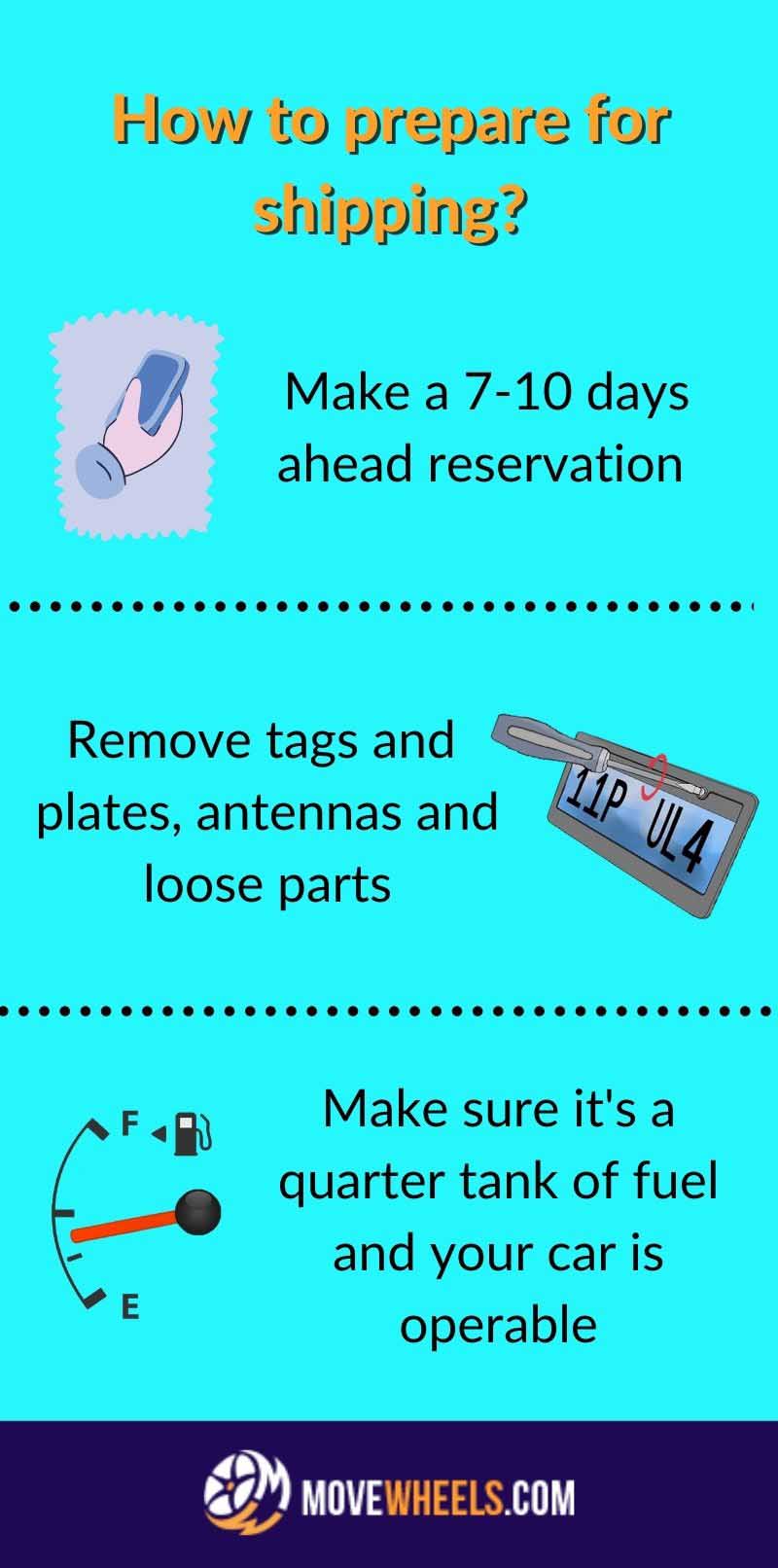 How to register the car in Illinois?
If you are a new Illinois resident, you should register your vehicle in the state within 30 days after moving and obtain a new driver's license within 90 days.
For registering your car in Illinois you must submit all the forms in person at the Secretary of State Office (you can find the nearest SSO here: https://www.ilsos.gov/facilityfinder/facility). You will need to complete an application for the vehicle transaction and the Private Party Vehicle Tax Transaction, and you will also need proof of ownership, a description of the vehicle, and payment for applicable fees and taxes.