In this article, we made a full guide for shipping a vehicle across the country. When shipping a car cross country the process seems to be complicated, and our task is to explain every point of car transport process, to give you the best car shipping experience. Here you can find answers to the following auto shipping questions:
What is Cross Country Vehicle Shipping?
When people hear "Cross Country Vehicle Shipping," a plethora of questions often springs to mind. At MoveWheels, we've been handling such queries and shipping vehicles with expertise for years. Let's delve deeper into what this service truly entails.
What is Cross Country Vehicle Shipping?
Simply put, cross-country vehicle shipping is our specialized service where we transport a diverse range of vehicles from one point to another, spanning the vast expanse of the US and even reaching outlying territories. Whether you own a sedan, a mighty pickup truck, a spacious SUV, a gleaming boat, a rugged ATV, an essential lawnmower, or even a hefty tractor, MoveWheels is equipped to transport it seamlessly.
A Peek into the Journey:
One of our seasoned drivers, Jake, often shares, "On a regular day, we cover around 500 miles." This means if you're shipping within the mainland, your vehicle's transit time typically ranges between 1-9 days post-pickup. For those adventurous souls or businesses extending to locations like Hawaii, Alaska, or Guam, the journey is a tad longer. Given the logistics and weather variables, transportation to these territories might stretch up to 20 days.
Understanding the nuances of cross-country vehicle shipping is crucial for a hassle-free experience. Whether standard or expedited, each journey with MoveWheels is anchored in expertise, care, and commitment. To better guide you through this process, let's now walk through the step-by-step procedure of how vehicle shipping with MoveWheels unfolds.
Vehicle Shipping Step by Step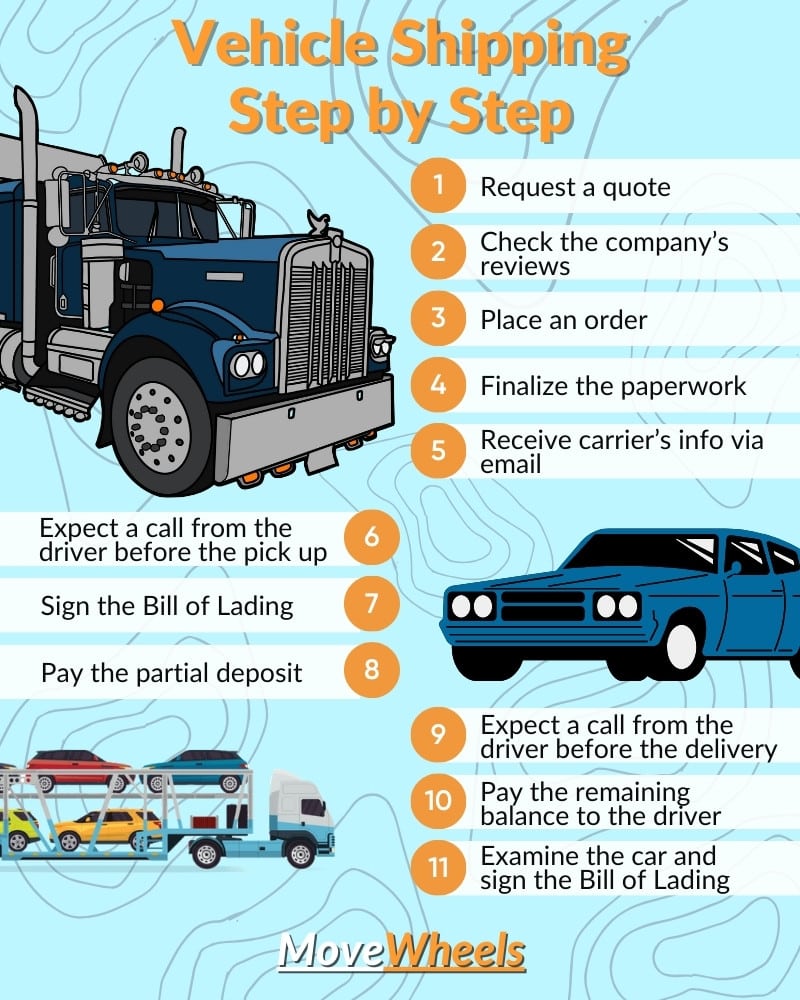 ---
You might be wondering:
"Is it hard to ship a vehicle to another state?"
The answer is no, just check this list "car shipping step by step" and make sure that it's true.
Our main task to make shipping your car across country as easy as pie
Request a quote;
Check the company's reviews;
Finalize the paperwork;
Receive carrier's info via email;
Expect a call from the driver before the pick up;
Sign the Bill of Lading;
Pay the partial deposit;
Expect a call from the driver before the delivery;
Pay the remaining balance to the driver;
Examine the car and sign the Bill of Lading.
---
Ship a Car Cross Country or Drive It Yourself?
When planning a move or extended travel across the country, one of the pivotal questions car owners grapple with is: "Should I ship my car or drive it myself?" At MoveWheels, our auto transport agents frequently engage in this dialogue, offering insights from countless customer experiences. Let's dive deeper.
Cost & Convenience:
While many instantly think of cost, it's essential to weigh in convenience, the physical toll, potential risks, and the overall time investment. Our customers typically start by requesting an affordable shipping quote from MoveWheels. Armed with this information, they can juxtapose it against the estimated costs of driving cross country.
Personal Adventure vs. Hassle-Free Transport:
If the idea of a road trip excites you—taking the family, pets, and cherished plants, while having the freedom to stop and soak in the picturesque landscapes—then driving might be for you. However, if a lengthy drive feels daunting, then consider trusting a licensed auto transport carrier. One of our agents, Hannah, recalls a customer who cherished her vintage car. She said, "I'd rather let professionals handle my car than risk the miles myself."
Advantages of Car Transport: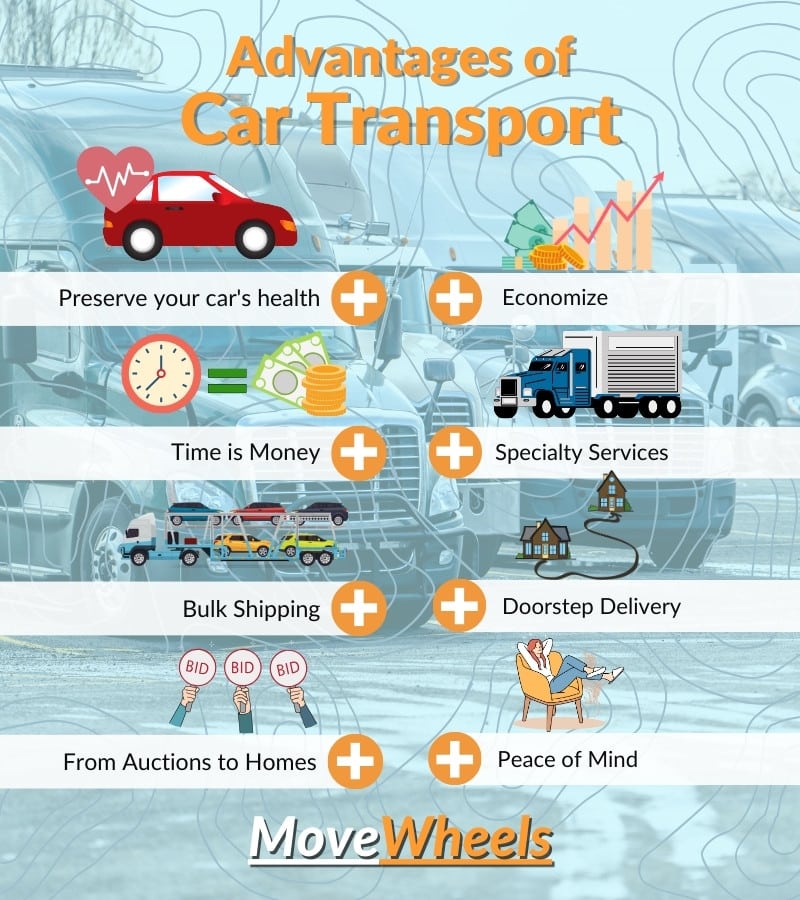 Shipping your car with a trusted service like MoveWheels offers myriad benefits:
While transporting might take slightly more time than driving, many find it to be a safer and more efficient alternative. It also eliminates the chances of racking up speeding tickets or other violations. For those who don't want to drive but want their car quickly, designating a driver to fetch and deliver your vehicle is a feasible option. However, for those choosing the open trailer service, remember that external elements might leave your car in need of a wash upon arrival.
Real Costs of Driving:
Driving across states isn't just about fuel. Consider tolls, parking fees, vehicle depreciation, and unplanned repairs. Factor in accommodation and meals, which can escalate quickly, especially for families. An agent at MoveWheels, Sarah, recounts, "I had a client who ended up spending more on their road trip due to unplanned repairs and stays than if they had shipped their car."
The Hidden Toll:
Beyond tangible costs, remember the intangibles: fatigue, stress, and potential delays from unpredictable weather or highway construction.
In conclusion, before you gear up for a cross-country trek or pick up the phone to book a transporter, reach out to our knowledgeable agents at MoveWheels. We'll provide a free, transparent, and competitive shipping quote to help you make an informed decision. Safe travels, however you choose to proceed!
Understanding Vehicle Transportation Costs:
A Comprehensive Guide by MoveWheels
What Does Your Quote Encompass?
At MoveWheels, transparency is key. The quote we furnish isn't merely a number—it's our pledge to you, encompassing all essential components without any hidden fees. Let's break it down:
Factors Influencing Your Quote: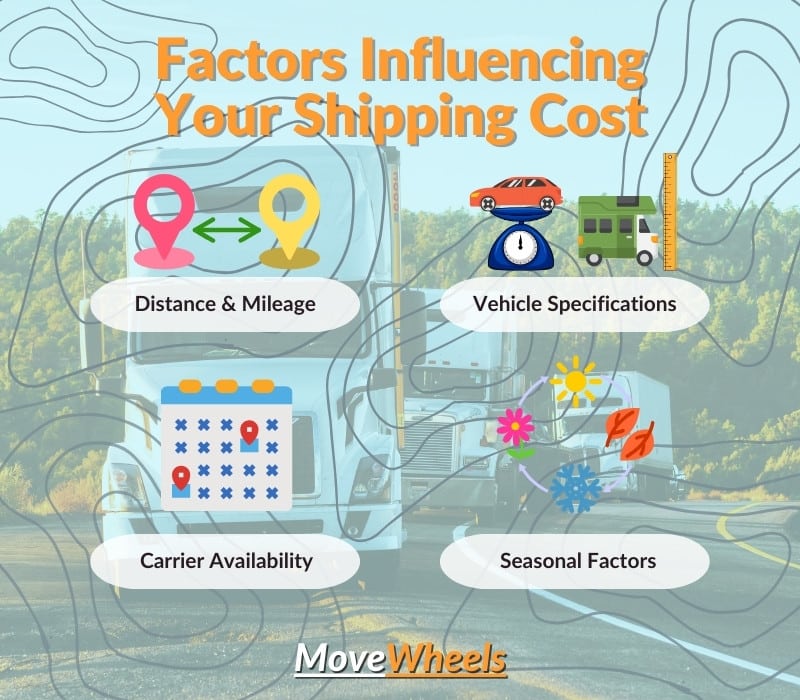 Your vehicle's shipping cost isn't arbitrary—it's shaped by several determinants:
A Glimpse into Average Costs:
Wondering about ballpark figures? Here's a helpful table. To estimate your shipping cost, search for the distance to your destination and multiply by the respective rate.But please note these rates are market average estimates, which depend on dozens of different factors, so the final cost may vary from the calculated one using this table. If you have any questions feel free to get your instant cost estimate on our quote calculator.
Deciphering transportation costs doesn't have to be daunting. With MoveWheels, you get clarity, reliability, and above all, a partner who cares. Now that you have a clearer picture of the costs, let's guide you through the next crucial step: payment. Read on to ensure a smooth financial transaction for your vehicle's journey.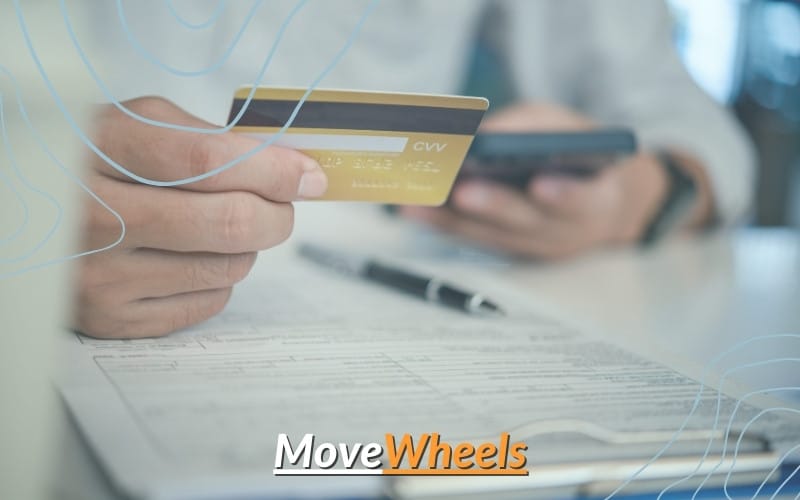 Understanding the Payment Landscape:
In the world of auto transport, understanding the payment dynamics can save you from potential pitfalls. Mark, one of our long-standing agents at MoveWheels, often says, "Payment policies can be a litmus test for a company's integrity."
What You Should Know Before Committing:
No Upfront Prepayment: A golden rule in the auto transport sector is to be wary of companies demanding payment before even touching your car. Such an approach can be a red flag. As Mark recalls, "I've heard stories where brokers, after receiving prepayment, became lackadaisical in scheduling drivers." Always ensure you're not paying anything upfront.
Transparent Two-Part Payment: At MoveWheels, we pride ourselves on transparency. Our payment structure is straightforward. First, a partial deposit is levied only after your vehicle is securely picked up. The remaining balance? That's settled directly with the driver upon safe delivery. Whether you opt for cash or certified funds, we've got you covered.
The Assurance of Free Quotes: Still in two minds about the cost? Jennifer, one of our seasoned consultants, advises, "Always initiate with a Free Quote. It not only gives you a clear idea of the expense but also familiarizes you with the company's responsiveness." To get a precise understanding of your car shipping expenses, simply click on the button below for a hassle-free quote.
Payment processes are crucial in ensuring a smooth auto transport experience. At MoveWheels, our commitment to transparency ensures you face no surprises. As you journey forward in this process, trust in our guidance every step of the way.

Cross Country Vehicle Transportation Methods
When you're planning to move across the country, choosing the right transportation method for your vehicle is crucial. At MoveWheels, we offer a variety of options to cater to different needs. Our vast experience has taught us the ins and outs of each method, and we're keen to share this knowledge. One of our seasoned agents, James, always recollects how he once advised a vintage car owner on the best method to transport his precious cargo without a scratch. Let's delve into the different methods available: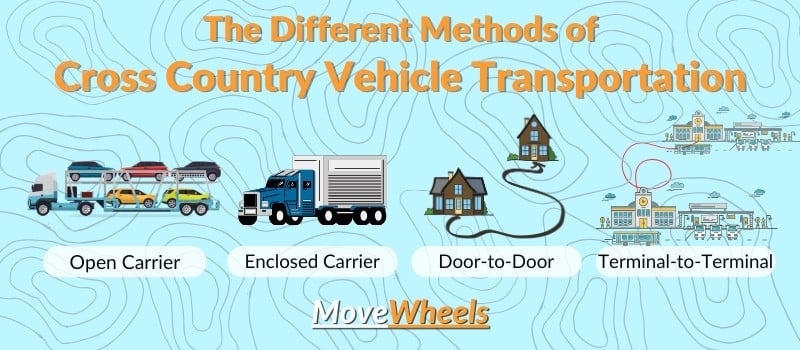 Open Carrier Transport:
What is it? Open carriers are trucks you often see on highways, loaded with cars. These carriers are open, exposing the vehicles to external elements.
Pros:
Cons:
Best for: Everyday cars, SUVs, and trucks.
Enclosed Carrier Transport:
What is it? Enclosed carriers, as the name suggests, are covered trucks that offer protection from external factors.
Pros:
Cons:
Best for: Luxury cars, vintage vehicles, and high-end sports cars.
Door-to-Door Service:
What is it? We pick up and deliver your vehicle right at your doorstep or as close as legally and safely possible.
Pros:
Cons:
Best for: Those looking for maximum convenience or those who may not have the means to drop off or pick up their vehicle from a terminal.
Terminal-to-Terminal Service:
What is it? You drop off and pick up your car from designated transportation terminals.
Pros:
Cons:
Best for: Those on a tight budget and who have the flexibility to manage drop-offs and pick-ups.
Selecting the right transportation method largely depends on your budget, type of vehicle, and preference for convenience. Remember, each car is unique, and so are its transportation needs. Let MoveWheels guide you in making the right choice for your cross-country move.
Making the Choice for Door-to-Door Vehicle Delivery
The modern world is often described as 'fast-paced', and for good reason. At MoveWheels, we've encountered countless American car owners juggling multiple responsibilities – from hectic work schedules to demanding academic pursuits. Their days are filled to the brim, and time becomes a luxury. That's precisely why many turn to us for efficient car shipping solutions. But let me share a little anecdote that highlights the importance of the door-to-door delivery option.
Last summer, Clara, a client from Miami, reached out to us. She was relocating to Seattle for a new job and had a lot on her plate – from settling into a new house to acclimating to her new role. The last thing she needed was the added stress of transporting her cherished convertible. She had initially thought about opting for the terminal-to-terminal service to save on costs but changed her mind after a chat with one of our agents.
Door-to-Door Delivery: Not Just a Luxury, But a Necessity
While many initially believe that door-to-door vehicle transport might stretch their budget, they often overlook the hidden costs and inconveniences associated with terminal-to-terminal services. Here's what makes door-to-door the preferred choice for many: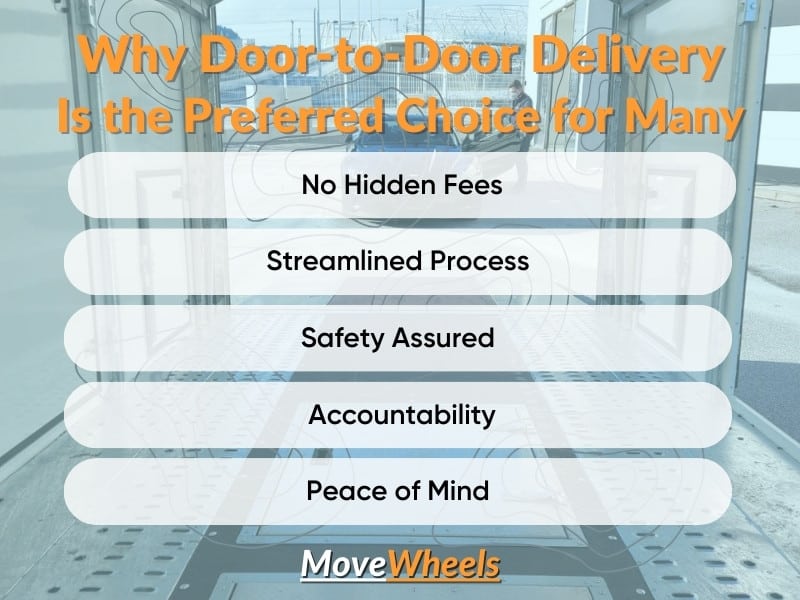 To sum it up, Clara's convertible reached her new Seattle home without a hitch. The door-to-door service allowed her to focus on her new beginnings while we took care of her car. She later mentioned how the decision saved her not just money but valuable time and unnecessary stress. So, if you value your time, peace of mind, and your car's safety, door-to-door delivery might just be the ideal choice for you.
Diving Deep into Vehicle Trailer Types
A Glimpse into the Trailer World:
Transporting a vehicle isn't just about moving it from Point A to Point B; it's about choosing the right method that suits the vehicle's specifications, purpose, and your budget. At MoveWheels, we take the mystery out of this choice by offering a diverse range of trailers tailored to your needs. Our agent, Robert, once quipped, "Trailers are like shoes; you need the right fit for the journey."
Understanding Your Trailer Options:
Enclosed vs. Open Trailers: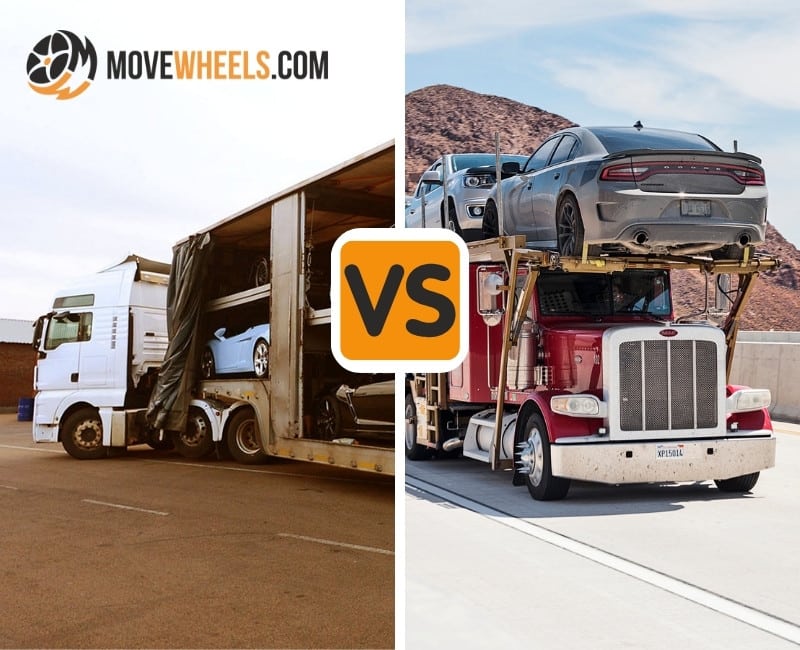 Delving into Open Trailers: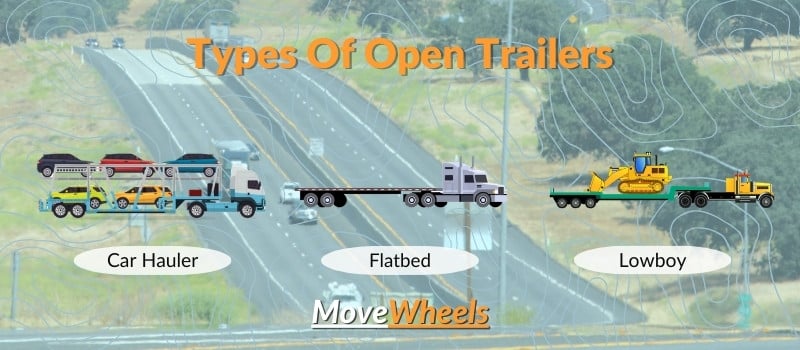 Before signing off, here's a quick tidbit from our seasoned driver, Mike: "Every vehicle has its own story, and every trailer plays a role in its journey. Choose wisely, and the road becomes a part of that tale."
Having a clearer understanding of the trailer types available can significantly simplify your decision-making process. Whichever choice you lean towards, MoveWheels is here to ensure it's the right one.
Prepare Your Vehicle for Moving Across Country
Trusting MoveWheels with your vehicle transport is one of the best decisions you can make. Not only do we sift through offers to find you the most trustworthy carriers, but we also bring aboard seasoned drivers who treat your vehicle with utmost care.
Our agent, Lisa, often says, "It's like online dating. We meticulously find the right match for your vehicle transport needs!" We're known for negotiating the best deals, coordinating with auctions, dealerships, and private sellers, and assuring that your vehicle reaches its destination safely and promptly.
However, just like any journey, a little preparation goes a long way. Before handing over your keys, there are a few steps you need to take to ensure the process is seamless: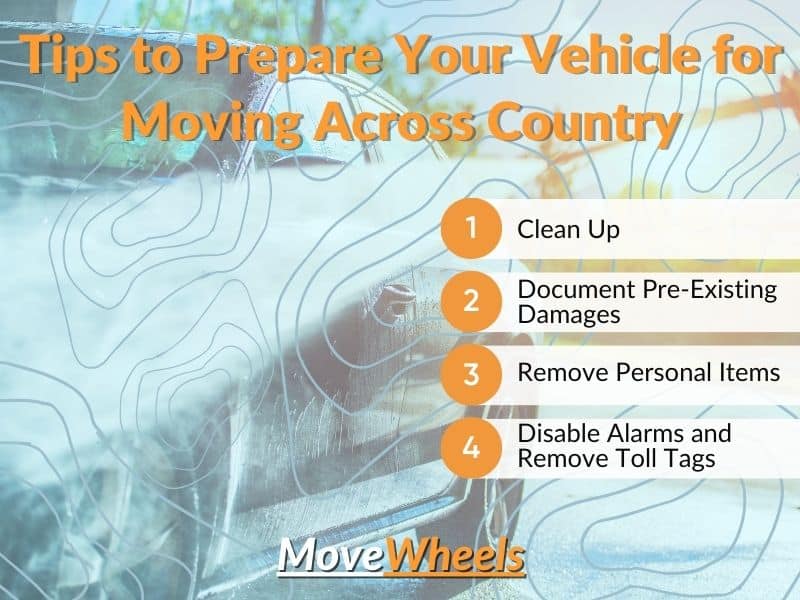 Daniel, one of our long-standing customers, shared, "The first time I shipped my car, I overlooked the toll tag. Got billed for tolls from states I've never been to! Now, I always follow MoveWheels' prep guide. It's a lifesaver."
Your vehicle is an extension of you. Preparing it for its journey ensures it reaches its new home in the best shape possible. Once you've done your part, sit back and let MoveWheels handle the rest!
Additional Precaution Advice
Many vehicles today, especially luxury models, come with bespoke installations. To ensure their safety during the journey, consider the following steps: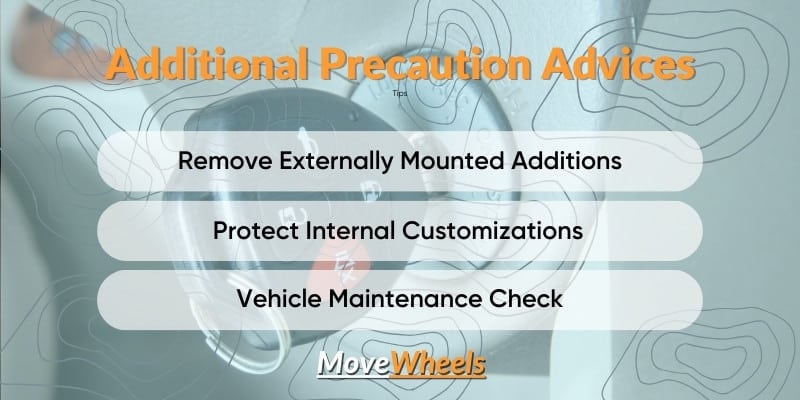 1. Remove Externally Mounted Additions:
2. Protect Internal Customizations:
3. Vehicle Maintenance Check:
Our commitment at MoveWheels is to move your vehicle safely, respecting every nuance and customization. As driver, Michelle, always says, "Every car tells a story; our job is to make sure it continues to tell it beautifully."
Ensuring a smooth and hassle-free auto transport experience requires vigilance right from the start. One of the most crucial steps in this process is verifying the authority and legitimacy of the broker you intend to hire. At MoveWheels, we emphasize transparency and encourage our clients to conduct thorough checks before making any commitments. Here's a guide on how to do just that, with insights from our seasoned auto transport agents.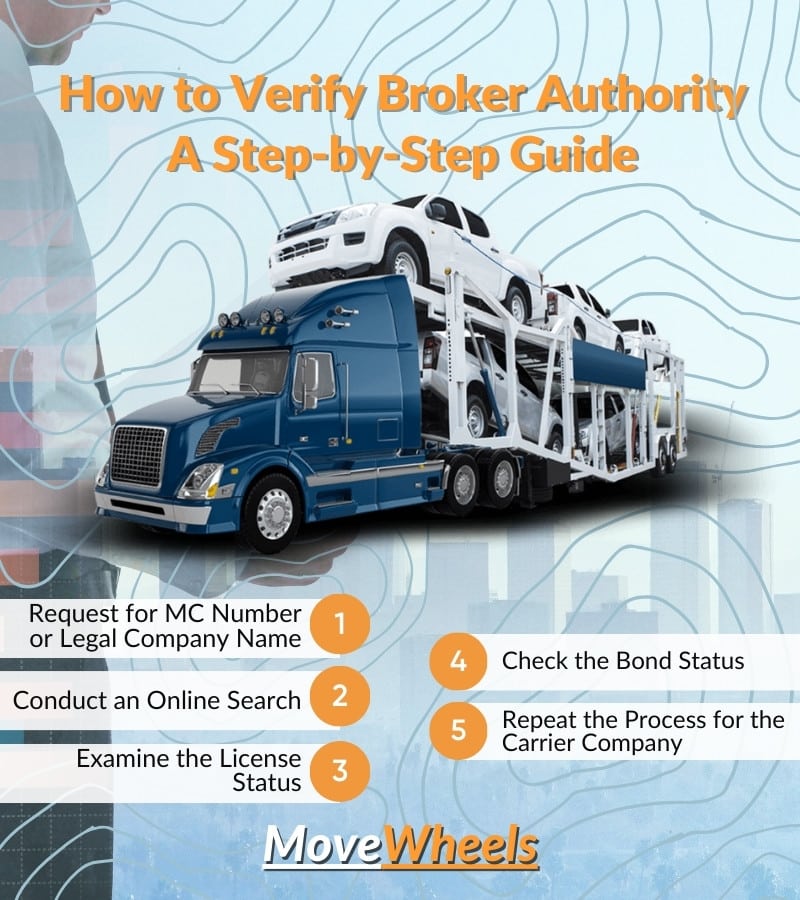 How to Verify Broker Authority: A Step-by-Step Guide
Request for MC Number or Legal Company Name: Start by asking the broker for their Motor Carrier (MC) number or legal company name. This is a unique identifier issued by the Federal Motor Carrier Safety Administration (FMCSA).
Conduct an Online Search: Visit the FMCSA's official website and input the MC number or legal company name in the search bar.
Examine the License Status: After pressing the HTML button, meticulously check the license status. Ensure that it is active. An inactive license is a red flag and indicates that the broker is not authorized to operate.
Check the Bond Status: Ensure that the bond is in file. This is a form of insurance that protects you, the customer, in case the broker fails to uphold their end of the agreement.
Repeat the Process for the Carrier Company: Once a carrier company is assigned to your order, repeat this verification process to ensure they are also properly licensed and bonded.
Our agents have countless stories of customers who skipped this crucial step, only to face complications later on. Jane, one of our senior agents, recalls a situation where a client was on the verge of signing a contract with an unlicensed broker. Luckily, they decided to reach out to us for a second opinion. Our team quickly guided them through the verification process, and it became evident that the broker's license was inactive. The client was grateful and decided to proceed with our services instead, ensuring a secure and lawful auto transport experience.
By taking these steps, you not only protect your vehicle but also ensure that you are working with professionals who are authorized and accountable. Make this verification process a non-negotiable part of your auto transport journey.
Shipping Personal Items Inside Your Vehicle: The Do's and Don'ts
Moving your vehicle across the country can also offer an opportunity to transport some of your personal items. However, it's essential to know the rules, regulations, and best practices to ensure a hassle-free experience. At MoveWheels, we've witnessed various scenarios when it comes to shipping personal items, and we'd like to share some insights to guide you through this process.
Guidelines for Shipping Personal Items:
Though is in general recommended to avoid shipping any personal items inside the car, as they and the damage they can cause to your interior didn't covered by the insurance, you can ship around 100 lbs, and we highly recommend to keep the next points: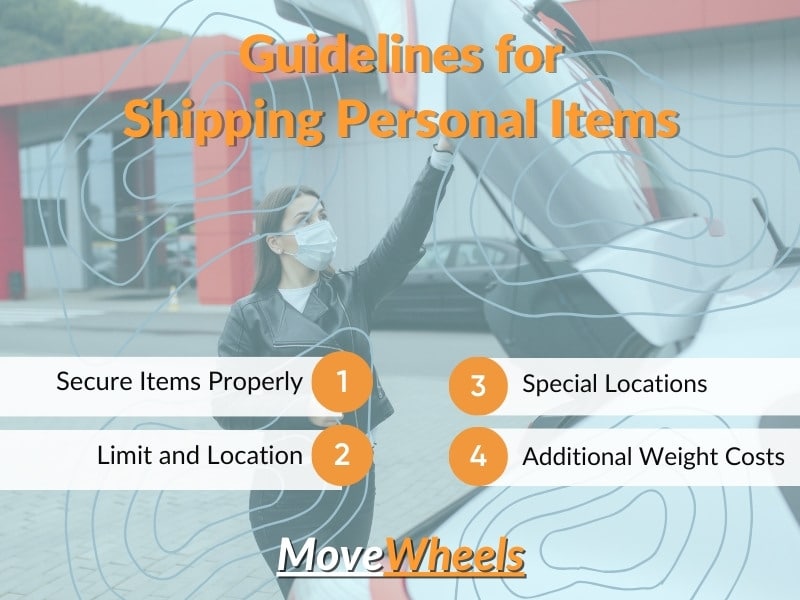 By following these guidelines, you can take advantage of the convenience of shipping some personal items with your vehicle without encountering unexpected setbacks.
Understanding the Vital Paperwork in Vehicle Transport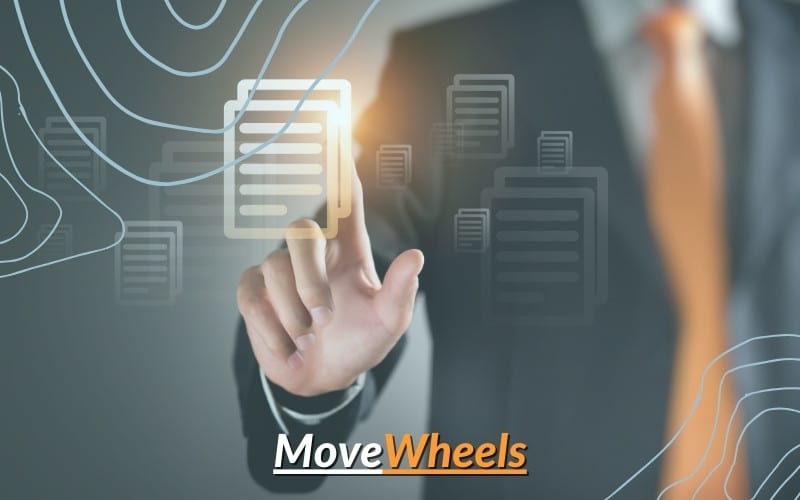 Vehicle transport involves meticulous attention to paperwork, ensuring all details are aligned and transparent for a smooth transit. The MoveWheels team aims to enlighten customers about this essential aspect of car shipping, rooted in years of industry experience and best practices.
Documentation Essentials for Different Transport Scenarios:
Picking up from a Dealership or Auction:
Prior to the shipping date, the driver requires specific information to facilitate seamless vehicle retrieval:
If you're obtaining a vehicle from an auction, check out the National Auto Auction Association for more insights.
Deliveries to Ports:
Special paperwork becomes pivotal when delivering to ports. The driver typically handles this, transferring the documents upon successful delivery.
Understanding Insurance Coverage in Vehicle Transport: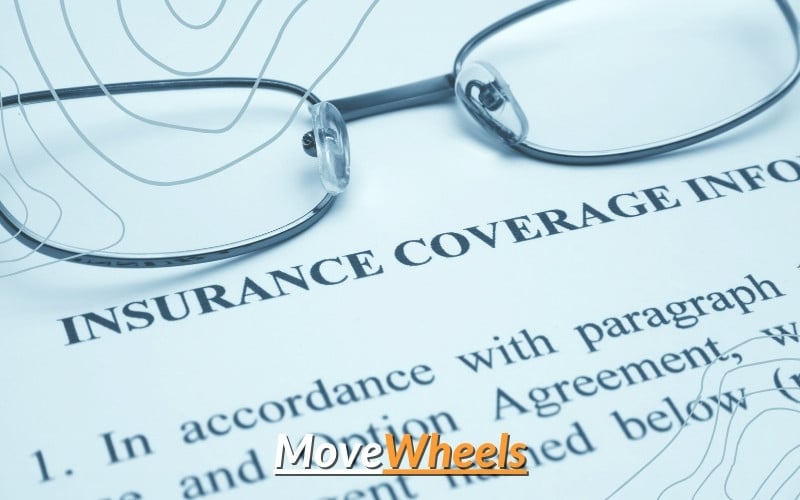 All carriers we collaborate with are duly insured. Coverage fluctuates between $100,000 to $250,000 per vehicle. Here's a brief rundown on the process:
To vet a carrier's insurance validity, Federal Motor Carrier Safety Administration's official website is a reliable source, accessible via the MC number provided by your broker or carrier.
The Role of the Bill of Lading (BOL):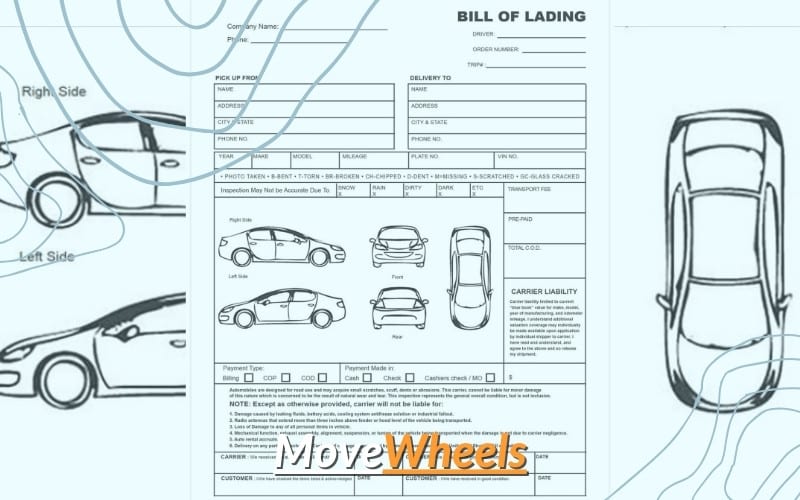 The BOL is paramount in vehicle transport. This document delineates vehicle conditions at both pick-up and delivery, serving as a protective shield against unwarranted disputes:
While some preparatory actions rest on vehicle owners, these are instrumental in averting transport mishaps, disputes, or protracted document evaluations. For other concerns, bank on MoveWheels' seasoned professionals to shepherd your vehicle's secure and punctual transport.
The Importance of Vehicle Maintenance Post-Transport
While engaging a reputable auto transport company ensures your vehicle's safety during transit, post-transport maintenance should never be overlooked. No matter the distance or mode of transport, a vehicle experiences varying conditions, temperatures, and environments on its journey. These can subtly influence its performance and condition.
Upon receiving your vehicle, it's prudent to undertake a thorough inspection. Check for any discrepancies between the vehicle's condition and the Bill of Lading, even if they appear minor. This not only ensures any transport-related issues are promptly addressed but also prepares you for the next crucial step: post-transport maintenance.
Here are some reasons why post-transport maintenance is paramount: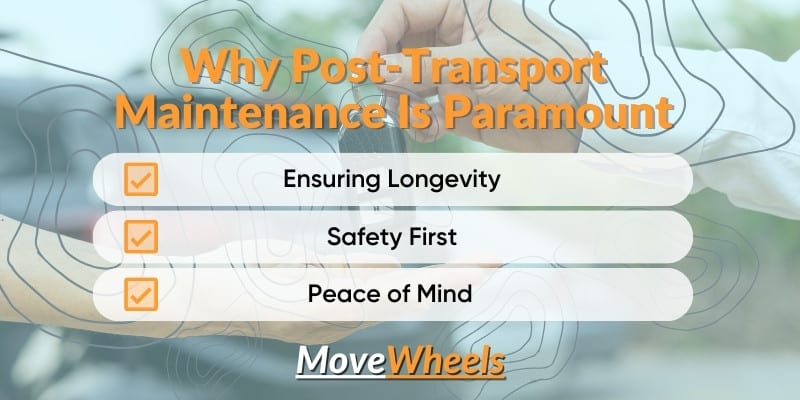 To conclude, after entrusting the professionals at MoveWheels to securely transport your vehicle, it's essential to give your car the post-journey care it deserves. This reinforces your commitment to its longevity and safety. As we wrap up, remember, whether it's the transport journey or the many roads you'll travel afterward, the well-being of your vehicle remains a shared responsibility. Trust in professionals for the transport, and invest a little time post-transport, ensuring your vehicle remains the reliable companion you've always known. Safe travels!
FAQ
How to get my instant quotes?
Just click on the button GET Free Quote and fill in the form, it takes 2 minutes to do it
What details do i need to place an order?
You need only vehicle information, such as its year, make, model (if it's not a car, you also need its dimensions and weight), and exact pick-up and drop-off address.
What is the cheapest way to ship a car?
Notice the broker 10-14 days before the first available pick-up day, choose an open trailer, and if you are going to move to the northern states, you should do it during the warm period of the year.
Can I ship my vehicle if it's not running?
We can ship any kind of vehicle either operable or not. But for an inoperable vehicle, we will need to hire a driver with a winch on his trailer (unless there are forklifts at pick-up and delivery locations). The cost to transport inoperable vehicles will be higher and if it is going more than 1500 mi, it may take some time to find a trailer with a winch and negotiate with the driver for the most reasonable price.
What type of paperwork do I need to ship my vehicle?
When shipping your vehicle we do not require any kind of paperwork like insurance, title, or registration. While the transportation, your vehicle will be insured by the carrier's insurance company and the average insurance coverage is $150 000 for each vehicle on the trailer. Before the car is picked up we also recommend our customers to remove all plates and titles, because sometimes road cameras may take a photo of your vehicle by mistake and you will receive a speeding ticket, for example. It's easy to dispute it by sending the Bill of lading and the agreement about the transportation, but it will still take some time.
Which car shipping company is the best?
To find the best car shipping service you need to check the reviews website and compare the price and service the company can offer you. Or just read our article about Top 6 Car Shipping Companies.
What is a car shipping quote?
It's the estimated price given to you by the shipping agent. This price is based on carrier rates on a website central dispatch. The exact price can differ from the quote because it depends on the price that a carrier sets.
What are the most popular shipping routes?
The most popular routes are usually the routes between two densely populated areas (for example, Florida and New York, Texas, and California, or Florida and California). If you are shipping this route carrier can be found in the shortest day frames. Hawaii is also considered a popular route but because of its destination, you need to plan to ship there beforehand.
How to get a shipping discount?
Usually, you can get car shipping discounts if a military, student, or senior member. Also, you can decrease car shipping costs if you are shipping more than one vehicle (multi-car shipments) or you are into car businesses, such as car sellers, cabs, or car-share. To get more info just get your car transport quote and we will contact you.