Nowadays sea transportation is the cheapest and the most popular way to ship large cargo and vehicles all over the world. Even though it may seem pretty complicated, it's actually not harder than usual transportation services within the mainland.
We would like to give you a general idea of how international shipping works, what is needed, and how much in advance you need to book it. Quick links: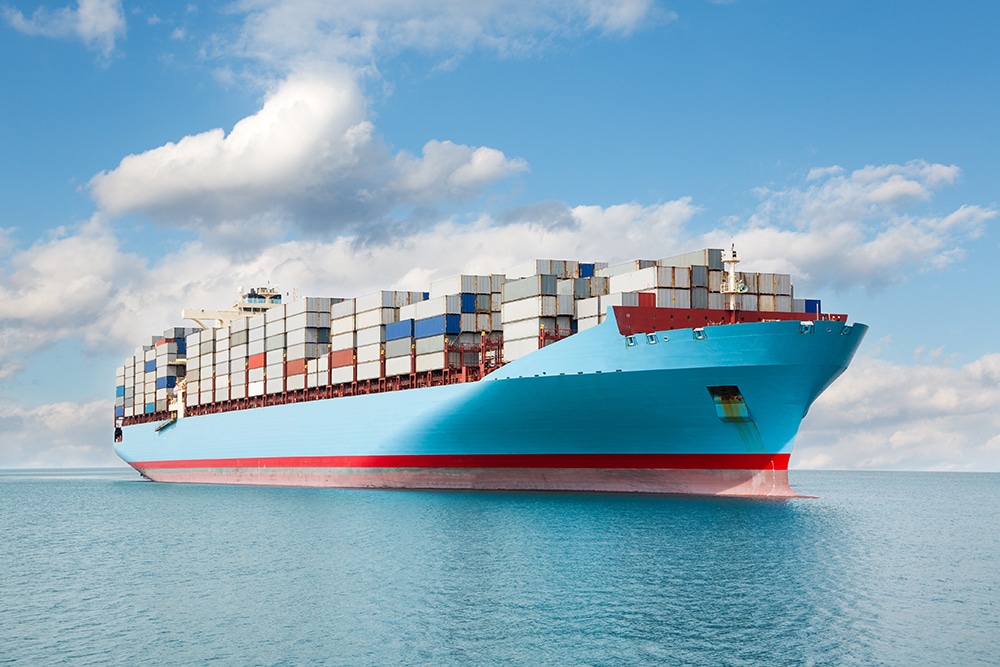 How does overseas auto transport work?
First of all, we need to know where the car is going from and if you are planning to drop it off at a port terminal by yourself or if you need additional transportation services.
Once you submit a request on our website and we receive all the needed information (pick-up and delivery zip-codes, year, make and model of the vehicle), our shipping agent will check the price on your route and provide you with the total rate that includes all fees, taxes and insurance.
And if you are ready to plan the trip, we will need your exact pick up (if the car needs to be transported to port) and delivery addresses (if the car needs to be delivered from the port to your address) and also the names and phone numbers of the people who will be at both locations.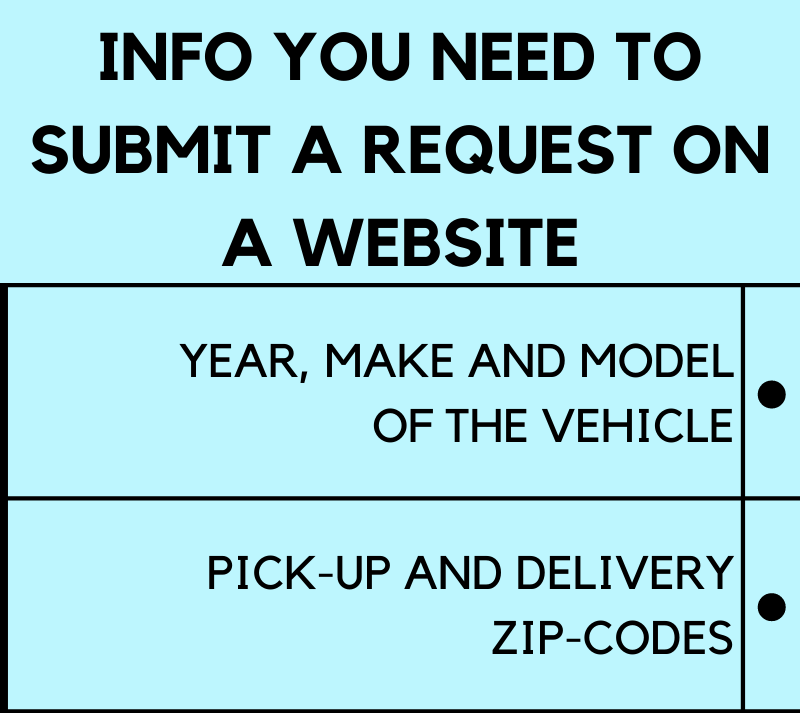 For example,if you need to move the car from Denver, CO to Anchorage, AK and you do not want to drive the car all the way to the port in Kent, WA we will hire a driver who will put your vehicle on a car hauler at your exact address in Denver and deliver it to the port where it will be loaded on the ship and transported to the port in Anchorage.
Once it is delivered to the port terminal, you will receive a notification that you can pick up your car anytime within the next few days. In case it is not picked up on time, the vehicle will be delivered to a paid storage facility.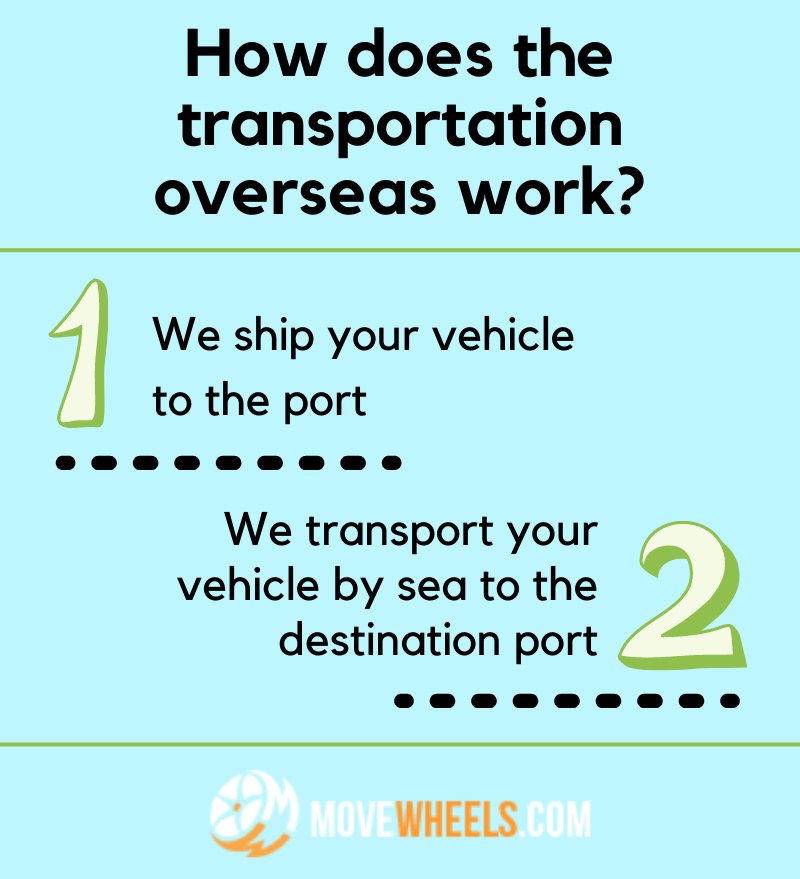 If you need to get your car shipped to the port or from a port on the Mainland, we would advise you to check this article on cross-country shipping for a better understanding of the process. It will help you avoid some mistakes, plus save your time and money.
Ports we can ship your vehicle to
We can ship your vehicle to a large number of international and US ports:
4 ports within Alaska: Juneau, Anchorage, Kodiak, Fairbanks
The vehicle can be dropped off either in Tacoma or Kent in Washington. When shipping to or from Alaska, you can put up to 100 lbs of personal items and an extra set of tires inside the vehicle and it will be free of charge. Transit time usually takes 4-8 days. And the table below shows the estimated cost of shipping.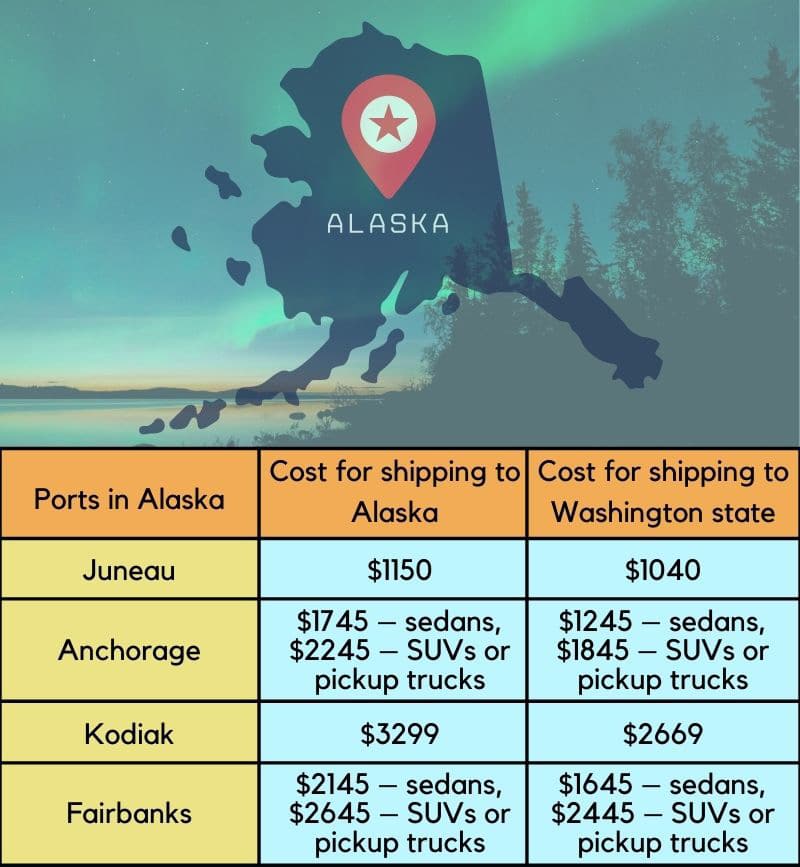 6 ports on the Hawaiian Islands: Hilo, Honolulu, Kahului, Lanai, Molokai, and Nawiliwili
When shipping the vehicle to or from Hawaii it should be empty and no personal items are allowed (the only exception is the item that is permanently installed or mounted to the vehicle, like spare tire and jack, spoilers, child car seats). To ship the vehicle to Hawaii it should be dropped off either in Tacoma, WA, or in California (Oakland, Los Angeles, or San Diego). You can get more information about shipping the vehicles to or from Hawaii in our article. And prices can be checked in the table below: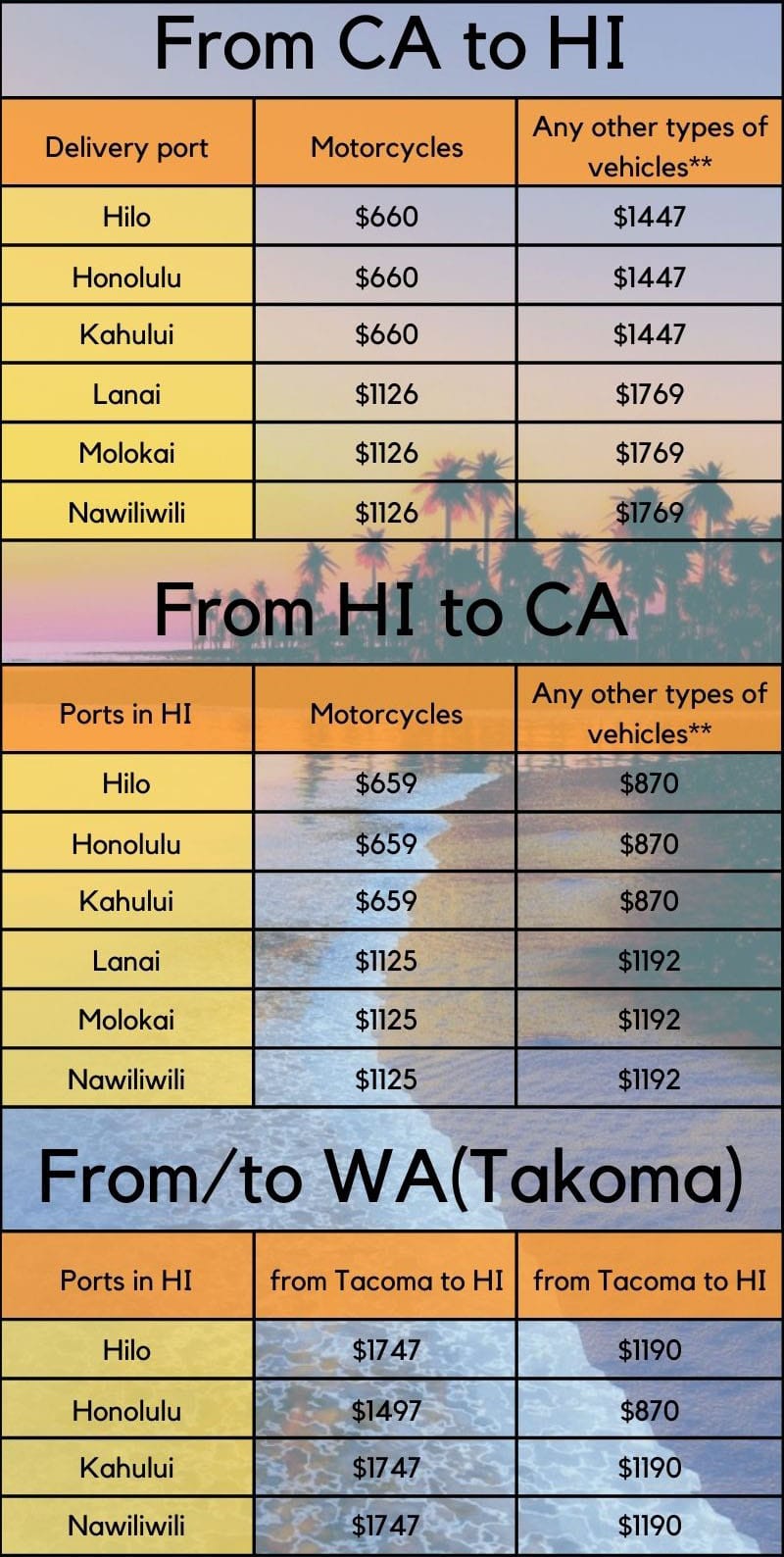 3 ports in Puerto Rico & the US Virgin Islands: San Juan, Saint Thomas and Saint Croix
If you are planning to ship your vehicle to Puerto Rico, we have some good news for you: you can load your vehicle with personal items and it will cost only $0.10 per pound.
If you are an owner of an antique or exotic vehicle which is 25 years old or more or any vehicles with ground clearance less than 5 inches, the shipping company will provide an auto deck (a vehicle is driven onto it, secured, and loaded by a forklift onto a flatbed trailer to be loaded to the vessel)*. Transit time usually takes 4-7 days and the cost is the following:
*If you need an auto deck service add $500 to the price in the table
2 port terminals in Guam & Saipan
To ship to Guam, the vehicle should be dropped off at one of the terminals on the west coast: Tacoma, Los Angeles, or Oakland. There the vehicles are loaded on a vessel and shipped to Guam or the neighboring island of Saipan. Pay attention that only operable vehicles can be shipped there and transit time is 14-20 days. The rates for transportation are the following: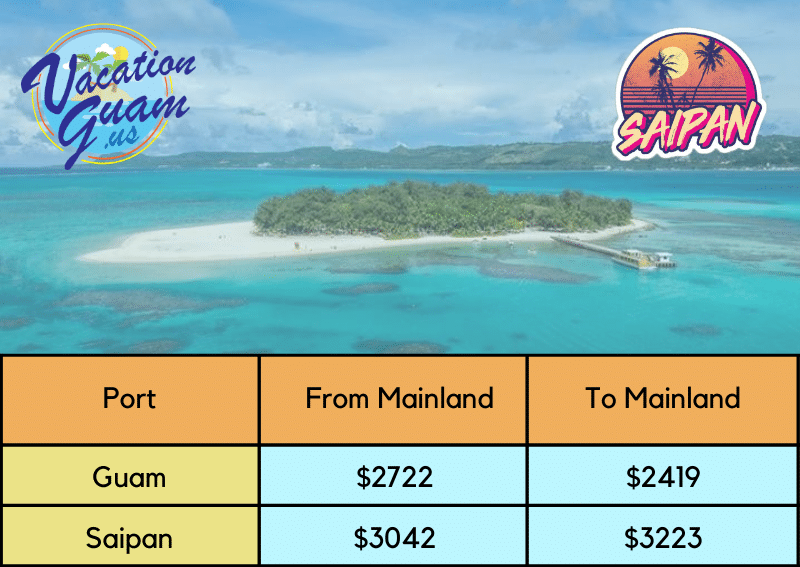 We can also offer shipping services to Japan and China. Vehicles going this route are only accepted at the Los Angeles, CA terminal, and they should be dropped off a few days in advance. Transit time is 21-30 days and the port terminals where you can ship your vehicles to are Ningbo and Shanghai in China and Naha in Japan.
The price to ship the vehicle depends on its size and due to Covid-19, the market is not stable. To get an accurate quote you can submit a request following this link and our shipping agent will get in touch with you shortly.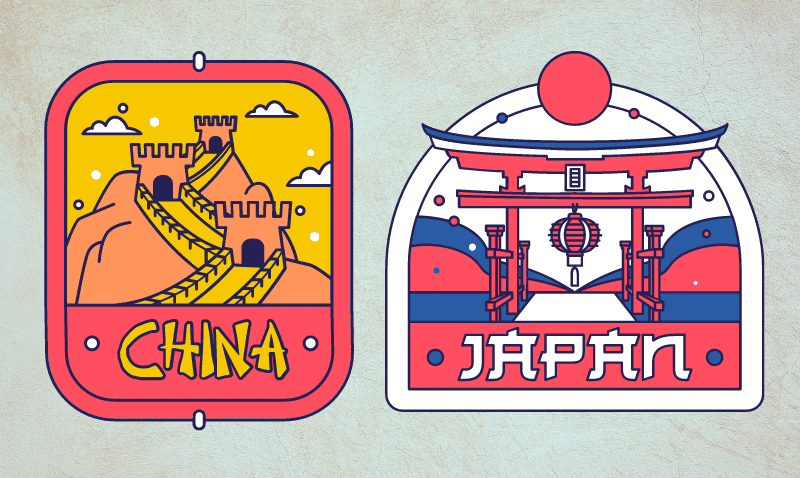 Ports in the South Pacific
Our company can also ship vehicles to the following ports in the South Pacific region :
– Brisbane, Sydney, Melbourne in Australia;
– Auckland in New Zealand;
– Lautoka and Suva in Fiji;
– Apia in Samoa;
– Rarotonga and Aitutaki on the Cook Islands;
– Honiara on the Solomon Islands;
– Papeete in Tahiti.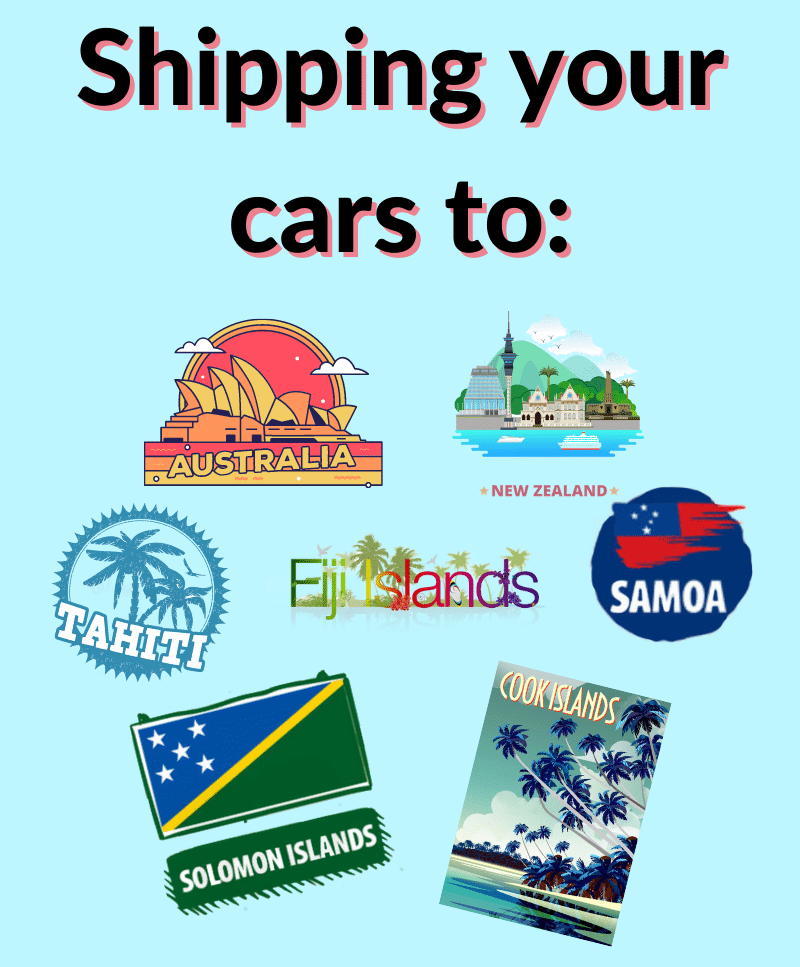 The price to ship vehicles to one of the abovementioned ports depends on the vehicle's size and dimensions. You can request a quote on our website and we will get back to you shortly with an accurate quote and all the details of the transportation.
Roll-on/ Roll-off and container car shipping
Container car shipping has been used for several decades now. It's mostly popular for shipping the vehicles for a very long distance (for example, from USA to Asia, Europe or South Pacific region). It is more expensive than "Roll on/ Roll off" shipping when the vehicle is driven up the ramp onto a vessel, then braced and tied down on a special enclosed deck alongside other vehicles.
Since container shipping is used all over the globe, there are certain standard sizes of containers used for car shipping in particular:
20' standard, interior dimensions: 19'5''L x 7'8''W x 7'9,5''H; door opening: 7'6''W x 7'5,5''H ( suitable for regular sedan);
40' standard, interior dimensions: 39'6,5''L x 7'8''W x 7'9,5''H; door opening: 7'6''W x 7'5,5''H ( can fit 2 regular sedans or 2 SUVs);
40' high cube, interior dimensions: 39'6,5''L x 7'8,25''W x 8'9,5''H; door opening: 7'8''W x 8'5,75''H (suitable for larger vehicles (pickups, trucks, vans) or 6 standard sized sedans);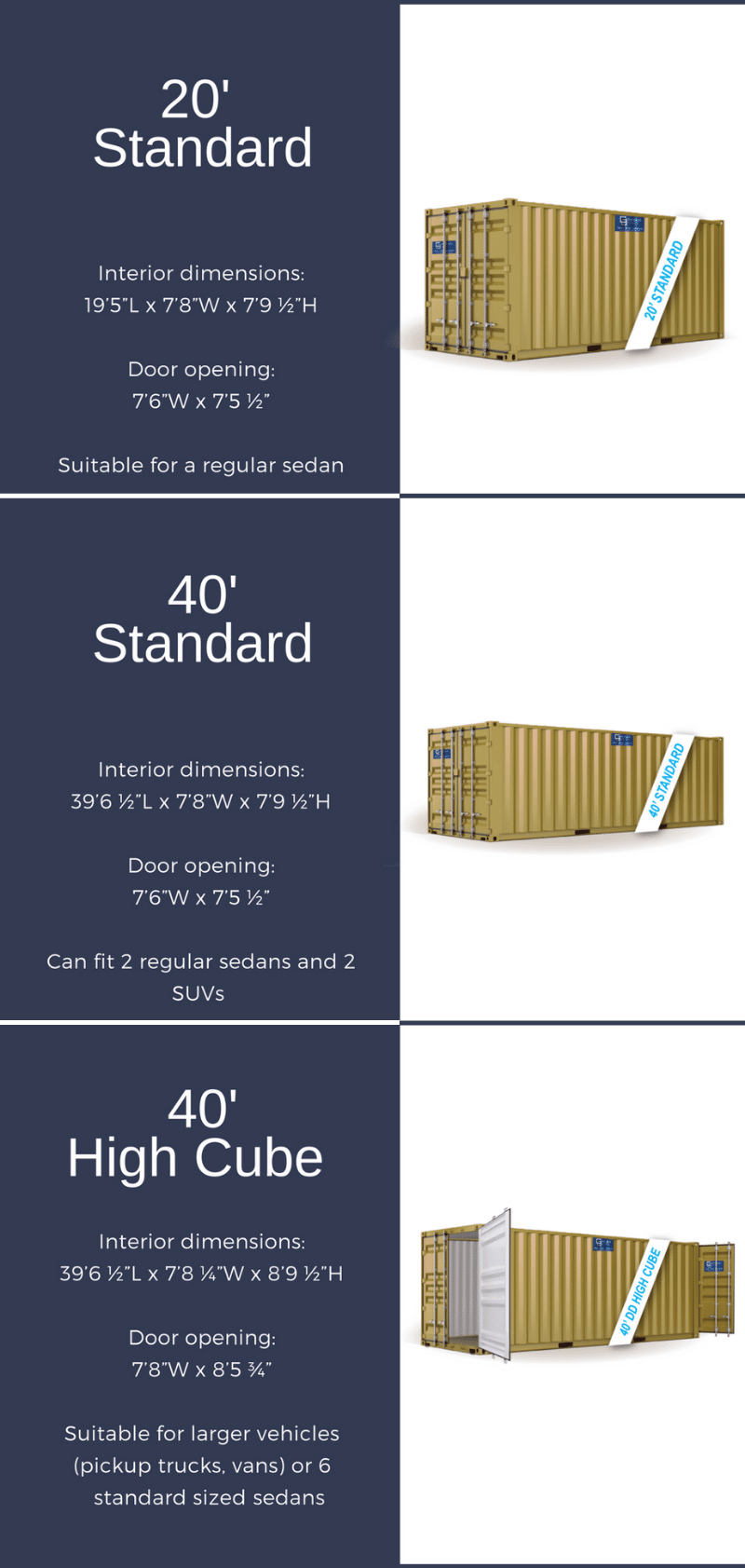 The most important advantage of container car shipping is that the vehicle is protected from any external hazards, and of course, the movements inside the container are eliminated since once the vehicle is driven into the container all wheels are lashed to the corners with straps.
If you are shipping a motorcycle, it will be crated and if it's a boat it will be thoroughly secured in a cradle before loading it inside the container. So if you are planning to ship a brand new, antique, luxurious, or show car, container car shipping is the best option since it provides extra safety for your vehicle.
"Roll on/ Roll off" or simply RoRo shipping also has its advantages. If you need to ship multiple vehicles or an oversized vehicle (for example, some kind of heavy equipment), RoRo is the better option since it will be more expensive to load each car in a container plus decks on RoRo vessels offer a bigger capacity to fit oversized cargo.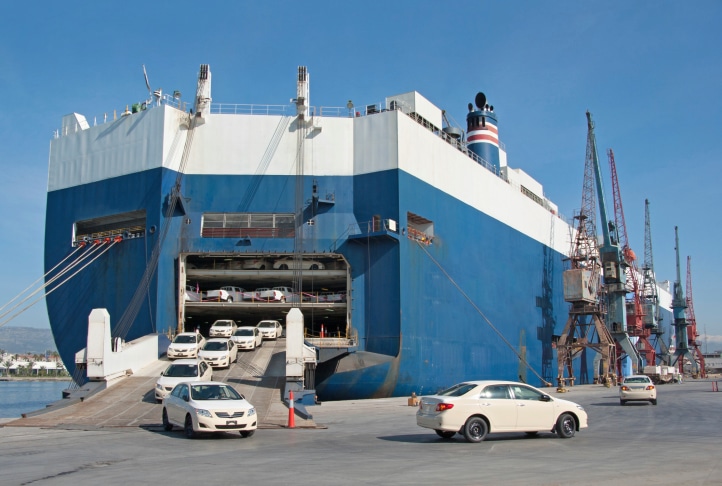 Benefits of choosing MoveWheels Transportation Company
When moving overseas it's rather important to choose the best auto shipping company, to avoid any headache during your move, Movewheels considered to be one of the top US companies, get your quote and make sure of it.
No extra fees: our prices are all-inclusive and there are no additional charges for taxes or fees.
No payments upfront. When shipping internationally payment is divided into 2 parts: the partial deposit is due after the vehicle is picked up and the remaining balance you pay once your vehicle gets delivered to the port.
A large variety of carriers: if you are planning to move an antique, brand new, or exotic vehicle we can offer you enclosed transportation to port and container shipping overseas to protect your vehicle from any external hazards.
Great customer service: our customer support representative and shipping agents are online 24/7 and ready to help you and answer your questions at any time.
Stress-free process: we totally understand that shipping a car overseas may seem very complicated, but we do our best to make this process transparent for you.
FAQs
How can I prepare my vehicle for transportation?
First of all, wash your vehicle so the shipping company could thoroughly inspect it for any pre existing damages. Second, remove all loose parts, roof racks (if not factory installed), toll tags, fire extinguishers, auto covers. Then make sure the fuel level is no more than ¼ tank or if it's an electric vehicle, the battery should be fully charged or otherwise the vehicle will NOT be accepted for shipping.
What paperwork do I need to ship the car internationally?
Usually to ship the vehicle overseas within the US territories you only need your booking number, ID card, VIN number and the title of the vehicle. If you are shipping the vehicle to or from another country, additional paperwork may be required but that depends on the marine transport company as well as on the country you are shipping the vehicle to/from.
Is my vehicle insured during international transport?
Yes, your vehicle is fully insured by the carrier insurance or marine company insurance. The insurance coverage is up to $100 000.
How can I ship the car overseas if it's coming from a dealership, an auction or a private seller?
If you purchased the vehicle online and need to ship it overseas, you will need somebody to deliver the vehicle to port. We can offer you the service of cross-country shipping which means that we will schedule a driver who will inspect the vehicle at the pick-up location to make sure it's in the same condition as you were told, he may also take some photos or a video and send them to you. After that, the vehicle will be loaded on a car hauler and transported to the port where it will be loaded on a vessel. In this case, the driver should be paid before the vehicle is dropped off at the port, or once he arrives there. You can pay him via Zelle, CashApp, or wire transfer.
How does the payment work when shipping internationally? Do you offer a military discount?
When shipping the vehicle overseas payment varies by location, but you can only pay using a credit or debit card (it can be Visa, MasterCard, Discover, and American Express).  If you are shipping the vehicle to or from Alaska, you can either pay at the time of booking or when you receive the vehicle at the drop-off. When shipping to/from Hawaii, you can pay at the port location or online but it depends on the island you are shipping your vehicle to/from.
            We offer a military discount of $100 for active duty service members.
How far in advance should I book international shipping services?
We advise you to make your booking a month ahead of your planned move date so you can get the most accurate vessel information. Please note that if you book very far in advance, dates are subject to change and can be confirmed only a month ahead.
Can I track my shipment online?
Yes, once the vehicle is dropped off at a port terminal, you can track your shipment. You will need your booking number and email address for that.