In this car shipping guide, you can find answers for all questions that can be during vehicle shipping. Quick links:
Whether relocating to another state or just buying a new or used vehicle, residents across America are in need of car shipping operations. They require transportation of their valuable boats, autos, motorcycles, and scooters to be securely delivered in a timely and reliable fashion, with the least amount of worry or hassle. The challenges of searching, analyzing, and risk assessing across numerous possible options can seem exhaustively complicated for ordinary people. Our experienced professionals are experts in the vehicle transportation field and handle difficulties in a skillful way.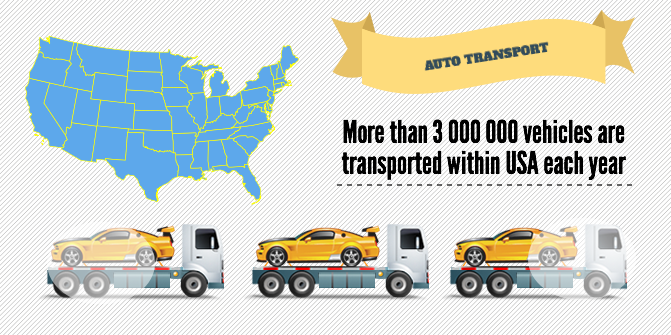 How Does Car Shipping Cooperation Start?
Florida residents study multiple customer reviews, directories, rating services, and official federal or local websites searching for the most dependable transportation company. They must evaluate vehicle delivery, safety, reliability, and many other advantages and disadvantages. Meanwhile, our highly proficient agents at MoveWheels know the peculiarities of the shipping business inside and out, and can easily avoid the most common pitfalls, scams, and frauds. We provide industry-standard guarantees for our customers and are always standing by to answer questions swiftly and intelligently. To get started using our services, you just have to:
visit the site movewheels.com;
fill out the form;
get a call from experienced shipping agent;
receive an affordable quote;
scrutinize and sign the contract;
prepare the car for delivery;
have the car shipping performed properly and on time.
Specify only your car brand and model, year of production, departure and destination addresses, moving or vehicle transportation dates, and contact details. You will get a quote in several hours. A preliminary quote can be provided by phone as well; so the price comparison will be fast and easy.
HOW IS AUTOMOBILE SHIPPING DONE IN THE USA?
The specific geographical and socio-economic layout of the United States has defined the development of ramified road networks across the entire country which nowadays allows convenient long-distance shipment by land.
With the growth of the American automobile industry, the demand for relocating vehicles among both large companies and private individuals has rapidly grown as well.
Over the past year, only more than 3 million vehicles were shipped in the USA. Such great demand has led to the ever increasing number of carriers able to cover all possible routes. The shipment itself is performed by various types of car carrier trailers including open and enclosed ones.
Most often cars are relocated on open car haulers which are big trucks with special ramps and hydraulics that can load up to 10 cars. You have most likely seen those kinds of trucks delivering cars to dealerships.
Reliability Guarantees
We partner with a nationwide base of carriers and certify their insurance, reliability, and background. We solve all real-time difficulties to make sure your vehicle arrives as scheduled – from finding the appropriate driver to assigning the proper hauler, to re-routing around weather or construction delays. For more assurances of our vehicle transportation safety guarantees, you can check our DOT number, BBB listing, and FMCSA license.
Moreover, customer requests are always taken into account. For example, you can specify an auto transportation company that focuses on large format, boat, or motorcycle delivery and we will be pleased to cooperate in full.
The Cost to Ship a Car
MoveWheels is a reputable and honest company while our pricing policy is completely transparent. The car shipping cost depends only on:
the vehicle type and dimensions;
its conditions and the method of delivery (driving or hauling);
transportation distance in miles;
carrier type (open or enclosed);
the delivery insurance coverage.
The total route distance, fuel consumption, and hauler partitioning directly impact the overall costs of shipping. A large SUV takes up much more space on a cargo hauler platform than does a motorcycle, for example. By understanding the pricing algorithm, our customers can estimate the costs for themselves and conclude that our pricing structures are extremely affordable and fair. For more information, please click here.
5 REASONS TO CHOOSE CAR SHIPPING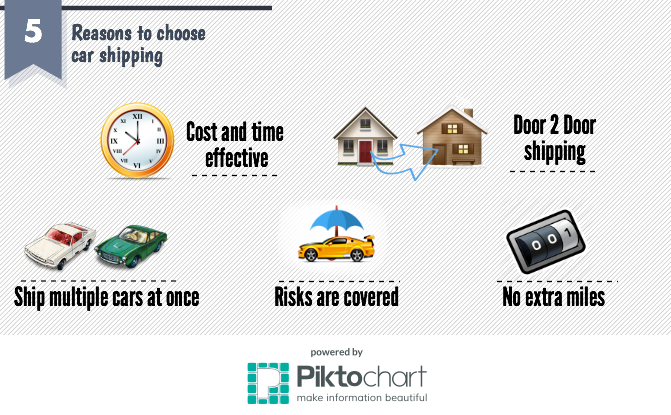 It's cost and time effective. Driving the car yourself or worrying about somebody doing the long-distance ride for you may turn into a stressful and pricey experience. You might as well consider selling your car and buying another one at the new location. But if you are not planning to replace your car just yet – try checking the cost to ship a vehicle on your route. The all-inclusive price may turn out to be lower than all the costs and time spent on driving or purchasing a new car. Having your vehicle shipped by a professional car carrier can help you save money and time for more valuable things in your life.
It's door-to-door. The vast majority of carriers provide door-to-door car transport which implies that they get as close to your origin and destination locations as it is physically and legally possible while picking up and delivering your vehicle. Unlike terminal-to-terminal shipment which used to be more common in the past, this type of service allows you or a person you trust to observe the loading/off-loading process to make sure that no damage is done to the car. Door-to-door service also enables the transportation of inoperable (non-running) cars from repair shops, auctions, previous owners, etc.
You can ship several cars at once. Drivers are interested in getting loads with the same pick up and delivery locations as it saves them time on transportation and money on fuel. If you are a lucky owner of more than one vehicle, hiring a carrier to relocate your cars together on the same truck can reduce the shipping cost per vehicle by as much as 10-20%.
Risks are covered. Since your car is picked up it stays on the same truck all the way to the destination point and is covered by carrier insurance. The whole truck is usually insured for $ 1 million which is about $100,000 per vehicle. Moreover, according to the statistics, the risk of damage from road debris is lower when a car is shipped on a truck other than being driven on a highway.
No extra mileage on your car. Car owners know that as the mileage on a car increases, the engine internals starts wearing down, significantly lowering the efficiency of the vehicle. That's why if you are trying to accomplish a coast-to-coast trip or any other long-distance ride, you might be concerned about saving your car a longer life. The only time cars are driven during shipping by a car hauler is when they are actually loaded on and off the truck or moved in order to load or off-load other cars on the truck. In total, your car will only be driven 1 or 2 miles in the entire transportation.
How State to State Delivery Works
Driving state to state for a move or a vacation can be both exhausting and expensive. If you are traveling several days as a family, you need to make arrangements to eat and sleep, often in less than glamorous or comfortable hotels and restaurants along the way. If you have purchased an auto from an auction, dealership, or private owner, rarely is it necessary to deliver it yourself. Driving it by hand means you miss days that could be spent for work or vacation or simply just relaxing at home. Instead, many owners empower professionals to manage the state to state shipping, and contacting MoveWheels is the best choice.
Why Car Transport to Another State is a Daunting Task?
Most US carriers deal only with local vehicle deliveries because they are licensed and insured for activity exclusively within an individual state such as Florida, Texas, or California. In order to qualify as interstate auto shippers, they must be certified according to FMCSA regulations. Only large-scale carriers can operate this sort of business as it entails huge operational expenditures. A vast, well-equipped fleet of trucks and trailers is also a must because they can often be on the roads for weeks or more at a time. Thus, the number of experienced and professional national auto transport companies is limited.
Car transportation services from state to state are unique because:
they are of long continuance;
cost-intensive;
agents, drivers, and movers work hard to ensure vehicle security during transportation.
Special precautions are required to avoid accidents and fatigue. Drivers can work only 7 hours a day following official(federal) work-hour rules, and those responsible for state to state shipping cover not more than 400 miles per day. This mileage is possible only by highway driving because trailers are both massive and unwieldy.
The Popular National Auto Transport Routes
Americans are highly mobile. A typical family relocates within the USA every 5 years. Skilled workers seek better, well-paid jobs. Employees transfer to other states following promotions. Newly married couples and expecting parents change homes. Retiring couples change lifestyles. Vacationers travel back and forth along interstate routes, especially to warmer climates of California and Florida.
The most popular interstate car shipping routes are:
from California to Florida, and vise versa;
from NY state to California, and vise versa;
CA-TX;
CA-NY;
NY-FL;
TX-CA;
WA-CA.
Popular national auto transport routes such as Route 66, Highway 80, Route 6 are both famed and poetized. While our MoveWheels local office is located in Florida, we can manage all of the highly demanded states to state shipping operations. We transport all types of vehicles: standard and luxury cars, trucks, motorcycles, boats, SUVs, ATVs, military, and industrial equipment, etc. All are skillfully delivered from north to south and coast to coast.
Interstate Car Shipping Methods
Most standard sized cars can be delivered in an open or enclosed trailer. The former method is definitely cheaper and more common, while the latter is more expensive but sometimes preferable because vehicles are better protected from road and weather conditions. Heavy rains and snowfalls, winds, and bright sunlight are all harmful to crack-sensitive auto bodies. When opting for an open trailer transport, be sure to keep the doors and windows closed because cars can get dirty along the route.
The Ways to Do Interstate Car Shipping
All our customers already know that cars can be delivered in open or enclosed trailers. The first type of delivery is definitely cheaper while the second one is preferable because the vehicles are protected from damages, rocks, and weather effects. Rains and snowfalls, bright sunlight and winds are harmful to the crack-sensitive car bodies, so we usually recommend to take necessary precautions. For instance, opting for an open trailer, make sure the windows are closed because the car gets dirty.
National auto transport carriers usually deliver:
The first option involves picking up the vehicle, loading it onto a separate trailer, and driving directly to the destination. Bulk state to state transport involves a driver who collects your car for delivery to a special storage unit where it is kept safe until loaded onto a railroad container, perhaps 10 at a time, going the same route. Then it is loaded onto a trailer and transported to your destination.
The first option is more expensive. However, it is the safest, fastest, and most reliable way. Bulk transportation is more affordable, usually 10-15% cheaper, but far more time-consuming and logistical. Large enterprises that have a vast fleet of vehicles can significantly cut their relocation expenses using bulk transport. At MoveWheels, we always inform our customers about the methods of shipping a car to another state and provide clear recommendations, minimizing any delivery risk or misunderstanding.
WHO IS WHO IN CAR SHIPPING INDUSTRY?
If you decide that shipping a car is the right option for you, then you might as well want to know who is going to arrange and perform the transfer.
Basically, there are three major players in the industry: shippers, brokers, and carriers.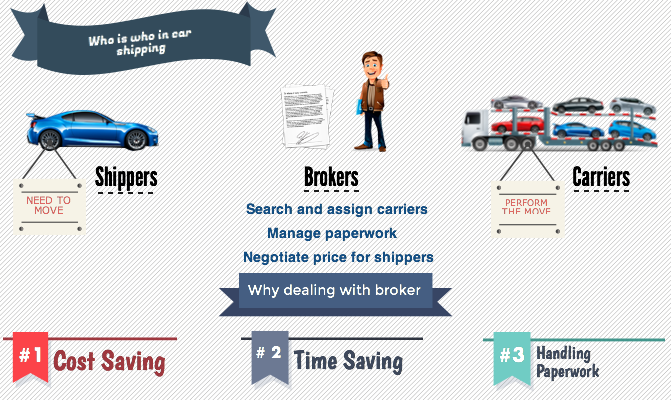 Shippers. These are individuals or companies that are looking to transfer their vehicle(s) due to:
moving to a different city or state (i.e. household moves)
relocating a business (corporate relocations)
purchasing a car at a different location (from an auction, out of state, etc.)
arranging a shipment of a car purchased at the dealership (dealer vehicle shipping)
temporary relocation (seasonal vehicle shipping, college vehicle moving)
military vehicle shipping
commercial relocation vehicle shipping
or any other individual reasons
Brokers (or shipping agents). These are companies that act as intermediaries between shippers and carriers. They provide shippers with quotes, search for carriers for their transportation and handle arrangements of vehicle pick up and delivery.
Carriers. These can be both big trucking companies and individual owners of car trailers that actually perform the transportation. They look for loads on the routes they plan to go, using special load boards and contacting brokers.
CAN I DEAL DIRECTLY WITH CARRIERS WITHOUT BROKERAGE?
Theoretically, yes. However, it is important to know the three major functions that shipping agents carry out in your favor while dealing with carriers.
1. Cost-saving. Drivers are likely to charge more money when they contact directly with the customers while brokers have access to a comprehensive database with shipping rates for all types of vehicles on all routes. Moreover, agents can see carrier availability in your area and negotiate the price with the driver to get you the best deal.
2. Time-saving. It is also quite difficult to find a carrier that will be going on your particular route within your desired time frames by yourself. Car transporters are more eager to work through brokers rather than directly with shippers as they need to load the entire truck with cars going in the same direction.
3. Handling the paperwork. Hiring a reputable and experienced broker company will not only help you get the best deal but also take care of all the details to make sure your car shipping process goes smoothly.
HOW TO GET A QUOTE FOR SHIPPING MY CAR?
Once you type "car shipping quotes" into Google search bar you get a long list of websites where you can get the quote. But the very moment you submit a request on at least one of these web sites you start getting bombarded with calls and emails from numerous agents who promise you the lowest price for your transportation.
It happens because quote-generating websites are selling your request and your contact information to about a dozen of broker companies who start a real war in order to get your attention. The range of prices you get creates a feeling that there is a huge demand among carriers for shipping your car.
However, BROKER COMPANIES DO NOT HAVE THEIR OWN TRUCKS and even when they do, the chance that those drivers are going your particular route is very low. Having conducted a profound analysis of customer reviews, we came to the conclusion that:
The highest dissatisfaction rate among shippers is caused by a large disparity between quoted prices and actual final prices for transportation. The gap occurs because quotes are provided by brokers and actual prices are dictated by carriers.
So, in order to make your shipping experience a positive one and help you avoid unpleasant surprises, we have put up a scale on which you can see how different pricing strategies can affect the final cost of the shipment: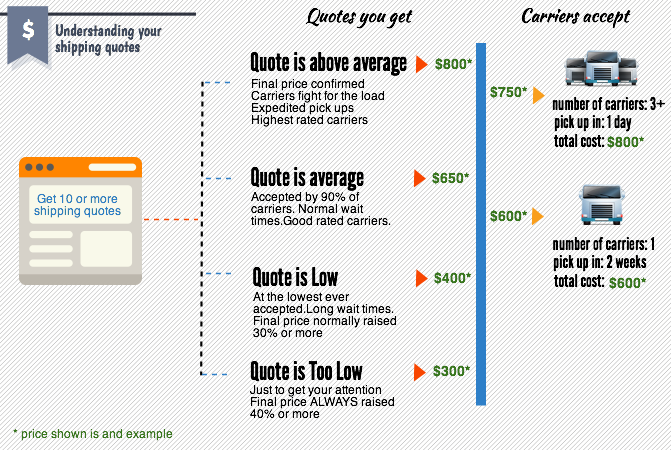 Quotes that are too low – typically significant raise (by 40% or more)
• the price is under carriers' acceptance rate
• used only to get your attention
• gets raised in 99.9% of cases
Quotes that are low – typically raised (by 30%)
• the price is at the lowest rate carriers ever accepted on this route
• the car might be moved eventually with a big delay
• gets raised in 80% of cases
Quotes that are average – usually stays the same
• the price is accepted by carriers in 80% of cases
• car is moved within decent time frames
Above average price – stays the same
• the price is higher than carriers' average acceptance rate
• carriers compete for the load which results in wider carrier availability and higher quality transports
The major problem in customer satisfaction is that most of the broker companies present low prices as real ones and then go back to the customers, raising the cost.
Why Entrust MoveWheels with State to State Shipping?
Driving across the USA is not only exhausting and time-consuming, but it also exposes your valuable auto to extensive wear and tears while using up a lot of fuel in the process. Additionally, you rack up many other expenses along the way (tolls, food, parking, hotels, etc). Depending on its condition and type, your vehicle can be hauled in an open or enclosed trailer or container and delivered to your door. For the long state to state transports exceeding 1500 miles, almost certainly will your carrier costs be less expensive by allowing us to do the job for you. Meanwhile, you can relax and use this valuable time for other pursuits.
Many people can experience difficulties either driving or shipping a vehicle state to state on their own(especially if the vehicle is oversized or unusually unique). Only a few legitimate and reliable carriers perform these complicated logistical tasks. Let our competent shipping agents at MoveWheels select the right carrier and conditions for your vehicle and guarantee its safe state to state transport.
How to Measure Your Vehicle (and do you really need to do it?).
Transporting normal cars and motorcycles is easy and natural for any carrier. These delivery operations are performed every day and require only the basic permits, so they are both standardized and affordable. However, oversized vehicles such as boats, trailers, trucks, SUVs, limousines, or farm and building equipment all require special considerations and specific carriers. So whether you are moving a luxury auto from a private collection or auction, or relocating heavy equipment from a factory or farm, the best option for residents across the nation is to contact MoveWheels and get professional assistance.
The Types of Vehicles to be Measured Before Shipping
Any vehicle except for standard-sized cars, bikes, motorcycles, and scooters should be properly measured. The list of these machines can be long, but certainly includes:
If any concerns arise, feel free to contact one of our experienced shipping agents for a consultation. The correct dimensions are essential for providing customers with accurate transportation quotes. Our agents will find a professional carrier with the right type of hauler for the job and will determine what documentation and unique considerations are required. For example, some carriers specialize in military vehicle transport, such as tracked, wheeled, and technical equipment. We maintain a comprehensive list of these companies, cooperate with them, and know any strengths and weaknesses that might affect your circumstances.
The Need for Oversized Vehicles Measuring Before Shipping
Oversized vehicles are most often transported by road. Generally, a standard-sized hauler, truck, or trailer can be used for transport, but the traffic lane width is of course limited. Complicating matters are various regulations and traffic codes that guarantee safe movement so that visibility can be ensured for all drivers. Furthermore, DOT (Department of Transportation) has issued its own restrictions. In order to pass bridges, tunnels, and other roadside facilities, trucks and other shipping equipment should not exceed the standard weight, width, and height. For example, standard truck dimensions are:
width: 96-102 inches;
height:12.5-13.5 feet;
• length: 22-26 feet.
Gross truck transport weight should not exceed 80,000 lbs. to prevent damage to roadway coverings and other state and local infrastructures. In case of heavy equipment exceeding these limitations of weight and dimension, special permits, signs, and escort vehicles are necessary for transport.
What Kind of Vehicles can be Delivered?
We can find reliable and experienced carriers that specialize in the transportation of all kinds of exotic machinery, including:
minesweepers;
tanks;
airplanes;
tactical support equipment;
artillery guns;
holiday cruisers.
Unique military vehicles can also be disassembled and shipped in parts, following any existing guidelines and limitations. Experienced technicians are able to secure and protect choice equipment during transport. Competent agents at MoveWheels hire only reputable carriers for any circumstances and manage to get the best possible quotes for their customers using our unique shipping rates calculator.
Getting Oversized Vehicle Shipping Dimensions
Quite naturally, most people are often puzzled with performing a measurement of a specialized vehicle themselves. However, these dimensions are usually specified:
in the technical documentation for the vehicles;
on the producer website;
anywhere online.
If you face any problems obtaining accurate transport dimensions, contact our experienced shipping agents. They will provide detailed measuring instructions or possibly hire an agent to do this job for you. For most vehicles, you can estimate the dimensions yourself, but if they are not accurate, you may get a quote that is 5-10% different than the final delivery invoice. All standard measurements will be in feet (ft) and inches (in. or ') for lengths and pounds (lbs) for weight.
How to Get a Vehicle Transport Quote?
Once you have determined the vehicle dimensions, specify them on the form, and get a prompt response. You can also:
indicate them in e-mail;
send an SMS message to the agent.
Use the shipping calculator
Customers can get a preliminary estimate using our unique shipping rates calculator. This special online software tool gives a simple and fast projection of transportation costs to every user.
Any unusual load is discussed very carefully before shipment. Oversized or road unworthy vehicles often require special haulers, permits, and other safety and security provisions. We can hire specialized carriers and escorts that are insured beyond standard coverage. Our experienced agents can do everything necessary for your special vehicle to be safely delivered to its final destination, door-to-door, and on time. Contact us today!
Complicated Deliveries
The best auto carriers always offer insurance policies to their customers, although the details may vary widely. Be sure to scrutinize these documents carefully, such as the contract and insurance agreement, to avoid any hidden fees or contradictory clauses. We provide extra guarantees for vehicle owners by partnering only with those reliable auto transportation companies that match our requirements, and offer door-to-door delivery whenever possible.
Our shipping agents do a tremendous job managing these complicated deals while our customers can relax and avoid all worries that their treasured auto will arrive safely. Moreover, no additional surcharges will be applied to managing complicated deliveries. The advantages of our unique and beneficial transportation are specified here.
Car Shipping Checklist
Before handing your auto over to any transportation company, several simple but important preparations should be made to avoid lengthy inspection and documentation delays:
wash the car;
inspect the vehicle;
take photos;
get records of damages;
check fluids and battery charge.
Fuel levels and other minor issues can be discussed with your shipping agent ahead of time to avoid additional delays or complications. Most auto carriers recommend to inflate the tires, disable alarms, and remove all personal items. You can read more about vehicle preparation here.
Thus, cooperation with MoveWheels is a convenient, affordable, and pleasant opportunity for our customers. Additionally, our dedicated shipping agents take pride in versatile, comprehensive, and honest service. Anyone who needs either domestic or commercial transport within the USA can make use of our professional experience. Just call or leave a message today!
Why Movewheels?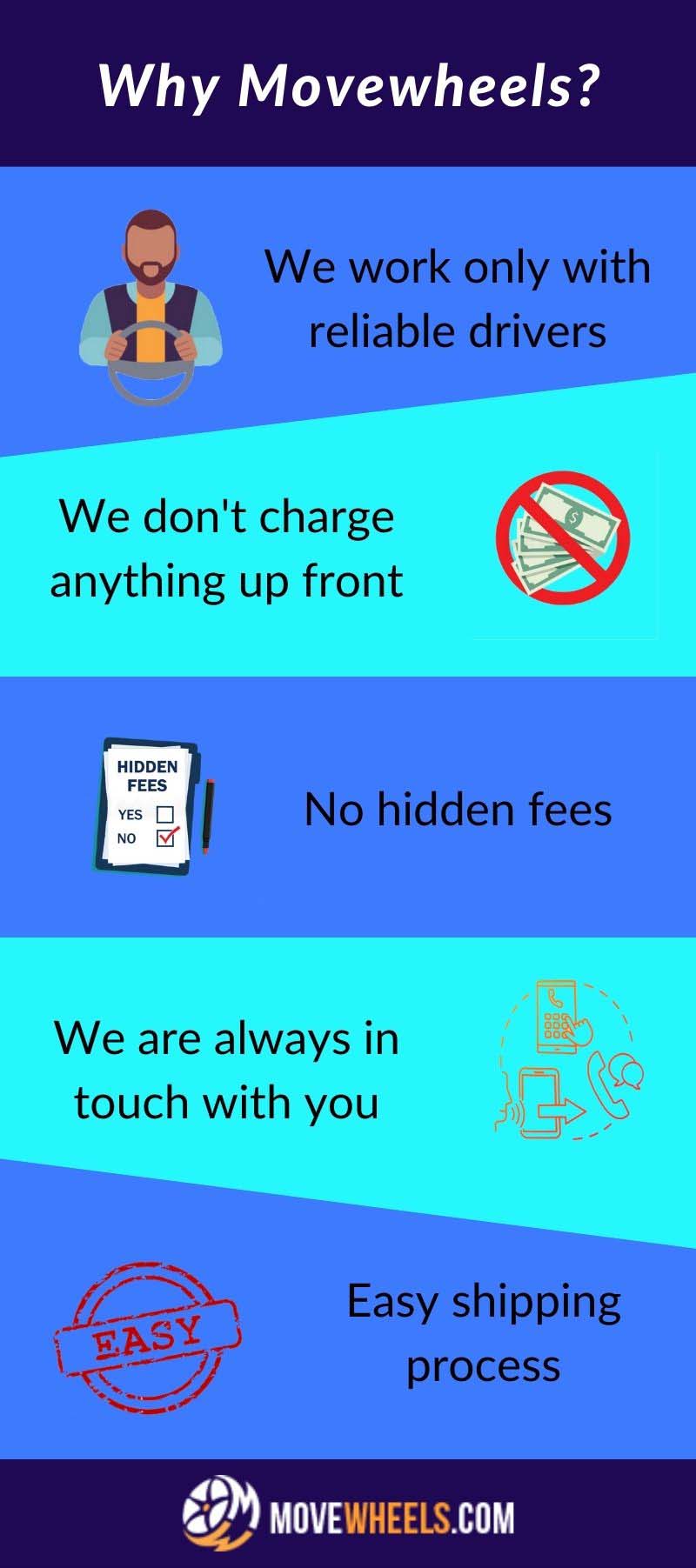 Realistic price.

Instead of receiving thousands of spam calls and emails, you are provided with direct information on the realistic price range of what carriers accept on the route.

Choose your pricing strategy.

We also advise you on choosing the best cost-saving strategy for your transportation within your time frames because we know how important it is to save money and time for more valuable things in life.

Personal assistance

. You will be assigned a dedicated shipping agent who will be guiding you through the entire process to make sure your car shipping experience is positive.

Reliable driver.

Our team professionally sorts and evaluates the carriers to provide you with a reliable driver that meets our high standards, has proper documentation and insurance.

Professional Negotiation.

We help you connect directly with the driver and achieve the best pricing for your auto transport by professionally negotiating with the carriers and ready to answer your questions anytime.

Easy shipping process.

Get your free quote, determine all shipping details together with your personal shipping agent, and meet the driver.
So now feel free to get your quote or contact us via phone or email, or you can read our article about the top 6 car shipping companies to compare different brokers