For making easy things really good, you have to experience something hard. We have more than 10 years of experience in truck shipping.
Working with us will guarantee you:
Easy process of getting the quote

The price that is built upon the list of reasons (type, weight, and dimensions of the truck, and a route of the shipping ) 

Quick zero damage loading of trucks 

System of navigation for being calm about the shipment of your truck

No payments upfront
Quick links:
Common Trailer Types Available For Heavy Haulers
   With MoveWheels your trucks may be transported with the help of two different types of haulers.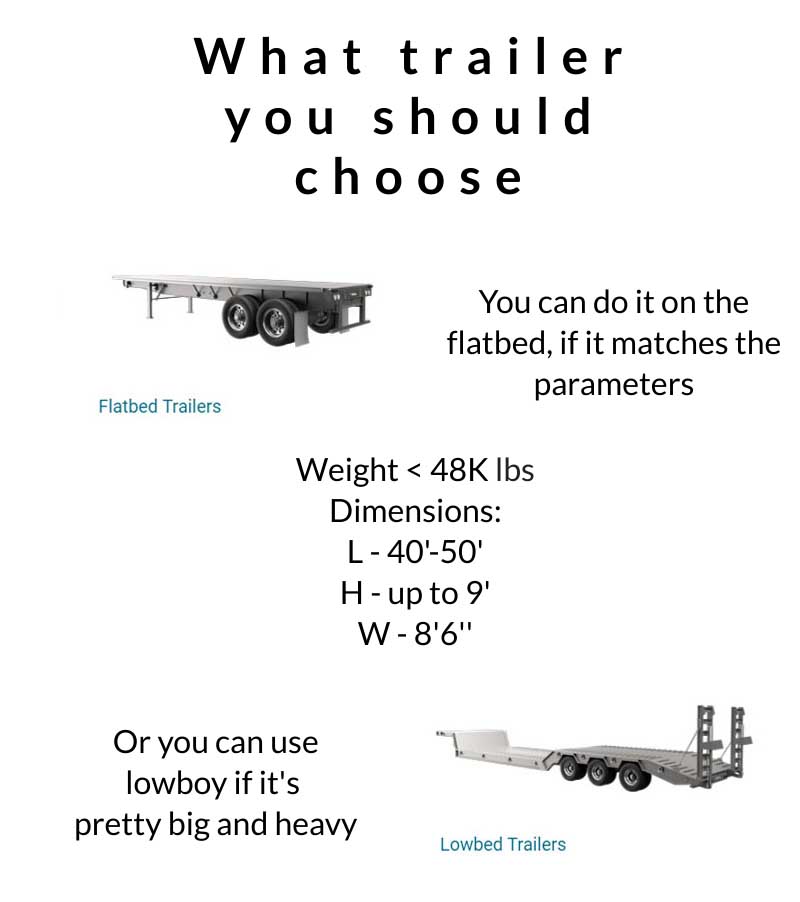 Firstly, it can be a flatbed trailer if your vehicle matches the next parameters:
– it weighs less than 48K lbs;
– the length goes from 40' to 50';
– the height is up to 9';
– the width is up to 8.66''.
The other variant we can use for semi-truck shipment is a lowboy trailer with which you are going to avoid additional height permits, as it allows you to transport high loads. But if you have a standard pick up it can be shipped on a typical car hauler. It will be much cheaper than on a flatbed or lowboy, and the time that needed for scheduling a carrier for this transportation less than in other cases. For the customer, it's mean that he can save time and money even if he needs ASAP shipping. You can read more about the car shipping service here.
Money makes the Truck go round
To move a truck the customer has to understand that there are different reasons that may influence commercial truck shipping.
The best thing to start with is determining the route a driver has to cover in order to transport your heavy vehicles. It's better to ship many trucks at once in a trailer than to ship only one, considering that the driver will have to make many stops to pick up other loads if it's a single truck that needs to be shipped then he will head to the drop off location.  This prevents you from a  higher shipping price and will help us to find a  carrier for you in the shortest time frames, especially if your route is not quite popular for drivers.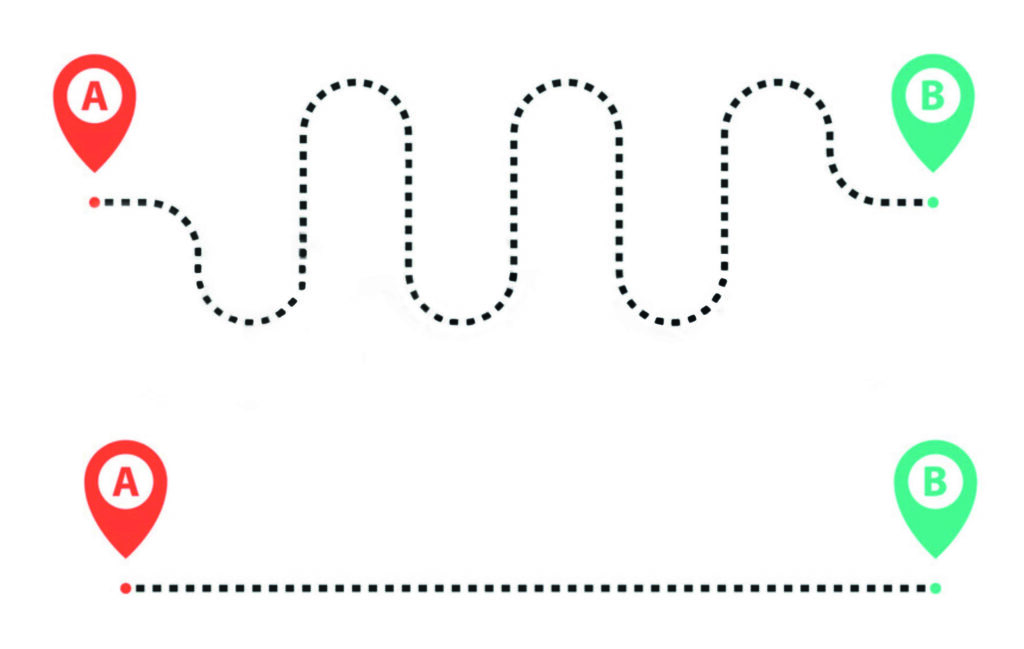 Do not forget the factors that will influence the cost of the shipment, like the holidays. (Independence Day, Christmas Eve, etc.)
To transport one truck with our driver it's going to cost 2,5$ per mile, while with a trailer fully loaded with two or more trucks the price is going to get lower.
Finally, you can find out how much the truck shipping is going to cost in your case by getting the free Quote form, negotiate all the details with our managers, book the spot, and meet the driver.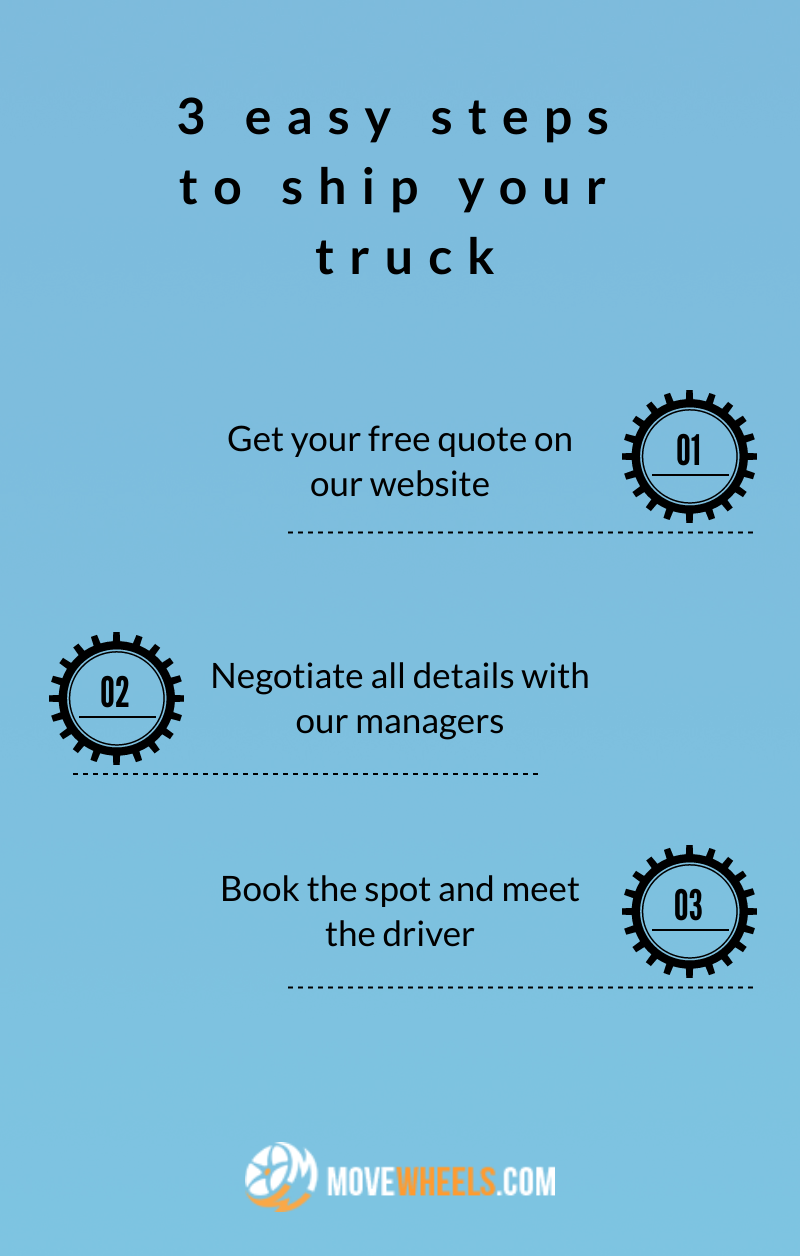 Difficulties in  truck loading
There are lots of different truck models and types, starting from the smallest as the  Ford F150 to the biggest as the double trailer trucks. Their effective and safe loading on a hauler needs specific precautions and methods. "In the transportation of cars, SUVs, computer programs have been used for a long time to facilitate loading them on the trailer," says Stewart Jimenez, transportation manager, "nothing like this exists in our business, we have to do everything ourselves based on the present features of the potentially transported equipment."
Just look at the loading process of this huge truck. And its only one truck, when there are two or three big vehicles on a trailer much more complicated.
Plenty of hydraulics on trailers is making the loading process even more complicated. A lot depends on their function and a qualified person who knows how to use them correctly, but the road and climatic conditions do not contribute to the long life of high-tech components, therefore, we must constantly take care of this matter.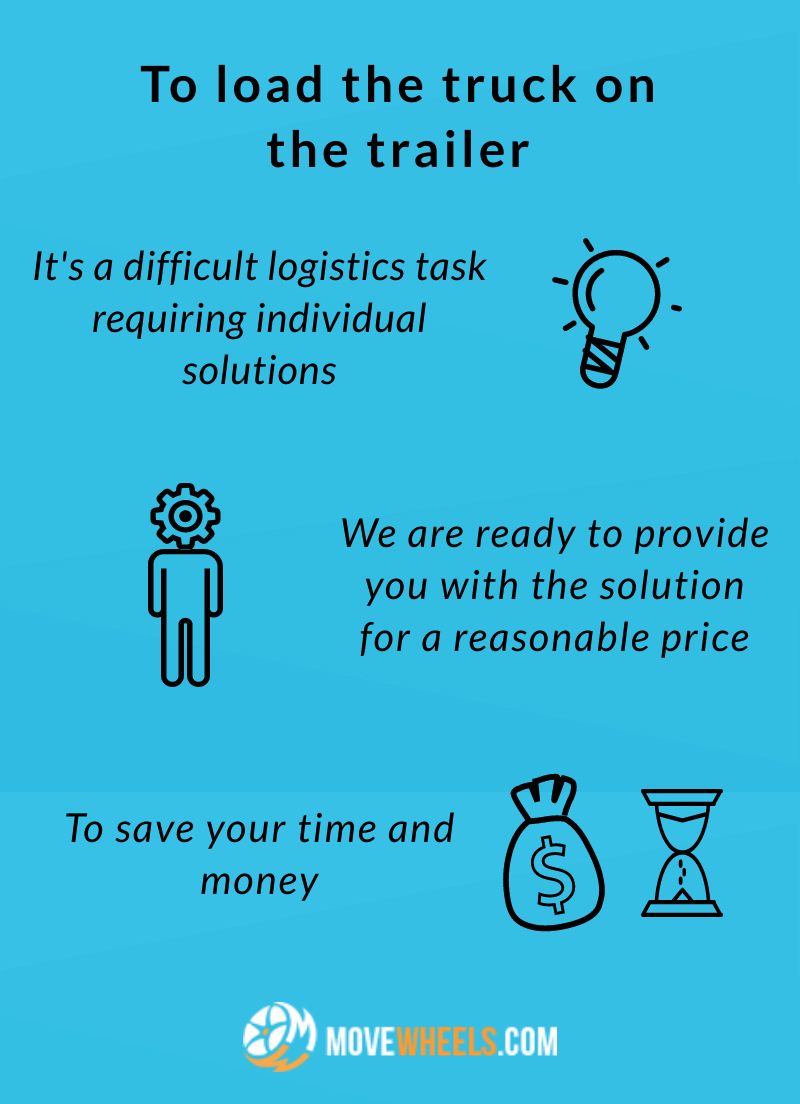 Moreover, we always pay attention to the carrier's qualifications in transporting trucks properly. So that you can receive your vehicle in good condition, and using the service of our company will help you save your time and money because Movewheels has more than 11 years of experience in this business. And we are want to share this knowledge with you, to give you the best vehicle shipping experience. For this, we are creating a lot of guides in our auto transport blog, such as "vehicle shipping cross country guide", or "car transportation from auctions guide".
Kinds of  truck transporting services we can provide for you
• Single truck shipping
Want to move only one truck? MoveWheels has a broad measure of qualified CDL (Commercial Driver's License) drivers who are legally prepared to address your issues.
In this case, only your truck will be on the hauler, but it will be the most expensive. This service usually needs for some not standard trucks, with difficult construction, or big dimensions.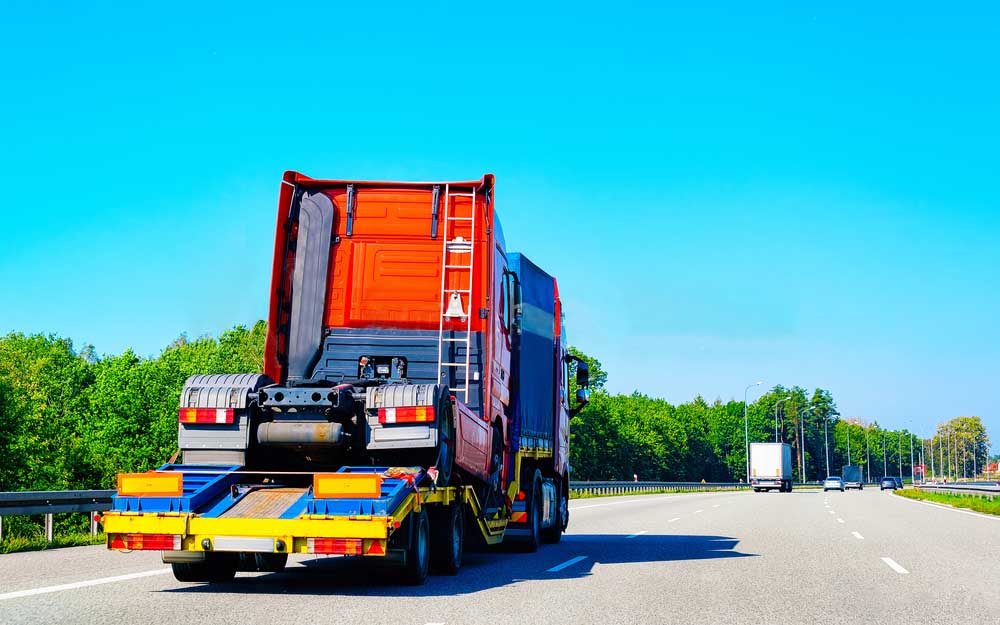 • Deck  truck shipping
 Need to transport a few trucks? Our deck division offers you the best choice when you have different trucks to be moved. In such a way two or three trucks can be shipped. Depending on their dimensions, the shipping cost is much lower than only one truck on the trailer, but often it needs special hydraulic mechanisms or a crane for loading and unloading.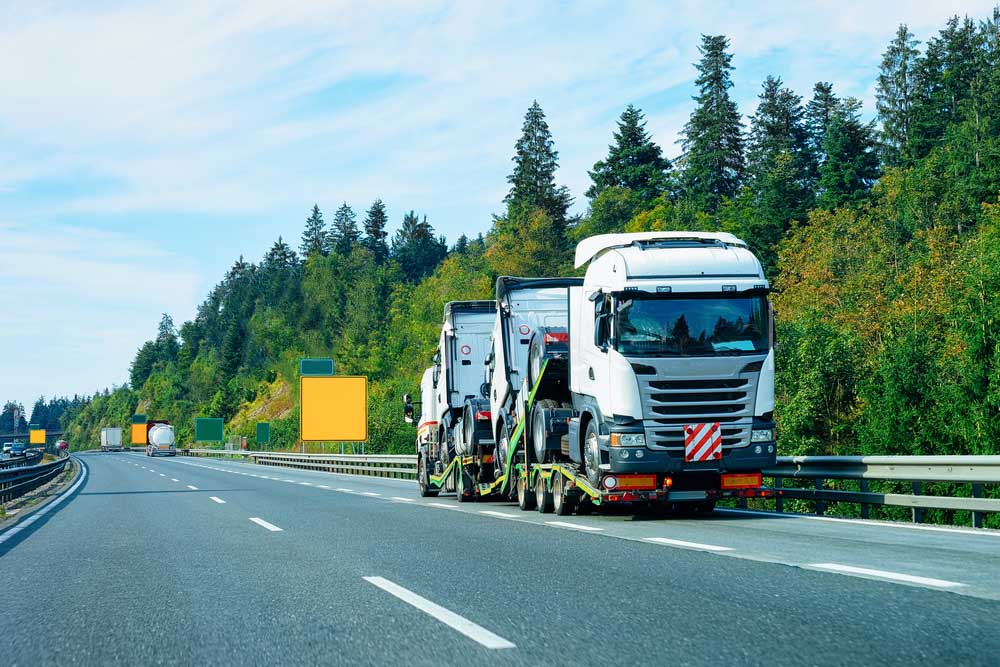 • Blast truck shipping
 Oh no! Need to move complex trucks? That's not a problem for us. We use a quite popular and effective method of moving single-axle trucks with shields or double trailer trucks that can't be decked. We will help you in settling on the best savvy choice.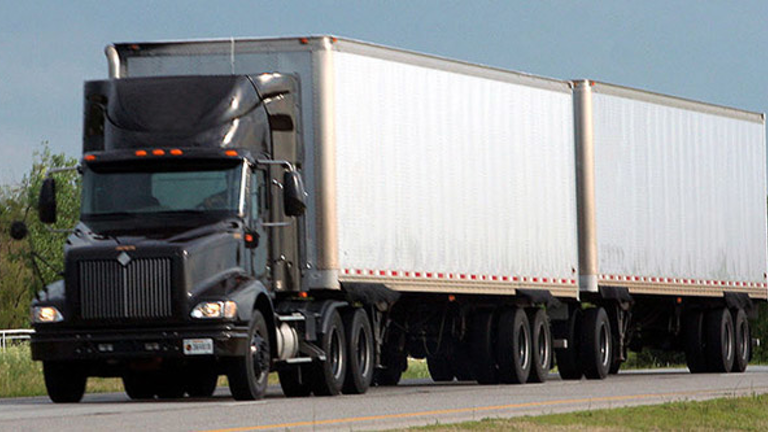 • Port Delivery
 We can move your trucks to any U.S. port. MoveWheels will deal with the entire process of dealing with the documents for this transportation, getting your vehicles on the board to guarantee conveyance. We also make you track information regarding the location of your titles and doc receipts.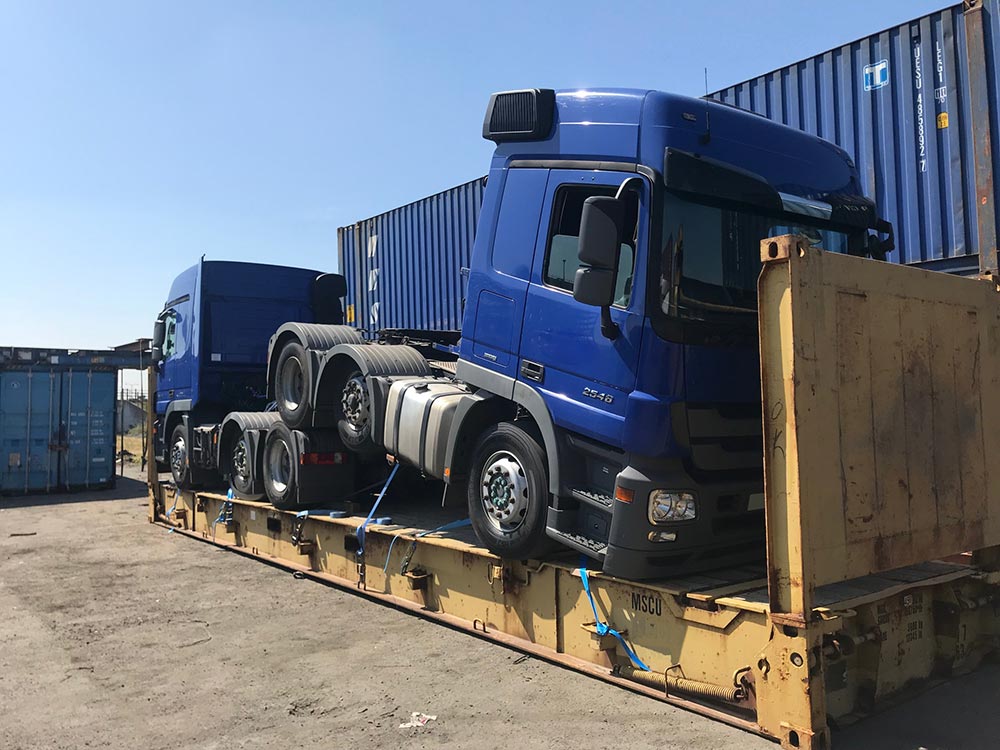 To start experiencing any of these kinds of transportation with us just get your Free quote, clicking on the button below. Don't worry it's free our shipping agent will contact you as soon as possible and answer all your questions. Or you can call us (904) 863-5350 on this phone number, our customer support service is 24/7 online.