In this article, Movewheels' creative team with our shipping experts described all info about farm equipment shipping. So here you can find answers for such answers as:
What farm equipment transporting services we can provide you with;
The most popular farm equipment that we ship, and benefits of working with us;
What is the farm equipment shipping price and how to calculate it;
What types of haulers can be used for shipping your tractor;
You can use our services for shipping your combine even from cost to cost;
And how your farm equipment can be loaded on the hauler.
Transporting Farm equipment
There are more than 2 million farms in operation across the USA. So the farm equipment shipment is a rather common thing for Americans. 
We have already experienced and are glad to re-experience shipping the following types of farm vehicles: air seeders, cotton pickers, hay rakes, loaders, mowers, combines, ballers, manure spreaders, lumbers, plows, skidders and many other things that are being transported for almost thousand times by us.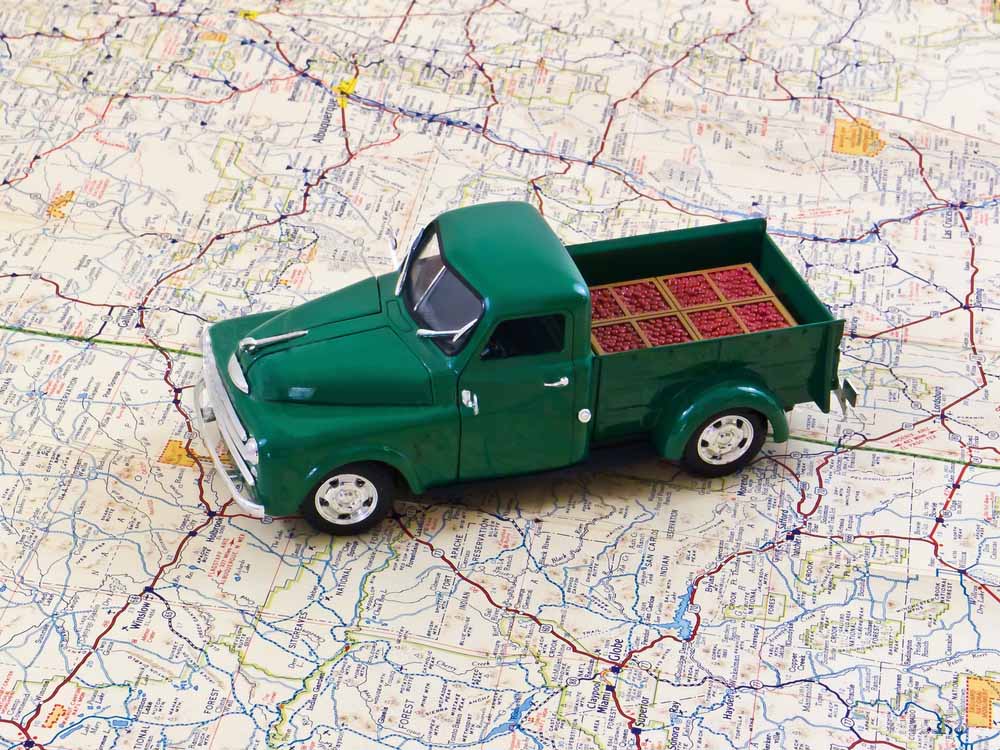 The most popular equipment we ship are the following:
–      Combines and tractors 
The great number of requests we get to ship such kind of equipment is a typical practice for Movewheels. We've got great experience and can provide you with the best individual solutions with our tractor hauling services.
–
Sprayers
MoveWheels has already shipped many sprayers for our clients in the United States. The farm tools are hand-operated, really easy to handle and you do not even need any training to learn how to work with them. They are really useful to apply pesticides, herbicides, or composting tea.
–
Plows
For many years, farmers have been using plows to bury their crop residues, break up the soil, etc. They are also useful for bringing the soil's fresh nutrients to the surface. Another thing that you can do with a plow is to create trenches or furrows whenever you need to plant crops like potatoes. The more farm equipment you have, the more Movewheels is glad and ready to ship them!
–
Backhoes
This equipment is also known as a back or rear actor, it is a type of digger or excavator that is usually mounted on a tractor's back or a front loader. It helps to haul soil, farm debris, and other materials to transfer them into trucks. Backhoes are fantastic at remaining stable while moving substantial burdens, as they use pressure-driven outriggers, stabilizers, and a couple of legs that can be let down for additional strength. And Movewheels can easy organize the whole process of transporting your backhoes.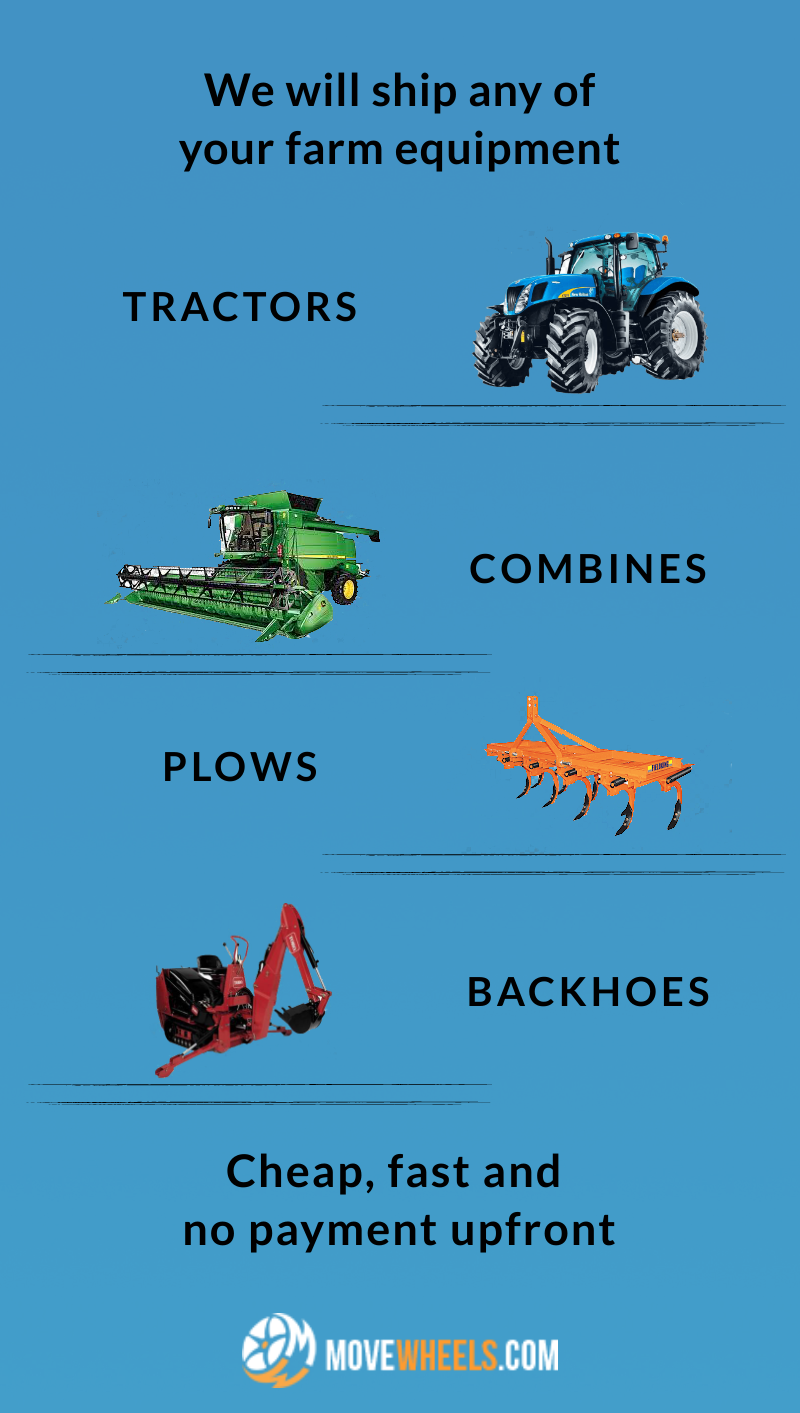 There are 5 most used equipment brands in the USA, that has been shipping with our service for the last 11 years of our existence.
AGCO Corporation that is located in Duluth, Georgia, stands for farm equipment innovations

Deere & Company, based in Moline, Illinois, the world's largest agricultural manufacturers, right now it has 5 different types of the combine, choose yours and we will deliver it to you

New Holland of North America, has

headquarters in Pennsylvania, is known for creating enormous combines

Allis-Chalmers, that you can find in Milwaukee, Wisconsin

Caterpillar Inc., that is also located in Illinois, but city Deerfield
To finally work with us, you will benefit from:
Insured transportation process

Any form of payment is accepted

"Door-to-door" delivery

No payments upfront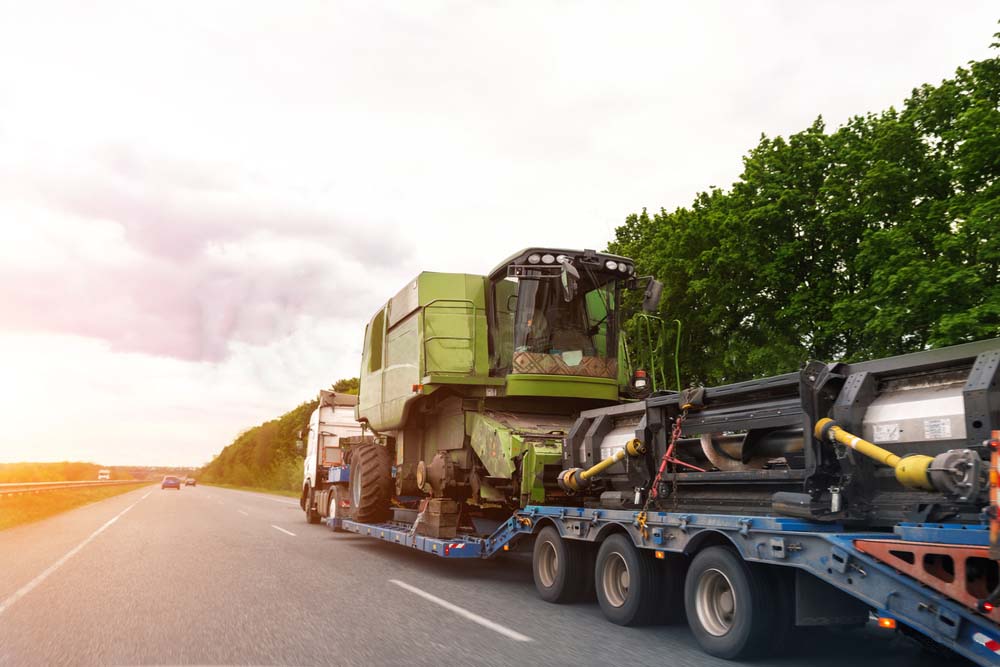 How much does it cost to transport farm equipment?
Tractor transport for a long distance may cost $1,75 per mile, whereas for short ones you going to pay $5 per mile.
The cost of transporting heavy equipment is always based on different factors, such as dimensions, weight, type of your apparatus, a time of year, and popular routes. And you can get the idea of how much the usage of our farm equipment haulers is going to cost just by getting the free Quote from Movewheels.

Types of haulers used for shipping farm equipment
In general, there are two types of haulers that are used for transporting agricultural equipment by Movewheels, and they are flatbeds and lowboys. The first one can be used if the total weight of the load is not more than 48K lbs, the length goes from 40' to 50', the height is up to 9', and the width is up to 8.66''. If not, a lowboy hauler will be used. But you should know that the flatbed is cheaper than the lowboy, simple because the latter is rare. So we recommend you, if it's possible, to try to purchase an equipment with dimensions that is compatible with those of a flatbed, because it will save you money and help us to find a driver for you in the shortest time frames.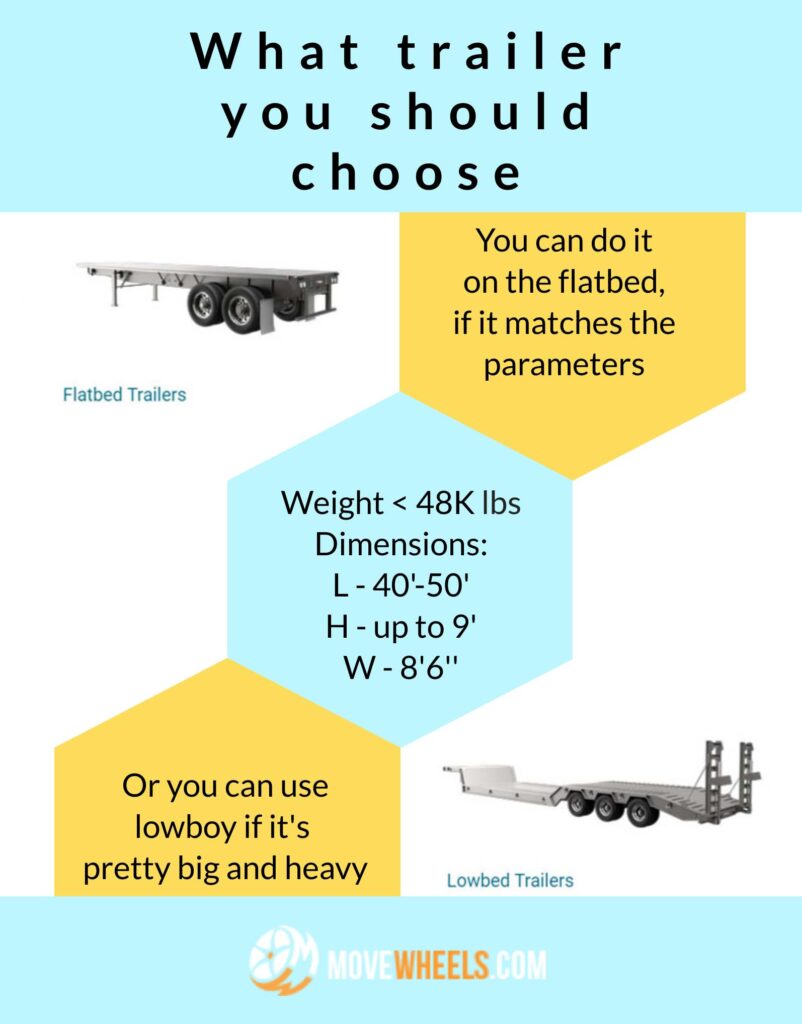 We can ship your farm equipment cross state or even coast to coast
Usually, they get transported by train or by sea, but railways and ships cannot fulfill shipping to a specific place in  USA. Our drivers will be able to ship your vehicles as quickly as it is possible to any address you are going to provide us with. No matter where you are located because we operate in all states. So we can easily find a farm equipment hauler near you.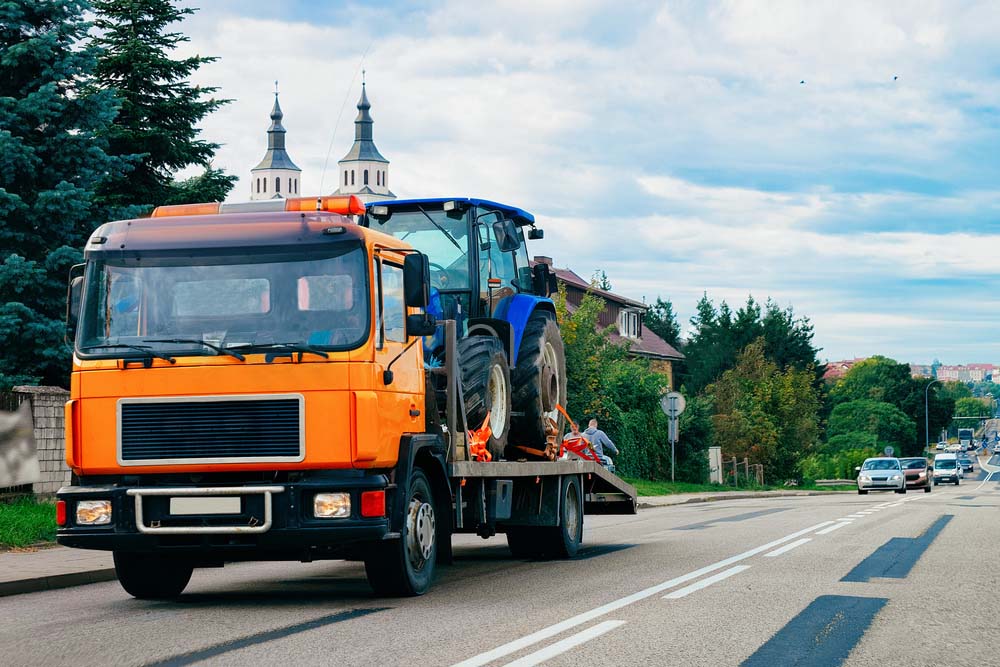 More reasons to use our service:
–          adequate prices because of the strong flow of farm equipment transportation orders we receive;
–          individual approach to each client to provide solutions for all the special characteristics of your equipment to prevent any problems and guarantee the best service;
–          professional drivers with the transportation experience for more than 10 years.
How does the process of loading your tractor/combine on the hauler happen with MoveWheels?
–          Park the tractor in the spacious area with a stable ground
–          If the tractor's width is 8.5 ft, we pull out the outriggers
–          Set up the ramp, and we are ready to load the tractor
–          Depending on the size and model of the tractor, we will either back it onto the trailer or drive it forward up the ramps
–          Stop the tractor's engine engine
–          Set the parking brakes
–          And finally, cut off its fuel supply, unscrew the battery connectors, secure the tractor with tie-down straps.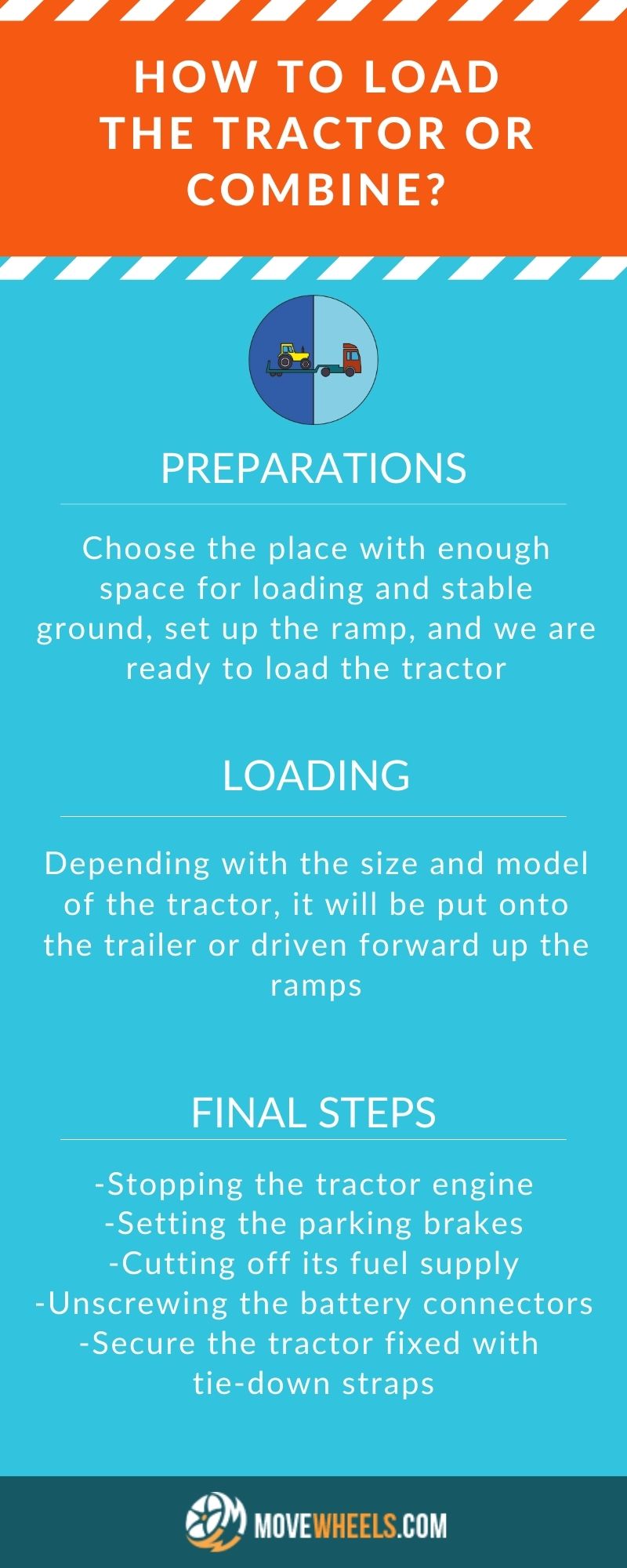 You can get professional advice about shipping preparations by reading this article.
The final steps to get a good experience of transporting your farm equipment to provide us with all the needed information, such as:
type and model of your farm equipment, and its exact dimensions and weight;

exact pick up and drop off address, and first available pick up date; 

the way you are going to pay for our service.
So feel free to contact us, and get an immediate free quote and we will be glad to help you!