In this article we prepare answers you can face during the boat shipping:
Types of the boat, that can be moved;
Way to transport yachts or boats;
Shipping oversize boats;
Loading a boat on a trailer;
Overseas boat transportations;
Boat shipping prices.
Whether you are planning a vacation at sea, moving your household to a new place, or consider becoming the lucky owner of watercraft you probably can't wait to get that fresh breeze upon your face as you take to the open sea, operating your own cruise yacht…
However, before the fun of sailing actually begins, some work needs to be done in order to bring your vessel to the destination point. The procedure of shipping a boat greatly differs from regular car shipping because there are totally different logistics required for both loading and transporting the boat.
TYPES OF BOATS WE TRANSPORT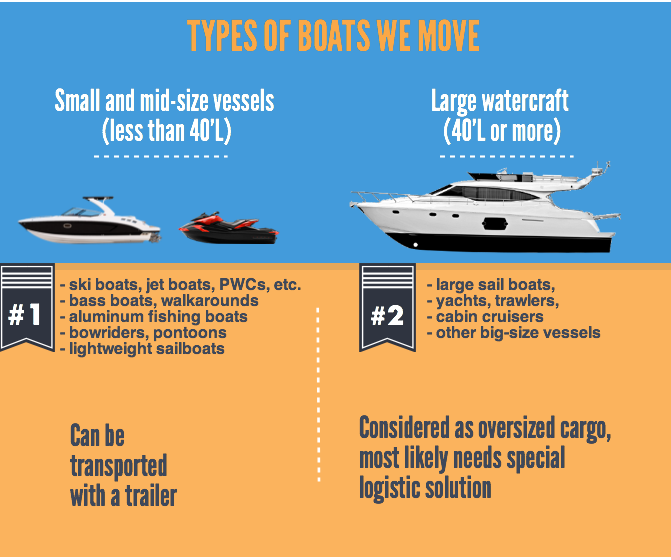 An important determinant of boat shipping process and cost is the type of vessel you are relocating. It doesn't matter if it's a boat for cruising, fishing or watersports as the key criteria for shipping is the size. All kinds of boats can be split into 2 categories based on their size:
Small and mid-size vessels (less than 40'L)
• Include all kinds of watersport boats (ski boats, jet boats, PWCs, etc.), bass boats, walkarounds, aluminum fishing boats, bowriders, pontoons, lightweight sailboats, etc.
• Can be easily transported on a trailer
Large watercraft (40'L or more)
• Include large sailboats, yachts, trawlers, cabin cruisers, and other big-size vessels
• Considered as oversized cargo and will most likely need special logistic solution for transportation
NOTE. It is also very important to know the exact dimensions of your boat (its height, length, and width) in order to receive the most accurate pricing and choose the right way of shipping your vessel.
WHAT ARE THE WAYS TO TRANSPORT A BOAT?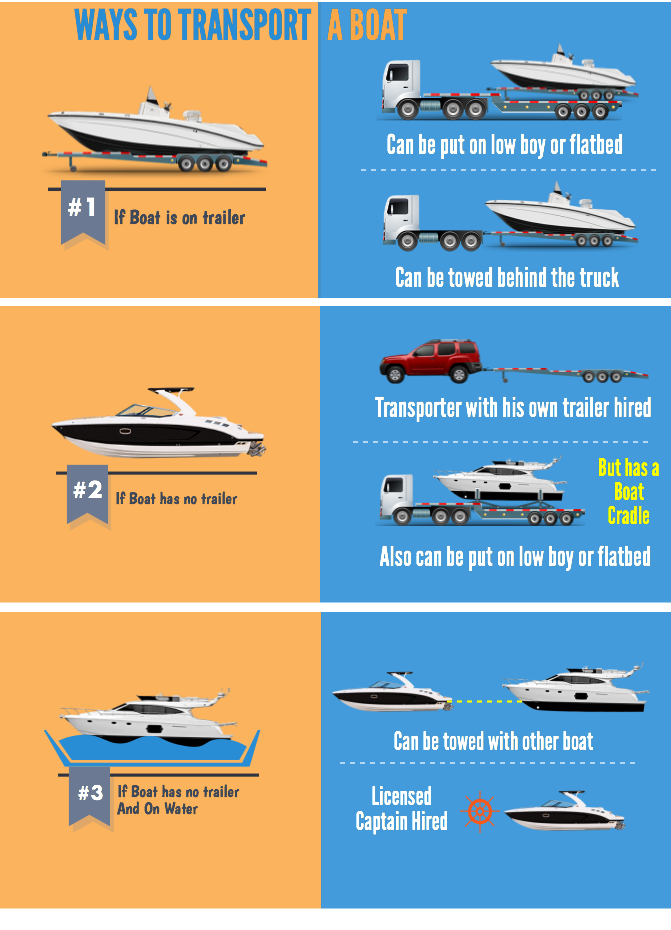 Every boat shipment is unique as it is determined by several factors, such as the size of the boat, facilities available for loading, carrying or towing the vessel from one location to the other.
If the boat is on a trailer
• it can be towed by a special haulage truck
• it can be loaded on a low boy or a flatbed truck with the trailer
If the boat doesn't have a trailer
• a licensed transporter can be hired to move the boat on his own trailer
• but has a boat cradle (a special wood or metal platform which holds a vessel upright), it can be loaded on a low boy or a flatbed truck as well
If the boat is on the water and doesn't have a trailer
• it can be towed by special on-water towing service between marinas if the distance is not very long
• another option is to hire a licensed professional to ride your boat to the required destination
OVERSIZED BOAT SHIPPING
Each state has certain size and weight restrictions for commercial motor vehicles used for towing or carrying vessels. If these restrictions are not met, a special permit or rerouting will be required. In case the size if your watercraft exceeds any federal or state road restrictions (you can check it here), our team will work on finding the best logistics solution to perform the transportation of your boat by contacting all the carriers available in your area.
LOADING A BOAT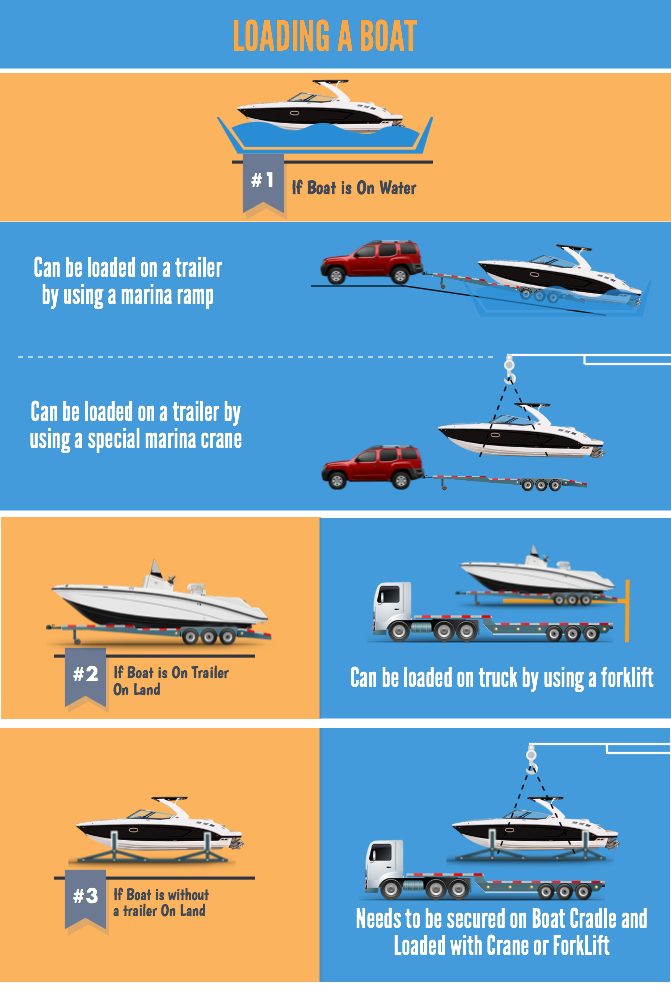 Once you decide on the most suitable way to ship your boat, the next step is dealing with various types of loading the watercraft.
If the boat is on the water
• it can be loaded on a boat trailer and hooked to the truck
• by using a marina ramp (the cheapest and easiest way)
• by using a special marina crane (if there is no ramp)
If the boat is on a trailer on the land
• it can be put on a truck by side loading which requires a forklift
If the boat is without a trailer on the land
• it first needs to be put and secured on a boat cradle and then put on the truck by a crane or a forklift
UNLOADING a boat upon delivery can be performed the same way. Loading the boat off the ruck also requires the same equipment as the one used to load it at the pick up location.
NOTE. Time of the year can also affect the loading conditions of your vessel especially if it stays on the water in winter. A lot of marina facilities are not available during winter months and trying to load the boat on the trailer can be very dangerous when there is ice on the water. Read more useful tips for shipping a boat.
SHIPPING A BOAT OVERSEAS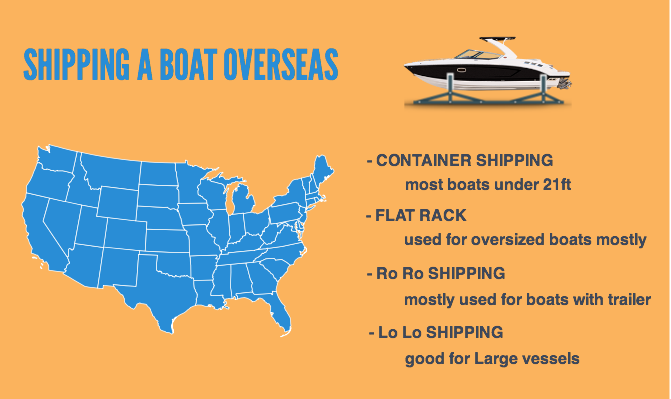 There are 5 different ways to ship a vessel internationally, depending on the size of your boat.
Container shipping
• Suitable for smaller boats due to certain size limitations of the container: 40'L, 7'10"H, 7'8"W
Flat Rack
• Suitable for oversized boats. A boat is shipped in its own cradle, fixed on the flat rack
RoRo service
• Short for "Roll on/Roll off"
• The boat is loaded on a large cargo ship in its own trailer or a cradle
LoLo service
• Short for "Lift on/Lift off"
• Used for larger vessels when they are too big for a container and cannot be rolled
• The boat is loaded on the shipping hessel by a port crane
We deal with various types of international boat transportation, operating all year round, and meeting the particular needs of every client. Read more about our international shipping service.
HOW MUCH IS THE SHIPPING COST?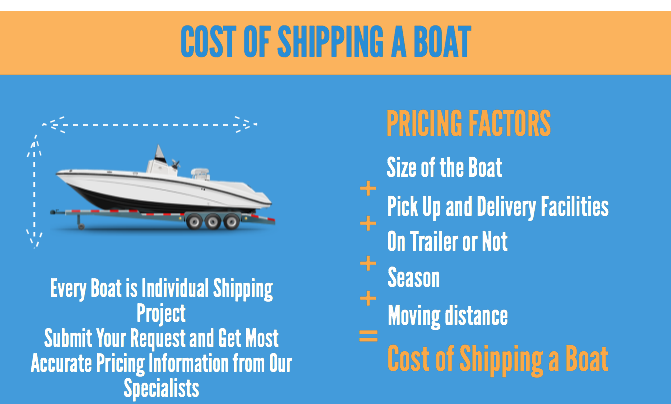 Due to the complicated nature of boat shipping, specific requirements for loading, and transporting each particular vessel and other arrangements needed for transportation the price can vary greatly.
Please, contact us to specify your shipping needs and the boat dimensions and we will provide you with a customized quote in less than 10 minutes.
WHAT WE OFFER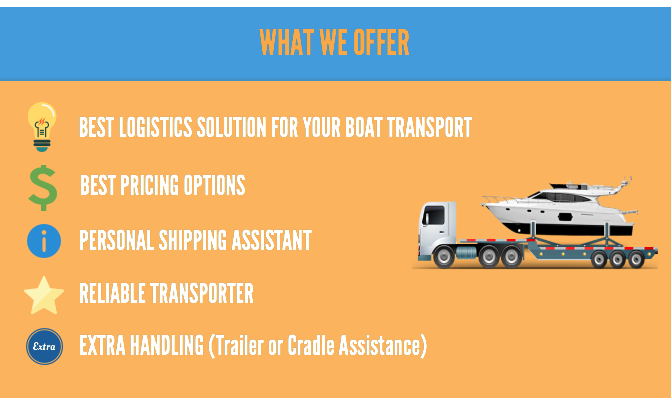 If you are looking for some professional shipping advice you can check this article, or just create your Free Quote and our managers will contact you.