Owning a motorcycle or an ATV is much more than just having a mode of transportation – there is a whole lifestyle to it. These sport and pleasure vehicles were made to bring their owners the feeling of freedom, excitement, and adrenaline out there on the road…
We totally share your passion for these bad boys and will be more than happy to assist you in relocating your favorite two-, three- or four-wheeler. Whether you are purchasing it out of state, moving your household to a different location, going on a vacation, or attending a rally, the shipping procedure will not be very different from regular car shipping.
So in this guide you can get info on such topics as:
Reasons to transport your bike or ATV;
Types of bikes and ATVs;
How can be shipped motorcycle and ATV;
Types of loading;
How to ship byke and ATV overseas?
How long does it take to transport my vehicle?
How much do bike and ATV shipping cost?
4 REASONS TO SHIP A BIKE INSTEAD OF RIDING
We understand your decision-making dilemma at this point: on one hand you really need to get your motorcycle to the destination point safely and timely but on the other hand it's hard to trust somebody with moving your bike especially if you have never done it before.
Speaking from our experience, there are several reasons for hiring a professional shipping company to take care of your motorcycle:
It's cost and time effective. Doing a long-distance ride on your bike can be quite pricey and time-consuming with all the gas and hotel expenses, preparation time, and actual travel time. Try checking the cost to ship a motorcycle on your route. The all-inclusive price may turn out to be lower than all the costs spent on riding it yourself.
It's safe and convenient. If you are not a professional biker just yet it can be too dangerous to go on a long trip on the highway by yourself. Having your vehicle moved cross country by a professional carrier in a completely enclosed trailer with lifted air suspension, secured by a special strapping system, and fully insured can be a great option if, say, you need your motorcycle at a rally or an auction in perfect condition. This is also an option if you are purchasing a vintage or luxurious motorbike and need it to be delivered to your garage in perfect condition and on time.
You can relocate several motorcycles at once. Drivers are interested in getting loads with the same pick up and delivery locations as it saves them time on transportation and money on fuel. If you are a lucky owner of more than one motorcycle, hiring a carrier to relocate them all together on the same truck can reduce the shipping cost per vehicle by as much as 10-20%.
No extra mileage on your bike. Every biker knows that as the mileage increases, the engine internals starts wearing down, significantly lowering the efficiency of the vehicle. That's why if you are trying to accomplish a coast-to-coast trip or any other long-distance ride, you might be concerned about saving your bike a longer life.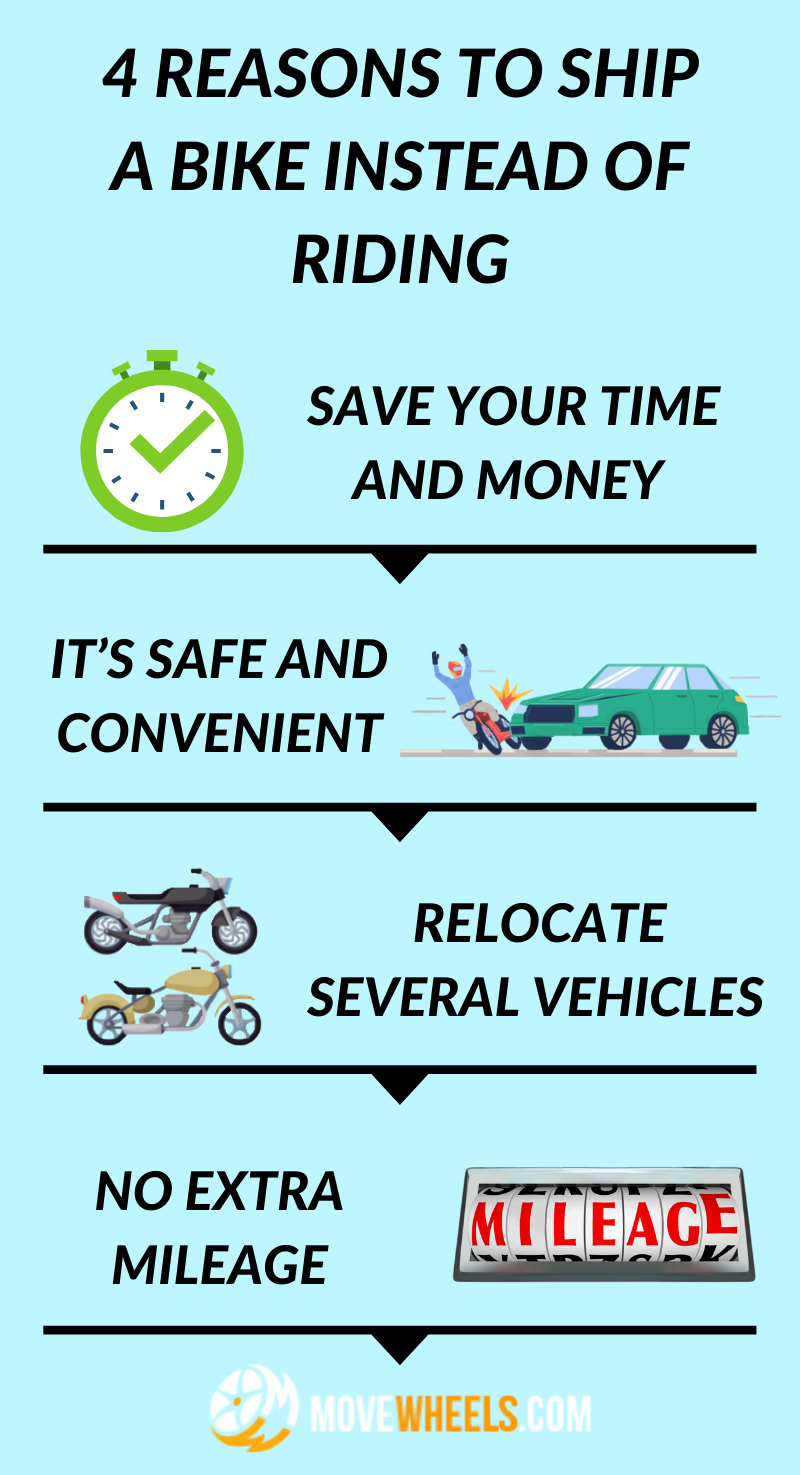 But if you need to transport your vehicle on a short distance, and have a pick up with a special trailer, it makes no difficulties for you to transport your bike or ATV. Nevertheless, we recommend you to pay attention to the process of the loading on and off. Check the video below there are some tips that can help you.
TYPES OF MOTORCYCLES AND ATVS
Today you can find a huge variety of motorcycles and ATVs in all shapes and sizes, designed for different purposes: touring, cruising, sport, extreme etc. But the most important criteria that determine the shipping process and cost are:
The value of a vehicle
If it's a luxurious Harley or vintage World War I veteran bike then you would most likely want to choose an enclosed trailer for relocating it;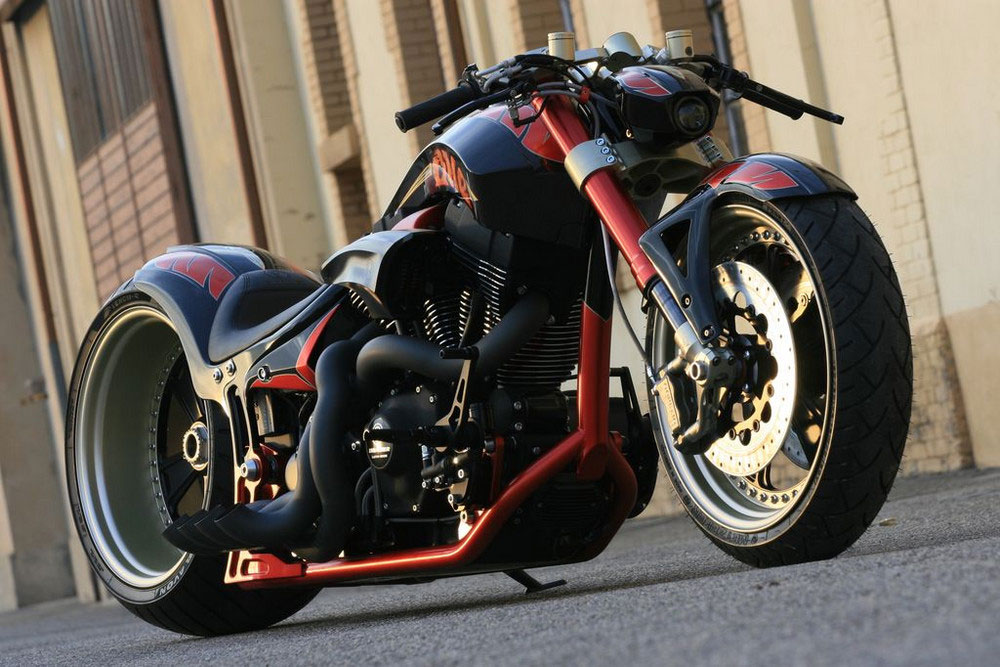 Vast majority of bikes comes within pretty standard range of sizes (about 70"-90"L, 30"-35"W, 30"-35"H) and can easily fit in a bike crate or a trailer even if some of them are a little bigger than standard size bikes.
Since the range of motorcycle sizes is not very wide, most of them can be shipped the same way without any restrictions. Moreover, the price is likely to be lower for smaller bikes and scooters as they don't take up much space in the trailer and can easily be combined with other vehicles.
The size of a vehicle
ATVs (all terrain vehicles) can be divided into four classes based on their size:
Class I (Width: 50" or less, Weight: 1,200 lbs or less) – ATVs
Class II (Width: 50" – 60", Weight: 1,200 lbs – 1,800 lbs) – Trucks, Jeeps (SUV), Sand Rails or Dune Buggies
Class III (Width: 32" – 33", Weight: 200 – 240 lbs) – dirt bikes
Class IV (Width: 60"- 65", Weight: 1,800 lbs or less) – Side-by-Side ATVs, UTVs (utility task vehicles), ROVs (recreational off-highway vehicles)
Shipping options for large ATVs of Class I, all types of Class II and IV ATVs are a bit different from motorcycles due to their bigger size and weight.
They cannot be crated (as maximum outside dimensions of a crate are 98″L, 47″W, 50″H ) but they can be transported as a regular small SUV (note that the price for shipping such ATVs will be higher than shipping a motorcycle).
WHAT ARE THE WAYS OF MOTORCYCLE AND ATV SHIPPING
When choosing the best option for moving your motorcycle or ATV, such factors as distance, vehicle value and type should be taken into consideration in the first place. Depending on these factors, you can choose between open and enclosed carrier.
Since motorcycles and ATVs are smaller than regular sedans they are much more sensitive to carrier's maneuvers on the road. That's why no matter what type of transportation you choose, your vehicle will be safely secured with soft ties on a pallet to reduce any undesirable movement of the vehicle. However, some extra preparations for shipping a motorcycle or an ATV will still be required.
Open or enclosed?
In car shipping enclosed trailers are primarily used for shipping luxurious cars while open car haulers are widely used for all types of cars on both short and long distances. However, the structure of motorcycles and ATVs is much more sensitive to external influence as most of their parts, including engine, are exposed. That's why open type of transportation is not very common for shipping these types of vehicles
However open carrier can still be considered if:
The distance is short and can be covered in one day so that there won't be much damage from road grime or weather conditions and the vehicle won't be as open to theft when the driver stops for an overnight halt.
You are in a hurry and not as concerned about little scratches from kicked-up rocks or such weather impact as rain, then you will be able to find a carrier with an open truck much faster than a multi-motorcycle/multi-ATV enclosed trailer.
The vehicle is crated (secured on a pallet inside a wooden container). A crated motorcycle or ATV can be transported on a flatbed with a special harness system.
The vehicle is oversized and requires transportation by a flatbed or a lowboy truck.
More than three vehicles need to be shipped at once. In this case a whole flatbed truck is hired to load and ship them.
Enclosed carrier is usually considered if:
The distance is long and requires more than one day of traveling.
You are flexible with the time so that we would be able to find you the most suitable and reliable carrier.
The size of a motorcycle does not exceed 108"L and 46"W.*
The size of an ATV does not exceed 90"L and 60"W.*
*if your vehicle doesn't meet these size restrictions (i.e. large Side-by-Side ATV) it is considered as oversized and requires a special procedure for oversized vehicle shipping.
Types of enclosed shipping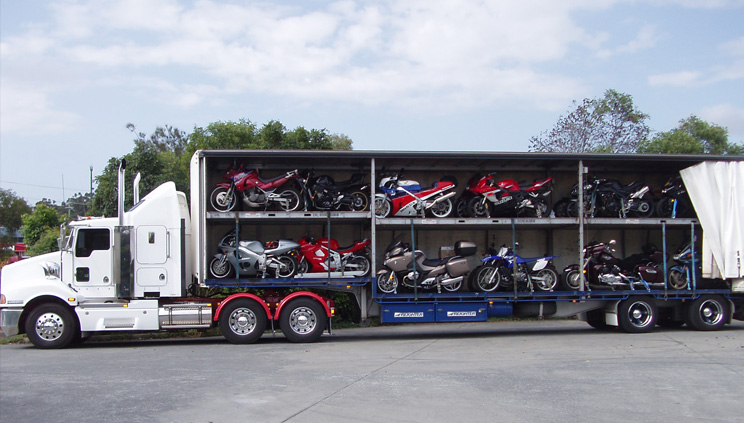 Enclosed method of shipping bikes and ATVs has several options to choose from:
Crated shipping
This is the most common and safe way of moving motorcycles and ATVs which implies securing your vehicle on a pallet inside a wooden crate. Such crating protects both your vehicle and other vehicles shipped alongside. Crated shipping requires certain preparation: draining all fluids from the bike or ATV, disconnecting the battery, removing the mirrors and sometimes handlebars and the most important – getting an actual crate.
Where can I get a crate?
Use the original crate if it is provided by the manufacturer
Find a used crate at a local bike shop
Order a customized crate from companies like Quick Crate
Make it yourself (see useful tips for building a crate)
When getting a motorcycle or ATV crate, keep in mind that the outside dimensions of a crate cannot exceed 98″L, 47″W, 50″H. Thus, crated shipping cannot be used for shipping ATVs of Class II and IV as well as large examples of Class I
Uncrated shipping
This type of shipping does not require pallets or crates as the carrier's trailer is equipped with special harness system which secures your bike or ATV to the walls and the floor of the trailer using soft tiedown straps.
Metal pallet shipping
The carrier provides with a metal pallet and soft tiedowm straps to secure your bike inside the trailer, creating a perimeter of protection around your vehicle.
Wooden pallet shipping
Just the same as metal pallet shipping with the only difference that the pallet is made of wood and costs a little less than the metal one.
ALL MENTIONED TYPES OF TRANSPORTATION ARE NOT ONLY SAFE BUT ALSO COMPLETELY COVERED BY CARRIER'S INSURANCE
TYPES OF LOADING
Types of loading a motorcycle or an ATV on the truck/trailer are closely connected with the type of shipping you choose to go with.
Ramp. If the truck's ramp is wide enough, the driver can simply walk a motorcycle or an ATV onto/into the trailer.
Ramp + winch. The vehicle can be loaded up the ramp with a winch.
Liftgate. Some trucks have a liftgate on the rear. A bike or an ATV is put on a special platform on the back of the truck and lifted to the level of the trailer floor and then simply rolled inside.
Pallet + forklift. The vehicle has to be secured on a pallet first and then lifted and put on/inside the truck by a forklift.
SHIPPING BIKES AND ATVS OVERSEAS
Planning to sell your motorcycle or ATV abroad? Attend a rally or show in a different country? Go cruising around Europe? We deal with various types of international transportation, arranging shipments to any country and meeting particular needs of every client. There are three common ways to ship a bike or ATV:
Container shipping
The most common and cheapest option for shipping since a container is usually shared between several vehicles. Vehicles are loaded into the container by a forklift.
RoRo shipping
Short for "Roll on/Roll off"
More expensive than container shipping as a special crate or pallet will be required for each vehicle. A motorcycle or ATV is secured on a pallet or in a crate and rolled up the ramp to the transport ship.
Airplane shipping
The fastest and most expensive type of transportation. Vehicles are safely strapped on a pallet or inside a crate in a special luggage space inside a plane. We can arrange international shipping from a port if you plan to drive your car there yourself or hire a driver to pick up the vehicle at your front door, take it to the port and proceed with international shipping.
HOW LONG DOES THE SHIPPING TAKE?
The shipping time consists of two parts: the pick up window and the actual transit time.
The pick up window mostly depends on the type of shipping you chose for your transportation: carriers with open haulers as well as trailers for crated vehicles can be found in 1 day (unless the pick up area is rural or remote) while getting a carrier with a pallet can take up to 1 week.
The actual transit time depends on the distance and road conditions. The drivers typically cover about 300 miles per day. See the table of correlation between time and mileage.
We will be reporting to you on all the options we find for shipping your bike or ATV so that you can choose the one that suits you the best.
HOW MUCH DO I PAY?
As you can see, there are a lot of factors that can affect the price of the shipment:
Size and type of the vehicle
Type of shipping and loading
Carrier availability in you area etc.
Nevertheless, the cost to ship a motorcycle or a small ATV is cheaper than shipping a regular sedan as they take up less space and can be combined with other vehicles.
Once you submit a request or contact us directly we will be able to provide you with a customized quote for shipping your particular motorcycle or ATV right away.