Cheap Car Shipping
If you plan to relocate and look for the best and most affordable car transport services, you are on the right path. We have done the research and prepared some useful tips for finding the cheapest way to ship your car while having the car insured and transported by experienced and licensed drivers.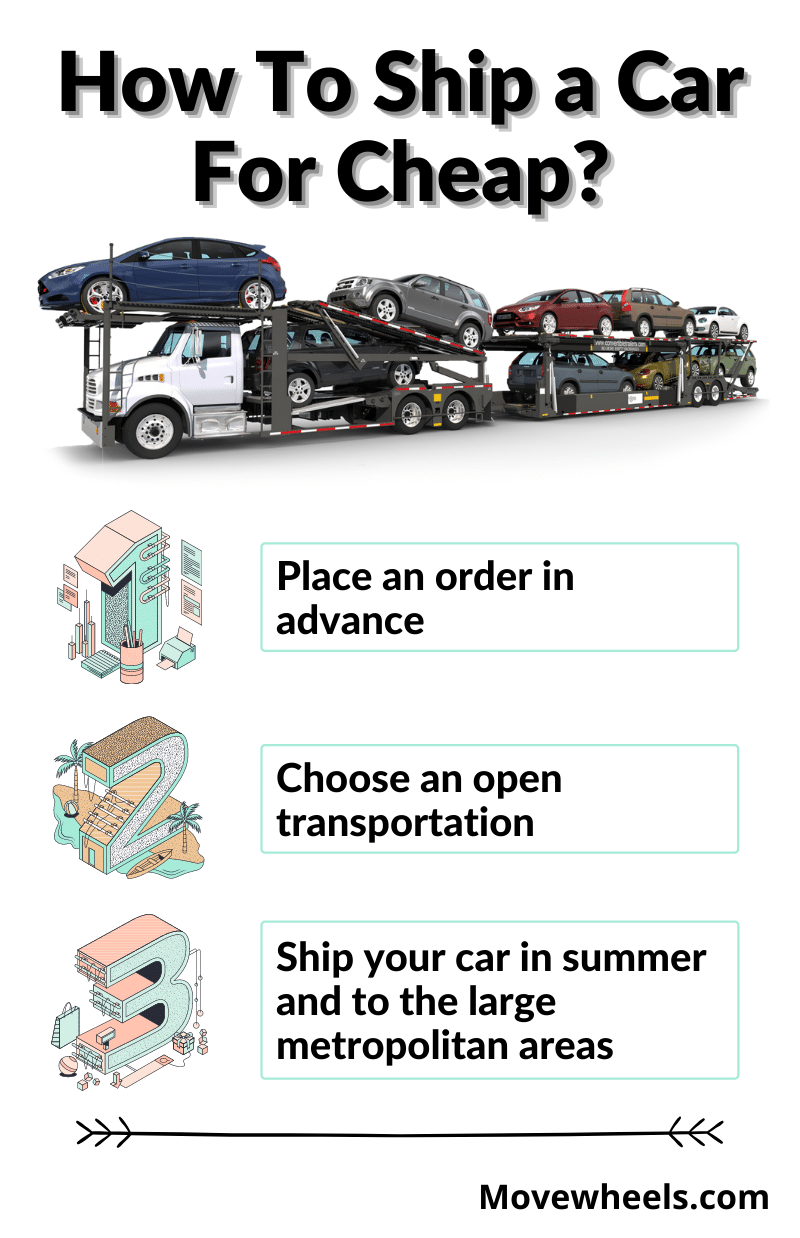 When you plan your move, you are probably tempted to choose the cheapest quote you receive. Unfortunately, auto transport is more complicated than just picking a shipping company offering the lowest rate. And if you have already shipped a vehicle, you know that the lowest auto transport rate may suddenly turn into a higher one during shipping. So how can you choose the right company to save money when shipping a car?
Prepare to the shipping far in advance
First of all, we highly recommend you to place an order as far in advance as possible. It gives the shipping agent more time to negotiate the best price with the driver. We also advise you to be open with the dates and have at least a 7-day window for pick up if you want the cheapest price or a 3-4 days window if the average price is okay for you. Therefore if one driver is asking for a higher rate, the company will be able to find a driver who agrees to move the car for less but will be able to load the car some days later.
Open car shipping much cheaper than an enclosed one
Secondly, we suggest you choose open transportation rather than an enclosed one. You have probably seen the big open trailers near the dealerships. This type of trailer is much cheaper since it can carry up to 13 vehicles at a time. Of course, there are small trailers that carry 3-5 cars, but they are used for short distances only (up to 700 miles).
Avoid snowbird season
Another thing you should consider when moving to another place is the season. Usually, people are relocating during spring and autumn, which is called the snowbird season. In spring people from southern states like Florida, Arizona, California move up north to the states like New York, Massachusetts, New Hampshire, Michigan, Oregon, and Washington to avoid unbearably hot and humid weather. And in autumn this happens again but another way round since people want to avoid freezing winter weather.
During the snowbird season, there are much more vehicles than the drivers can move at a time so it starts to work like an auction for a spot on the trailer – the more you are ready to pay, the faster your vehicle will be moved. Therefore, if you are moving to one of the snowbird states, we recommend you to relocate during the summer or winter months to avoid high shipping costs (sometimes it's even twice more than the normal shipping cost).
Shipping vehicles to the metropolitan area is much cheaper
And the last thing we would like to advise you on is choosing the pick up and delivery addresses. If you are living in a large metropolitan area, the driver can deliver your vehicle right to your door and it won't cause any extra shipping costs.
But if your pick up or delivery is located far away from the main highway or it's a small town that is far out of the driver's usual route, your vehicle will most likely be the only one going this way. In this case, you can meet the driver at the highway or choose some big city nearby and meet him there. Sometimes it may save you up to $200-300 and in some cases even up to $500.
How far can I ship my car for $500 and $1000?
Only a decade ago, one could ship a car from coast to coast for $500, but unfortunately, the price is changing rapidly and those days are gone. And this actually raises the question of how far you can ship your car now for $500 and for $1000. Of course, it depends on the type of vehicle, but let's consider a sedan. If you are trying to find the most affordable rate and choose the right season to move, for $500 you can move as far as 1000-1100 miles, and for $1000 it can be up to 2000 mi. As result, if you are going to ship your car cross country be ready that it could cost more than $1000-1200, depending on the route and type of the car.
Let's take a look at some more specific routes: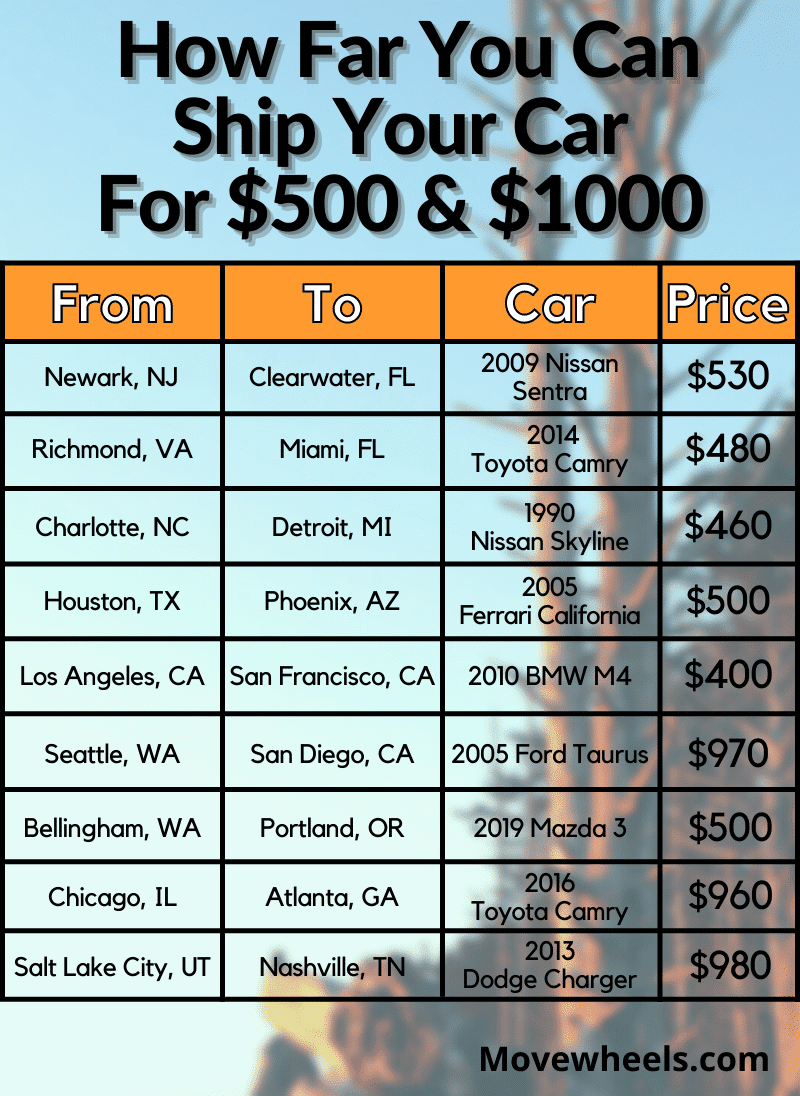 If you have any questions about affordable vehicle shipping or want to check the price for a specific route, do not hesitate to contact us or follow this link. Please note, that we do not require any kind of prepayment and quotes may change depending on the season and availability of drivers on the route.
Cheap car shipping FAQ
Does the price of shipping affect the insurance coverage?
Our company offers 4 different packages to suit all the customer's needs:
·       flexible (the lowest rate possible if you have a 7-day window for pick up);
·       recommended (average  price with 4-day window pick up);
·       expedited (expedited pick up and delivery but price may be higher than average);
·       enclosed (flexible pick up, expedited delivery, and reasonable price for enclosed shipping)
Whether you choose a flexible package, which is the cheapest way to ship the car, or an enclosed one, your car will for sure be insured. The only difference is the insurance coverage, which is $100 000 for any kind of an open trailer and $250 000 for an enclosed one.
What documents do I need for cheap car transport?
To ship your car within the mainland we only need the car key and the car itself. If you are planning to ship the car overseas you will need your ID card, VIN number, and the title of the vehicle.
Can I ship any personal items in the car? 
If you are moving the vehicle within the mainland, you can put up to 100lbs inside the trunk or in the backseat below window level, but if you are shipping the car overseas please check the rules of the shipping company since they may forbid loading the car with any items.
Besides that, please note, that those personal belongings are not covered under the carrier's insurance, and in case of any accident, you won't be able to make a claim.
How to prepare a vehicle for shipping?
First of all, make sure you have the car keys at the pickup location since the driver needs them to load the car on the trailer even if the car is inoperable.
Also, don't forget to remove personal items if you are not planning to ship them alongside the vehicle and make sure it is only a quarter tank of fuel. If it's full, it will make the vehicle heavier and at the weigh station the driver may receive a ticket for being overweight which may add some unexpected shipping costs.
And of course, we want to remind you to keep safety measures by wearing a mask when meeting the driver and paying him.
How to pay for vehicle transport?
The payment is divided into 2 parts: after the vehicle is picked up we charge a partial deposit of $180 and the remaining balance you pay to the driver at the delivery location with cash or any certified funds (money order or cashier's check).
How far in advance I will be notified about pick up?
If you ordered the transportation far in advance, we will notify you with the estimated pick-up date 2-3 days in advance, once the driver is assigned to your order. The driver then will also call you the day before the pickup to negotiate the exact time. If the pick up location is a big metropolitan area, the driver may also call you a few hours before to let you know he is in the area.
Ready to Get Your Cheap Auto Transport Quotes?
Online booking and 24/7 support