In 2023, more people than ever are catching onto the travel trailer trend. Why? Because it offers a comfortable, cost-effective way to satisfy the wanderlust that's capturing the hearts of RV enthusiasts, vacationers, and new travel trailer owners across America.
But one question lingers: "How do I get my travel trailer from point A to point B?" Don't worry, we've got you covered. This article is your go-to guide for everything about travel trailer transportation, from important factors you should consider when shipping, how to get your trailer road-ready, what to expect upon delivery, and savvy tips to ensure a hitch-free shipping experience. And for those seeking a dependable service provider, we'll be spotlighting the remarkable travel trailer shipping services of Move Wheels. Buckle up, and let's hit the road!
The Rising Trend of Travel Trailers in 2023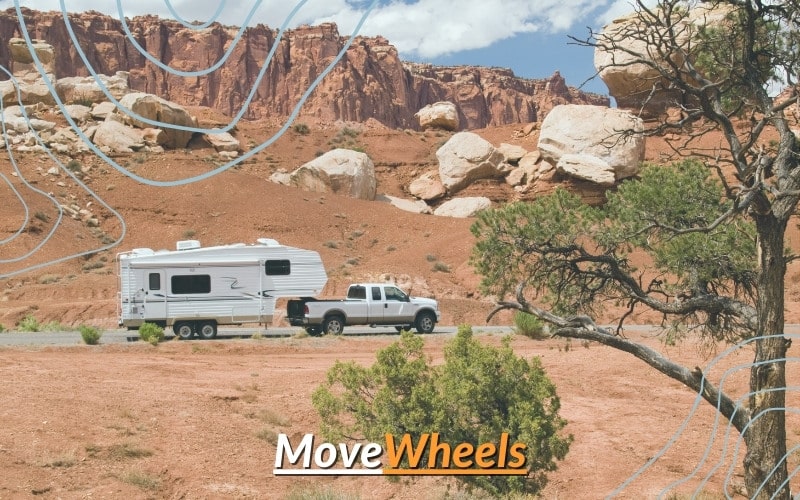 As we cruise into 2023, travel trailers are hitting an all-time high in popularity. They offer the ultimate trifecta – comfort, convenience, and cost-effectiveness, making them the preferred choice for those looking to roam the country without straining their wallet. In a world still reeling from the pandemic and a heightened need for safe and socially distant vacation options, travel trailers are emerging as a popular solution.
But that's not all. Travel trailers offer a smorgasbord of choices to suit every traveler's taste. Whether you're seeking a compact trailer for an intimate escape, or a roomy rig to accommodate your family on a memorable road trip, there's a travel trailer designed just for you.
Couple this with the ease of towing and setting up a travel trailer, and you've got a recipe for hassle-free exploration. As technology keeps pace with the rising demand, we're seeing travel trailers equipped with modern amenities, from solar power capabilities and smart appliances to environmentally friendly designs.
The soaring trend of travel trailers in 2023 only amplifies their versatility and allure. With the aid of a reliable transportation service like Move Wheels, shipping your travel trailer to your dream destination becomes a breeze, ensuring your adventure starts without any hiccups.
Crucial Factors to Consider When Shipping a Travel Trailer
Shipping a travel trailer might initially appear daunting, but with adequate preparation and understanding, the process can be transformed into a seamless and worry-free experience. Here are some key elements to consider when you're planning to transport a travel trailer: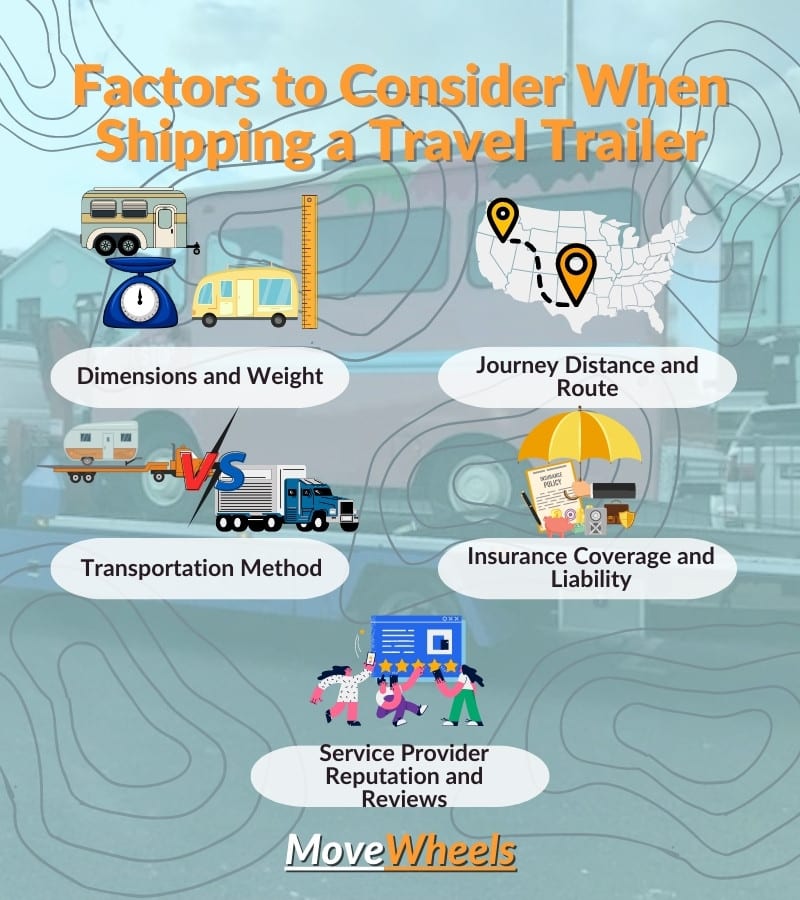 By keeping these pivotal considerations in mind when shipping your travel trailer, you're paving the way for a hassle-free transport experience. Let's now dive into how to prepare your travel trailer for shipping, a step that plays a key role in the transportation process.
How to Prepare Your Travel Trailer for Transportation
Getting your travel trailer primed for transport is a vital step in safeguarding it against any potential mishaps during the journey. Here's a rundown on some key steps to get your travel trailer ready for transport: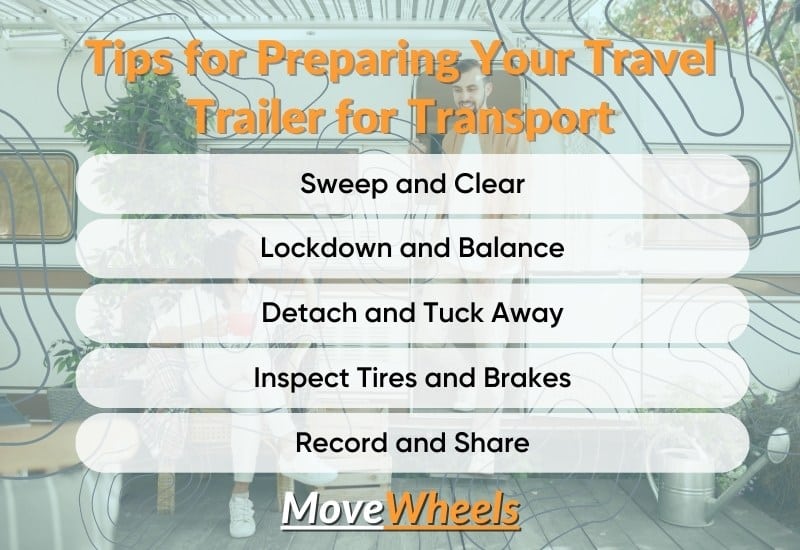 By adhering to these important steps, you're setting the stage for a safe and secure transit for your travel trailer. Partnering with a trustworthy, experienced transport service like MoveWheels.com is also key to ensuring your travel trailer is handled with utmost care and reaches its destination promptly and safely. Next, let's explore what you can expect when it comes to delivery.
Delivery Expectations: Timeframes, Conditions, and Post-Delivery Checklist
Grasping the delivery expectations for your travel trailer transportation is key to ensuring a seamless, stress-free process. Here's what you need to know about delivery expectations:
Timeframes
The expected delivery timeframe for your travel trailer's journey will hinge on several variables, including distance, the selected route, and the method of transport. Collaborating with a trustworthy transport service like MoveWheels.com is critical, as they can provide an estimated delivery window and keep you informed throughout the transit.
Conditions
It's essential to articulate the delivery conditions for your travel trailer. This includes specifying whether the delivery will be to your doorstep or another location. Make sure to mention any special requests, like offloading on uneven ground or tight spaces.
Post-Delivery Checklist
Once your travel trailer has arrived at its destination, it's time to run a detailed post-delivery check to ensure everything is in order: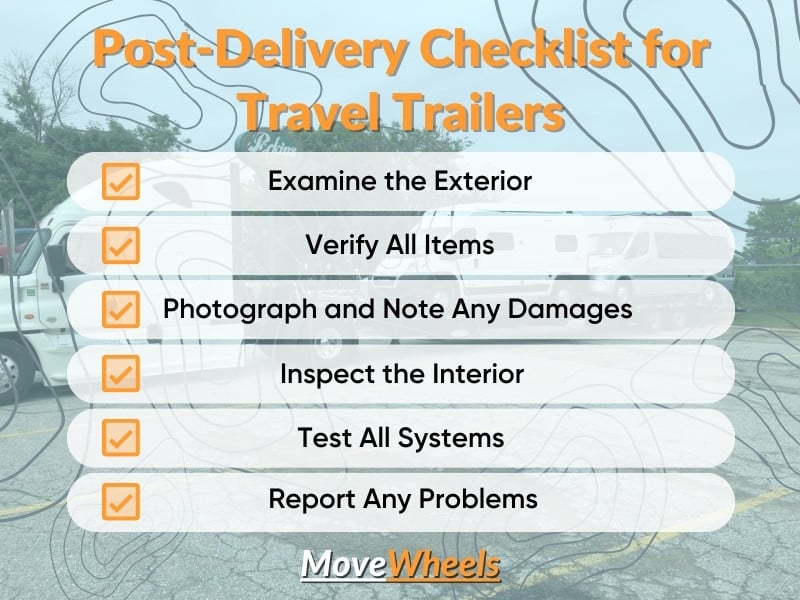 By getting a handle on these delivery expectations, you're well on your way to a successful, stress-free transport experience for your travel trailer. So, with the delivery expectations in check, let's move on to tips and best practices to further ensure a smooth shipping experience.
Ensuring a Smooth Shipping Experience: Tips and Best Practices
Navigating the transport of a travel trailer can be intricate, but a handful of guidelines can streamline the process and pave the way for a relaxed, stress-free experience. Here are some fundamental pointers to consider: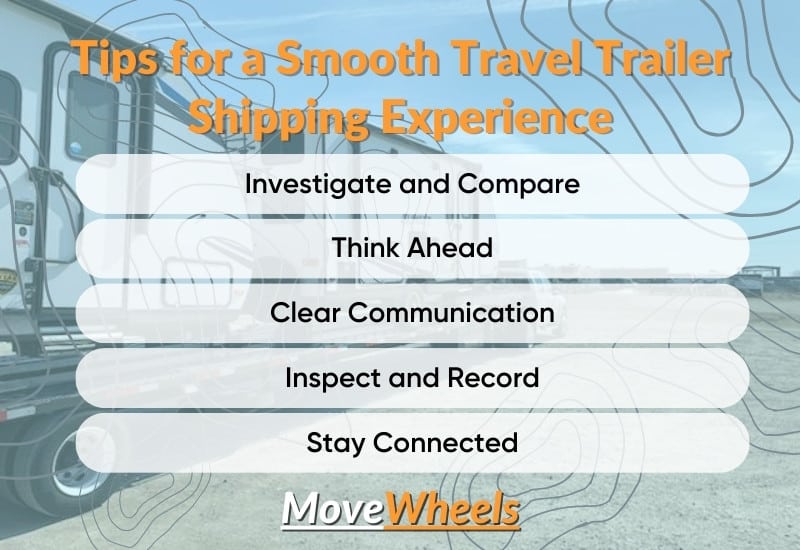 By embracing these tips and best practices, you're setting the stage for a smooth and worry-free travel trailer shipping experience.
In wrapping up, the journey to successfully shipping your travel trailer encompasses a multitude of considerations, from acknowledging the burgeoning trend of travel trailers in 2023 to mastering the specifics of transportation. Diligent research, comprehensive preparation, and setting clear delivery expectations form the backbone of a smooth process.
While it might seem intimidating initially, remember that a seamless, worry-free experience is well within your reach with the right guidelines and an adept service provider. Choosing a company like MoveWheels, that stands on a reputation of reliability and expertise, makes the process even easier. Here's to the thrill of the open road and the countless adventures waiting just beyond the horizon!
FAQ
What is the maximum size of a travel trailer that can be transported on the road?
The maximum size of a travel trailer that can be transported on the road may vary by state and jurisdiction. It is essential to check the local regulations and obtain the necessary permits for oversized travel trailers.
What should I do if my travel trailer is damaged during transportation?
If your travel trailer is damaged during transportation, it is crucial to document the damages and notify the transportation service provider immediately. You should also work with the provider to file an insurance claim and seek compensation for any damages.
Can I transport my travel trailer myself?
It is possible to transport your travel trailer yourself, but it can be more challenging and risky than working with a transportation service provider. You may also need to obtain necessary permits and licenses, depending on the size and weight of your trailer.
What should I do if I have a problem with my transportation service provider?
If you have a problem with your transportation service provider, it is essential to communicate your concerns with them and try to resolve the issue. If you are unable to resolve the problem, you may need to seek legal recourse or file a complaint with the appropriate regulatory agency.