Short distances are generally covered quickly and the chances of covering them safely and on time are much higher compared to traveling long distances by yourself. This is true whether you travel yourself or transport something across long distances.
Thus, the distance is huge and you will need to cover almost 2800 miles, in changing weather conditions, on long, dusty, and lonely roads. This distance will require at least two days of tiring driving and put a lot of strain on you, the driver, and, of course, your car.
But, when you hire a reliable auto transport company, you can be sure that your car will be delivered to you safely and within the period that the company agrees on. Because of the huge distance, this period is likely from a week to ten days, if not more.
Ship A Car Coast to Coast
In 3 Easy Steps
If you are looking to transport your vehicle, We'll offer you a great auto transport service quickly, safely, and simply in 3 easy steps.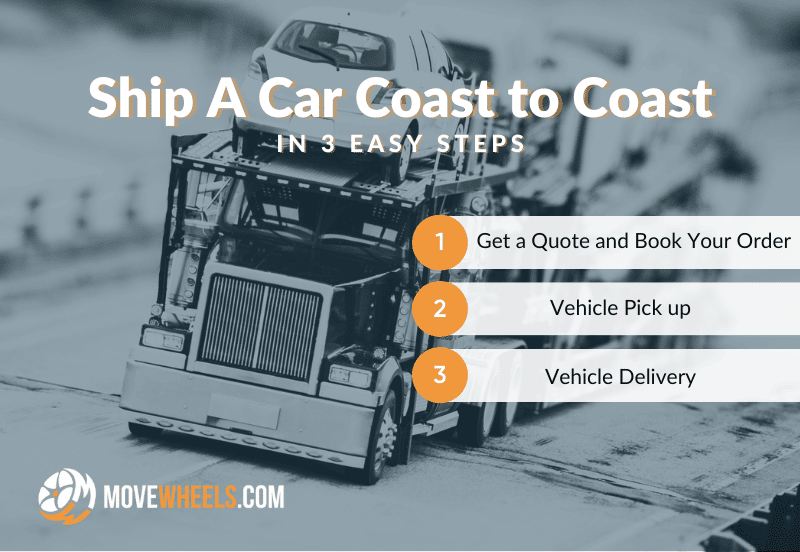 Get a Quote and Book Your Order
Coast-to-coast auto transport quotes can vary depending on your car's size, weight, and modifications. Get an instant quote and book your order from our online calculator, phone, or live chat. We'll then assign one of our truckers to you for up-to-date information about the pickup date.
Vehicle Pick up
The driver will contact you before pick-up arrival at the arranged location and complete a detailed inspection. You can then release your car from home or work and always receive information about its relocation with the help of our shipping specialist via phone or live chat.
Vehicle Delivery
The driver will contact you before arrival, complete another detailed inspection, and boom your vehicle is safely delivered. We are one of the top-rated car shipping companies in the United States with full insurance coverage and a team of shipping advisors ready to help. Ready to ship? Contact us at (904) 204-8547 or book directly on our website.
How Does Coast-To-Coast
Car Shipping Work?
When you think of coast-to-coast auto transport, you would want to be extra cautious when choosing a transportation company. Coast-to-Coast auto transport service implies transporting an automobile from one end of the country to another.
For instance, you can use the coast-to-coast auto transport service to move your car from the east coast to the west coast. However, you don't need this kind of service only for moving your vehicle from one coast to another. But you can use this service even if your starting point and destination point happen to fall somewhere along the route.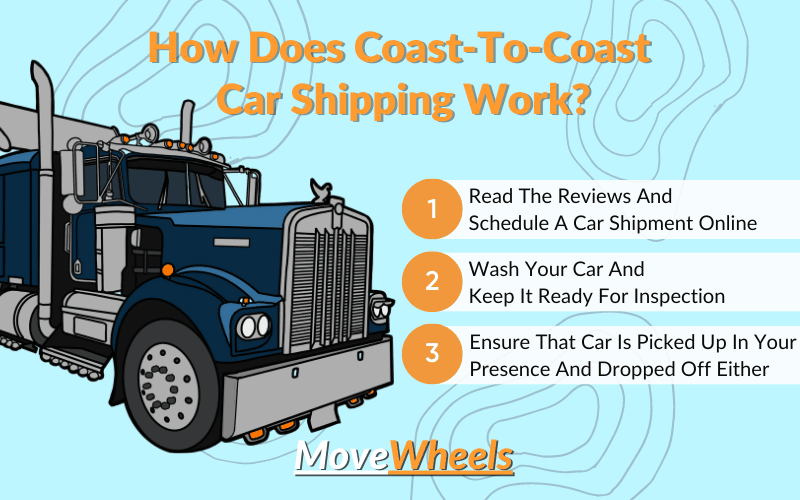 To start, go online and read the reviews of coast-to-coast auto transport companies. Compare quotes, choose the transport method of your choice(open or enclosed), and choose the one with a higher rating, full insurance coverage, and license from The Federal Motor Carrier Safety Administration (FMCSA).
The next step is to wash your car and keep it ready for inspection by the driver. Deactivate alarms, remove valuable items, and take photos of your vehicle to spot scratches and stains before you hand it over to the driver.
Finally, timely pickup and dropoff also ensure that your car is picked up in your presence and dropped off either with you or your representative, who would be present to receive your vehicle from you.
How Much Does It Cost
To Ship A Car Coast To Coast?
Whether you're shipping your car from Hawaii to the east coast or from coast to coast, the cost depends on several factors; distance, your vehicle's size and weight, and transport method excluding any additional fees.
Generally, for open auto transport, the cost of shipping a car from the east coast to the west coast is about 0.40 to 0.60 cents per mile based on the current fuel price at shipment. So a 3000-mile trip would cost at least $1200 for a standard vehicle.
While an average cost of $2 per mile (40% to 60% addition) for enclosed auto transport. Let's x-ray the different factors that influence the cost of shipping cars from the east coast to the west coast.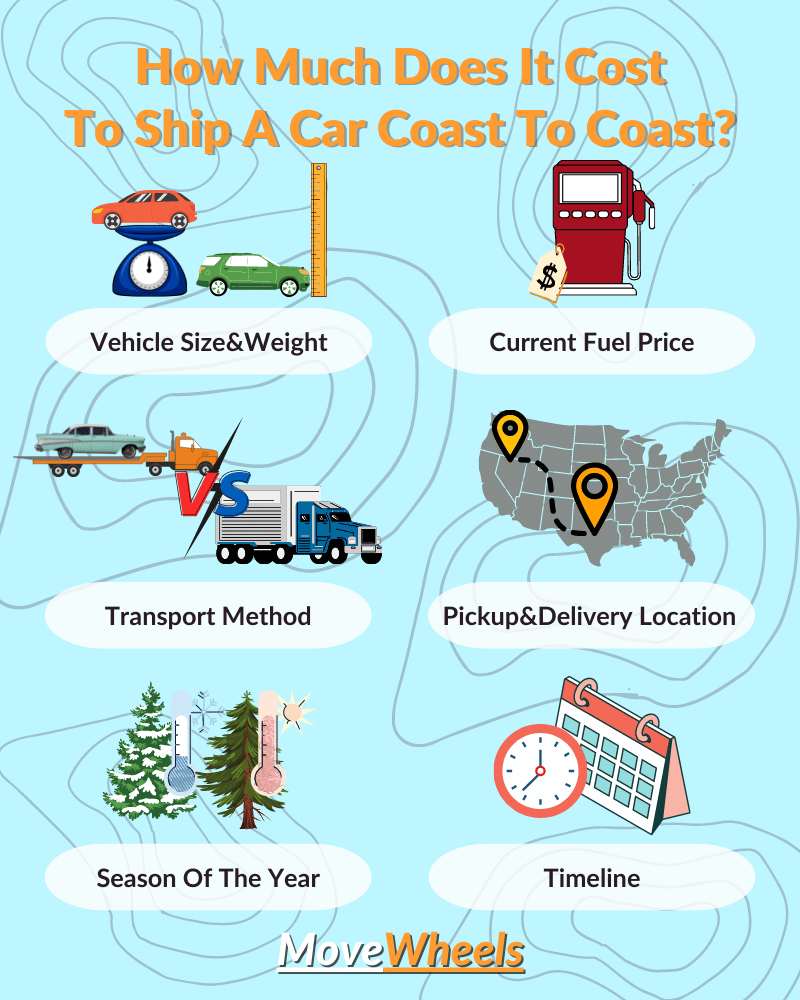 #1. Vehicle Size And Weight
Your vehicle size is a significant determinant because of the limited space of the hauler, which limits the number of cars it can carry. For example, it will cost more to move a truck or full-sized SUV than a standard vehicle. Therefore, the more space your vehicle occupies, the more you will pay.
Moreover, your vehicle weight also contributes to the cost of shipping. If your vehicle is weightier than a normal vehicle, expect to pay more. This is because your vehicle's weight adds to the weight of the trailer which makes it consume more fuel.
#2. Current Fuel Price
If you're shipping your car in a season when the fuel price is higher than normal, it will cost more because the higher the fuel price, the more liters the truck will consume thereby causing you to pay more.
#3. Transport Method
Shipping companies provide you with two methods: open auto transport and enclosed auto transport. For open transport, your car will be on an open hauler exposing it to harsh weather elements. Whereas, the enclosed method provides extra protection and safety for your car.
However, the choice of the transport method will depend on your car's value and model. If you're moving a vintage or high-end car, you'll most likely choose the enclosed option for extra safety and protection. Whereas, for a used car, open auto transport might be a good option.
#4. Pick-Up And Drop-Off Locations
Your pick-up and drop-off locations are essential to your shipping cost. Usually, it is cheaper to ship your car to and from urban areas than shipping to and from rural areas.
Also, choose between the delivery types. Decide on whether you need door-to-door delivery or accept a terminal delivery. Of course, rates for these two will be different.
While door-to-door delivery is more convenient, thus it comes at a cost. However, in the case of terminal delivery, you will have to specify the time and place as companies will not like to have your car parked at their facilities for long periods.
#5. Season Of The Year
The different seasons of the year have a significant impact on the cost of shipping. For example, during summer, many people relocate to several parts of the country causing demands to be high. If you want to ship your car in the same season, then expect to pay more.
#6. Timeline
From the pickup date to the delivery date takes an average period of 7-14 days or even more to ship cars to Hawaii from the east coast. When availing of the coast-to-coast transport service, you should heed some factors which are of utmost importance to you especially owing to the long distance your car would need to travel to reach its destination.
One of the most important factors is time. You would surely want the car to be picked up from its current location on time, to ensure that it also reaches its destination on time. For express service, you'll need to pay about 30% more.
Documents That Are Necessary For Car Shipping From Coast-To-Coast
Coast-to-coast car shipping requires multiple documents. Before entrusting your car to a shipping company, provide the necessary documents. These documents are required to make sure the shipping runs smoothly.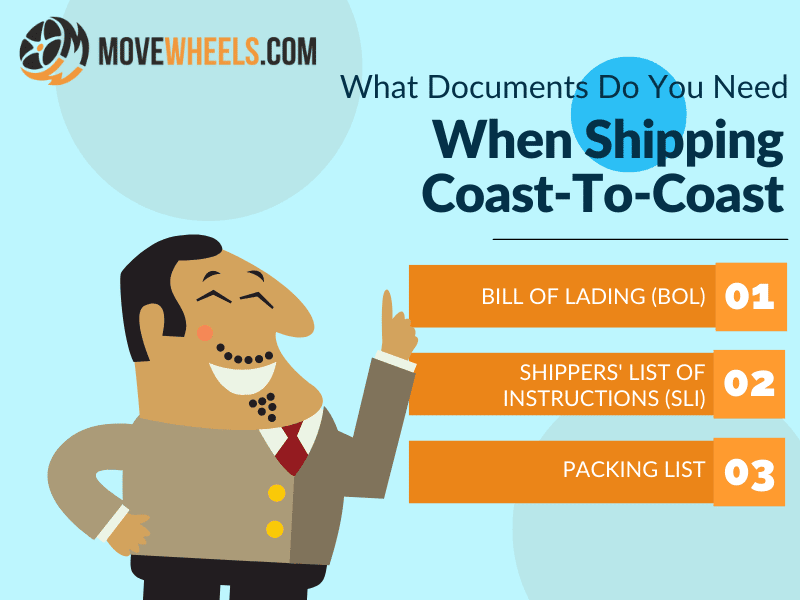 #1. Bill of Lading(BOL)
The Bill of lading is a legal contract binding the shipper and the shipping company. It is prepared by the shipping company detailing the vehicle's specifications in shipment. The BOL details include; the name of the carrier, shipper's address, shipment details, consignee address, and who is paying the carrier.
#2. Shippers' List of Instructions (SLI)
This is a shipper's letter of instruction that contains all the shipment details and authorizes the carrier to move your vehicle on the shipper's specific instructions. It is a non-law required document and contains relevant information such as the name and address of the shipper, the name and the address of the consignee, a description of the vehicle in shipment, and its final destination.
#3. Packing List
The packing list is essentially a detailed summary of what you are shipping, how much of it is sent, and the destination. The packing list is normally overlooked or not taken as seriously as it should be. However, it is one of the most significant documents when sending or receiving your shipment.
Inaccurate information on the packing list can cause holds and additional fees. Details that must appear on the packing list include the shipper's name, the value, weight, and the volume of your vehicle.
In conclusion, a reliable coast-to-coast auto transport service would ensure that you face no hassles and hence you need not spend any more time resolving any issues relating to its transportation.
If you are looking for such a reliable and timely service, check out our quotes online. Our website brings you the best of offers for auto transport service. That's not all, we make every effort to ensure that you not only get your car transported safely to its destination (as scheduled) but you can also get timely updates which will keep you satisfied knowing that everything is going as per the stipulated schedule.
How do I get a quote for shipping my vehicle?
To get an instant quote, you can visit our website or call (904) 204-8547 to speak with our shipping specialist. For us to calculate your quote, we need your vehicle specifications, your pickup and delivery locations, and the day your vehicle will be ready.
Can someone receive my vehicle at the terminal?
Yes, but the person must come with a notarized letter and proof of identity authorizing to take your car in your name.
Do I need a license plate to ship my vehicle?
No, we just need your vehicle and the key.
Do I need to make an initial deposit?
Yes, we require you to pay some part of the agreed price and the balance to be paid on satisfactory delivery.
Ready To Get Your Instant Quote?
Just fill in the form and get your vehicle shipping rates