A car auction can be a treasure trove for prospective car buyers seeking unique vehicles or budget-friendly options. This article will guide you through the process of buying cars from auctions and show you how to effectively utilize auction transportation services in 2023. Let's dive into this exciting journey.
Understanding Car Auctions
Ready to dive into car auctions? Car auctions are bustling marketplaces where vehicles are bought and sold through competitive bidding. They can be an excellent source for finding a diverse range of vehicles at potentially lower prices than traditional dealerships.
In 2023, the landscape of car auctions presents two dominant types: Public auctions and dealer auctions.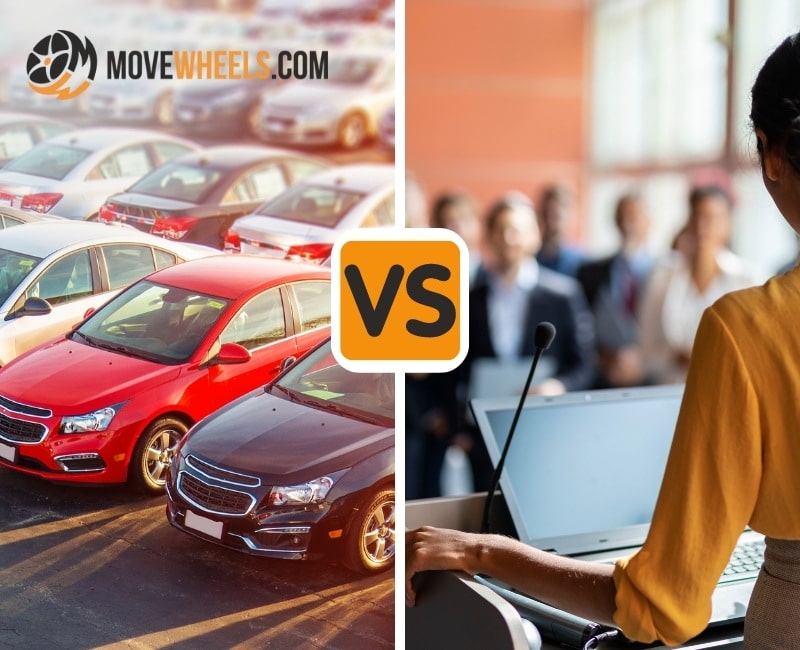 Dealer Auctions
Exclusive playgrounds for licensed dealers. They're packed with high-quality cars that dealers have traded in or returned. Top-grade cars at bargain prices are common, but getting in is a challenge without a dealer license.
Public Auctions
Your ticket to finding diverse vehicles at affordable prices. Open to everyone, they're a gold mine for great deals. Watch out though, as cars are sold 'as is' – warts and all.
Next up is getting your auction-bought car home. This is where auction transport comes in. MoveWheels.com offers top-notch services, hauling your new ride from the auction site straight to your home, safe and sound.
Preparing for Auction
Before diving headfirst into the world of car auctions, preparation is key. Here's a quick guide to help you gear up.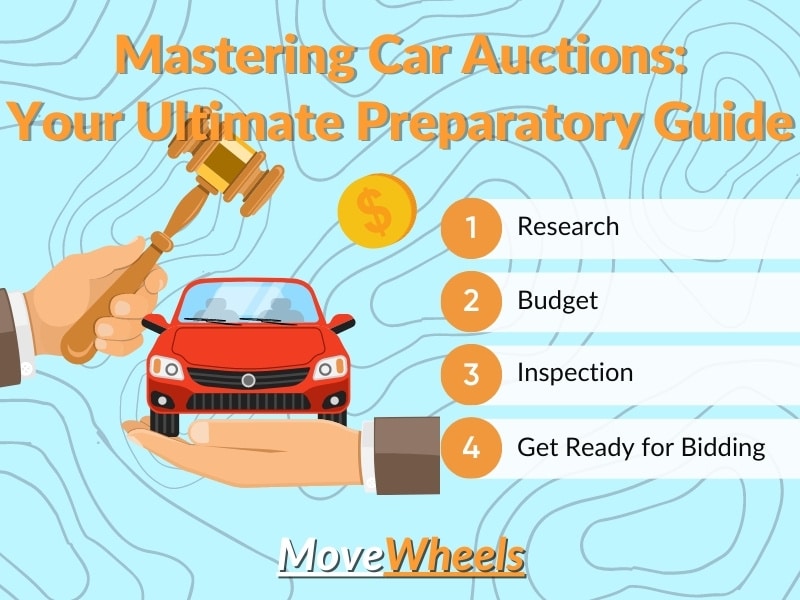 Preparation will help you avoid pitfalls, make informed decisions, and ultimately, score a great deal at your next car auction.
Winning Strategies at Auctions
So, you've done your homework and are now ready to bid. Here's how to emerge victorious in the bustling auction scene.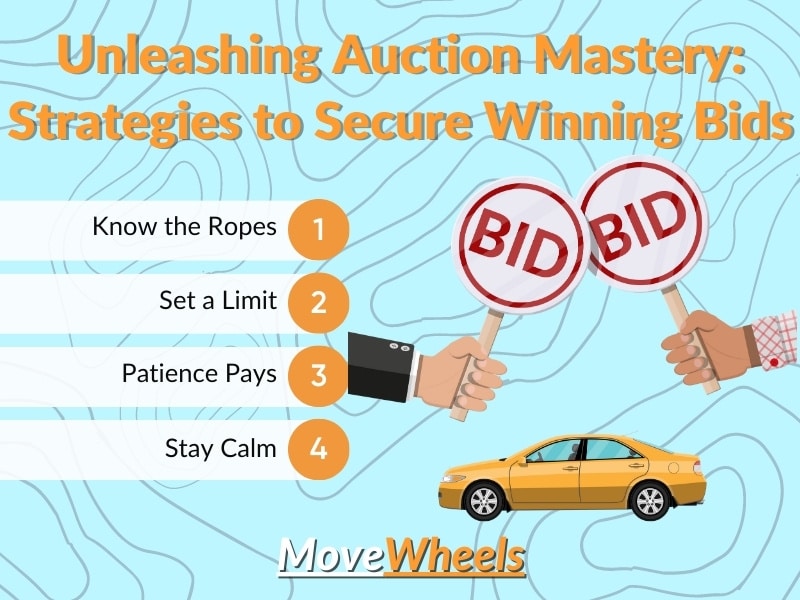 Winning at a car auction is not just about outbidding others. It's about strategy, patience, and most importantly, knowing when to bid and when to hold back. Happy bidding!
Post-Auction Procedures
Congrats on winning the bid! But remember, the auction's end is just the beginning of another crucial phase. Here's what comes next.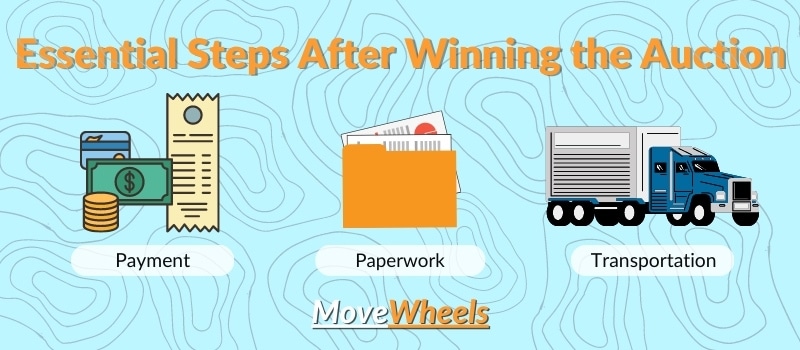 Remember, post-auction procedures are as important as the bidding process. Handle these steps diligently to ensure a smooth transition to becoming a proud car owner.
Final Steps and Tips
You're now the proud owner of an auction-bought car! But the journey doesn't end here. Here are the final steps and some tips to keep in mind.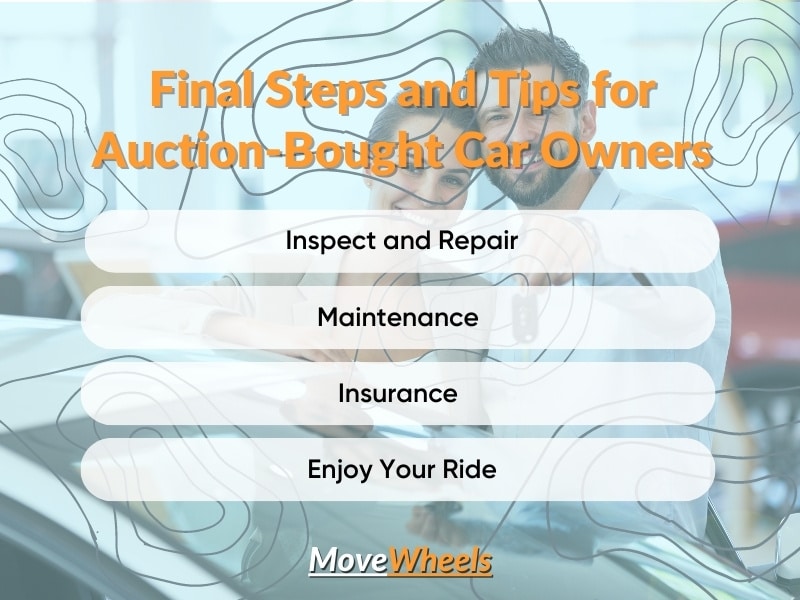 Remember, owning a vehicle is a long-term commitment. Keep these tips in mind to ensure a smooth and enjoyable car ownership experience.
Jumping into the world of car auctions can be an exhilarating ride. With the right knowledge, preparation, and strategy, you're well on your way to finding a gem. From understanding the auction landscape, prepping and strategizing, to wrapping up with post-auction procedures and enjoying your new ride, every step of the journey is key to a successful purchase. Remember, reliable partners like MoveWheels.com are there to help make the ride smoother, ensuring your prized possession safely reaches its new home. So, gear up, step into the auction world, and let the thrill of bidding lead you to your next dream car. Happy auction hunting!
FAQ
Can I inspect a car before bidding at an auction?
Most auctions allow for pre-bidding inspections. It's a good idea to take advantage of this opportunity, either by inspecting the car yourself or hiring a professional.
Are there risks involved in buying cars from auctions?
While auctions can offer great deals, they also come with risks. Cars are typically sold 'as is', so buyers should account for potential repairs and maintenance.
Are there additional costs to consider when buying a car at an auction?
Yes, apart from the winning bid, you'll also need to consider auction fees, potential repair and maintenance costs, and transportation expenses.
What should I do once my auction car is delivered?
Inspect the car for any damage or discrepancies. Address any necessary repairs and keep up with regular maintenance. Don't forget to insure your vehicle.