Moving even within the same city is a rather difficult task, which is extremely difficult to cope with without the involvement of specialists, to say nothing of a situation where a person needs to transport personal belongings, household appliances, a safe, and possibly musical instruments from one state to another.
But such a situation can happen to anyone – someone got the desired position in a developing company, someone cares about the future of the child and wants him to enter a prestigious university, but does not want to leave him, and someone has found a person, without which he cannot imagine his life in the future. The organization of the move involves solving a huge number of issues, the main of which is the search for a company that can be trusted with the transportation of things. For a smooth move, contact Movewheels. We guarantee high-quality services, fast car delivery and the best prices on the market.
Steps To Moving State-to-State
1. Set a Budget
It is very important to know how much money you are willing to spend on moving between states – based on this, the amount of things that you can take with you will be determined, whether it will be possible to delegate cargo packing to someone, etc.
2. Decide on the place of residence
So that you can feel as comfortable as possible in a new place and understand how this city or village suits you, it is worth visiting it (of course, if there is a move for work, then there are no special options). And so, it is important that the new house or apartment is in a convenient place, there is a well-developed infrastructure, etc.
3. Consider different options for moving companies
Here, it is important to pay attention to what kind of reputation the carrier has, and not just the order of prices for services. In order to accurately determine the carrier, it is necessary to think over what things will need to be transported, what the total volume of things to be transported will be, determine the place of loading and unloading of cargo, whether there is a need to provide services for loading and unloading things (and possibly their packaging), etc. Here, however, we note right away that no one can cope with the move better than Compare The Carrier.
But using the services of our company is the best way to move your vehicle to another state.
4. Packing things
If you still decide to take care of packing personal items, household appliances. Children's toys on your own, then you should stock up on packaging materials. We are talking about stretch film, adhesive tape, various markers, etc. If "special" things will be transported, then you should carefully study the features of their transportation and discuss everything with the carrier.
5. Think over all organizational issues
This includes the issues of handing over the keys, agreeing on the date of departure of the car, the issue of receiving things at the place of arrival, mail forwarding, etc.
6. Solve the issue of transporting pets
In order for the animal to be comfortable, it must be transported with you in the car.
7. Pack your personal essentials
It should be understood that having arrived at a new place, for some time you will have to stay without your usual things. It is better to take care in advance about what to send to a new house or apartment in the first place (if there will be several cars). It is better to keep some personal belongings, documents, documents for transportation with you at all times.
8. Hire and schedule a move-out cleaning
This is true both in the case of a change of tenant, and when selling a house. After – it is advisable to immediately give the keys to the new owners.
Tips for Moving State-to-State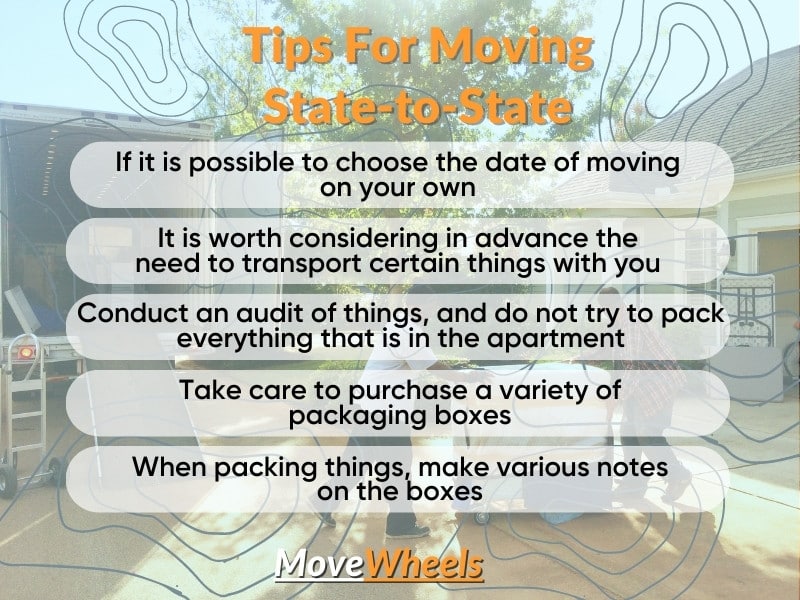 Auto Transport When Move To Another State
When deciding how to move from one state to another, you need to think about other important points – how to deliver the car. Driving an iron horse over a long distance is far from the best idea. Firstly, it is difficult and dangerous, and secondly, it makes no sense to increase the mileage of the vehicle. We will be happy to take care of the transportation of the car and guarantee its safety.
How much does it cost to move from one state to another?
The price of moving from one state to another in each case is formed individually. The pricing procedure is affected by: the distance, the type of vehicle chosen for transportation, the volume of cargo, the need to order related services from a transport company, etc.
How difficult is it to move from one state to another?
Moving from state to state is really very difficult. A person has to face the need to solve various issues, including: cleaning the house, finding a new house or apartment, finding a transport company to deliver things, hiring movers, etc.