Apart from transporting a car through open and closed containers, there are so many options for shipping a car from one place to another. Shipping cars by plane is one such method. However, this is, so far, the most expensive method of shipping a car.
While there are many pros to shipping a car by plane, it has many cons. It is obvious that shipping cars by plane are costly. Nonetheless, it is the quickest and the most convenient way of vehicle transport across the countries. Let us look into the details of car transport by plane and how it works.
How Does Shipping Cars By Plane Work?
If you want to transport your car urgently to a location, then you should consider air freight. If your vehicle is extra delicate and contains some parts that require careful handling, then you can ask the shipping service to use specially designed crates to shift your car. Here is how shipping cars by plane work: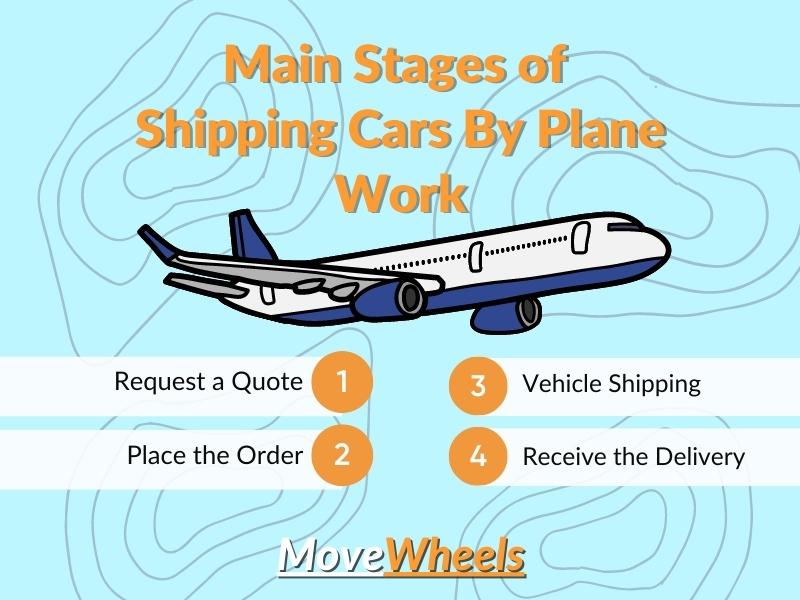 The first step is to request a car shipping quote by mentioning all the necessary details about your car. This will include the year, make and model, and dimensions of your car. The auto transport company will offer you a quote by estimating the cost of transport via a plane.
If you are satisfied with the quote, you can agree to it by letting the company know. They will schedule to collect your vehicle if you ask.
It is on the auto transport company to make the appropriate airline booking for your car and fulfill all the customs formalities. The company will ensure all the airline security and keep check during the process of loading and unloading.
Once your vehicle reaches the city in which it is to be delivered, they will alert the agent to process the formalities further. The auto company is completely responsible for the release of your car and bringing it to their warehouse. They can also ensure safe delivery to your required place if required.
The Pros And Cons Of Shipping A Car By Plane
Undoubtedly, shipping a car by plane is a good choice, but whether or not it is the right option for you depends upon the type of car you have and your preferences. We are listing down the pros and cons of shipping a vehicle by plane to help you understand better whether you should go for this option or not.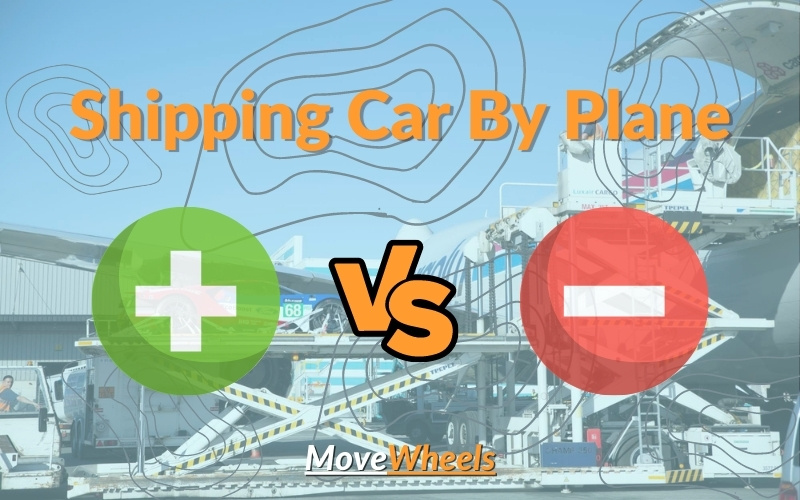 Shipping by plane is faster than all other modes of transport.
It is the cleanest way of transportation, so if you own a luxury car, you should pick air transport without any second thought.
Less shifting during transport means smooth transportation and a safe experience.
It is a reliable method when it comes to shipping overseas, and the flights tend to adhere to the scheduled timings.
It is the most expensive of all other auto transportation methods as the cost of operation and particularly the fuel is very high.
Bad weather conditions can lead to flight delays and cancellations; as a result, your transportation can stay postponed for a longer time, depending on the weather conditions.
A plane cannot be overloaded. Therefore, if your car is heavy and big and is unable to fit with the rest of the cargo, the auto transport company might refuse to transport your car or schedule it for a later flight, which might take some days.
Now that you know all the pros and cons and how much it costs to ship a car by plane, it will become easier for you to decide whether auto shipping by plane is the right option for you or not.
How Much Does Shipping A Car By Plane Cost?
Though shipping a car by plane is the safest and fastest method of transportation, it is very expensive. Instead of waiting for days to get your vehicle shipped, you can get your car shipped within a few hours by using air freight. However, the cost of shipping a car by plane can be somewhere around $2500 to $5000.
The cost sometimes exceeds more than the average cost of a new car. But since it is fast, safe, and reliable, most people prefer shipping by plane for their luxury cars. Shipping highly valuable vehicles by planes can be considered cheaper.
Unless you are going to ship a very expensive car, there is no need to ship a car by plane. If you have a very average vehicle, it is better to transport it using an open or enclosed car hauler or ship it in a container. Car transport by plane is sometimes more than the cost of a new car.
Let us see some of the factors that affect the cost of shipping a car by plane.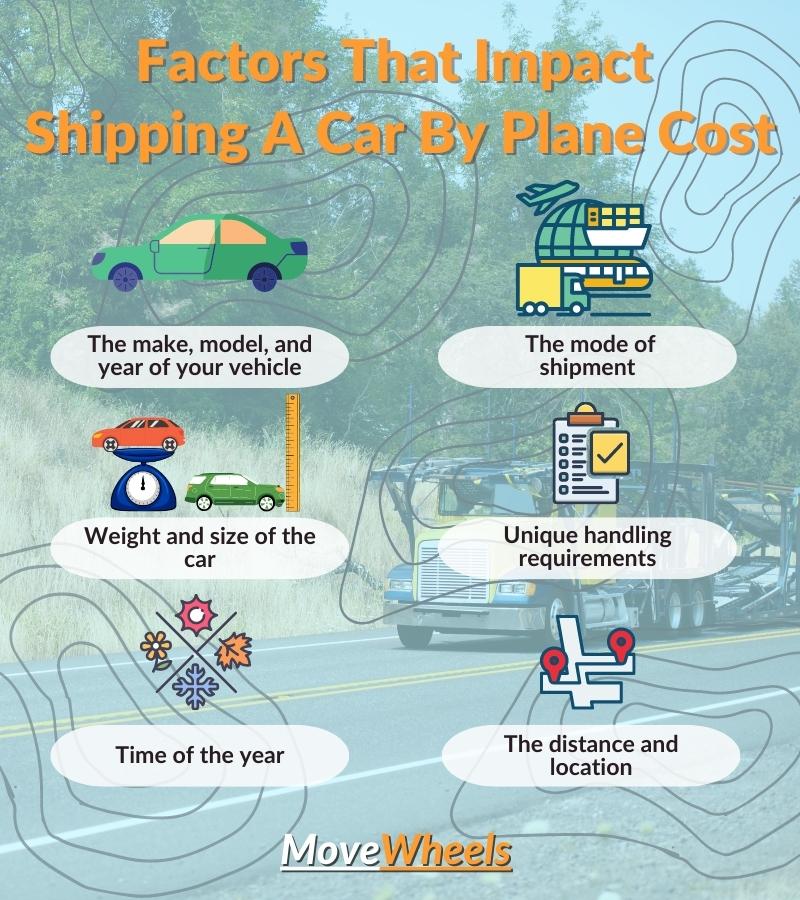 The make, model, and year of your vehicle
The mode of shipment also affects the cost. Consider whether you need two transport from airport to airport, airport to door, door to airport, or door to door.
Weight and size of the car
Unique handling requirements
Time of the year
The distance and location
What Papers Do You Need When Shipping A Car By Plane?
Preparing everything beforehand will save you from lots of hassles during the shipment process. You will need a number of documents to prove the authority of your vehicle. Also, note that the documents should be all original.
You need to collect the following documents before shipping the car overseas by plane.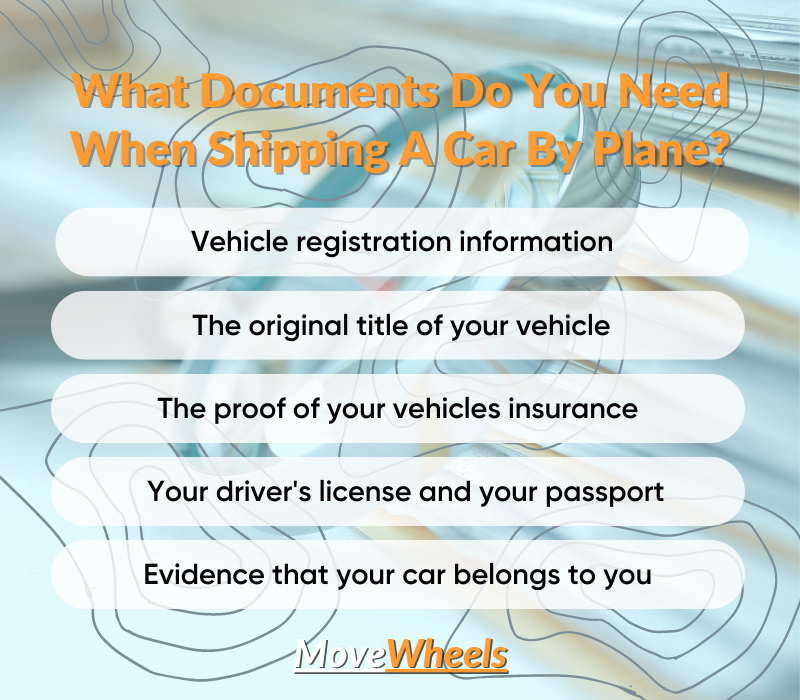 Vehicle registration information
The original title of your vehicle
The proof of your vehicles insurance
Your driver's license and your passport
Evidence that your car belongs to you
The list of papers is not limited to this. You might also need some additional documents depending on the car shipping criteria of the auto transport company you are shipping your car with. Gather all the documents beforehand to avoid any inconvenience during the process.
Car transport by plane is the safest and fastest way of transporting a car that involves very less risk. It is not the most popular or commonly used method; people still prefer it to transport their luxury cars. It still has many advantages.
If you are not really in a hurry but also want to transfer your car to another city without risking any damage, then you have the option of enclosed auto transport. This type of transport is a little more expensive than open car transport, but a lot cheaper compared to car transport by plane.
Is there a need for a Bill of Lading (BOL) when shipping a car by plane?
Yes, the Bill of Lading is one important document that is issued by an auto transport company and must be signed by you. It is proof that you have received your car safely and in good condition.
How long does it take to ship a car by plane?
Air freight services typically take 1 to 4 days to deliver a vehicle to your desired destination. However, this significantly depends upon a number of factors, weather conditions being the most important one. If the flight departs on a regular basis, then it will not take long.
What are the requirements to ship a car by airplane?
To transport a car through air cargo, it must fulfill the following conditions:
●       Must be in working condition
●       The vehicle should be free of any extra items or accessories.
●       The vehicle's tank shouldn't be more than ⅛.
●       You should provide a set of extra keys to the transport company.
●       The vehicle shouldn't have any liens on it.