Moving to a new city or state can be an adventure, but figuring out how to transport your vehicle can be a daunting task. That's where MoveWheels.com comes in, offering a real-time car shipping calculator to help you get an accurate quote for your vehicle shipping needs. In this article, we'll break down the key factors used in the car shipping calculator and explain how it makes planning your move a breeze.
MoveWheels' Real-Time Car Shipping Calculator:
A Quick Overview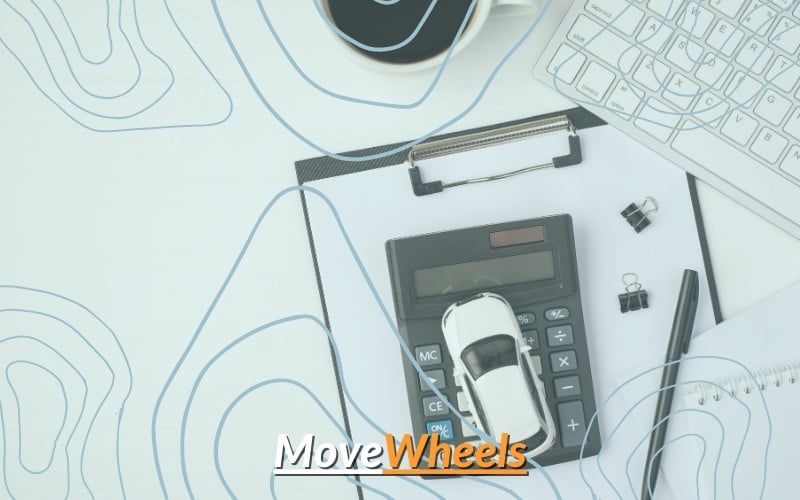 MoveWheels.com has developed a user-friendly real-time car shipping calculator that takes the guesswork out of obtaining a vehicle transport quote. By inputting essential information about your vehicle and transport requirements, the calculator considers various factors, including distance, vehicle dimensions, and transport type, to provide a reliable and accurate estimate tailored to your needs.
The real-time car shipping calculator is designed to save you time and effort. Instead of contacting multiple companies and waiting for their responses, you can quickly access the calculator, enter your information, and instantly receive a quote. This allows you to compare prices and make an informed decision about your vehicle shipping needs.
Moreover, MoveWheels' real-time car shipping calculator is constantly updated to reflect the current market conditions and trends, ensuring that you always receive up-to-date and competitive pricing for your vehicle transport.
Breaking Down the Costs: Key Factors in Your Quote
When planning your move, it's essential to understand what factors influence your car shipping quote. The real-time car shipping calculator at MoveWheels.com considers these critical factors to provide you with an accurate estimate: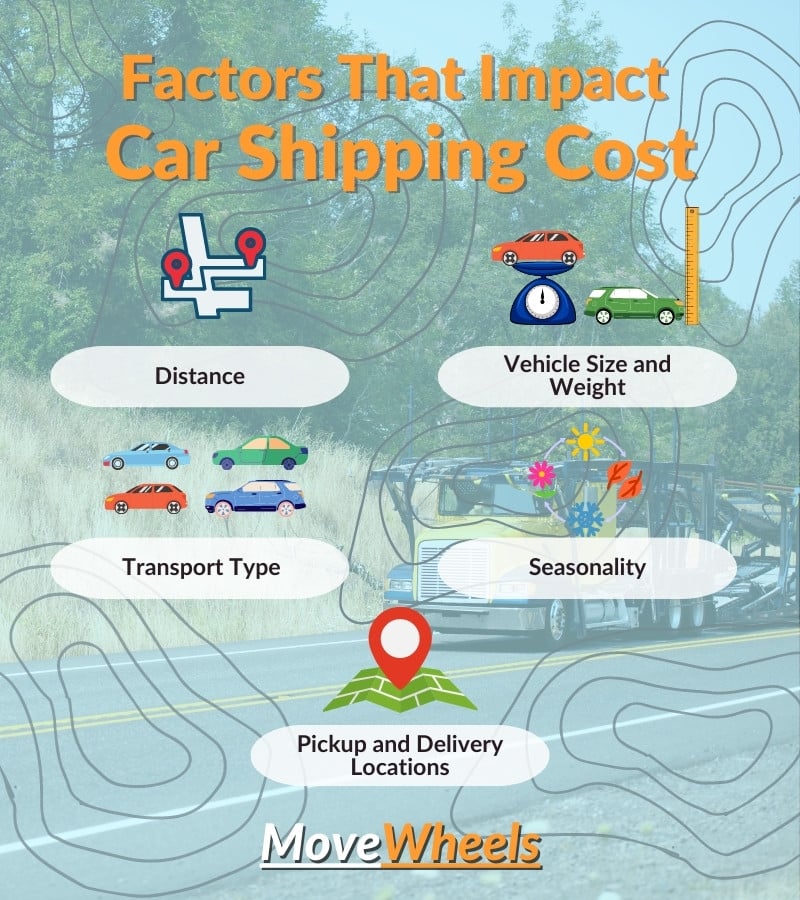 By taking all these factors into account, MoveWheels' real-time car shipping calculator generates an accurate and personalized quote for your vehicle transport needs. This helps you plan your move and budget more effectively.
The Benefits of Using Real-Time Calculators for Car Shipping Quotes
Utilizing real-time calculators for car shipping quotes, like the one offered by MoveWheels.com, offers several advantages that can make your moving experience smoother and more efficient. Here are some of the key benefits: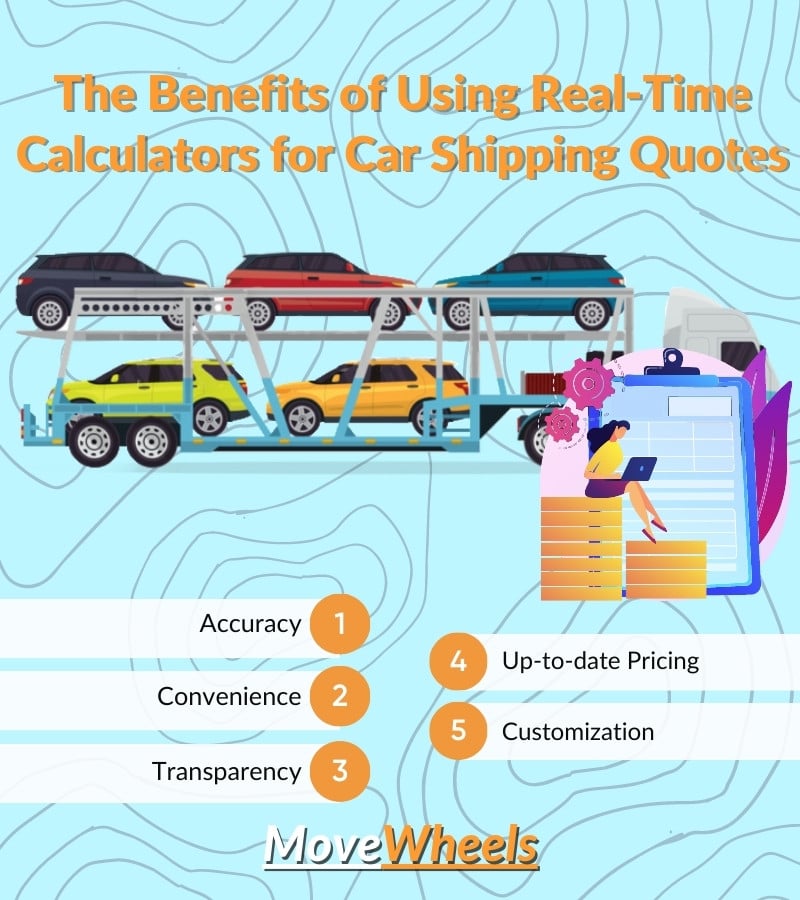 By leveraging the benefits of real-time car shipping calculators like the one offered by MoveWheels.com, you can simplify the process of obtaining an accurate vehicle transport quote, making it easier to plan your move and ensure your vehicle arrives safely at its destination.
How to Maximize the Accuracy of
Your Car Shipping Quote
To get the most accurate car shipping quote possible using MoveWheels.com's real-time calculator, follow these helpful tips: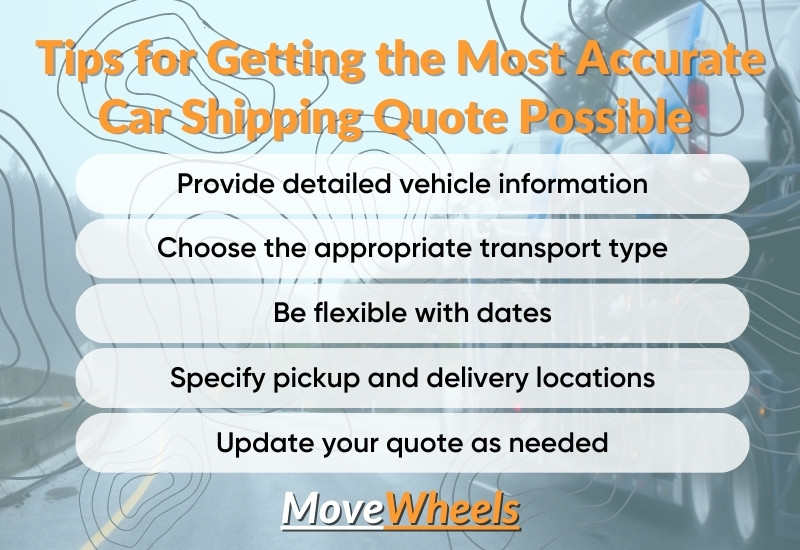 By following these tips and providing the real-time car shipping calculator with accurate information, you can maximize the precision of your quote, allowing you to plan your move more effectively and avoid any unexpected costs.
When it comes to relocating and transporting your vehicle, planning is crucial. The real-time car shipping calculator offered by MoveWheels.com is an excellent tool that streamlines the process and provides you with an accurate and customized quote. By understanding the key factors that influence your quote and using the calculator effectively, you can simplify your moving experience, avoid unexpected costs, and focus on the excitement of starting a new chapter in your new home. Remember, the key is in the details – the more accurate information you provide, the more accurate your quote will be. So, get ready to move those wheels and embark on your next adventure with confidence.
FAQ
How does the real-time car shipping calculator work?
The real-time car shipping calculator uses information about your vehicle, transport type, and pickup and delivery locations to provide an accurate quote based on current market conditions and trends.
Do I need to be present for pickup and delivery?
Yes, you or a designated representative should be present during both pickup and delivery to inspect the vehicle, sign the necessary paperwork, and confirm the vehicle's condition.
How far in advance should I schedule my car shipping?
It's recommended to schedule your car shipping at least two to four weeks in advance to secure the desired pickup date and give yourself time to prepare your vehicle for transport.
Is my vehicle insured during transport?
Yes, auto transport companies are required to carry insurance that covers your vehicle in the event of damage during shipping. It's essential to verify the coverage limits and deductible with your chosen company.
What should I do to prepare my vehicle for shipping?
Before shipping your vehicle, you should remove any personal belongings, disable the alarm system, check for fluid leaks, and ensure that the vehicle is in good working order. It's also a good idea to document the vehicle's condition with photos and make a note of any existing damage.