You can ship your car across the country with a vehicle relocation service. You need to provide the vehicle relocation service with the required documents and prepare your car for shipping. The rest of the process is on the company, and you can get your card relocated without any hassle.
The auto relocation cost depends upon several factors, including the type of vehicle and the distance between the two cities. If you are going to relocate your vehicle for the first time and are clueless about where to begin, this post is for you.
It includes everything from how the car relocation works to choosing the auto relocation services and relocating your car's cost. So, stick with us to the end.
How Does Car Relocation Work?
You can relocate your car using a car relocation service in just four steps. Here is how it's done: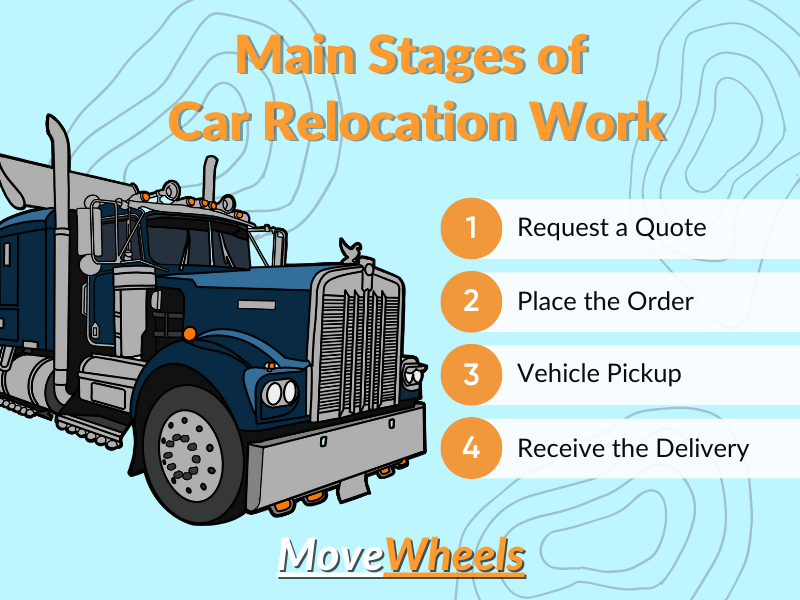 Step 1: Request a Quote
Begin by requesting a car relocation quote from the company's website you want to ship your car with. Make sure you carefully enter all the details, including the pickup and delivery city, make and model of your car, date, transport type and any other important detail you have been asked for. Once you submit the request, you will receive a quote within a few minutes.
Step 2: Place the Order
If you are happy with the quote, go ahead and place the order. You can also get in touch with their customer care staff in case you have any queries.
Step 3: Vehicle Pickup
The carrier will ping you a few hours before picking up your car. At that time, you should confirm the pickup location with him so that necessary arrangements can be made. Also, make sure, if not you, someone else will be available at the time of vehicle pickup.
Once the carrier reaches the pickup location, inspect the vehicle with the driver and have the Bill of Lading (we'll discuss the Bill of Lading later in this article) signed. You need to keep this important document safe. 
The driver will load the cargo and take it to the delivery location with all the protective and safety measures. You can stay in touch with the driver the whole time and can get updates on the delivery. Apart from that, you will also receive updates about your vehicle from the company.
Step 4: Receive the Delivery
Before delivering the vehicle to the address you mentioned, you will get a notice from the company a few hours earlier. This is to ensure that you will be available at the site of delivery with the necessary documents. If you are occupied with work, you can nominate a trustworthy person to get the delivery on your behalf.
On the arrival of your vehicle, you have to carefully inspect it for any damages and finally sign the Bill of Lading. Make any payments that are due, and the deal will be closed.
Types of Car Relocation Services
Car relocation services are essentially of three types. You can pick the one according to your vehicle type and convenience.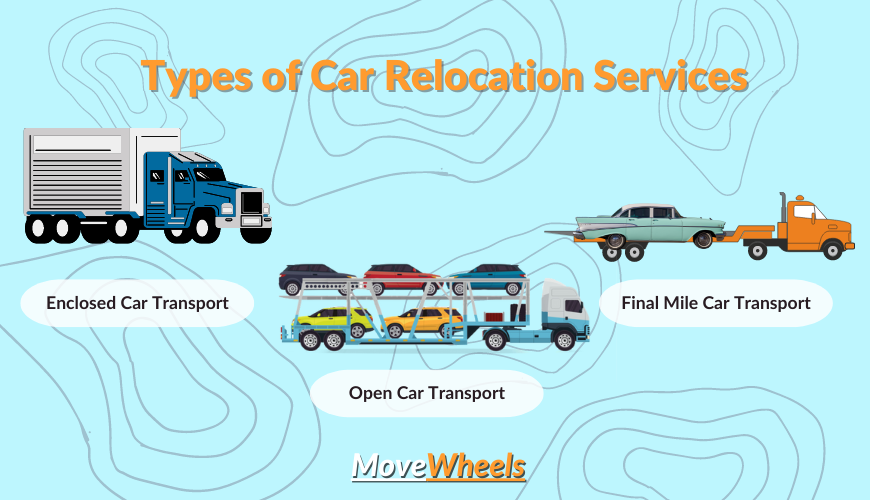 Enclosed Car Transport
This type of transport uses an enclosed car hauler to transport your car. It is usually preferred for luxury cars to protect them from outside conditions during transport. Enclosed auto transport is much safer and costlier compared to open car transport.
Open Car Transport
It is a quick and much cheaper vehicle relocation method. As there are more open vehicle carriers, your car gets delivered quickly. However, there is a risk associated with it. Your vehicle can get dirty; sometimes, you will notice a chip in the paint with an open carrier. But 97% of the time, your car is delivered in the same condition it was picked up. Still, it is never recommended for luxury cars.
Final Mile Car Transport
The vehicle in this type of transportation service is delivered in an open-air container to the company's yard. There it will be cleaned and then taken for final delivery.
How to Choose the Auto Relocation Service?
Here are some factors you should consider before picking an auto relocation service.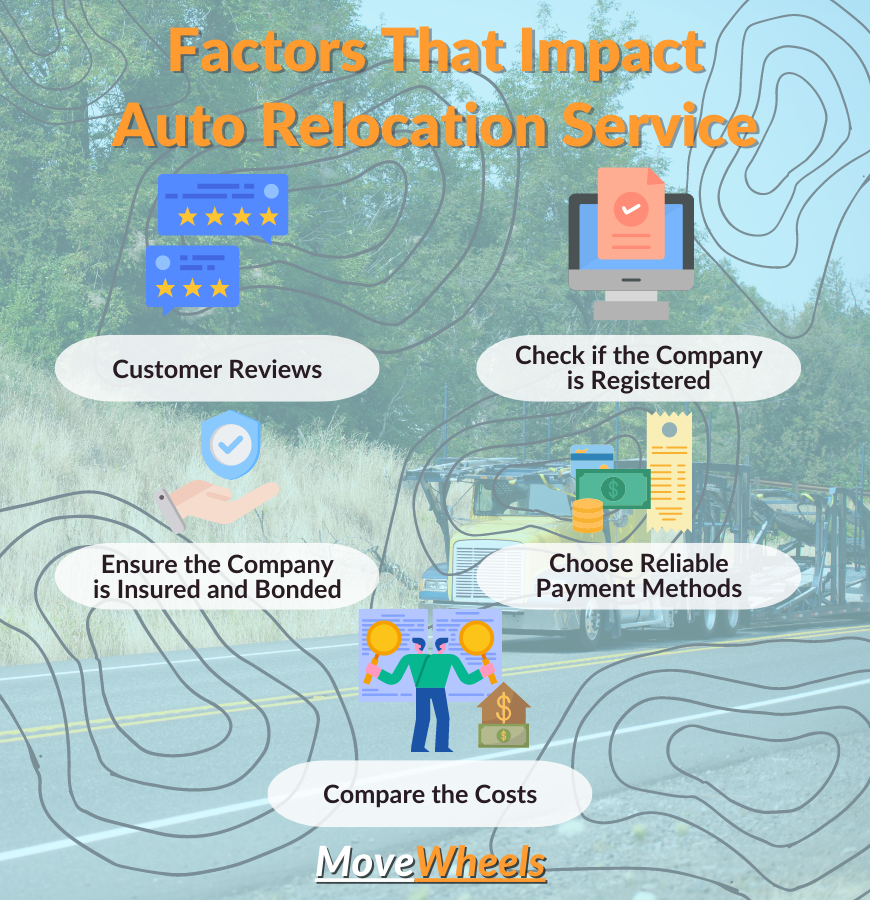 Customer Reviews: The internet is the best place to find the reviews and ratings of previous customers. Make use of it to know the customer's experience with a certain auto relocation service.
Check if the Company is Registered: Ensure that the auto relocation service is registered under the Department of Transport (DOT). This tells about the authenticity and credibility of a company.
Ensure the Company is Insured and Bonded: This is the most important factor to consider. When a company is bonded and insured, the insurance company covers all the damage in case the driver gets into an accident.
Choose Reliable Payment Methods: Check and credit card is the safest of all options. If an auto relocation service asks for payment via any of these methods, then it can be considered legitimate. If the company asks for a wire transfer, there can be something fishy.
Compare the Costs: Request a quote from a couple of car relocation services and compare car shipping prices for the same make, model, and route. Go with the one that asks for the most reasonable price.
How Much Does Relocating Your Car Cost?
The cost of relocating a car greatly varies depending upon a number of factors. This may include: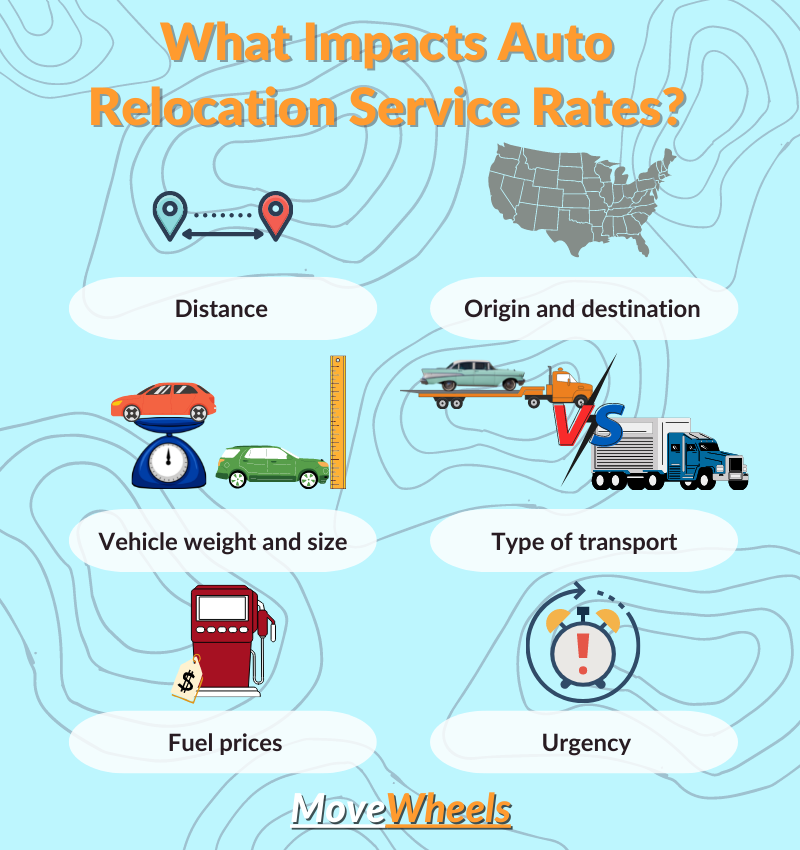 Distance
Origin and destination
Vehicle weight and size
Type of transport (open or enclosed)
Fuel prices
Urgency
Considering these factors, the average cost of car shipment is around $1,310. However, it can go somewhere between $650 to $1,800 depending on the miles covered and the type of carrier you choose.
What Papers Do You Need When Relocating Your Car?
In order to document your car, you need to have legal papers. All this should be done before relocating your car. There are certain documents that must be present at the time of pickup and delivery and while making a deal with the auto relocation service. Here is a list of documents that you will need at the time of car relocation.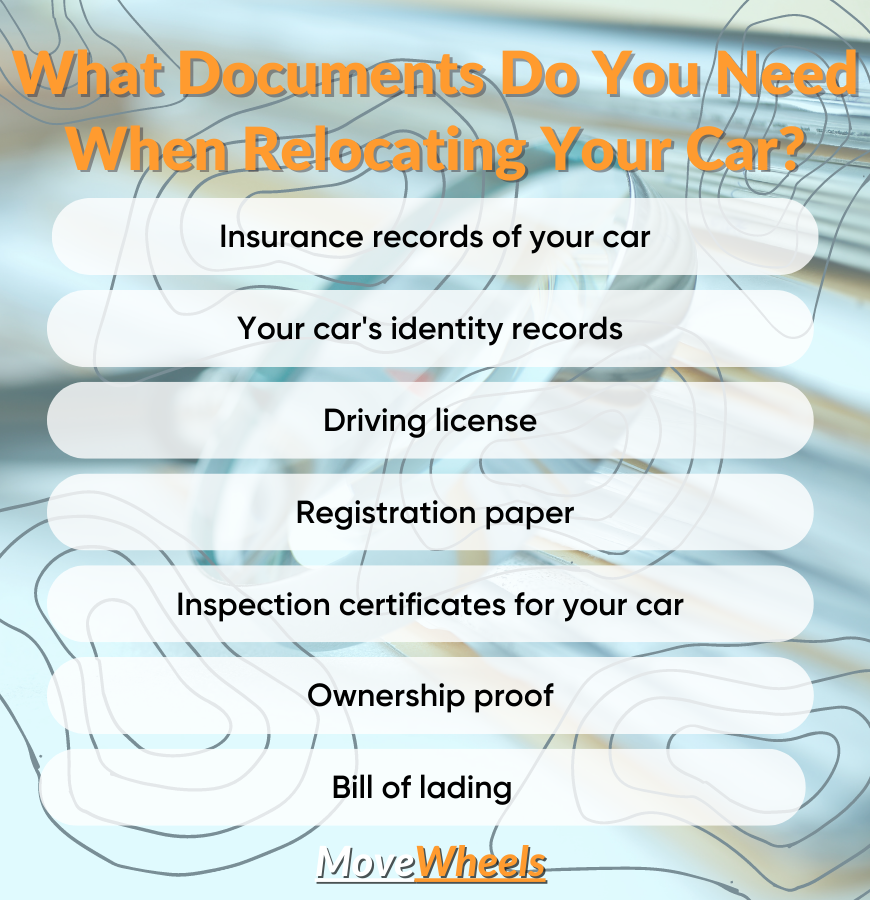 insurance records of your car
your car's identity records
driving license
registration paper for the city you are moving to and for the current city
inspection certificates for your car
ownership proof
bill of lading
There can be some additional documents required by the vehicle relocation service. Read the terms and conditions of the company to know more about what you need when relocating your car with them.
You can easily relocate your vehicle in a few easy steps. With appropriate knowledge and understanding of how relocation works, you can get your car delivered to its destination without much hassle.
Make sure you do extensive research on the company you are going to ship with to know about its authenticity. Compare the shipping costs of various companies, make a checklist of the required documents, and finally, prepare your car for shipment by removing all the extra items from it.
Car relocation will be much more convenient if you prepare everything beforehand.
What is a bill of lading?
It is a legal document that contains important functions in logistics and shipping. It is basically a contract between the carrier and the consignee, including the details of what is included in the shipment. It has all the details of where the vehicle has been picked up from and where it will be delivered.
Is it cheaper to drive or ship a car?
It is very obvious that driving a car is almost always cheaper, while shipping can be costly, especially over short distances. However, if you intend to ship over 500 miles, then it is more convenient to ship a car with an auto relocation service than drive it.