Whether you're a Ford F-series owner, truck enthusiast, or a recent purchaser of these iconic vehicles, understanding the process of their transportation is crucial. 2023 brings new advancements in auto transport, and this comprehensive guide is designed to help you navigate these changes with ease. Focusing on the reliable and efficient vehicle shipping services provided by MoveWheels.com, we'll delve into the nuances of transporting Ford F-series pickups and trucks, providing insights and tips to assist you in making informed decisions.
Defining the Ford F-series: A Snapshot of their Popularity and Use in 2023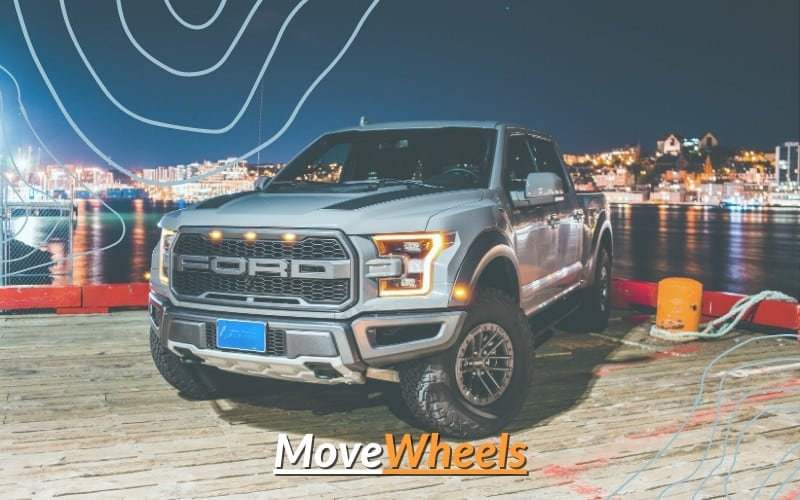 When it comes to trucks that rule the American roads, Ford F-series pickups stand tall and proud. They've been the nation's favorite for over 44 years and counting. From the reliable F-150 to the mighty F-750, the Ford F-series has always delivered on its promise of power, toughness, and style.
In 2023, the Ford F-series continues to be the go-to trucks for Americans. Today's F-series trucks are not just powerhouses. They've evolved with times, incorporating advanced features such as the Pro Power Onboard – an innovation that turns your truck into a mobile generator, and the new fuel-saving PowerBoost hybrid powertrain. Now that's what we call work-meets-play, wrapped in one rugged package!
The modern Ford F-series is an all-rounder, performing just as well in city traffic as it does on a construction site or a rugged farm. Ford trucks aren't just vehicles, they're a way of life. The new 2023 lineup proves this yet again with its focus on sustainability, especially with the introduction of the all-electric Ford F-150 Lightning. These trucks are paving the way for a greener future without compromising on what they do best: power and performance.
Knowing the significance of these beloved vehicles, it's crucial to entrust their transportation to a service that matches their reputation. That's where MoveWheels.com comes in, offering top-notch "Ford F-series transportation." We understand the ins and outs of "pickup shipping" and cater to the unique needs of these beasts on wheels.
So, whether you use your Ford F-series for your business, weekend adventures, or as a part of the electric vehicle revolution, we've got you covered. At MoveWheels, we respect the value of your truck and offer it the care it deserves during transit. Because we believe your Ford F-series is not just a vehicle – it's an extension of you.
Key Factors to Consider When Shipping a Ford F-series Truck
When it comes to shipping your Ford F-series truck, there are several key factors to consider. Understanding these elements can help ensure your prized possession is transported safely, securely, and in a timely manner.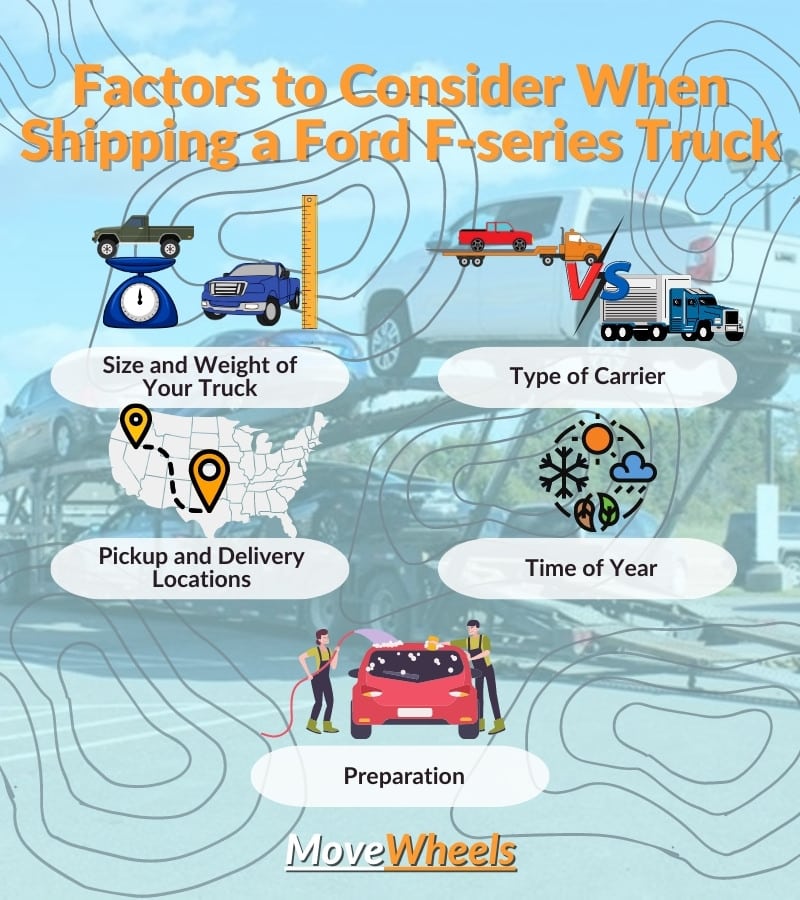 With MoveWheels, you don't have to navigate these considerations alone. Our team of experts can help guide you through the process, ensuring you understand "how Ford pickup transport works," making the transportation of your Ford F-series as seamless as possible. From deciding on the best carrier type to advising you on the ideal time for shipping, we're with you every step of the way.
Understanding Delivery: Timeframes, Conditions, and Insurance Coverage
Shipping a Ford F-series truck is not an everyday affair, so it's important to have a clear understanding of the delivery process. This includes the timeframe, delivery conditions, and the insurance coverage.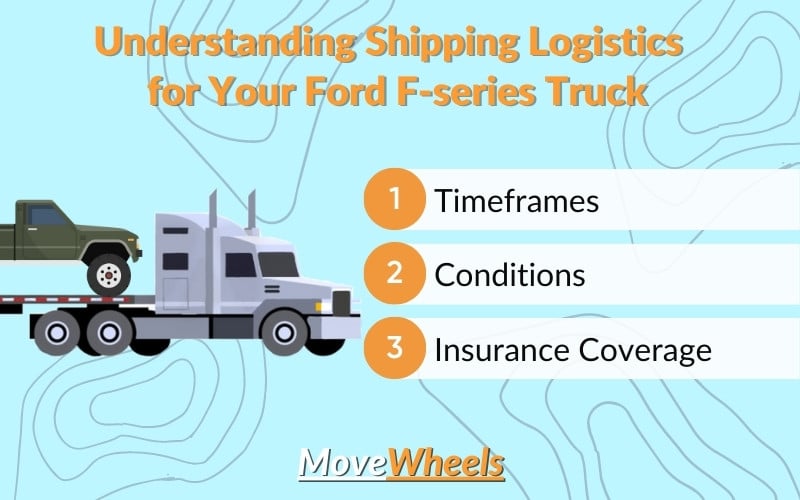 At the end of the day, the most crucial aspect of shipping your Ford F-series is ensuring that it arrives in the same condition it was picked up in. This is why we pays meticulous attention to all aspects of the "Ford shipping services." Our goal is to offer you the most reliable and transparent auto transportation service, making the process as straightforward and worry-free as possible.
Post-transport Maintenance Tips
for Your Ford F-series
After your Ford F-series truck has been safely transported to its new location, there are a few post-transport maintenance steps you should consider. These will help ensure your vehicle remains in top condition after its journey.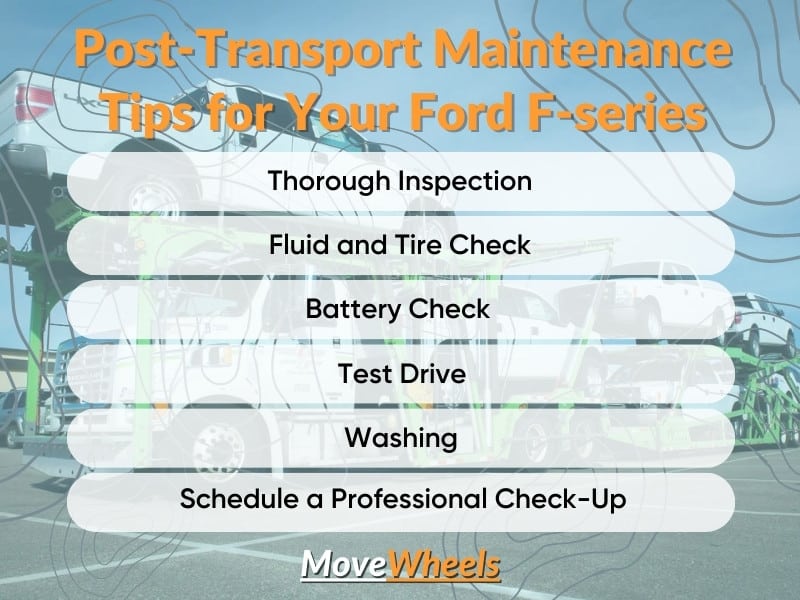 Taking the time for post-transport maintenance not only keeps your Ford F-series in the best possible condition but also helps in spotting and resolving any potential issues. Following these steps ensures you can hit the road and enjoy your truck without any worries.
Transporting a Ford F-series truck involves careful consideration and meticulous planning. From understanding the nuances of your beloved truck to choosing the right carrier, from knowing what affects delivery timeframes and conditions to recognizing the importance of post-transport maintenance, every step plays a crucial role.
But remember, you're not alone in this. With MoveWheels, you have a team of professionals by your side, committed to providing a smooth and hassle-free experience. Whether you're a Ford F-series owner or a recent buyer, a seasoned shipping user or a first-timer, our comprehensive guide should provide you with the knowledge and confidence to make informed decisions about the transport of your Ford F-series. Here's to a seamless journey for both you and your vehicle!
FAQ
Is there any additional cost for shipping modified Ford F-series trucks?
Yes, the cost can increase for modified vehicles, as they may require special handling or equipment for transport. We suggest informing MoveWheels.com of any modifications during the booking process to ensure accurate quotes and secure transport.
Can I cancel my shipment if my plans change?
Yes, you can cancel your shipment. However, cancellation policies apply. We recommend discussing this with our customer service team at the time of booking.
Can I pack personal items in my truck during transport?
It's generally recommended not to pack personal items in your truck during transport due to safety and insurance reasons. Personal belongings are not covered under the carrier's insurance, and the added weight could potentially increase the shipping cost.
Does MoveWheels.com offer Ford F-series transport throughout the entire United States?
Yes, we offer nationwide shipping, covering all 50 states.
How long does it take to ship my Ford F-series truck?
The shipping duration depends on the distance, with coast-to-coast transport generally taking around 7 to 10 days. However, factors like the pickup and delivery locations, the time of the year, and weather conditions can influence the timeline.