Have you ever seen on the highway a huge truck carrying some loads with a flat, open platform behind it? That is a so-called flatbed. Let's talk in our blog article about flatbed vehicle transport, when it is used and what are average flatbed car transport costs.
What Is a Flatbed Auto Transport and Where It Is Used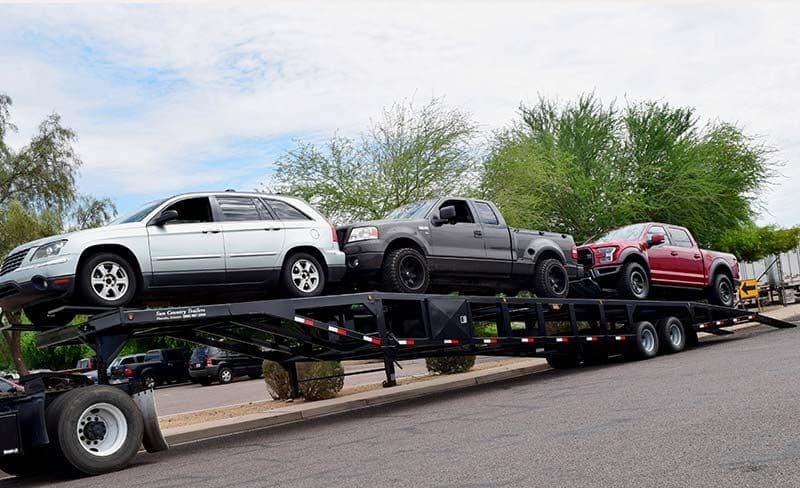 Flatbeds are trucks that are typically used on occasions when a standard enclosed truck or an open deck are not suitable. For example, they come in handy for cars that simply cannot be loaded onto the enclosed truck due to their extra large dimensions. Also, this type of transport is used for damaged cars that don't require a dry deck to be carried and that is non-running and cannot roll and steer.
This type of hauling offers several benefits in a row:
It offers dimensional flexibility that is crucial for oversized cargo.
You can load and unload your car easily when using flatbed car shipping as the process can be done using cranes or other loading equipment to do the task with ease.
As the platform of a flatbed is large, you can use it for transporting several vehicles at once.
How Does Car Shipping on Flatbed Trucks Work?
As there are lots of non-standard or highly specialized vehicles, there is a high demand for safe transportation within the country. For fast and secure cross-state transportation of such custom or heavily loaded transports, flatbeds are often the only option. If you want to get flatbed car shipping for a vehicle like that, there is a simple guide for you to adhere to.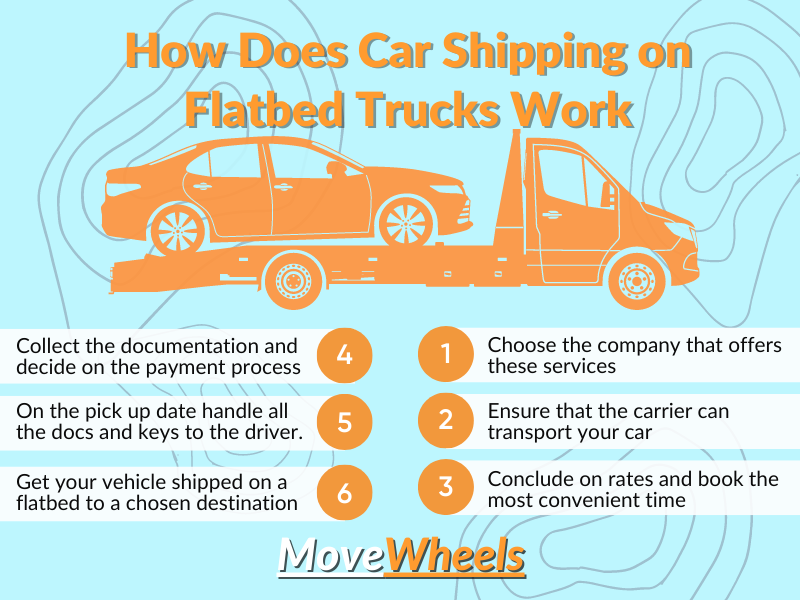 Choose the company that offers these services.
Ensure that the carrier can transport your car to the destination you need as not all hauliers provide services to all the states and offshore territories.
Conclude on rates for the transportation and book the most convenient time.
Collect the documentation required by a haulier and decide on the payment process: whether you pay in advance (not truly recommended) or after unloading your car in a destination point..
On the date of transportation handle all the documents as well as a kit of keys to a truck driver.
Get your vehicle transported on a flatbed to a chosen destination.
Main Information About Flatbed Car Transport Rates
The matter of pricing is one of the most tremendous questions for everyone who needs to ship the car using flatbed transport. Here are some thoughts and facts about flatbed car transportation costs in the US today.
What affects pricing when hiring a flatbed car haulier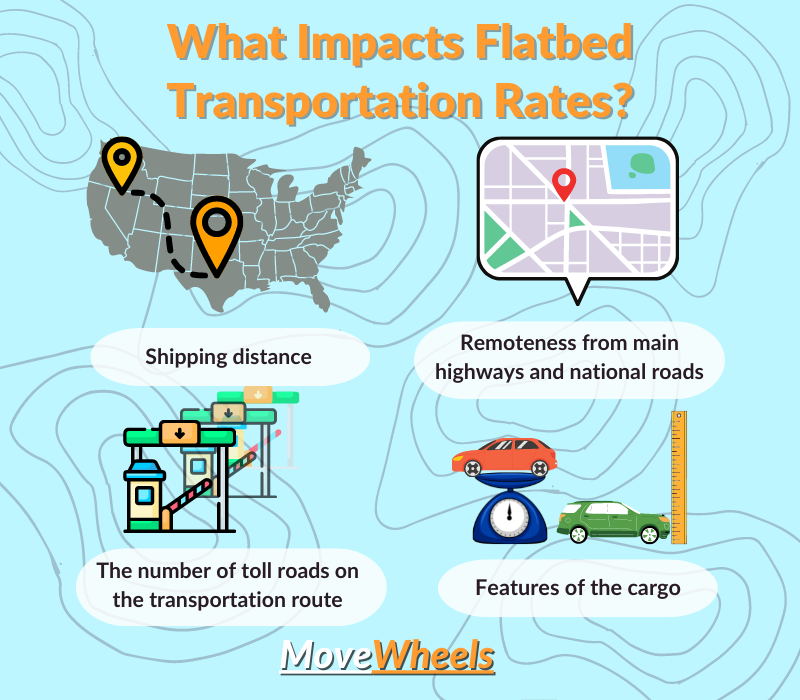 First of all, what affects the price of transportation? Of course, the distance. Most carriers base their rates on distance. But do not discount the following factors:
Remoteness of the destination from the main highways and national roads. The more remote the place of unloading, the more difficult it is to get to it after the exit from the autobahn, and the higher the cost will be.
The number of toll roads on the transportation route. You will have to pay a toll for each entry, and this also affects the rates.
Features of the cargo, for example, its extra weight or non-standard dimensions.
Therefore, it is necessary to check with the carrier how he forms the price. It's also always a good idea to request quotes from multiple carriers so you don't overpay.
Average shipping rates for flatbed transportation
Of course, each carrier has its pricing rules and they can vary greatly. But let's check out the average rates for flatbed auto transportation in 2022.
On October 2022, the average national rates for hiring a flatbed are $2.89 per mile.
The lowest average rates are indicated in the Southeast. Here they are $2.54 per mile.
The highest rates are indicated in Midwest states and there you have to pay for flatbed shipping $3.26.
These prices are not ultimate, as we've mentioned before there are some additional features that impact them.
Types of Vehicles That Provide Flatbed Transportation Services
There are several types of trucks that provide flatbed car shipping services. Typically, these are as follows: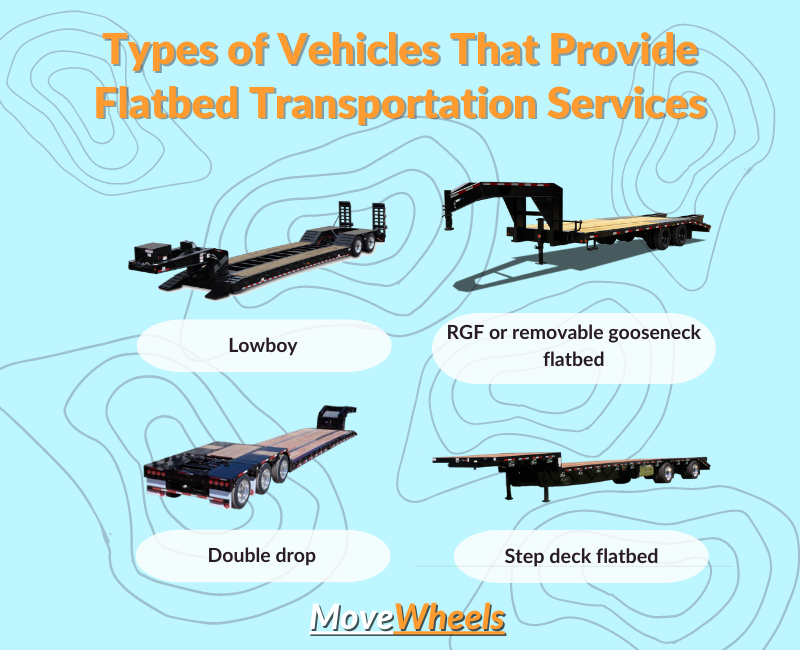 RGF or removable gooseneck flatbed,
Lowboy,
Double drop,
Step deck flatbed.
Which of them suits your needs the most? That depends on the type of cargo you need to haul. As usual, carriers decide on the truck after they interview a shipper about the load and the destination.
What You Can Ship on Flatbed Trailers
The most common situation when car owners require flatbed transportation services is the need to transport cars of non-standard dimensions. These can be specialized models of military vehicles, boats, yachts, motor homes, trailers, and school buses. In general, everything that simply does not fit in a standard dry deck or open trailer.
Also, it is not uncommon for flatbed trucks to transport cars after accidents or damaged equipment, for which transportation in a closed body is not critical.
Documentation for Flatbed Vehicle Transport Services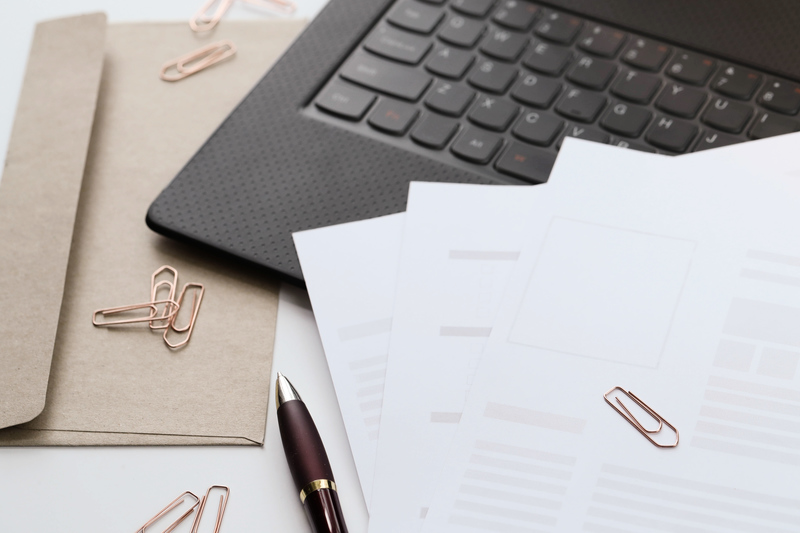 As for all types of car transportation, you have to get two obligatory papers for flatbed car shipping. These are insurance terms and conditions for your car's insurance policy and vehicle title (V5C). Besides, hauliers also may ask a bill of sale copy and your ID card's copy to conclude the shipping contract and book a flatbed shipping transport. Other paperwork is usually handled by a carrier.
When it came to the necessity of transportation of large or extra-heavy loads including various vehicles, it is flatbed transport that will come in handy with that. This option offers hauling services by special open-deck trucks and trailers that have no boards at all and thus, not all types of cars can be handled in that way. As usual, flatbed car shipping is a win-win option for non-standard vehicles or simply vehicles that are not considered to be cars.
As for the rates, there are some pitfalls waiting for you when you decide to hire a flatbed car transport. Firstly, rates for flatbed car transport are higher than when you book an enclosed truck or an open-deck one. Then, you should consider that there are not many flatbed operators in the market, so, sometimes, you need to wait for a free schedule lot to book it.
Besides, pay attention to the terms and conditions of flatbed transportation services before you book them. And it is documentation you should also pay great attention to. We cannot say that flatbed car shipping is worse than other services, as sometimes, they are the one-and-only option for your car if it is oversized, overweight, or put it simply, non-standard.
What loading accessories are required for flatbed car transport?
As this kind of transportation service uses an open-deck trailer to carry the load, usually, tarps, as well as chains to prevent load rolling, and corner protectors are basically required to keep the vehicle safe and sound on the trailer's deck.
Can I hire a crane/forklift to load my car on the flatbed truck?
You are fully welcome to do that. Cranes are widely used for the flatbed loading process. Just ensure that a crane will be available at the time when your transportation is appointed.
What dimensions does a typical flatbed truck have?
In the US, the typical dimensions of a flatbed are no more than 48′ in length and 8.5′ in width.
Will my car be insured while transported on a flatbed?
Particularly, car hauliers offer this service to their clients. But you should ask about that option in advance before you book flatbed car transportation with a company. In MoveWheels, we do provide insurance for all vehicles that we transport.