Auto transport services are highly in-demand as lots of people need to move and transport their vehicles as well. For this, the US car haulage industry offers multiple options. Applying for auto transport brokers' services is on the list too. Let's get through who are car shipping brokers, what they offer to customers, and whether is it beneficial to use the services of middlemen in the auto transport industry.
What Is The Difference Between Auto Transport Broker and a Car Carrier?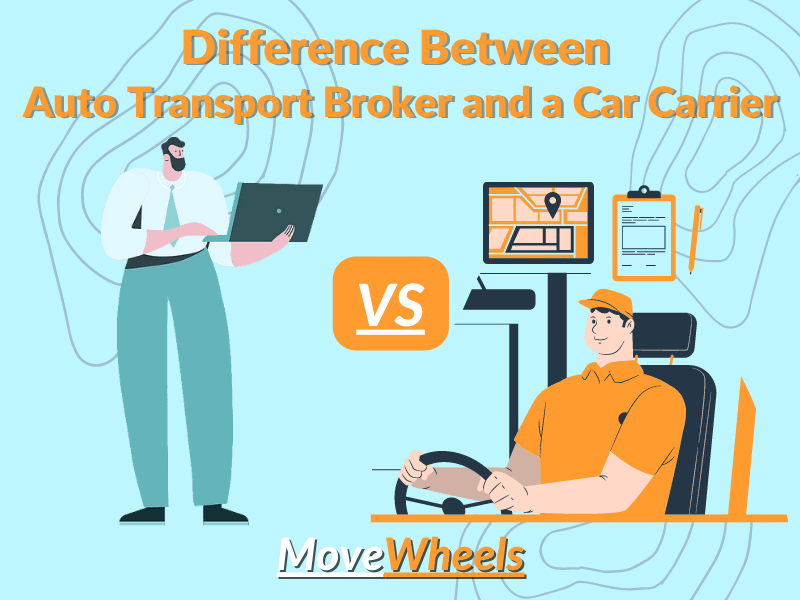 When you need your car to be shipped to some destination point, what would you do first? If you have no intention to drive your car yourself hundreds of miles, you probably have to find someone who will ship it for you. These guys are called car shippers or auto transportation companies. Their task is to provide you with a truck and a driver who will transport your car carefully and safely. That's what you pay them for.
Auto transport brokers are not car carriers as they do not have trucks or licenses to transport vehicles. But they have something else, no less important. They have contacts and contracts with the most reliable carriers to redirect your order to them. In fact, auto transport brokers are middlemen between you and the transport company.
The essence of their work is simple enough. They make easier the process of car transportation both for a car owner and for a carrier.
For car owners, benefits are obvious. They do not need to spend time looking for carriers on the route and comparing rates and terms each carrier offers. They just place an order and get their vehicles transported with no hassle.
For car haulers, it is also beneficial to work with a broker. They do not waste time finding clients and just do their work. An auto transport broker does all the jobs like searching for car shipping orders, concluding contracts with car owners, concluding on details, and preparing papers for shipping.
You shouldn't think that these two services (we mean car haulage and auto transport brokers) work separately. Some companies provide transportation and brokerage simultaneously.
Main Stages of Auto Transport Broker's Work + Some Tips to Pay Attention To
What to expect when you have to ship your car and apply for a brokerage for this? Almost everything will be done by a middleman.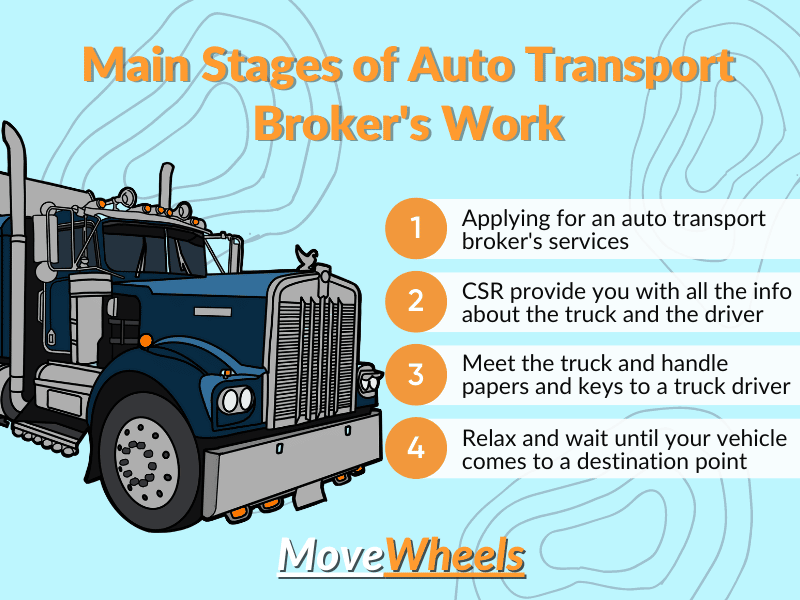 You apply for an auto transport broker's services and conclude on details of further shipping. That is you indicate to the customer service representative (CSR) your vehicle type, its condition, places where to pick it up and where to ship it and choose the pick-up date.
Then all you need is to stay in touch with a broker while he's doing his work. CSR will provide you with all the information about the truck and the driver, help with papers, and conclude contracts with the hauler as your official representative.
On the date of pick-up, you just have to meet the truck and handle papers and keys to a truck driver,
Brokers will control the whole process and you can relax and wait until your vehicle comes to a destination point.
When getting brokerage services for your car, you can be sure that it is in reliable hands and that the whole process will be of a door-to-door type. The only thing to consider before you choose an auto transport broker is the license. Each brokerage company should have a license to work with carriers legally.
How Does Auto Transportation With Car Carriers Work + Some Tips to Pay Attention To
When you decide to hire a car shipping company directly, the task can be a bit tougher.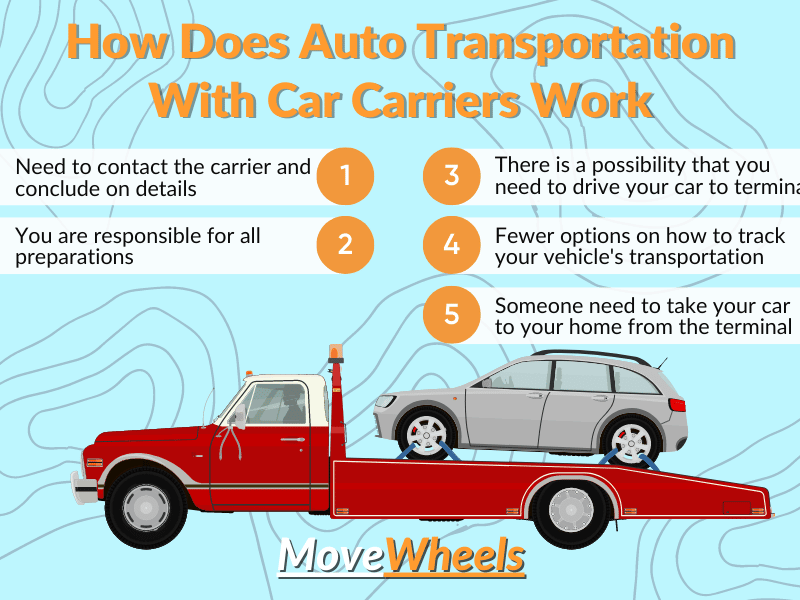 You need to contact the carrier and conclude on details yourself.
All the preparations are also your responsibility.
Carriers often provide only terminal-to-terminal services and your car should be driven to the terminal first and then wait here for a truck.
There are fewer options on how to track your vehicle's transportation when you deal with carriers.
At last, you may have someone at the destination point to take your car from the terminal and drive it to your door.
Besides, you should take into account that car haulers often have their rates fluctuating due to the weather conditions, the number of paid roads, and even seasonal reasons. And they often forget to add insurance fees to the price, so you should take it in mind too.
Auto Transport Brokers vs Car Carriers: Whom to Choose Better
There are pros and cons in using auto transport brokers' services, as well as pros and cons in choosing a direct carrier for your car.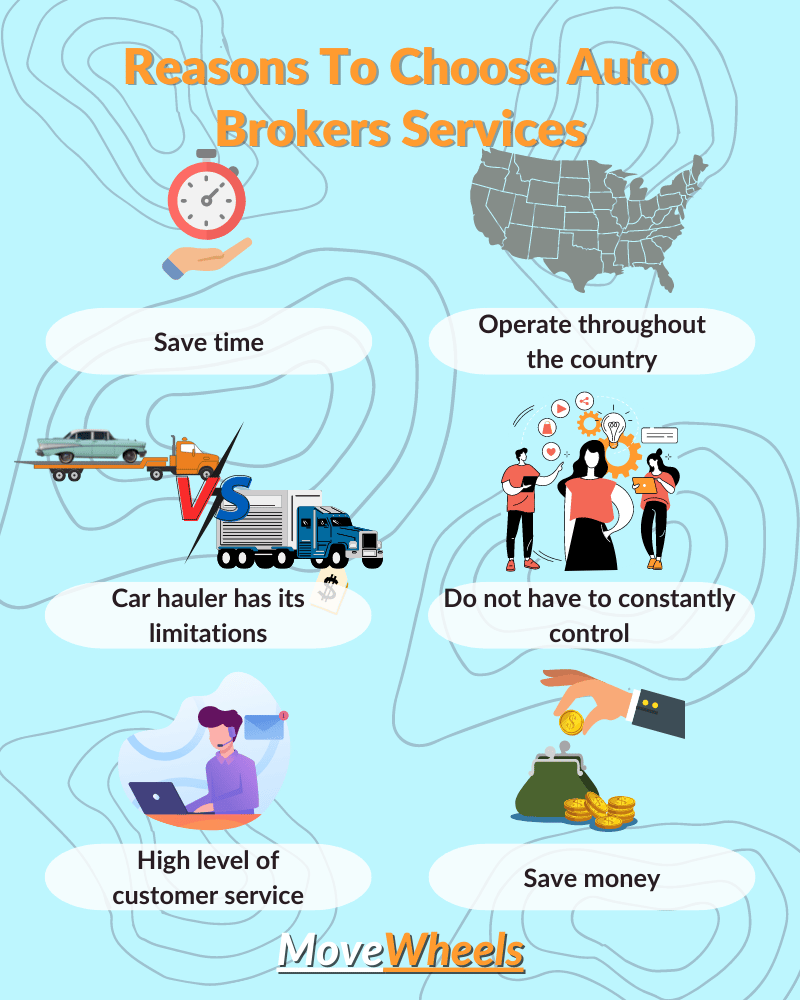 In terms of comfort and safety, auto transport brokers are much more preferable. Of course, both brokers and car shipping companies will go above and beyond to ensure that your car is delivered without the slightest scratch. But there are several reasons why you should choose the services of a middle man for auto transport services.
You save time. All searches for a reliable carrier fall on the shoulders of an auto transport broker. At the same time, each reliable broker already has its own lists of good hauliers who work in a particular region.
Auto transport brokers operate throughout the country. Some carriers are limited in their regions of operation and choose only standard routes, and if you use the services of auto transport brokers, the chances are that they will select a contractor for you to transport a car, who will definitely be able to deliver your vehicle in the right direction and without reference to standard routes.
Every car hauler has its limitations. Some work only with certain types of trucks, others do not deliver cars to remote states. When working with auto transport brokers, the restrictions are minimal. A good specialist will quickly find a carrier for you who will agree to go in the right direction and along the route you need.
You do not have to constantly control the transportation of your car. When hiring a car shipping company, direct transportation control becomes your area of responsibility. The auto transport broker takes on this responsibility and makes the entire transportation process stress-free for you.
High level of customer service. If you have come across car haulers, you know for sure that not all of them are distinguished by an attentive and polite attitude towards customers because they are focused on other tasks. Good auto transport brokers are an example of what impeccable customer service should look like.
Despite the fact that you will have to pay for the services of an auto transport broker, you will save as a result. Less are your efforts and mistakes when collecting the necessary papers, less time spent searching for a car carrier, as a result, you can save much more because the middleman will find the best rates for you among carriers.
Comparing Costs: What Rates to Expect from Auto Transport Brokers?
When you have to choose an auto transport broker to ship your car with safety and in realistic timelines, just follow our tips.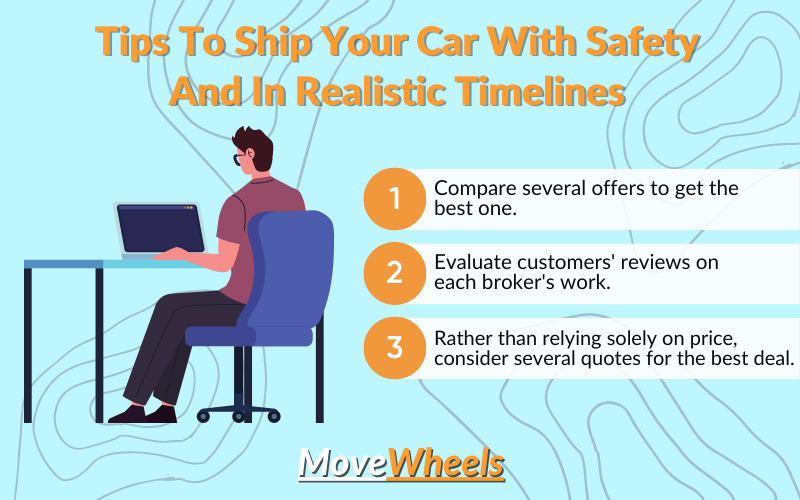 Compare several offers to get the best one.
Evaluate customers' reviews on each broker's work.
Don't make the price an ultimate criterion for your choice but compare several quotes to find the golden mean.
As for the price, be sure that it will consist of two basic parts. The first is the price claimed by the hauler. On average, it starts from $0.58 per mile for truly long-distance transportation (more than 2,000 miles long) and ends somewhere near $2 per mile for local shipping within 100 miles.
The second part of the price are rates for brokerage services that a broker gets from the carrier for providing them with car shipping orders. These also depend on the mileage and the type of broker. The higher the expertise of a broker, the higher will be his commission. For smaller brokerage companies, rates will be more modest as transnational auto transport broker companies will require higher commissions from their customers. An average commission for car shipping today is $100-$300 per shipping order.
Best Auto Transport Brokers: Top 5 by MoveWheels

1. Montway Auto Transport
Montway Auto Transport is at the top of the list due to its impeccable customer service and an extended service list that includes even GPS tracking for each order. The company works throughout the US and offers the best shipping orders for reasonable prices and deals with numerous carriers.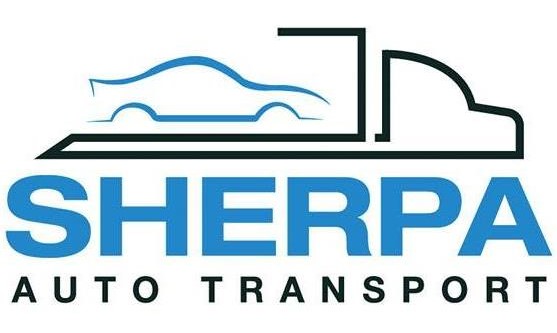 Sherpa Auto Transport offers the best feature in the biz. It offers guaranteed quotes so you won't overpay. Besides, that broker thoroughly selects carriers to provide the highest level of service.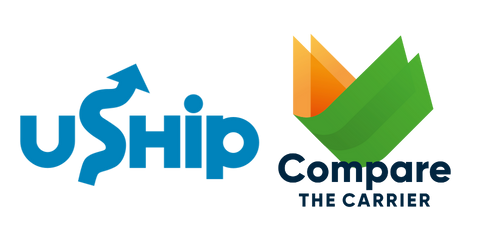 3. uShip and CompareTheCarrier
If you want to make the whole process online, you can use an e-broker marketplace uShip or CompareTheCarrier. That is an alternative to classy auto transport brokers as you can just place an order and get carriers' biddings on it to choose the best one.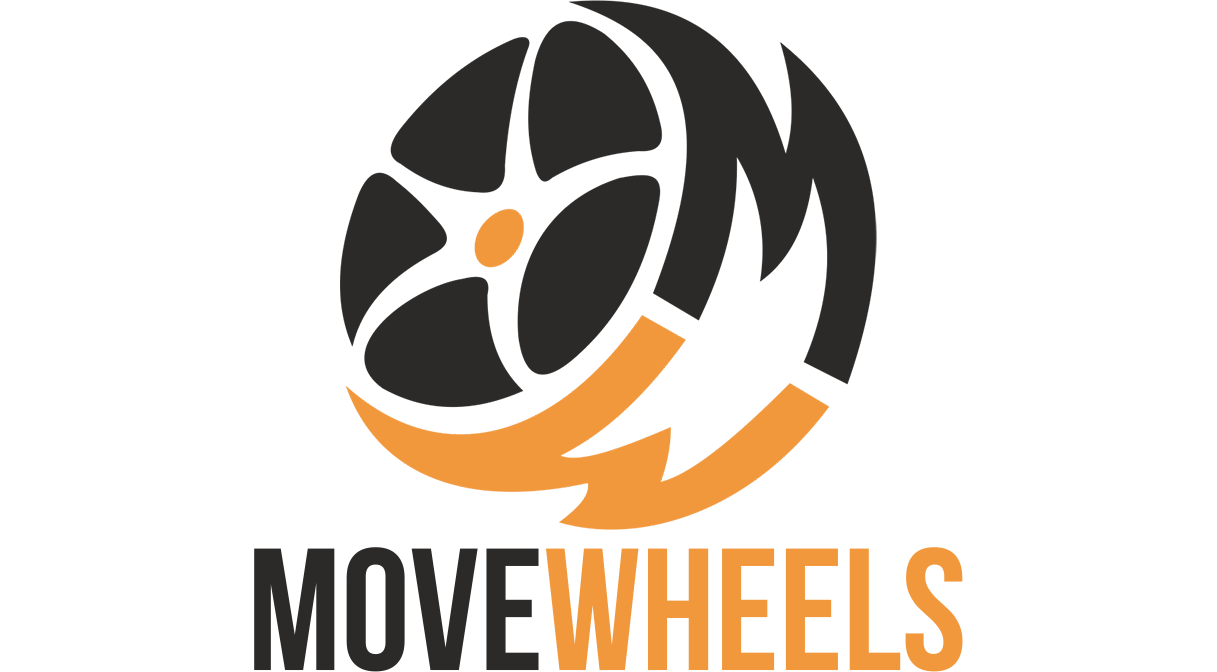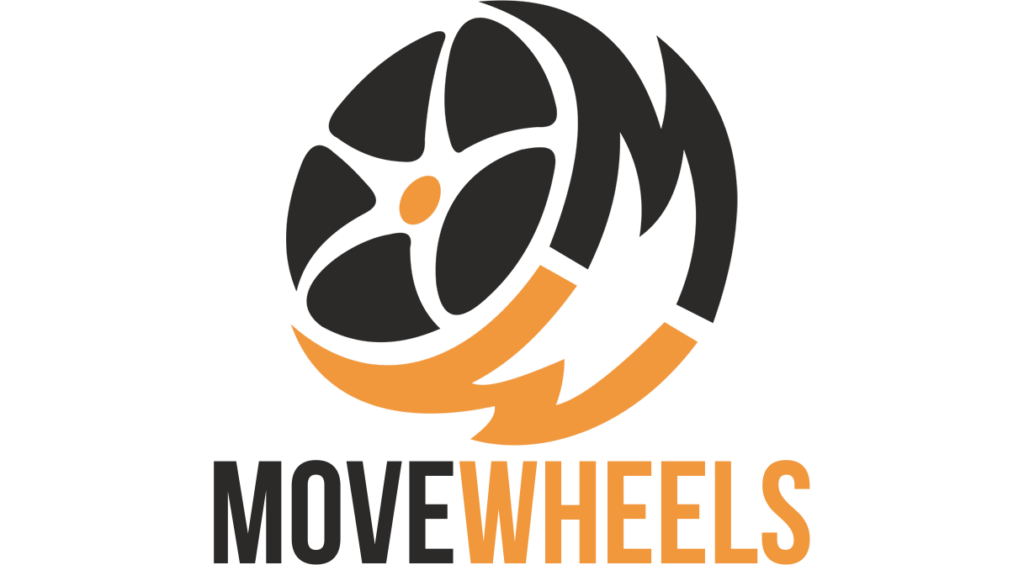 4. MoveWheels Auto Transport
MoveWheels is also a good brokerage service working online for more than 11 years. Its reputation is high enough and the list of services for a reasonable cost is impressive.

AmeriFreight is one more reputable broker that sets special conditions beneficial for car owners. It provides extra insurance coverage for all shipping orders and has several payment plans for various needs.
What Papers Do You Need to Prepare to Get Your Car Shipped With Auto Transport Brokers?
In general, there is no difference between the list of documents required by an auto transport broker and the same list for a car shipper. The only thing is you may have to provide absent owner authorization for a broker to allow him to be your representative. And, of course, you have to sign a contract with a broker to get services with a guarantee.
Cooperation with a car shipping broker saves you time and effort. If the quality of customer service is important to you and you are definitely not a control freak who needs to keep track of how his car is being transported, a car transport broker is definitely the perfect choice for you. Despite the fact that you will have to pay for brokerage services, you can be sure that the specialist has selected the most cost-effective route and carrier for you, and your car will be delivered on time, safely and carefully.
Does an auto transport broker work under the license?
Due to the requirements of the Department of Transportation, all US car transport brokers should obtain a license from FMCSA to work legally. When you choose a broker to apply for their service, please ensure you deal with a licensed pro.
Why applying for an auto transport broker's services is easier than finding a carrier?
The reason is simple. Brokers deal with lots of transportation companies at once and they are actively present online which makes reaching out to them simpler. At once, car haulers do not often have their websites and it could be difficult to get in touch with them directly.
Do auto transport brokers ship all kinds of vehicles?
That depends on the expertise and the scope of services each auto transport broker provides. Some of them offer wider opportunities to their customers while others focus on some kinds of vehicles only.
How to choose a reliable car transport broker to get services for my car to be shipped?
You can provide your own research by comparing rates, working experiences, and customers' reviews of several brokers working in your area. Besides, we have listed our top 5 auto transport brokers in this article below. So, you can use it for your profit.