Looking for a company to ship an inoperable car? We have prepared a short guide on this topic, just scroll below and you will find some extremely useful information And here are the quick links for you to navigate through the article:
---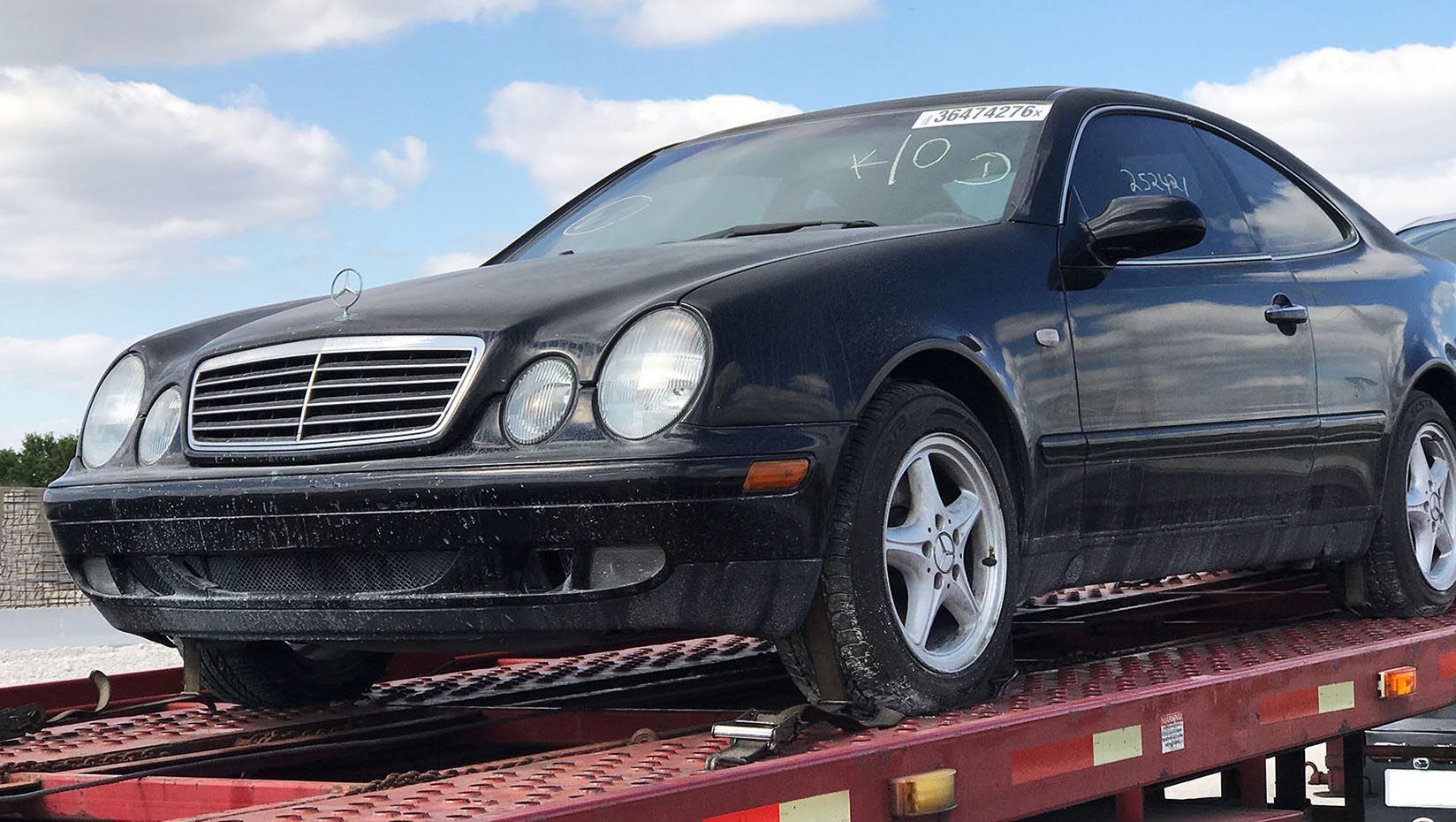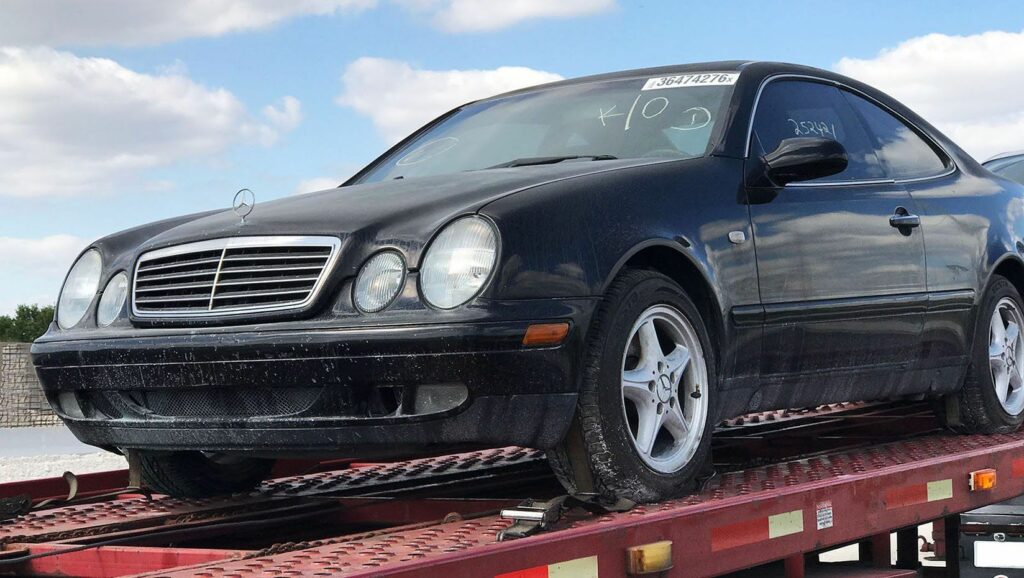 What vehicle is considered inoperable?
Transportation of an inoperable vehicle does not differ a lot from usual auto transportation even though there are some small details that you need to know before hiring a company. But at first, let's clear out what vehicles can be considered inoperable.
You would say, it's rather easy to understand that a car is inoperable, but for carriers, there are some exceptions. The first and probably the easiest issue that may happen to the vehicle is the dead battery. In this case, the vehicle can actually be shipped as an operable one and it will be much easier for you to find a driver. He will just come to your location, jump-start the vehicle and load it on the trailer. And at the delivery location, he will do the same thing.
Now let's talk about the vehicles with more serious issues. If the vehicle just doesn't start, but rolls, breaks, and steers, it's not very difficult to transport it. The company can send you a driver who has a winch on the trailer to pull the car onto it.
If your vehicle doesn't roll, brake, or steer (like salvage vehicles) or even if it does not have any wheels, it is still possible to transport it, but the forklift is needed to put such a car on and off the trailer.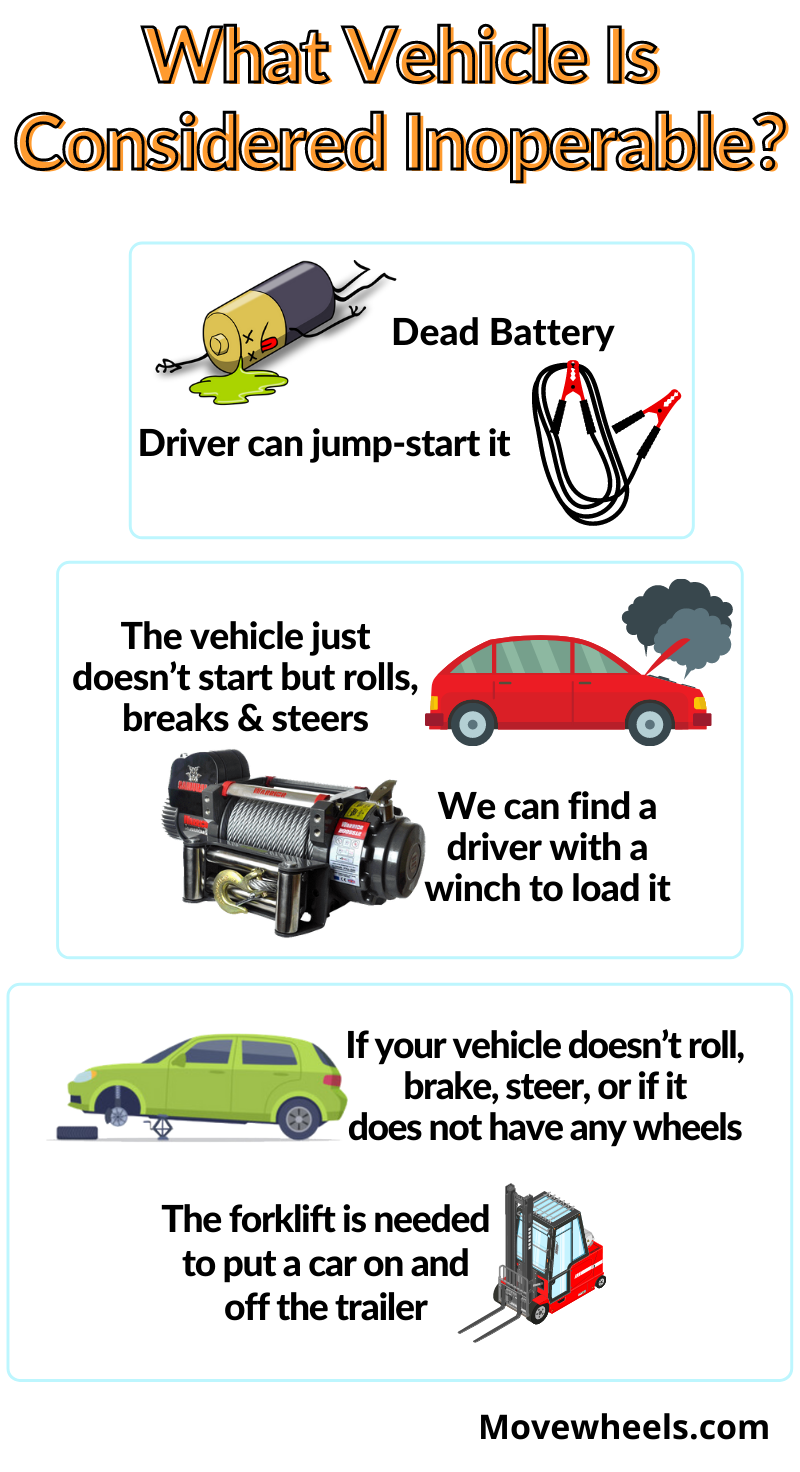 How much does it cost to transport an inoperable vehicle?
Usually the price depends on several factors like mileage, size and weight of the vehicle, season, and availability of drivers on the route. But since the vehicle you are shipping is inoperable the price also depends on the vehicle condition and operability and whether a winch is enough to load the car on the trailer or a forklift is required.
Frankly speaking, when you ship an inoperable vehicle, you can expect to pay more than you would for an operable vehicle. Usually, the additional cost ranges from $50 to $150 for a short or average distance move (up to 1600 mi), while for a long move it may be as much as $200 more. The price varies that much since inoperable vehicles are usually moved only for short distances so it's easy for the driver to find several vehicles to move at a time. But when it comes to a long-distance move, there are only 2-3 inoperable vehicles going the same direction which means that all the expenses should be covered by three customers only.
To give you a better idea of what sort of cost to expect, we gathered some information about the last inoperable shipments, and below you can see some of the prices on the exact routes: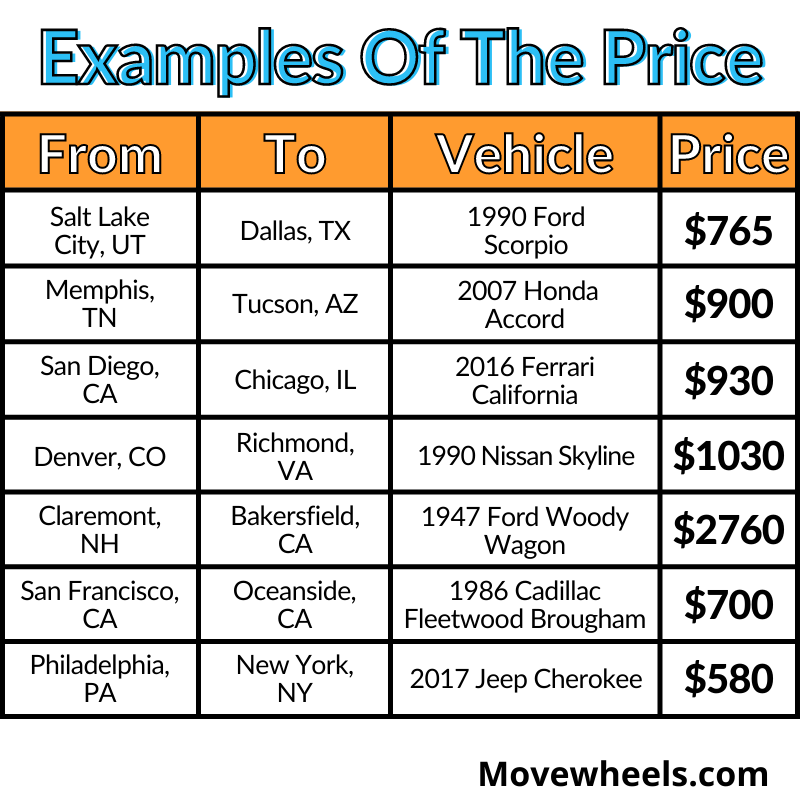 Tips for Moving Inoperable Vehicles
To make the whole process of shipping inoperable car easier for you, we have prepared a special list of useful tips: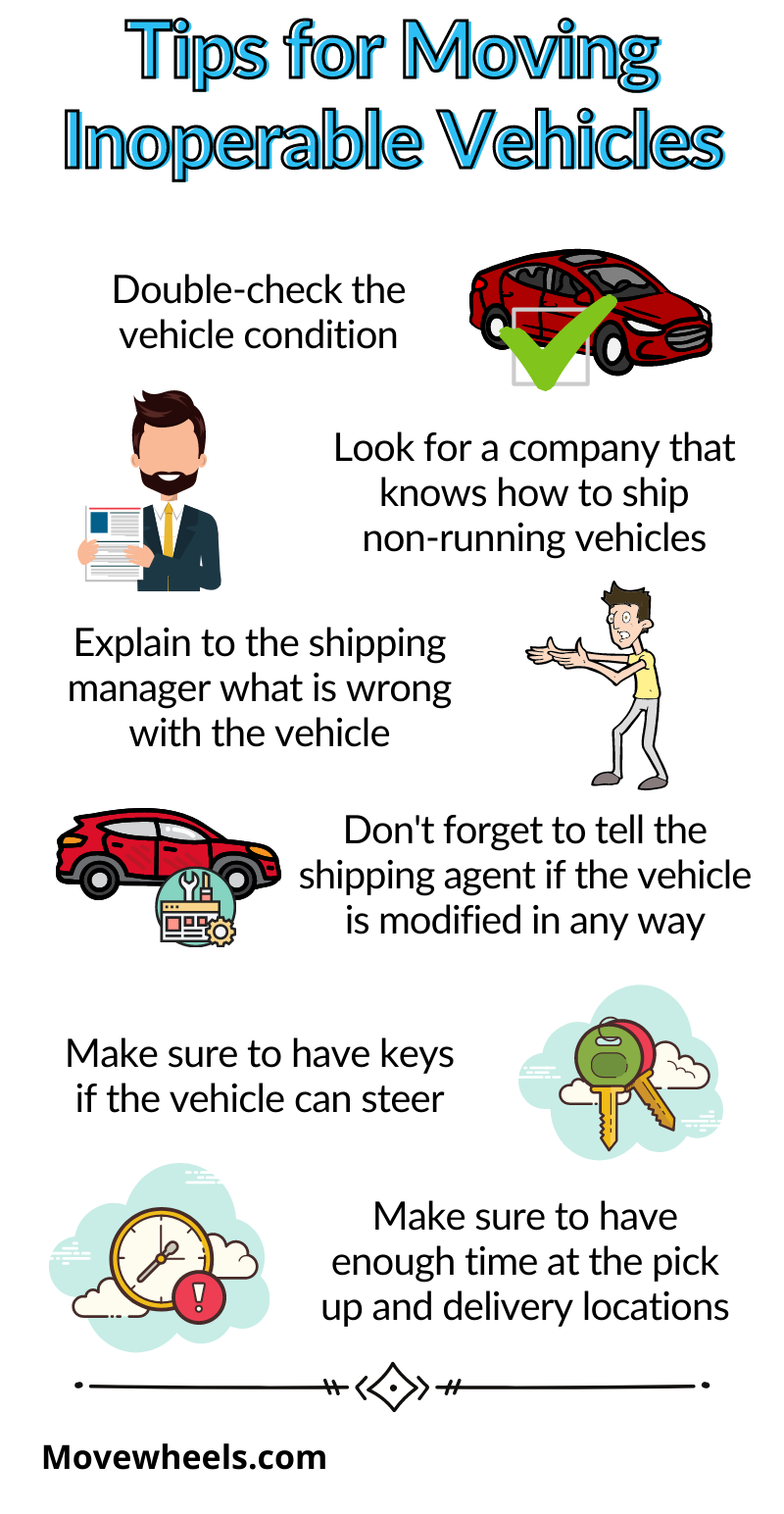 – Before looking for a company and making any agreements, check what is wrong with the vehicle. As we have already mentioned, if it's only the battery issue and the vehicle can be jump-started, transportation will be much cheaper for you as the car will be shipped as an operable one.
– Look for a company that clearly states they can move an inoperable car. If they do not have enough information on their website or cannot provide you with exact information when you contact them, do not choose them even if they offer a very low price. It may happen that they will ask for a higher rate when they pick up the car or just will not be able to transport the car properly.
– Make sure to properly explain to the shipping manager what is wrong with the vehicle, whether it rolls, steers, brakes. Do not think that if you reveal extra issues such as that inoperable vehicle doesn't steer or has no wheels, the price will be higher. In most cases, the price will stay the same as for an inoperable vehicle, but the carrier does need to know the details about the vehicle's operability in order to provide you with the right trailer and equipment. If you don't mention some details, the driver won't be able to load the car and will ask for a dry-run fee. You will lose some money and will still need to find another driver.
– Note that you also have to tell the shipping agent if the vehicle is modified in any way. Even though the vehicle is inoperable, it is still very important to know the exact dimensions of the car as it may not fit some kind of trailers. It is especially important to know if the vehicle has uplifted tires, roof racks, or has low ground clearance.
– Make sure to have keys if the vehicle can steer. If there are no keys the driver will not be able to put the vehicle in neutral and winch it on the trailer. But if you just don't have the keys, we can still move the vehicle with the help of a forklift though it will cost extra money. Don't forget to mention to your shipping manager that you don't have the keys as it changes the whole transport procedure.
– Make sure to have enough time at the pick up and delivery locations as loading an inoperable vehicle on and off the trailer requires more time. Do your best to have enough room for the driver to park his trailer in a proper way to load your car onto the trailer.
MoveWheels can help you ship literally any kind of vehicle, whether it's fully inoperable or can roll, steer and break. Unlike other brokers, we can provide you with a free quote and do not ask for any upfront payment at the time of booking. So simply follow this link to check the price and we will get back to you within 20 minutes with a total cost for the transportation.